As promised late Monday, November 13, President Muhammadu Buhari arrived Ebonyi state safely in the morning of Tuesday, November 14, and was received by Governor Dave Umahi and his colleagues from the southeast.
The president, according to Daily Sun, arrived Abakaliki in a helicopter for a two-day working visit to Ebonyi and Anambra states.
READ ALSO: Nigerian soldiers arrest suspected IPOB members campaigning against Anambra election
Buhari landed at the Nkwoagu Military Cantonment, Abakaliki, but did not inspect the Guard of Honour mounted in his honour by soldiers.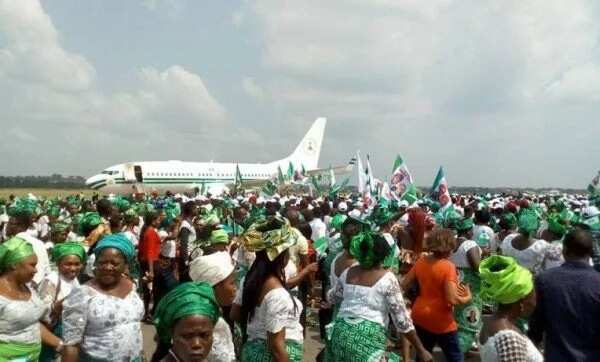 To ensure Buhari's peaceful visit to Ebonyi state, Umahi, a member of the Peoples Democratic Party (PDP), barred political rallies as well as the display of banners and posters.
"Nobody should come to the stadium with any party logo. We don't want to embarrass the president.
"If we invite the president for a state visit and PDP rolls out their logo, it is an embarrassment to Mr President.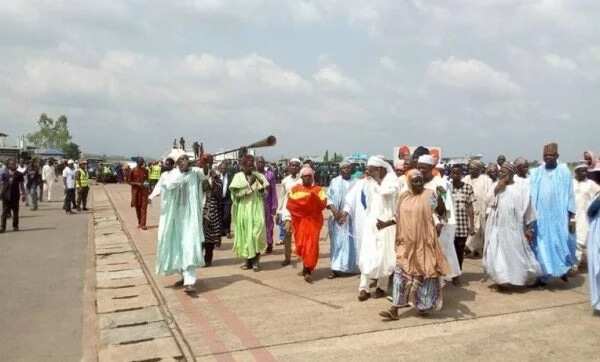 "It is a presidential visit; no party is coming to the stadium with a logo or party slogan of anything. It is just a simple presidential visit.
PAY ATTENTION: Read the news on Nigeria's #1 new app
"If they don't understand they should go and find out what a presidential visit is and what it entails," The Punch quoted Umahi as saying.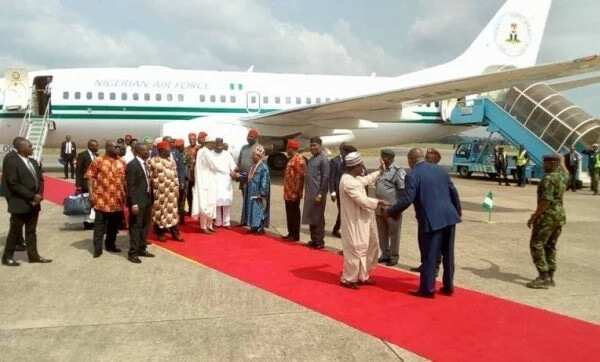 The governor added: "Mr President has helped us so much in the area of agriculture and at every given opportunity; I have always commended the CBN governor, the minister of agriculture, the minister of finance and the minister of solid inerals.
"The Buhari-led administration has tremendously helped us to revamp the agriculture and solid minerals programmes in Ebonyi state.
"I believe that the President's visit will afford him an opportunity to see what we have done with the assistance he extended to us in the agricultural and solid minerals sector."
Legit.ng earlier reported that President Buhari announced he would be visiting Ebonyi and Anambra states as part of his plan to tour the south eastern part of the country.
"Tomorrow I will begin a 2-day visit to Ebonyi and Anambra states. Let me reiterate my words to Southeast leaders who visited me at the State House last month: My administration will not discriminate against any part of Nigeria.
"I will again assure the people of the southeast that we are investing in infrastructure projects that are of critical importance to the region: the Second Niger Bridge, the East-West Road, the coastal rail, power projects - these and more will benefit the region and unlock economic potential," he had said.
What must President Buhari do to regain the trust of Nigerians? - on Legit.ng TV
Source: Legit.ng