- As the administration of President Muhammadu Buhari champions the drive for economic diversification, the Nigerian agricultural sector is one area the federal government has expressed interest in
- The Nigeria Farmers Group and Cooperative Society has kick-started a revolution in Nasarawa state
- Retson Tedheke, the national coordinator of the cooperative society, started a laudable agricultural project that will enable urban dwelling Nigerians own and run farms
- Legit.ng visited Gaate village to have a first-hand experience of how the NGF-CS is changing the lives of people in a community
'Sanu' 'Sanu sir' 'Sanu mama' were the words that were ringing out from the Toyota truck as we rode past the bumpy roads in Gaate village, a rural settlement along Keffi-Akwanga road in Kokona local government area of Nasarawa state.
Reeling out the words to villagers along the bushy road paths was Retson Tedheke, the national coordinator of the Nigeria Farmer's Group and Cooperative Society.
Sanu in Hausa language means 'hello' and it is widely used to exchanged pleasantries in most parts of northern Nigeria.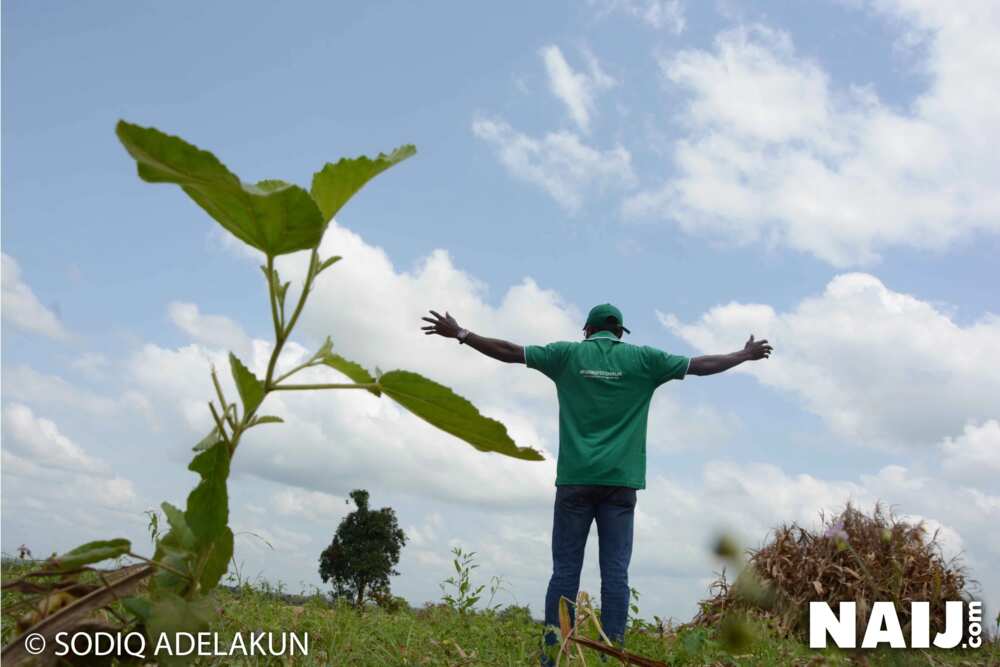 Tedheke, 41, can best be described as a true Nigerian. He was born in Jos Plateau state to an Urhobo father from Delta state, his mother is from Ikwerre in Rivers state while he schooled in Zaria, Kaduna state.
He did his one-year compulsory National Youth Service Corps in Ondo state and married a woman from Anambra state.
Although, Tedheke is from Delta state in southsouth Nigeria, he left the comfort of the Federal Capital Territory, Abuja alongside the management of the NGF-CS to begin a laudable agricultural project that will enable urban dwelling Nigerians own and run farms.
His constant interaction with the villagers has made him an instant hero in the area. Any car that drives past the lonely roads of the village is greeted with shouts from kids, chanting 'Oga Retson.'
To top it all, villagers with new born baby now name their kids 'Retson'. All these in appreciation of the work the NGF-CS is doing in the community, which Tedheke represents.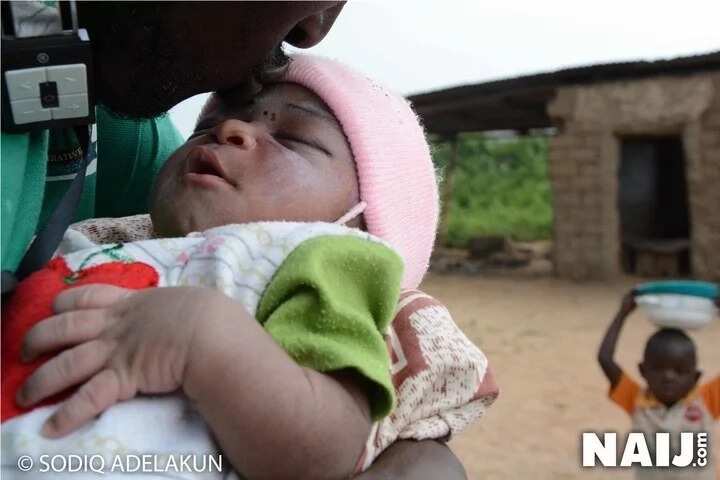 READ ALSO: How to start commercial vegetable farming in Nigeria
Legit.ng visited the area to have a first-hand experience of how the NGF-CS is changing the lives of people in a community that was hitherto unheard of.
Legit.ng checks revealed that there are 250 villagers working in a maize farm reputed to be the biggest in Nasarawa state and one of the biggest in Nigeria.
The villagers are paid N1,000 per day and have a break from 1pm to 2pm where they are given a free meal. They are also treated when they fall ill.
Explaining how they came about the idea, Tedheke said: "What we are realized is that if you go to our rural areas, what will have in abundance are the human resources and the lands. So, when we came in, we started with a N1,500 per day, currently we are on a N1,000 per day.
"So, look at it from this context, you give a man in the village N1,000 daily to come and farm and you give him food daily as he comes to work, and you treat him when he falls ill, and because he is not likely to spend up to N20,000 in a month, you have provided for his upkeep, you have provided for his education and for his savings.
"When we came in, we made that a part of the project, we went to meet the leaders of the community, the youth leaders, and made them understand that the project is theirs. What we are trying to do here is not just to make money, it is also to make them grow.
"We were able to create that understanding between us and the community. We ended up providing them with that which they want, so that in turn they can ensure that our farm is properly taken care of."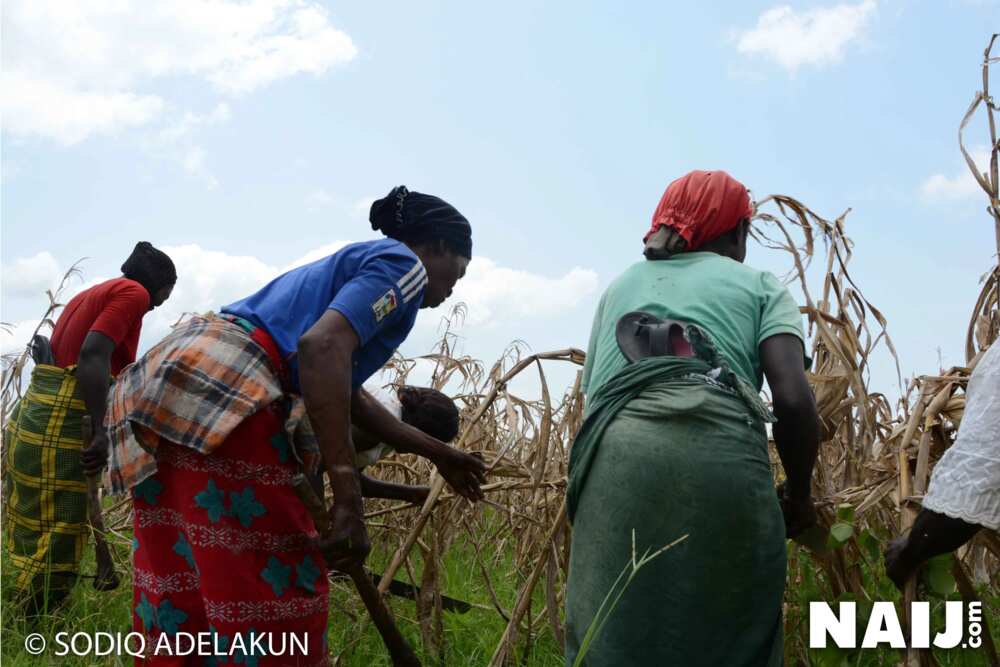 Asked about how the group is addressing security challenges in the area, especially with the constant clashes between farmers and herdsmen in Nigeria, Tedheke said: "Let us forget about the narrative of the herdsmen. Yes, there are herdsmen crisis, but let us go back to what we used to have when we were growing up in the 70s and 80s. Herdsmen don't carry guns, what they carry are sticks.
"So, what we did was we called them and talked to them and told them to guide the farm, and ensure that their cows don't enter the farm and they are paid. Their wives and children work here. So, we created a synergy between the herdsmen and the community.
"Since the day we graded this place, no cow has walked into this farm to take, eat or destroy any part of the farm. It is an understanding between us and the community, an understanding between us and the locals as well as the herders."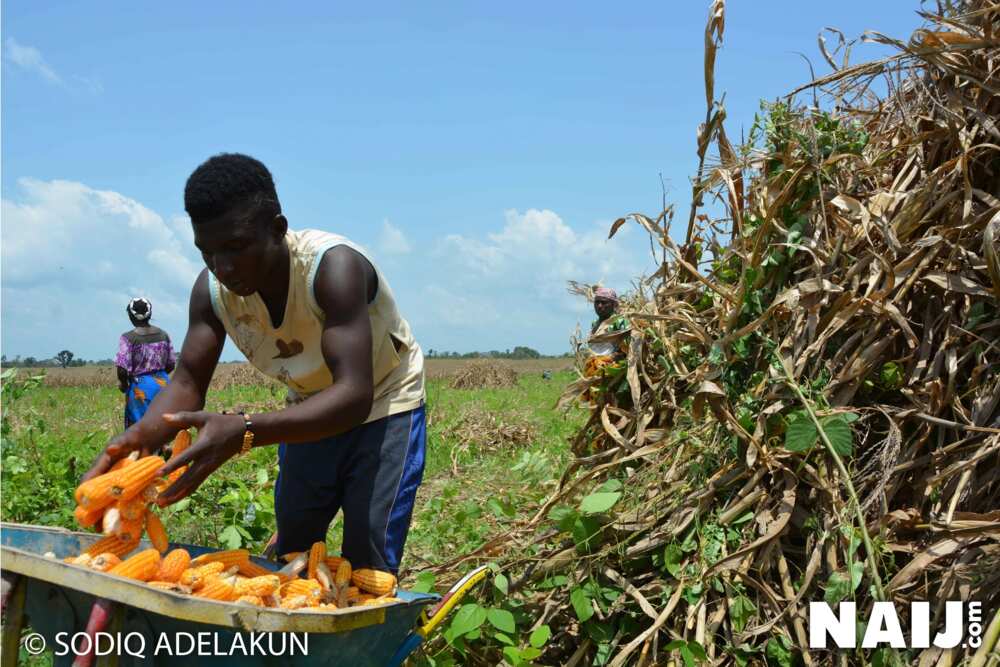 The Chief Security Officer of the farm, Danasabe Atama corroborated Tedheke's claim. He stated that there is an understanding between all groups hence the peace enjoyed in the area.
"Everything is all about understanding, the moment you agree with all groups on how to work together, then it is easy to move forward," Atama told Legit.ng.
On his part, the youth leader of the community, Admau Baba Gaate, who also doubles as the land manager of the NGF-CS farm, stated that the youths of the community are committeed to the project because of what they have gained so far financially.
His words: "Some of our youths who even went to town to struggle and get jobs are now back because of the financial rewards and benefits.
"We don't have to pay transport, we already have our own farms where we feed from and they give us food at the work place and even provide us with good healthcare.
"We are happy that they are here. They've empowered us and given us a sense of belonging. We hope they will continue to help us."
READ ALSO: Wheat farming in Nigeria: how to start?
The people in Gaate community are indeed very happy with the project. Most of those Legit.ng interacted with, were grateful to the NGF-CS for finding their community worthy of a project of such magnitude.
Some of the workers also come from other communities around the area to work and get their pay. The villagers say getting N1,000 a day with a free meal and the fact they still have their own farms is a good bargain for them.
One of them, Mrs Gwada Solomon said: "I have been a farmer all my life. All my family members are also into farming. I make N1,000 daily while working here.
"I still have my own farm while working here. It is managed by my children and my sister. We basically plant what we eat there, while I work here to support my family.
"The money I make here is used to assist my immediate and extended family for us to survive.
"I enjoy working here. We are never owed, we have a one-hour break from I.00pm to 2.00pm daily and we are also given a free meal during that break.
"Since the day we graded this place, no cow has walked into this farm to take, eat or destroy any part of the farm. It is an understanding between us and the community, an understanding between us and the locals as well as the herders."
Tedheke hailed the agricultural policies of the Muhammadu Buhari administration, even as he called on all Nigerians to key into the policies to better their lives.
His words: "For us as a people, we must unify behind the common purpose and goal. And that common purpose and goal is land, people, agriculture, progress and sustainable economic development.
"One of the things that I'm proud to say today is majority of those working in the farm are youths. Those who are here who are supposedly not educated are the same people driving tractors and bulldozers.
"We taught them how to manage trucks, tractors, bulldozers and farm equipment here. For as long as the language of growth and development is domiciled in a foreign language, we cannot grow."
Indeed, the villagers are now well versed in the whole farming process as Legit.ng observed that major of the machinery on ground were manned by them.
Also, worthy of mention, is the well-arranged division of labour which makes the whole farming process easier and faster.
Legit.ng's visit coincided with the harvesting season which is the final stage of the farming process.
The villagers were grouped into
1. The group that cut out the maize from their roots
2. The group that arrange the remnants of the maize leaves into batches
3. The group that remove the maize seeds
4. The group that grinds the maize and
5. The group that arrange them into sacks
It is such a well-coordinated effort that even the villagers walk in straight lines while carrying out their tasks so as not to mix things up.
The progress being made in Gaate is not lost on majority of Nigerians as the NFG-CS keeps getting inquiries from Nigerians from all over the world who wants to be part of the process.
Shedding more light on their operations, the head of administration and ICT at NFG-CS, Obayi Ifeanyi, said the initiative has opened the eyes to many Nigerians that you can be a farmer without necessarily enter a farm.
His words: "This is for Nigerians who desire to be farmers, but don't have that time, because farming requires attention.
"In farming, every minute is accounted for or else something goes wrong. What NFG-CS is doing is to set up this platform managing the farm for members of the public.
"We have a system where all you just need to do is to lease the land, pay the cost that you need for a particular hectare of a crop that you wish to farm, because we already have a structure for it."
On his part, the Nasarawa state director of the federal ministry of agriculture and rural development, Umaru Yusuf Mohammed, commended the NFG-CS for the outstanding work they are doing in Gaate
"The farm has gone a long way in providing job opportunities within the local community. They will earn income and transform their living condition.
"The activity of the farm is in tandem with the focus of the Green Alternative which is the federal government's agricultural programme and the focus is food security, import substitution, job creation and economic diversification," Mohammed said.
One can only hope that the successes recorded in Gaate by the NFG-CS is replicated across the country by other groups and government at all levels.
READ ALSO: BOA: Nigeria saves N216bn from rice importation
Video report on Legit.ng: