Starting a cocoa plantation in Nigeria
Cocoa farming in Nigeria is one of the most promising business opportunities for a potential investor. It provides a generous harvest without demanding too much effort or expensive equipment. If you'll like to learn more about how to approach starting a cocoa plantation in Nigeria and are interested in learning the best cocoa farming methods, continue reading below!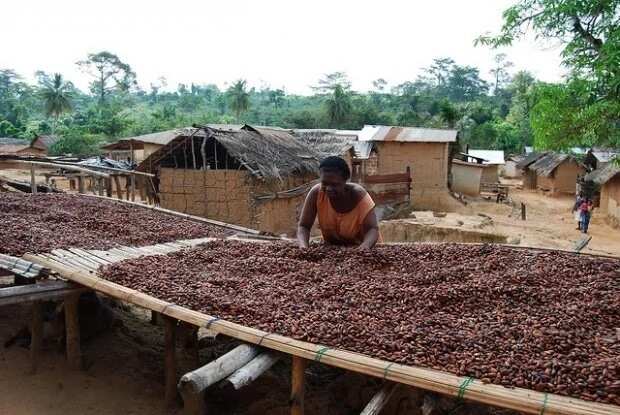 Cocoa plantation in Nigeria
Cocoa is one of the few products that can boast of having dozens upon dozens of potential uses. Due to such versatility, there's always a high demand for cocoa both in Nigeria and in the global market. Manufacturers use it to make chocolate, sweets, desserts, and various drinks.
One of the most significant benefits of cocoa farming is that it requires only a single substantial investment. Why? Because when you start a cocoa plantation you just need to plant the trees once, and then all you have to do is to reap the harvest each year for as long as you live. Just be sure to take good care of your cocoa trees, and they will serve your farm for generations.
At this point, you're probably already sold on the idea of creating your very own cocoa plantation and are ready to learn the best way to do it. Luckily for you, we have all the necessary information that will help to get you started. Below you'll find a detailed guide that will explain how to start cocoa farming and do it well.
1. Pick the right location for your plantation.
Before you do anything else, you need to find a suitable piece of land that will allow your cocoa plantation to flourish. A mistake that a lot of amateur farmers make is that they just grab the cheapest slice of land available and then get upset because their harvest wasn't as good as they expected it to be.
We advise you not to repeat their mistake and do your best to pick an area with the right climate conditions. You're required to find a land that has a regular rainfall, water source and where the temperature ranges from twenty-one to thirty-two degrees Celsius throughout the entire year. If you fail to do that, and you'll run in into more problems than you've bargained for.
The best Nigerians States for starting a cocoa farm include Ondo, Ogun, Cross River, Imo and a handful of others.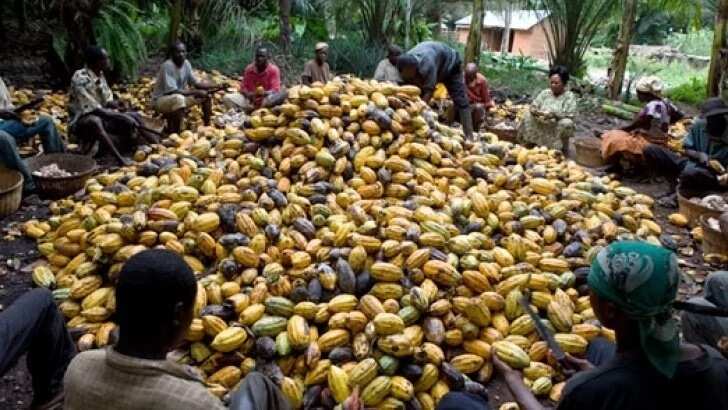 2. Prepare the soil for planting.
This point is a no-brainer. First of all, you have to secure a significant size of land to raise your cocoa trees on. Secondly, this type of plants requires a deep, relatively damp soil to grow the way nature intended. This layer of soil should be at least one and a half meters deep and be rich with coarse elements. If you can find such a land, your cocoa trees will be able to grow an expansive root system that will prove to be beneficial when the harvest comes. It will also prolong the lifetime of the trees themselves.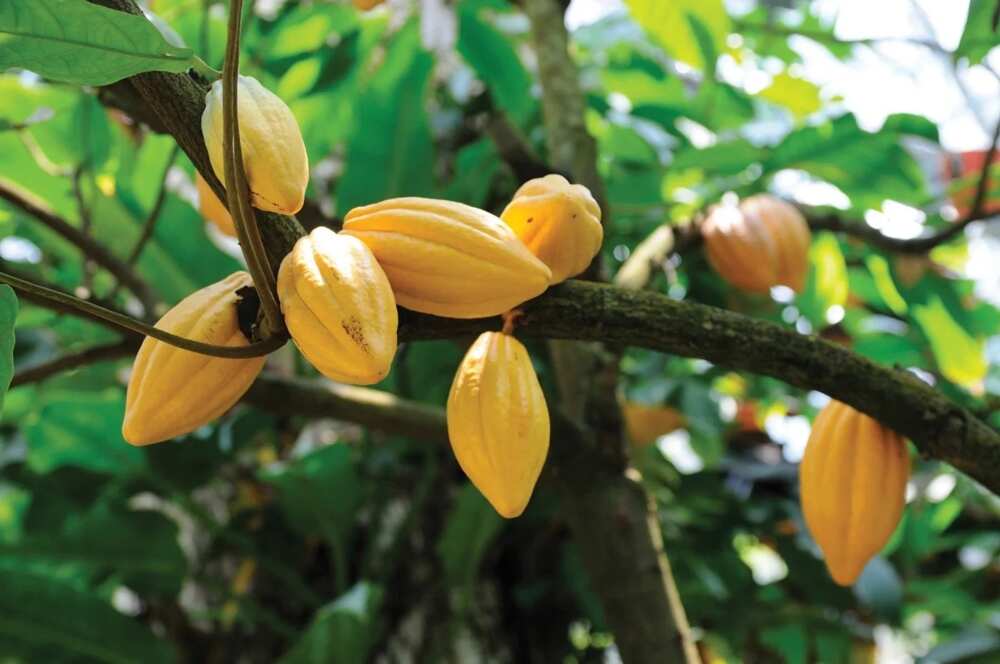 READ ALSO: Advantages and disadvantages of arable farming
3. Decide which type of tree you are going to grow.
As it stands right now, you have three main varieties of cocoa trees to choose from. Unsurprisingly, just like with most things in life, there's no clear best option to go with. Each type of plants has its own set of benefits and drawbacks.
The Criollo is commonly accepted as the best type of cocoa. In the olden days, it was mostly consumed by rich people. However, due to the more demanding nature of these trees, growing them has become incredibly tiresome in most countries. Nowadays, Nigeria is practically excluded from producing Criollo cocoa. Another drawback of this type is that even if you take care of it right, it still presents a smaller harvest compared to other kinds of cocoa. The upside of choosing Criollo is that it sells for the highest price.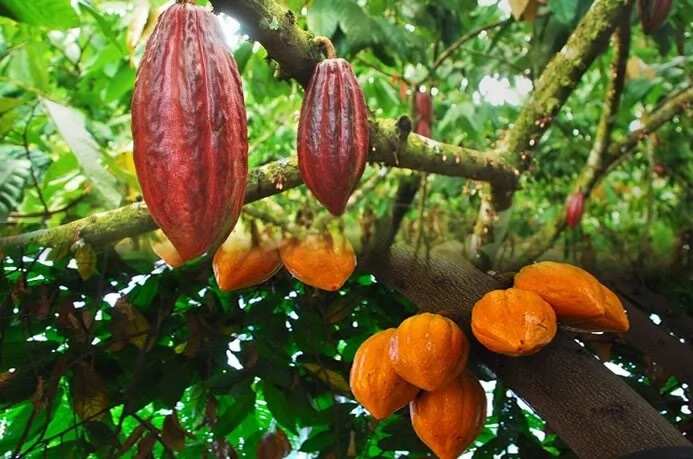 The Forastero cocoa is the most widely spread type in the world. According to the latest statistical analysis, almost 80 percent of the worldwide cocoa production consists of this breed. The Forastero is a reliable choice that possesses a pleasantly bitter taste, even though it doesn't have the same aroma as Criollo. Another benefit of picking this breed is that it yields extremely rich harvests.
The Trinitario type is a mixture of the previous two cocoa trees. It was intended to incorporate the harvesting potential of the Forastero and the trademarked aroma of the luxury Criollo.
4. Start your plantation when the conditions are perfect for it.
The prime time to do your planting is between October and January.
5. Watch over the wellbeing of your crops.
If you just plant your cocoa seeds and leave them be, you'll end up with nothing. You need to protect your farm from infections and various rodents that are lurking about.
How to plant cocoa?
This part of cocoa farming usually raises the most questions from beginners. But don't worry, we'll provide a brief explanation of the various cocoa planting techniques.
Seeding involves the process of growing trees from seeds. They are taken out of the beans 15 days after they've been yielded. Next, you plant them in the ground, but be sure to listen to the recommendations we've given you in the soil preparation paragraph.
This is the prevalent and most efficient method to farm cocoa.
This method is rather uncommon among experienced farmers. To plant your cocoa this way, you need to cut a bud from a grown tree and put it underneath the bark of a different tree. Once the new tree begins to develop, you can get rid of the old one and you will have a new tree that will continue to serve you.
To grow cocoa this way, you have to use plant cuttings with a bunch of leaves and buds. Afterward, you have to slice the leaves and put the cutting in a specially-prepared pot with polythene. When your cocoa tree begins to grow, you need to replant it at your plantation.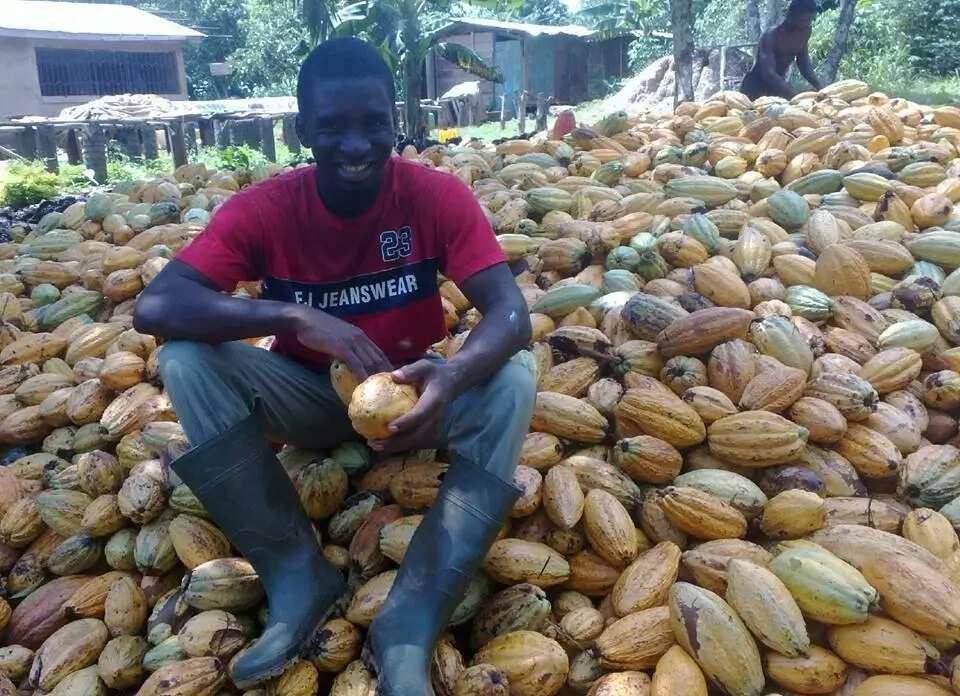 After you've planted your seeds, it will probably take somewhere between two to six years before you'll yield your first cocoa fruits.
Waiting for several years before you receive your first revenue sounds a bit too harsh. However, while the wait can be tiresome, you'll never regret your decision when the harvest finally comes and money starts flowing in.
Now you know all the crucial details about how you can start your own cocoa plantation in Nigeria and you are aware of how you should plant your trees. Feel free to share this information with anyone who might be interested in starting a farm themselves!
READ ALSO: Grasscutter farming: A manual for beginners in Nigeria
Source: Legit.ng