- Officers of the Rapid Response Squad were spotted giving first aid treatment to accident victims
- Over four passengers had sustained injuries from an accident on Third mainland bridge which necessitated the deployment of first aid treatment by officers
- The incident was caused when a Lagos commercial bus, had a break failure and rammed a Toyota car
One of the patrol teams of the Lagos state police command Rapid Response Squad (RRS) on Monday, October 23, used one of the first aid boxes supplied by Governor Akinwunmi Ambode to the unit to assist accident victims during emergencies.
Legit.ng gathered that the patrol team, which was on the Third Mainland Bridge heading towards the Island noticed a traffic caused by a burning Ford 4Wheel Drive with built-up traffic behind it.
READ ALSO: Take note: These cities will experience partly cloudy, sunny weather on Tuesday, October 24
The team abandoning its vehicle to join in putting out the fire heard a loud noise from some of the vehicles in traffic.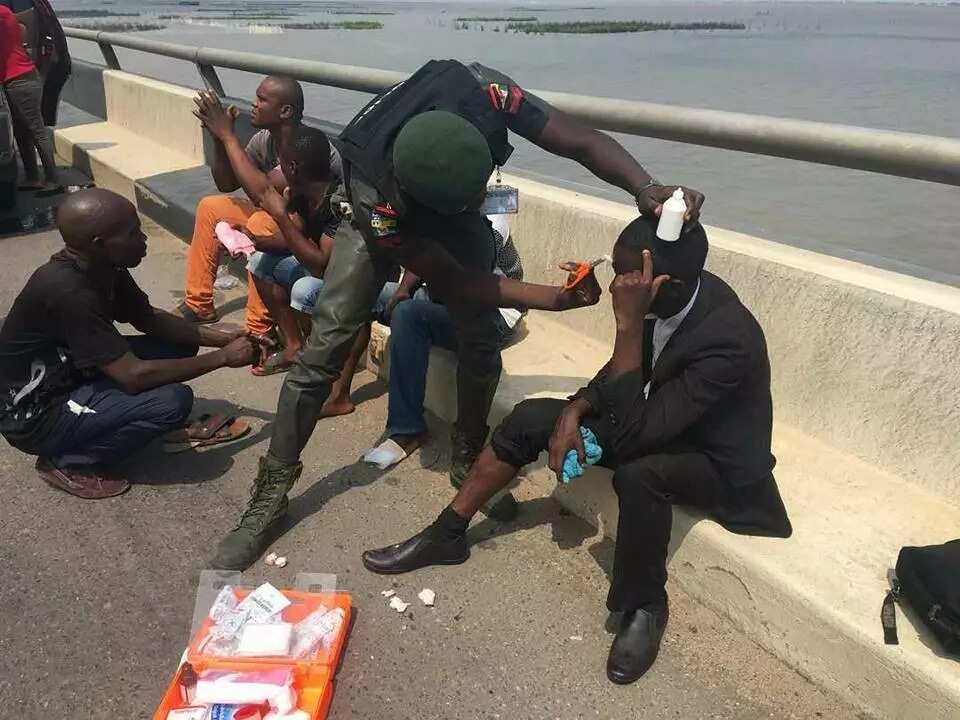 A Lagos colour commercial bus, Volkswagen LT with the registration number BOG 340 XR, had a break failure. It rammed a Sequoia Toyota (MUS 953 BZ) after brushing a Honda Accord (RSH 163 CL).
Over four passengers in the Volkswagen bus sustained various forms of injuries which necessitated the deployment of first aid treatment by the Rapid Response Officers before the arrival of medical personnel.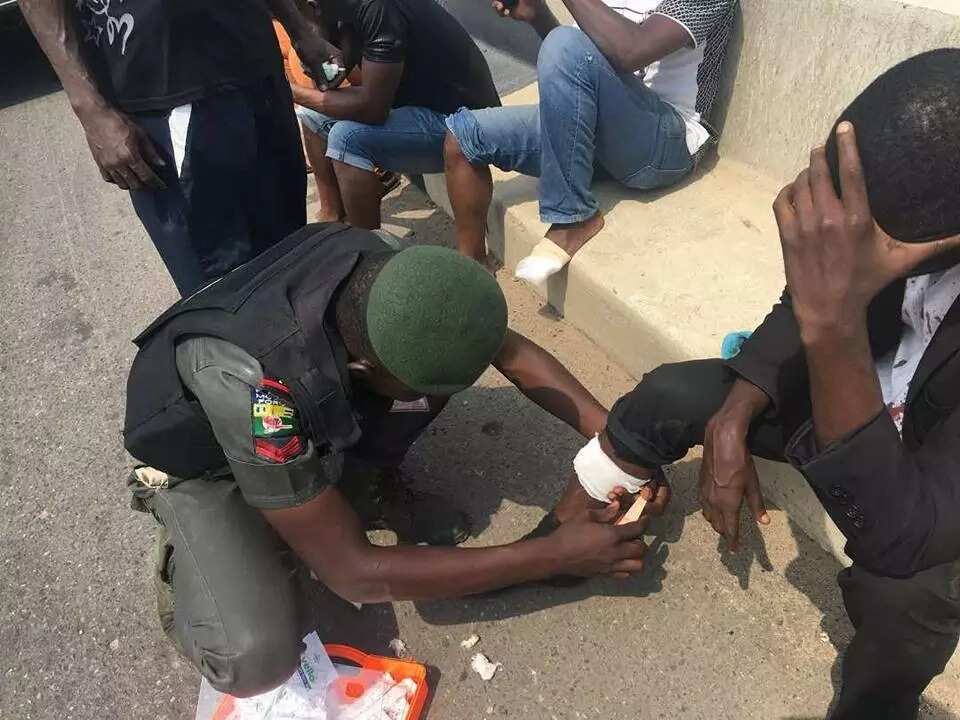 In April 2017, the state government had started training and re-training of RRS officers on application of first aid treatment in emergencies, CPR, controlling bleeding and fracture management.
About 150 branded first aid boxes were handed over to RRS by the Lagos state government in June 2017 for use by RRS patrol vehicles.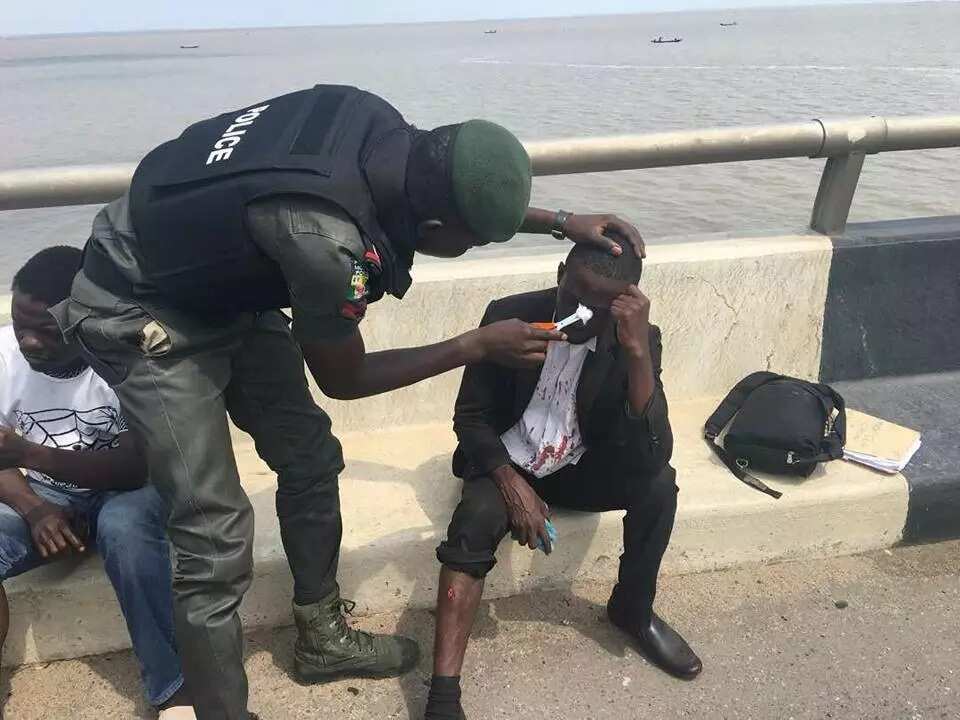 In a previous report by Legit.ng, the operatives of Rapid Response Squad (RRS) of the Lagos state police command arrested three robbery suspects in separate incidences at different parts of the metropolis.
The command in a statement sent to Legit.ng stated that the suspects were arrested between Friday night, October 13, and early Saturday, October 14.
PAY ATTENTION: Watch more videos on Legit.ng TV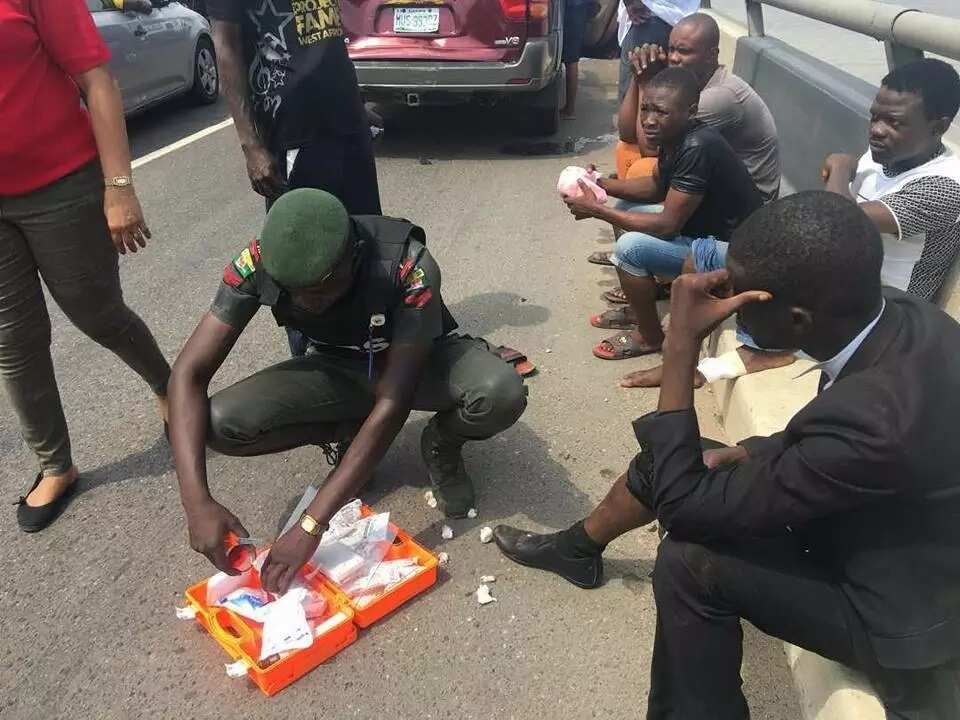 According to the statement, the arrested suspects include, Moshood Olowu, 24, and Olasunkanmi Ogundipe, 26, who both attended the Felabration along with their respective accomplices and separately robbed two commuters in Ojota and Ketu.
Is the Nigerian police your friend? on Legit.ng TV.
Source: Legit.ng