Roles and functions of the National Directorate of Employment
All over the world, both in developing and developed countries, unemployment is a serious problem that hinders the normal life of a society. This issue constantly crops up and is eliminated by applying various mitigating strategies. In Nigeria, unemployment concerns all levels of the government. To cope with it, federal authorities established the National Directorate of Employment. In this article, we will talk about its roles and functions.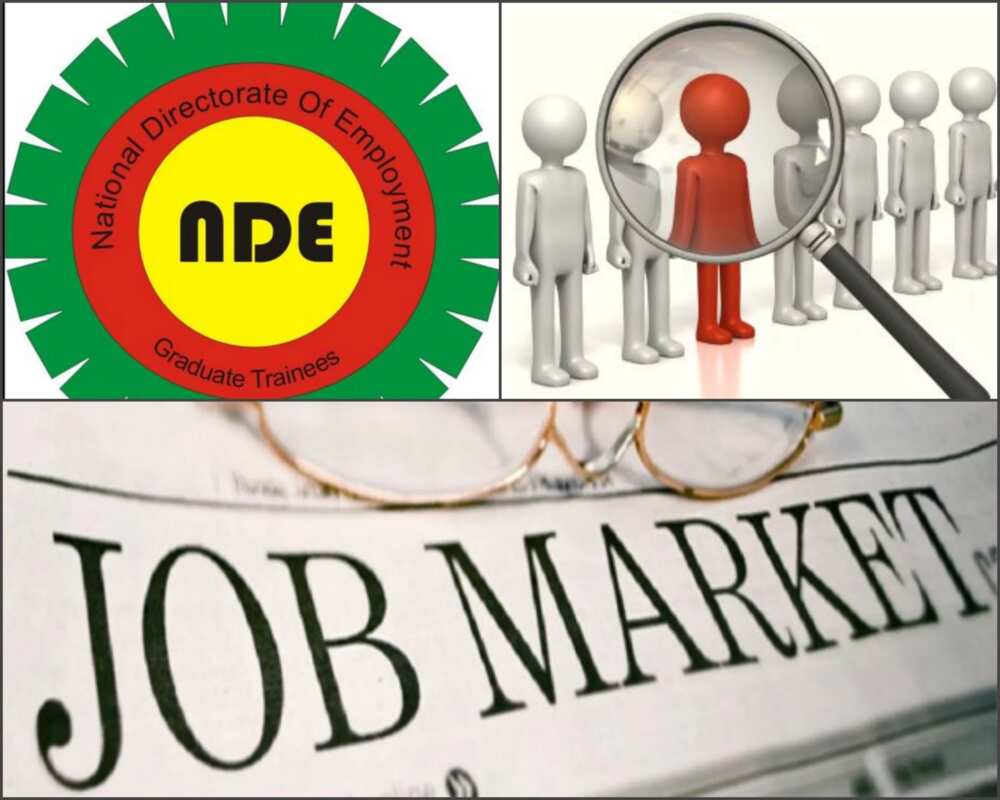 In 1986, a statistical survey of unemployed youths was conducted by the Manpower Board. The results were alarming, as it showed 2 million people (10% of Nigerian youths) had no job. It was necessary to take decisive measures urgently in order to combat mass unemployment, so Babangida's administration created the NDE (National Directorate of Employment), and they started to operate throughout the country.
In 1987, in order to consolidate the mandate of the NDE, several carefully designed programs aimed at finding work for young people, developing industry and agriculture were established. These developments received the required administrative and control support, making it possible to organize and properly dispose of resources, as well as respond to the demands of citizens promptly. The organization developed professional skills of the participants, conducted public works, operated in rural areas and created jobs there. However, from 1985 to 2011, the unemployment rate increased from 8.5% to 23.9%.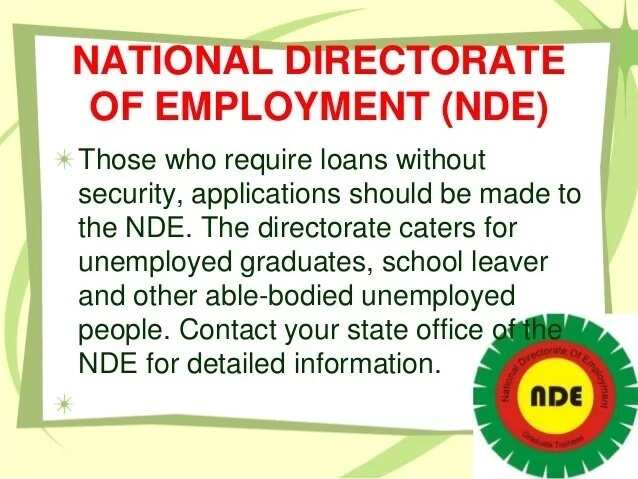 Roles of National Directorate of Employment (NDE)
This organization has a database with info on employment and available vacancies at its disposal. It plays the role of an exchange center through which important information passes through. Applicants can find beneficial offers on cooperation and contact other government agencies via the NDE.
The National Directorate of Employment has these important roles:
Unemployment reduction.
Skills acquisition.
Improving financial situation in the country.
Poverty reduction.
Entrepreneurship development.

Functions of NDE
The National Directorate of Employment is designed to expand the opportunities and rights of Nigerian citizens in 36 states, to promote job creation, stimulate entrepreneurship and improve the skills of representatives of various industries. The right management of labor is an important tool that can solve the financial difficulties present in Nigeria and curb the high level of unemployment. However, this promising initiative of the government has one big challenge which is the low awareness of people about NDE Nigeria programs that increase the rights of rural and urban residents.
The organization had to cope with the following tasks:
Creation of programs to overcome unemployment.
Development of policies to manage labor potentials.
Support of database management in a special information and coordination center.
The NDE also performs many other functions that may be appointed from time to time by responsible persons.
READ ALSO: National Directorate of Employment Recruitment 2017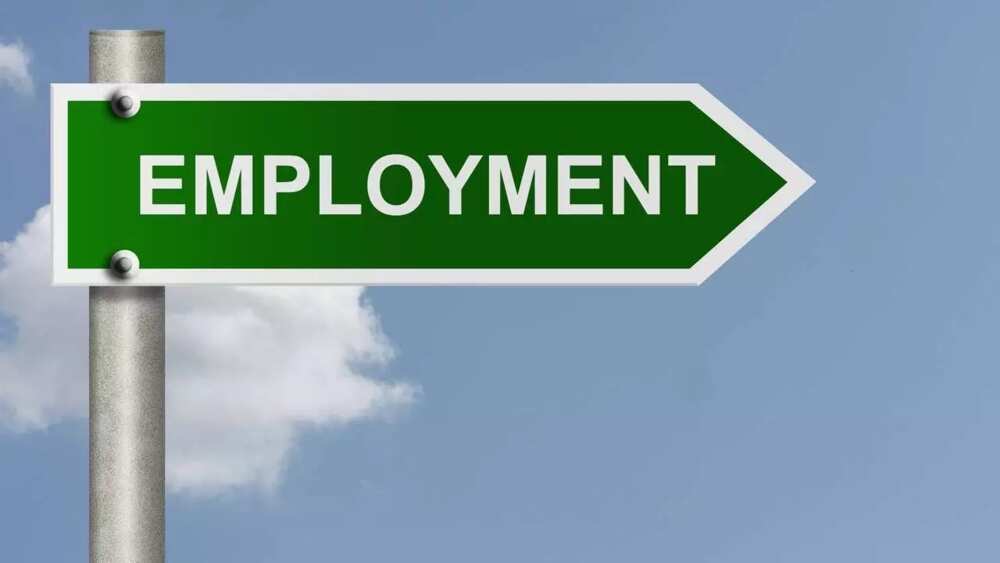 Achievements of National Directorate of Employment
In 1987, 1988 and 1989 the institution created 142,000 94,000 and 242, 000 jobs respectively.
In December 1990, the total number of vacancies was 776,800.
364,000 youths passed vocational training programs in 80 different directions.
2000 people were trained to recycle waste.
2 million Nigerians were properly trained and prepared for professional activities.
400,000 people were gathered to take part in business training.
Professional education was provided in more than 90 areas.
40000 people received assistance to develop promising business ideas.
The Directorate created working groups for 160,000 people.

Official NDE reports show that in 2005 - 2009, 599,000 people participated in the programmes of this organization.
In 2010, 171, 000 people participated in beneficiary programs, and in 2011, 159, 000 were trained.
In 2016, the results of the 30 year existence of the NDE were summed up. During this time, the institution created 3.2 million posts for unemployed Nigerians.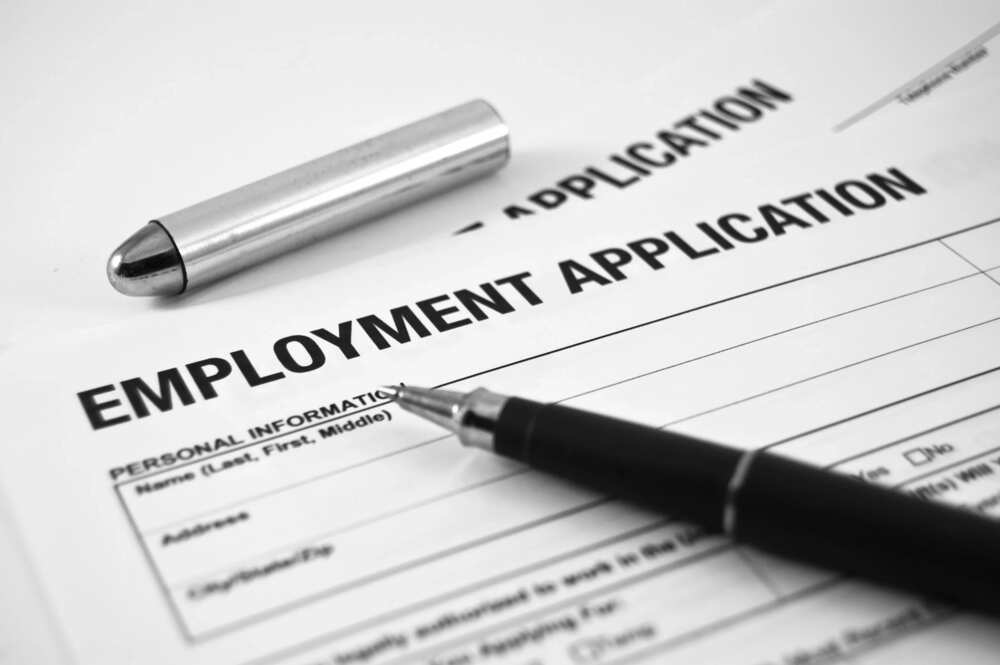 Now you know the functions, roles, and achievements of NDE. At the same time, it is too early to talk about the final victory and relax because unemployment still continues to be a threat. To increase the effectiveness of NDE, it is necessary to expand it and improve the quality of its services. This will require capital changes; the first thing to pay attention to is sufficient funding.
READ ALSO: Challenges facing Youth Empowerment in Nigeria
Source: Legit.ng