A video showing the quality of the foods allegedly given to school children by the Nigerian government has surfaced on the internet.
Although the exact location where it happened was not stated in the video, the video shows how school children were allegedly fed with a small loaf of bread with a pinch of stew which does not even look like a good one.
The video showed a woman cutting a N50naira loaf of bread into four places to feed four children with stew. The voice behind the video was recorded saying:
PAY ATTENTION: Install the latest android app to get updates from Nigeria's number one online news platform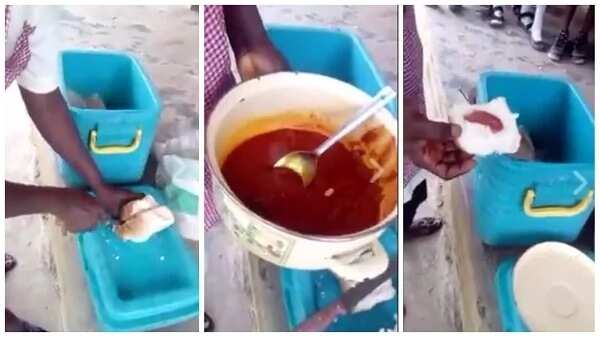 "Nigerians, this is what the government is giving the children and they are shouting out loud that they are giving pupils food. See a N50naira bread that is being cut into four pieces for four pupils, one each. And the funniest thing is, this bread you are looking at, the food seller will go to the school board to collect the bread while she prepares the stew. And she will bring the bread and cut into four for each pupil. Now that is the bread, let's look at the stew that they are putting unto it.
"They cannot even prepare egg or to talk of fish stew. See what they are preparing, madam, open it let's see. That is the soup that they prepared. Can you see? So, madam, put example of what you are going to give a child. Let me see the way you are going to serve it. Okay, can you see? Is this enough to feed a child for a day? And the government will be shouting that they are giving pupils food. Nigerians, it is time to raise this out. Let's join hands together to make this country great. This should not be, this is a poison to our children. It is better for them not to give than to be serving the children this kind of food. Nigeria, let's shout it out, thank you all."
What do you think about this video?
What is working well and what needs improvement in Nigeria? - on Legit.ng TV