4 implications of the delay in 2017 budget implementation in Nigeria
According to Wikipedia, a budget is a financial plan for a defined period of time, usually a year. It may also include planned sales volumes and revenues, resource quantities, costs and expenses, assets, liabilities and cash flows. Companies, governments, families and other organizations use it to expresses strategic plans of activities or events in measurable terms.
A budget is also the sum of money allocated for a particular purpose and the summary of intended expenditures along with proposals for how to meet them. It may include a budget surplus, providing money for use at a future time, or a deficit in which expenses exceed income
Delay in signing a budget can have dire implication for a country economy as we have seen in Nigeria when in 2016, President Muhammadu Buhari presented the 2017 national budget to the National Assembly. But ten months later, the budget was neither signed nor implemented.
The budget, which was finally passed by the Senate had a lot of discrepancies which were not there when it was initially submitted by the president and that is reportedly one of the reason the government is dragging its feet in implementing the budget.
As the year runs out without any action taken on the budget, there are some complications that may arise from the delay in the budget implementation.
READ ALSO: Mixed reactions as Nigerians comment on Buhari's 2 years in office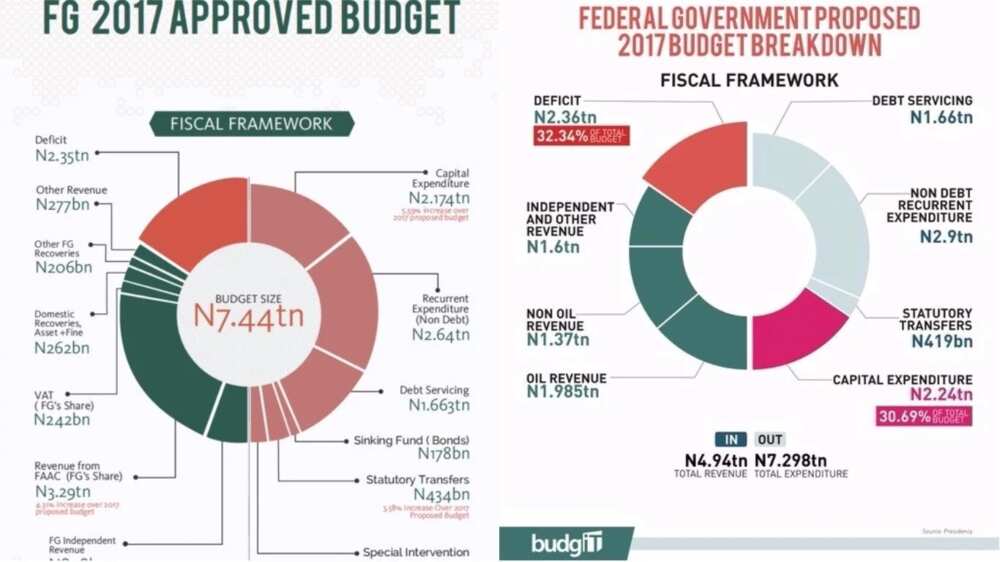 Below are four ways in which delay of may affect a country
1. The Nigerian economy may go into recession and government mission may shut down:
Delay in signing a budget may lead to government shutdown as the major budgetary spending that can keep the economy going will be brought to a halt. When funds for critical allocations are not disbursed, the economy may enter a recession.
A recession is a period of temporary economic decline during which trade and industrial activity are reduced, generally identified by a fall in GDP in two successive quarters. Budgets can act as buffer to cushion of effect of recession. Delay can hurt the economy.
2. If the delay in implementing the budget continues, the salaries of federal workers might be delayed
Delay in signing the budget can also affect re-current expenditure. Funds may be delayed to meet salaries and allowances of federal workers.
PAY ATTENTION: Read the news on Nigeria's #1 news app
3. Capital expenditure of the federal government e.g construction and payment of contractors will come to a halt until the budget is implemented
When signing of budget is delayed. capital expenditures are also put on hold. Money meant for the payment of vendors and contractors are owed for months thereby delaying the execution of projects.
4. The delay may also affect payment and maintenance of foreign missions
Meeting international obligations is critical to the running of government. In the past, there have been cases of embassy shut down and foreign diplomat returning homes due to shortage of fund. When funds are not allocated to foreign missions, the embassy and personnel suffer the result of such budgetary delays.
Recall that Legit.ng previously reported that a presidency official revealed why acting president, Yemi Osinbajo, cancelled a meeting for the signing of the 2017 budget scheduled for Thursday, June 1.
STREET GIST: Signing of 2017 budget in June, same old story? - on Legit.ng TV
Source: Legit