How to bead gele? - Useful and easy tips
If you need a beautiful headdress that will attract admiring glances at the fancy event, gele is the best choice. Women of fashion love to experiment with various materials, colours, and designs. In addition, a gele that is decorated with sequins and stones is becoming very popular among ladies. If you want to look good and shine like a star, continue reading to see how to bead gele.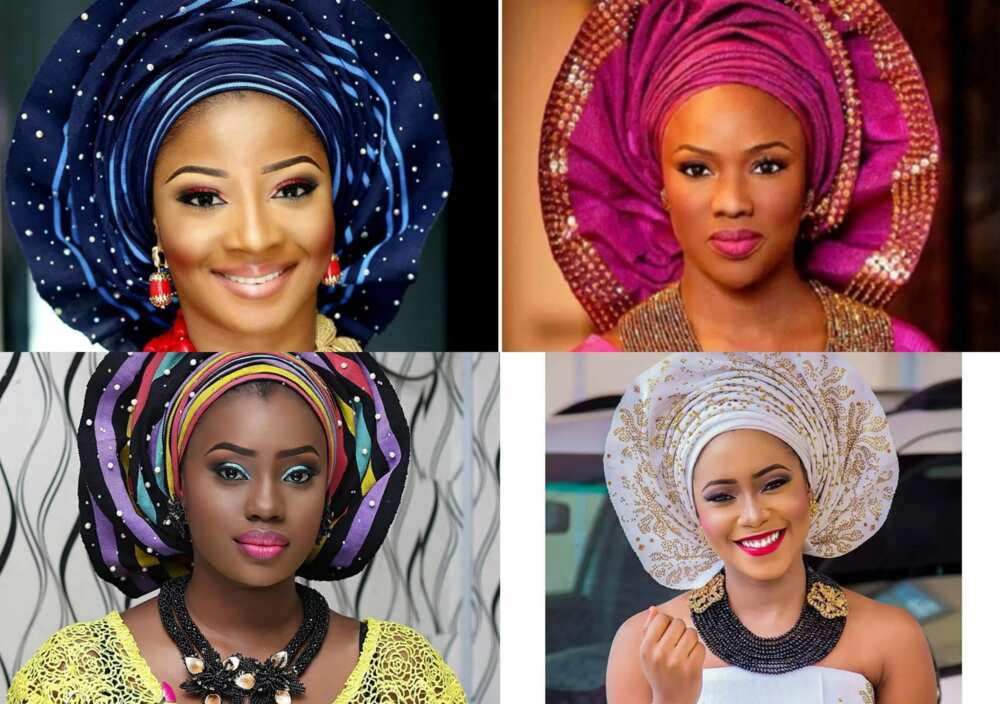 A gele fabric that is decorated with stones looks truly luxurious and exquisite. Any experienced designer will say that a little dazzle will go a long way. Just try not to overdo it.
New types of beaded gele often make its way into the fashion world. Sequins and stones have caught the attention of many women and it's about time you joined the trend.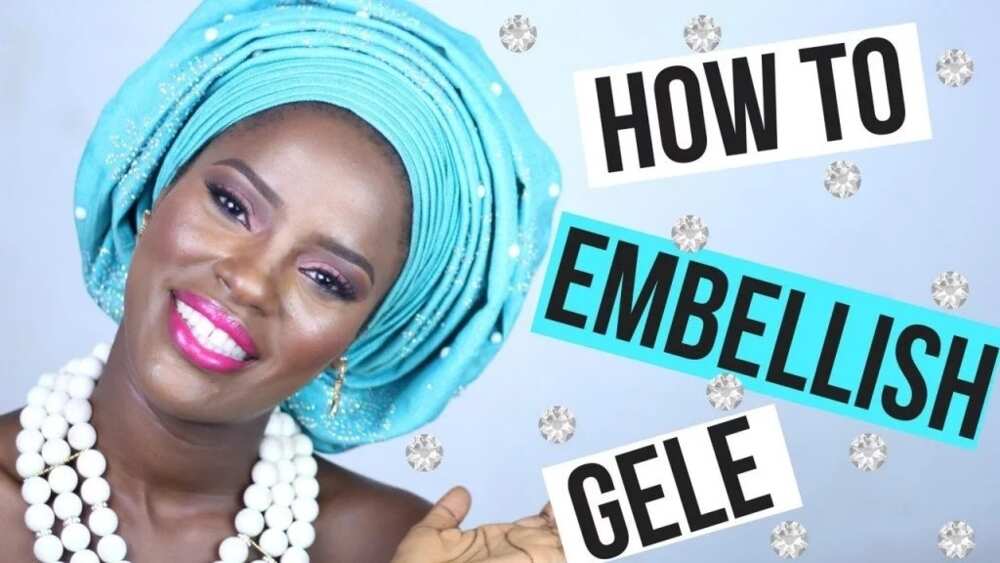 If this is your first experience in decorating gele, do not panic. In fact, this process is not difficult at all. Just follow these simple instructions and add some of your creativity.
You will need the following materials:
stickers with rhinestones;
gele fabric
glue;
pearls.
READ ALSO: Cord lace Iro and Buba styles in Nigeria 2017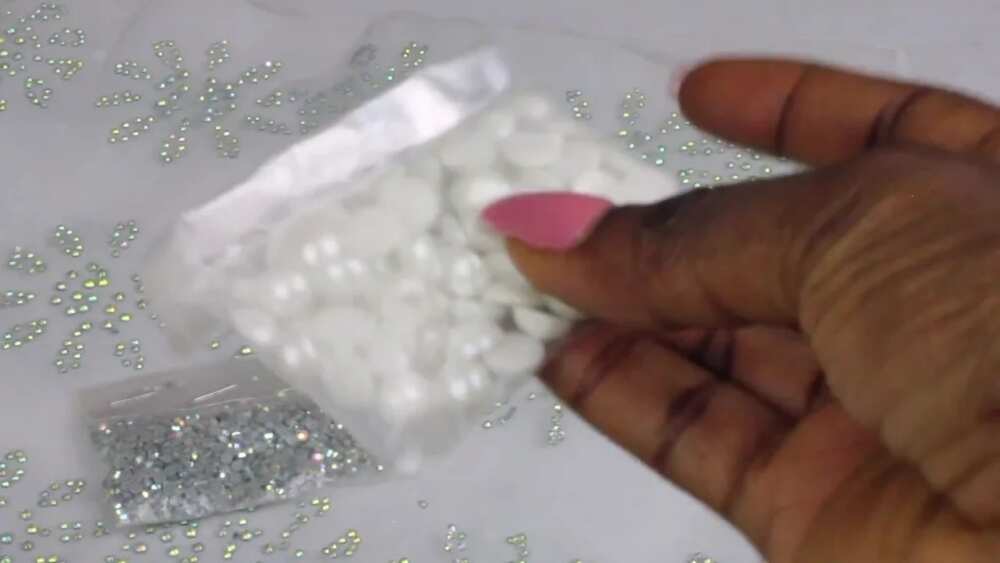 Proceed as follows:
Have your gele ready. Buy the rhinestones, pearls, beads and other decorative elements you like. Then also get some glue.
You should always be careful but swift. So, beforehand, have your design in mind and you should already know where everything goes.
How to put stones on fabric? Use an iron to attach the stickers. Make sure they are well placed. Adding a little glue will also help to keep it in place. Remember: you should be careful not to overheat the iron so you would not burn your crystals.
When you finish with the stickers, add the pearls next according to the design you have in mind.
This part will take some focus. Put some glue on each pearl and fix them on your gele one by one. It might take some time but the result is worth the effort. Make sure the glue is durable. So they will not get unstuck when wearing your gele.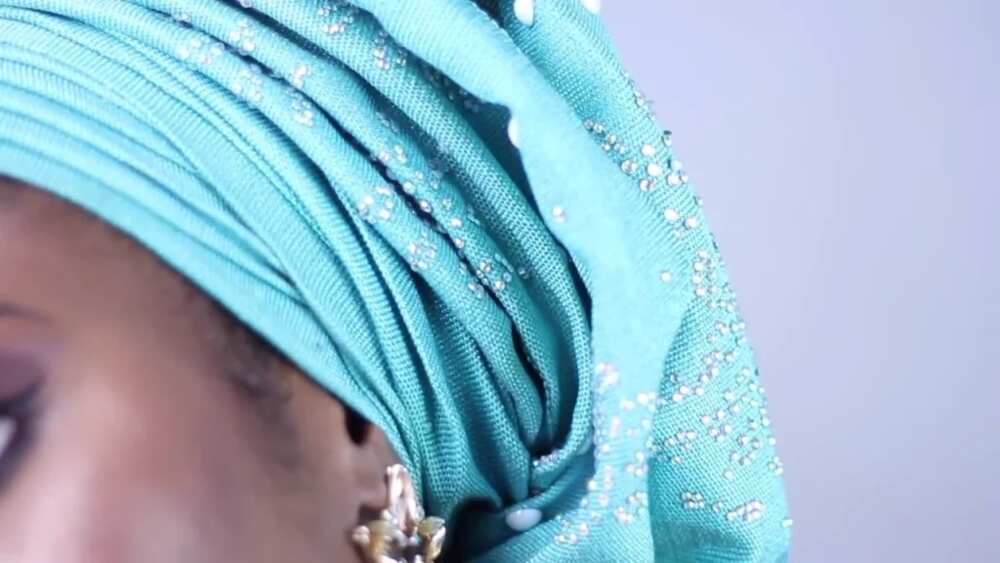 In fact, you can decorate the fabric with any materials that you like - not just stickers and pearls. Some fashionistas sew beads or make embroidery. It really all depends on you.
To give you some inspiration and interesting ideas, we gathered some examples of successfully decorated gele.
Top decorated gele in vogue
The headgear blends well with her outfit. A woman in such an attire becomes a beautiful work of art.
The advantage of beads and sequins is that they are able to brighten even the dullest fabric.
Pink gele is very popular this season. It's a very delicate and feminine colour. You can combine quality pink fabric with gold and silver ornaments. Use floral patterns with flowers and leaves stand out even more.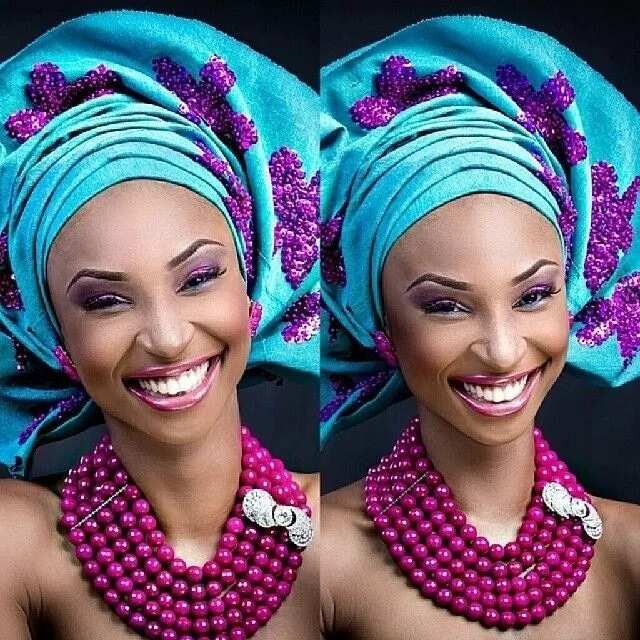 Beads and sequins could contrast with the colour of the gele fabric itself. In that case, you must think about the rest of the look. It's okay to have earrings and neck beads that match the colours of your gele decoration, This lady has been able to match her gele sequins to her makeup and beads. So even though the material of the gele is blue, we can still admire the overall beautiful effect.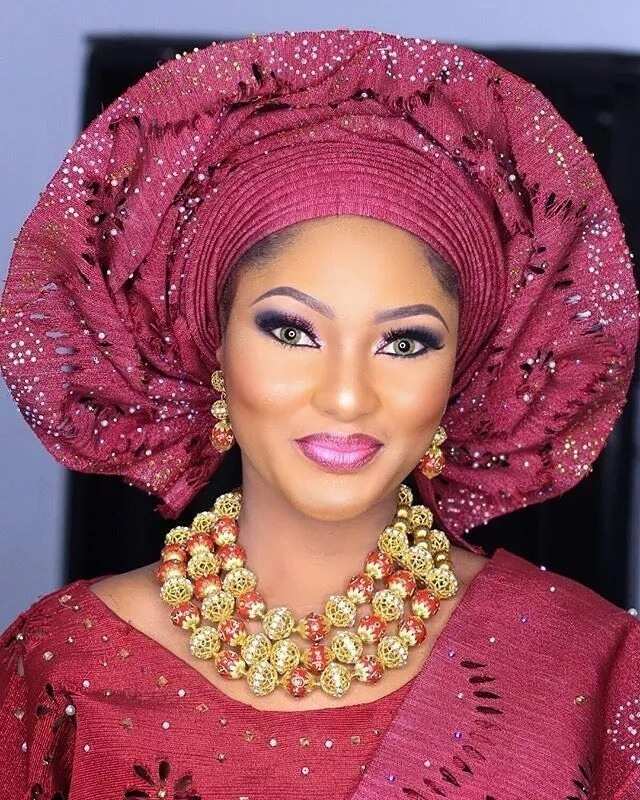 Although this woman is positively dazzling, she still looks modest and delicate. In this composition, the accent is more likely shifted to beads and earrings, while the gleaming fabric of the gele complements the image.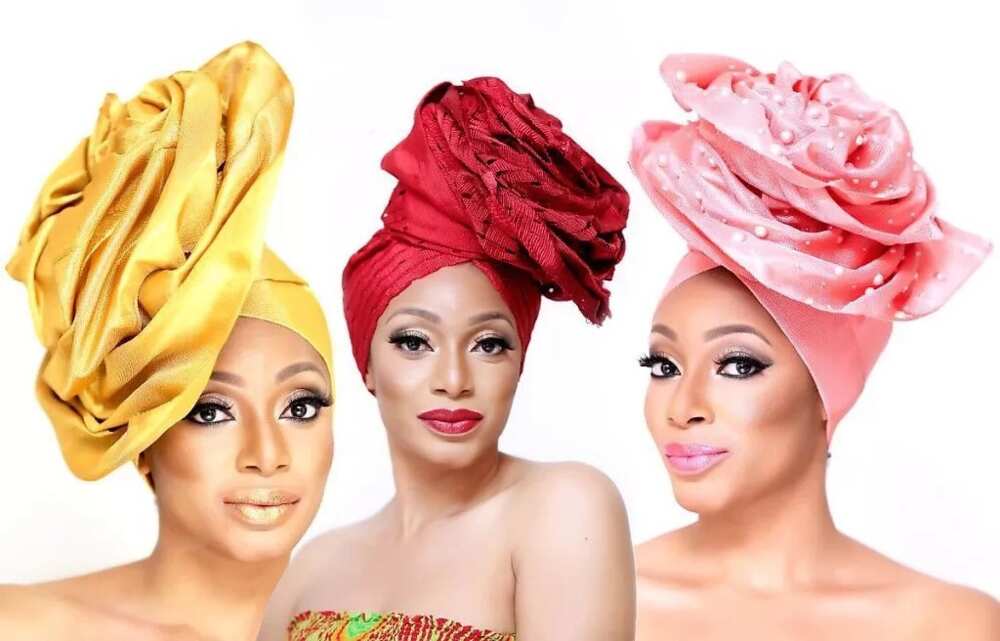 Speaking of popular trends of this season, we should definitely mention that a gele in the form of a rose is quite appealing. If you decorate such a headdress with pearls, they will look like drops of dew that appear on the petals of garden roses in the morning. The combination looks very beautiful and original.
Choose one of these ideas or even come up with your own. In any case, have some fun and show off your beauty.
READ ALSO: Latest gele styles and how to tie them
Source: Legit.ng