Nnamdi Kanu's sureties won't lose their N300 million bond - Ejiofor
- Nnamdi Kanu's lawyer has assured his sureties that they have nothing to worry about
- The Indigenous People of Biafra (IPOB) leader has not been seen in public after a Nigerian Military raid in his country home in Abia state
- There are fears that the government may go after his sureties
Nnamdi Kanu's lawyer, Ifeanyi Ejiofor has stated that sureties of the IPOB leader should not entertain any fear over the disappearance of his client.
In an interview with Daily Sun, Ejiofor said the circumstances of the present case had gone beyond the sureties' control.
He said the federal government have a duty to produce his client before the case makes any headway.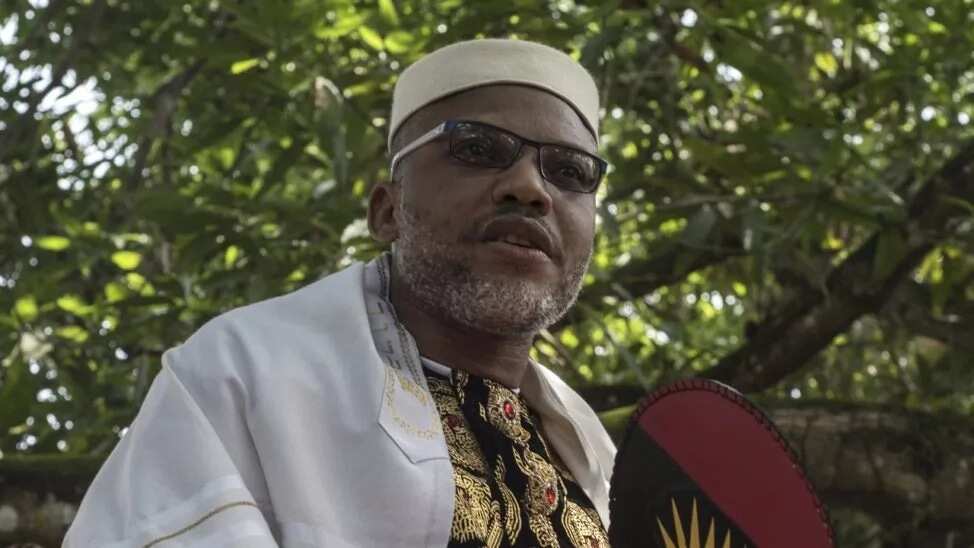 READ ALSO: We won't declare Nnamdi Kanu wanted -DHQ
He said: "The point is that you cannot under the circumstance lay hands on the sureties, because the circumstance that presented itself is such had gone beyond the sureties' control. In legal parlance, it's called force majeure. It's not a situation they would be able to control.
"The court is a human being; it can listen to our application. If at all this incident never took place and by tomorrow we start looking for Nnamdi Kanu, they will be told to go and produce him.
"But in this case, Nnamdi Kanu had been visible; moving around, going places, meeting people and was very certain of coming to Abuja before now to face trial, so, people who attacked him, killed people in his house, wounded people and arrested people, should be in a position to show us where he is."
He added that Kanu's whereabouts now lies with the army, adding that it's out of the sureties hands and they cannot be held liable.
Ejiofor stated that the military should would have extended invitation to him instead of invading his private residence.
"Forget about the lies they've been telling; they must produce him. By the process we have initiated, if they have killed my client; they should come and tell the court.
"Then we will now know what to do, because he has to be given befitting burial if at all such thing happened. But God forbid!," he added.
Meanwhile, the United Kingdom has asked the Nigerian government to clarify the status and whereabouts of Kanu.
The British government said it had asked the Nigerian government if the British/Nigerian national was alive or dead.
This was disclosed by the press officer, United Kingdom High Commission in Nigeria, Joe Abuku.
READ ALSO: Igbos in Oyo state okays IPOB proscription
Watch Legit.ng TV video of Ejiofor alleging that his client is facing a political trial in the hands of the federal government:
Source: Legit.ng