Latest Aso Ebi styles 2018 for ladies
What are the latest Aso Ebi styles 2018 for ladies? What colours and cuts are in trend for this style? Do you want to create a chic outfit for a special occasion? Then follow our advice!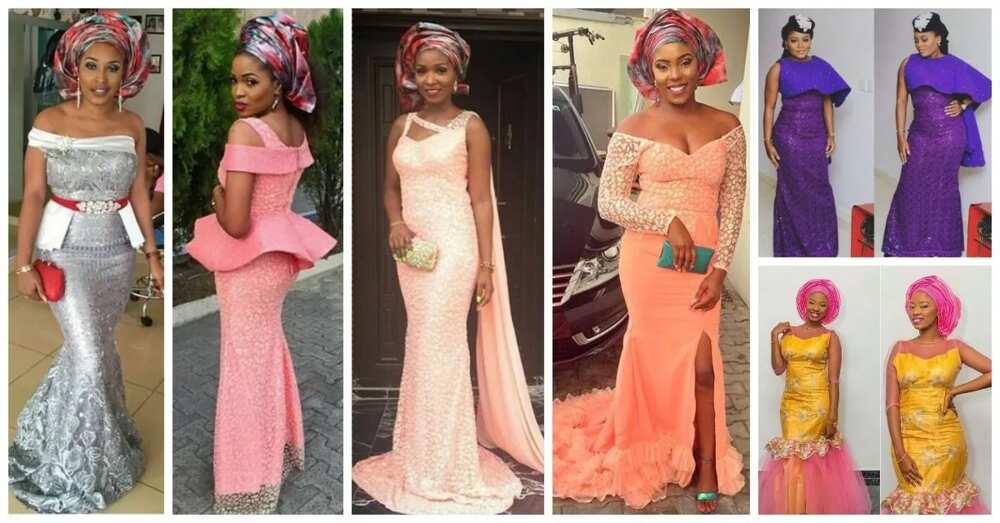 In Nigeria, traditional styles in clothing are very strongly preserved. One of them is a bright and distinctive Aso Ebi style. Women's clothing in such style is distinguished by the use of bright fabrics, fitted cuts, long skirts, and dresses. In addition, it's characterised by brilliant textiles and lace for festive outfits, and of course the traditional female headdress, Gele. Aso Ebi attires usually have a festive look and are very popular among fashionistas.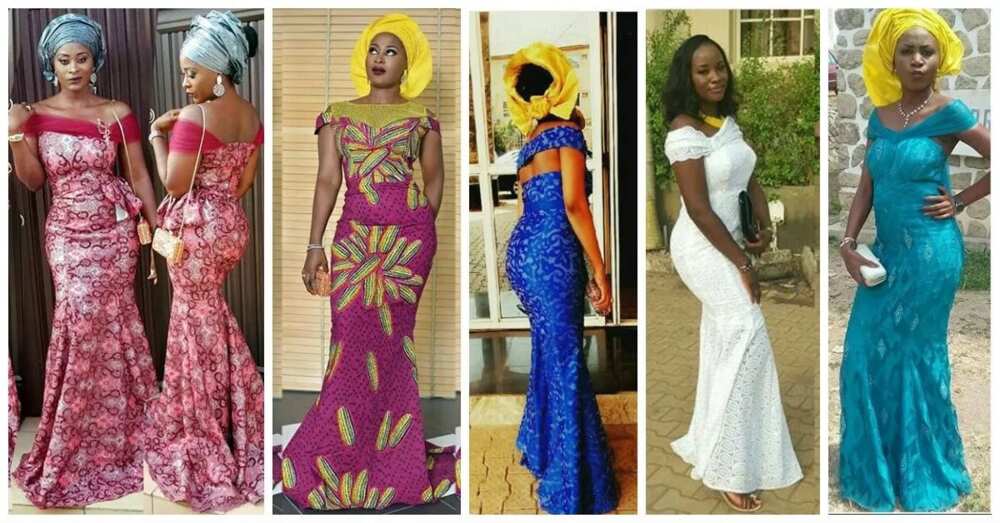 Latest Aso Ebi styles 2018
Aso Ebi gowns
So, let's start with dresses. For a Nigerian Aso Ebi style dress, it is typically sewn and designed to be long. The bottom of the dress is either straight or flared (mermaid style). Nigerian women are very fond of this kind of cut. The top of the dress usually come in many more design options.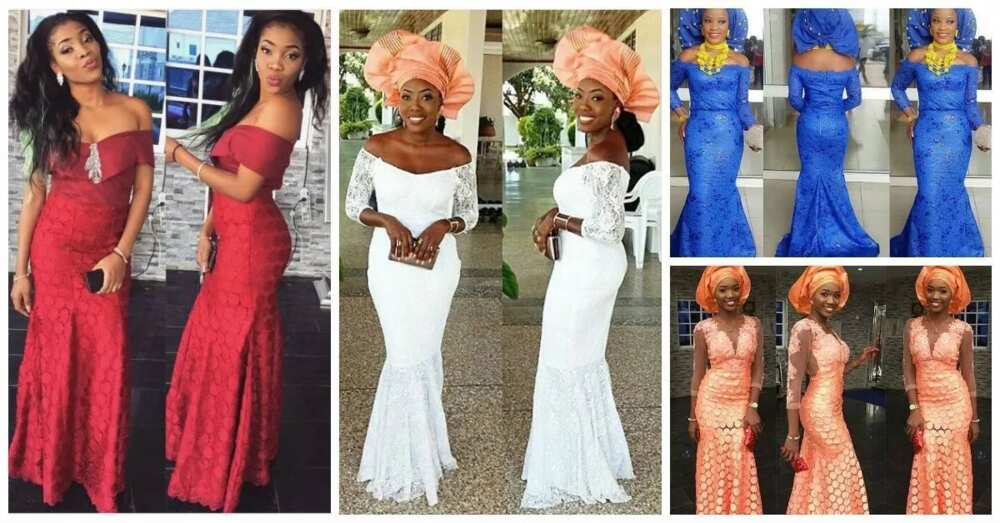 Here we can see both the classic round neckline and open shoulders. Also, various forms of necklines are popular. You can have a simple or unique neckline. For the outfits with a deep neckline, women typically prefer to sew the top with two types of fabric and cover the shoulders with chiffon, organza or other transparent fabric or lace. The transparent part of the bodice is usually in the same colour as the rest of the dress. Often women of fashion use black and white inserts from nylon, chiffon or lace to effectively highlight the décolleté zone.
Sometimes ladies add more focus to the neckline by using a large frill made from the basic fabric of the dress or lace.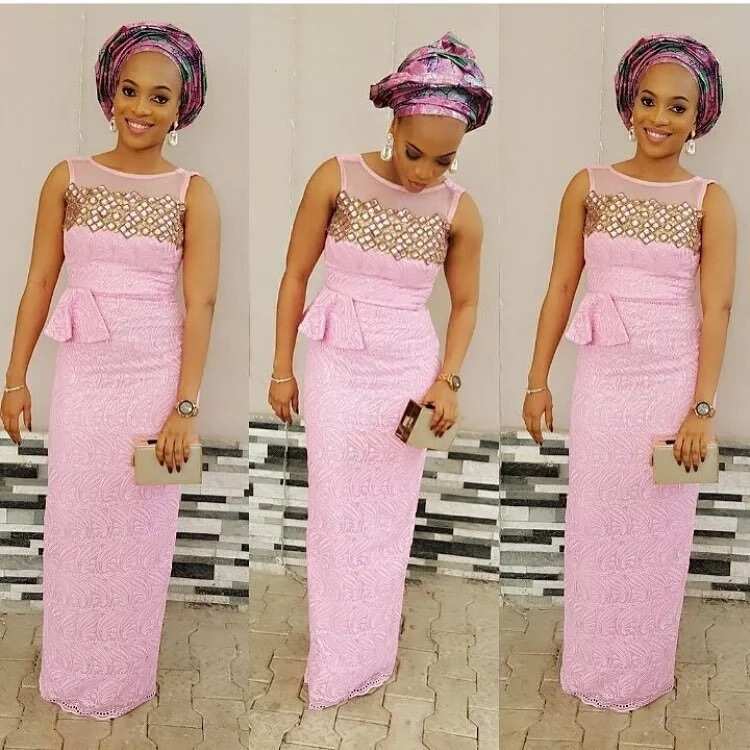 Also, in festive outfits, ladies prefer to go for such additional decors as sequins, rhinestones, and artificial pearls. You can also decorate the bodice of the dress with a beautiful brooch.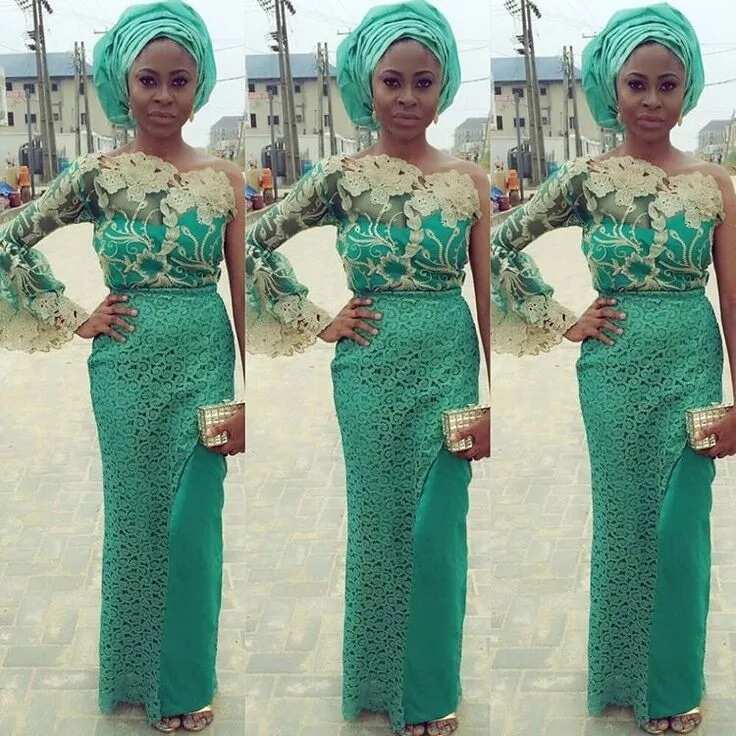 This season, it's very fashionable to open one shoulder, and also use transparent capes as a design for the top. They can be of any length. The capes often cover only the shoulders or reach the waist or, in especially fancy outfits, drop like a train to the floor.
In the season of 2018, the open-back look is in vogue. Girls, don't hesitate to show off your beautiful back. But remember! If you are displaying your back, the neckline area should be completely closed. Also, in this case, you don't need a lot of bright decors. You already have an emphasis on the back. That's enough.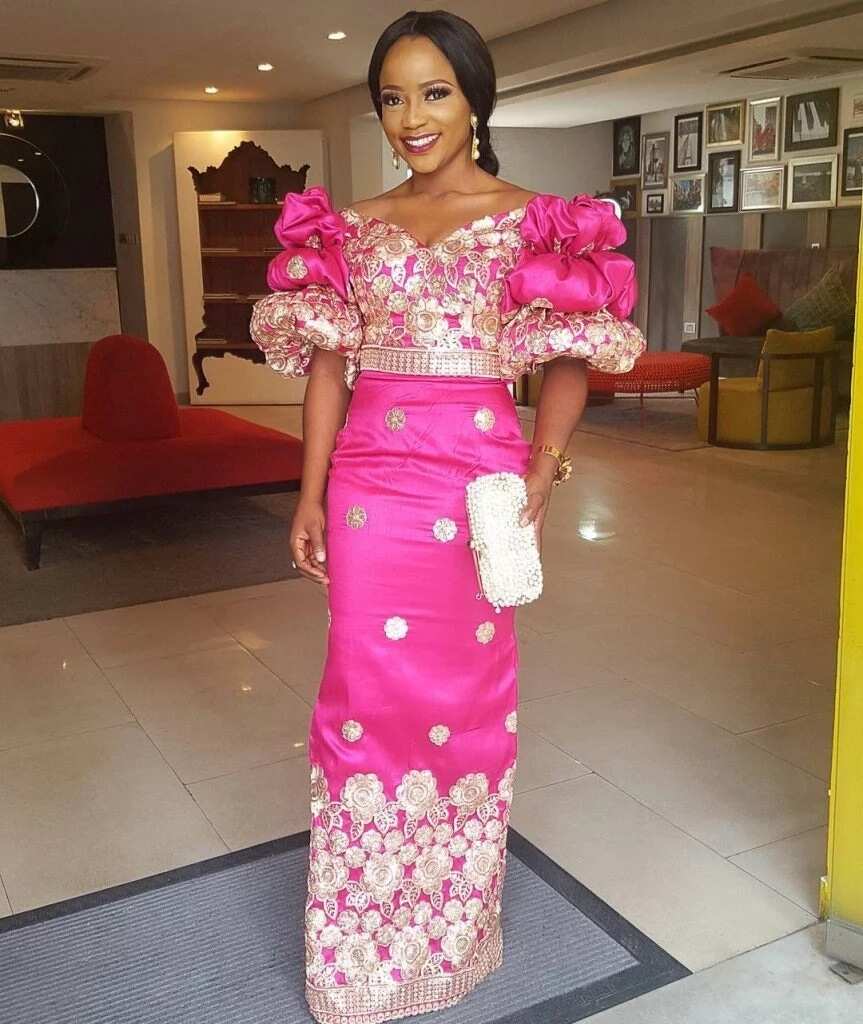 The sleeves for Aso Ebi dress come in different types and styles. Typically, you can have short sleeves, three-quarters or long and flared sleeves. If you don't have a bright accent on the neckline, you can go for the big lantern sleeves. You can even choose to use a fabric of another tone or texture, for example, lace.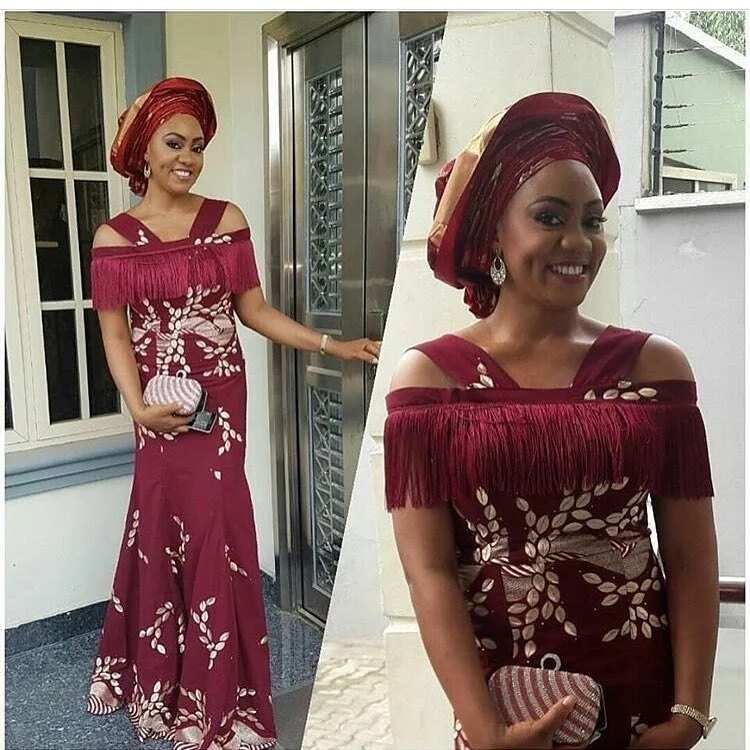 A trend of this season is the use of fringe to decorate the neckline. It can be short or long enough to almost reach the waist.
Typically, dresses in Aso Ebi design are sewn to be fitted. But you can emphasise the waist separately. For this purpose, ladies might use a medium-width belt of contrasting colour or if there are two colours in the outfit, then one of them can be used for the belt. You can embroider the belt with small crystals or artificial pearls. You can even use a different fabric from the outfit. But don't overdo it especially if you don't have a very thin waist.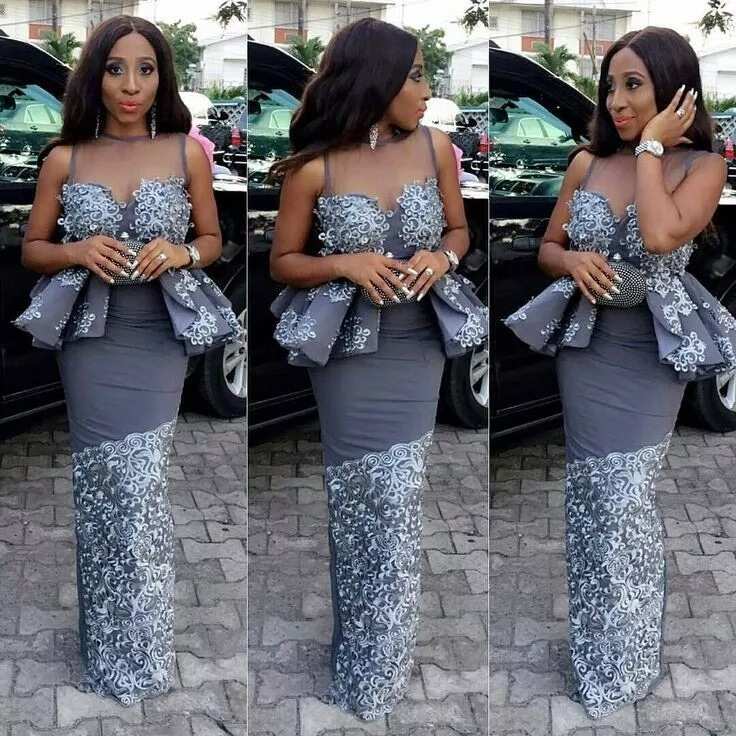 Additionally, a peplum design can be used to accent the waist. It's a favourite style for Nigerian fashionistas and doesn't go out of fashion. Keep in mind that the peplum addition does not have to be of the same length all through. You can make it shorter in front of the dress and longer on the back. It can also be made from several layers of different lengths. Besides, you can make a peplum in a different colour from the dress. But it must be well combined with the basic colour of the gown.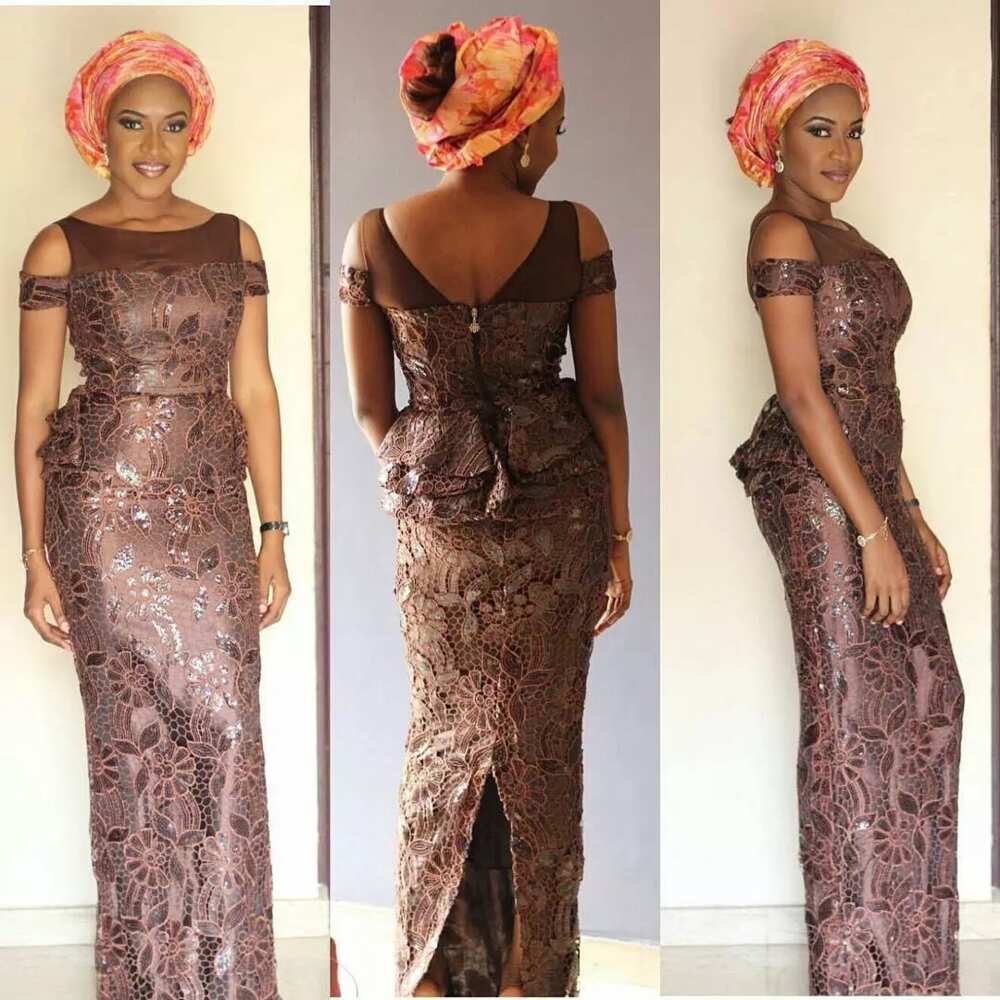 Now let's talk about the bottom of the dress. If you are sewing a straight long or narrower to the bottom dress, then you might want to add a simple cut down to the bottom It can be either straight (back or side) or diagonally. The cut can even be decorated separately. But don't overdo it here. If you have a lot of decor in the neckline area, it's better to make the bottom of the dress simple. The focus of the attire should be on one item.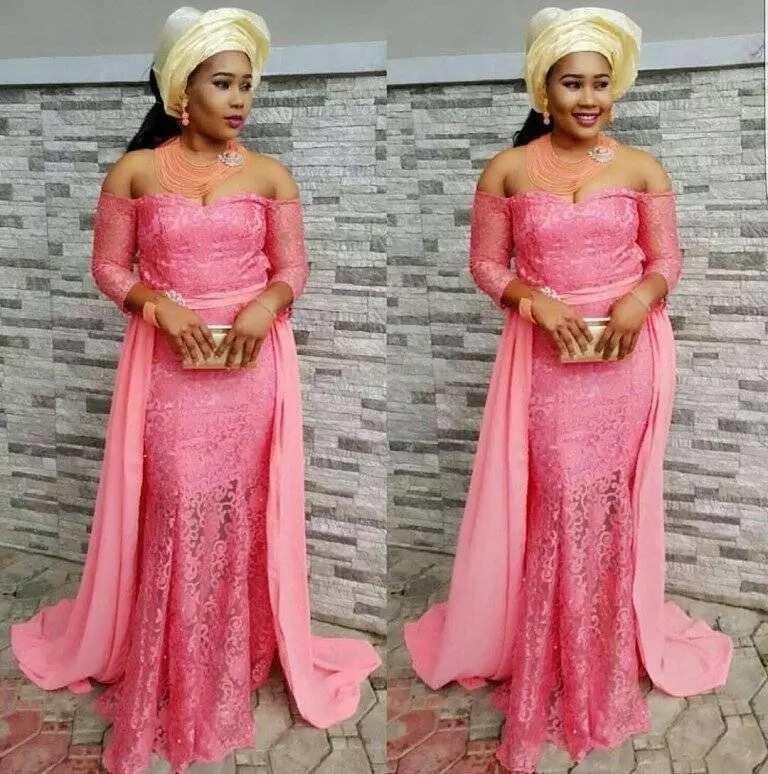 However, if the bottom of your dress is sewn in the mermaid style, then you can make it flared from the hip, the knee or right at the bottom. You must ensure that you feel comfortable. The wider part of the mermaid skirt can be beautifully designed.
READ ALSO: Nigerian Aso Ebi styles 2017
Here's another thing to keep in mind. If the dress bodice is richly decorated, then when decorating the bottom you need to adhere to moderation. And vice versa, if you accent the bottom with a flashy décor (especially for mermaids), it's better to have a modest top. You can also choose to use the same level of decorating elements for both the top and bottom. But, ensure that it is only a little amount of small beads or rhinestones. Don't turn yourself into an art object.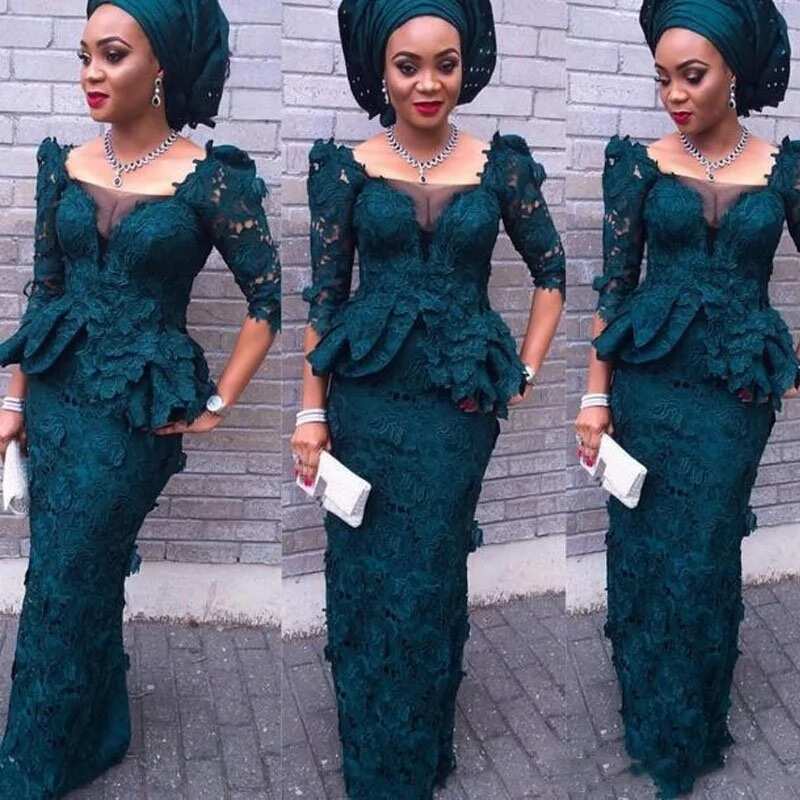 In the season 2018, fabrics with a 3D effect are in great demand. And floral motifs are extremely popular. If you look at such fabric, you could almost feel like the flowers are popping out of it. This textile can be used to create Aso Ebi outfits. The fabric design would mean you have to focus less on other fancy addition.
Aso Ebi blouses and skirts
As for skirts and blouses in this style, they are sewn in the form of a suit (same/similar colour of top and bottom.) The blouses, as well as the tops of Aso Ebi dresses, are decorated with lace, transparent inserts, and stones for festive events. Nigerian women adore blouses of peplum design. The skirts are usually narrowed down to the floor or knee in less fancy outfits. Also, they are often sewn in the mermaid style.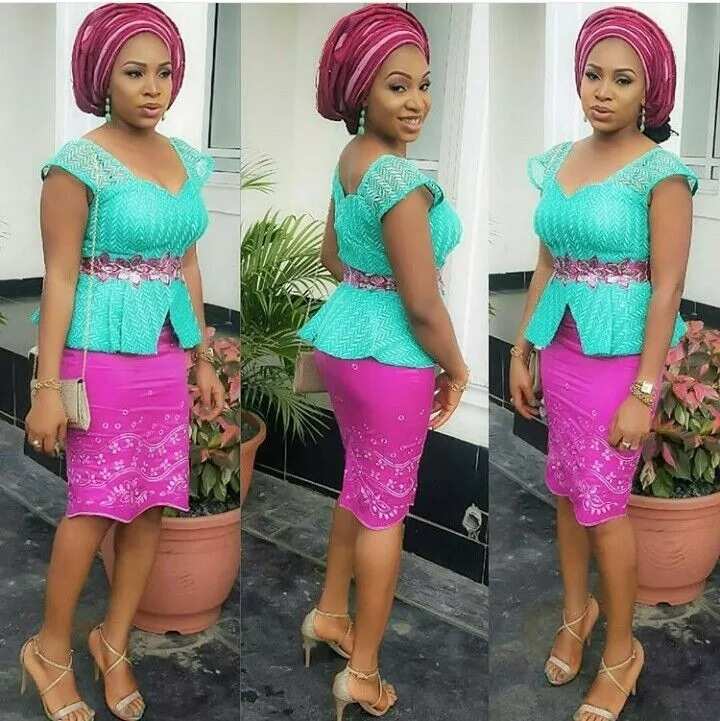 These days, it is important to have fun with colours. This season all shades of pink are very trendy. Pink should be easily combined with tan, blue and even black. Noble grey, white and ivory are also in fashion. Yellow doesn't lose its relevance too. It goes with white, brown and blue colours.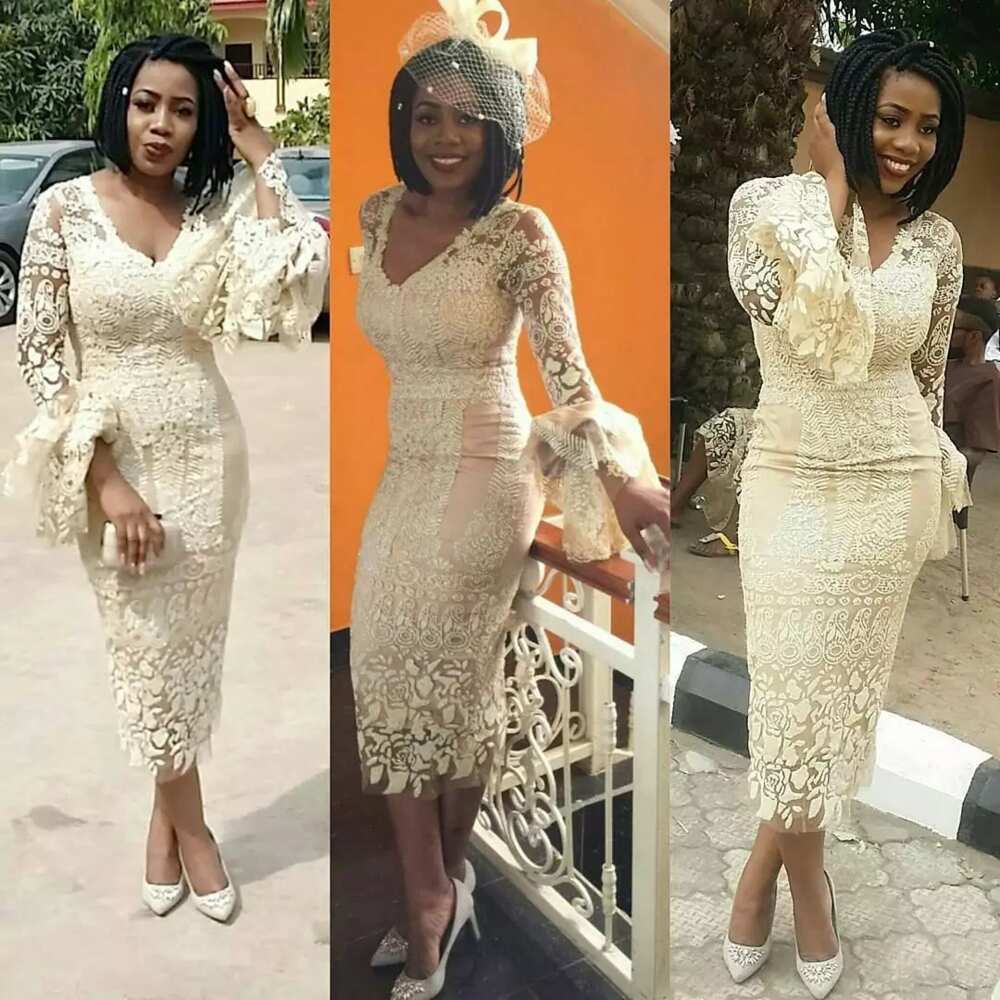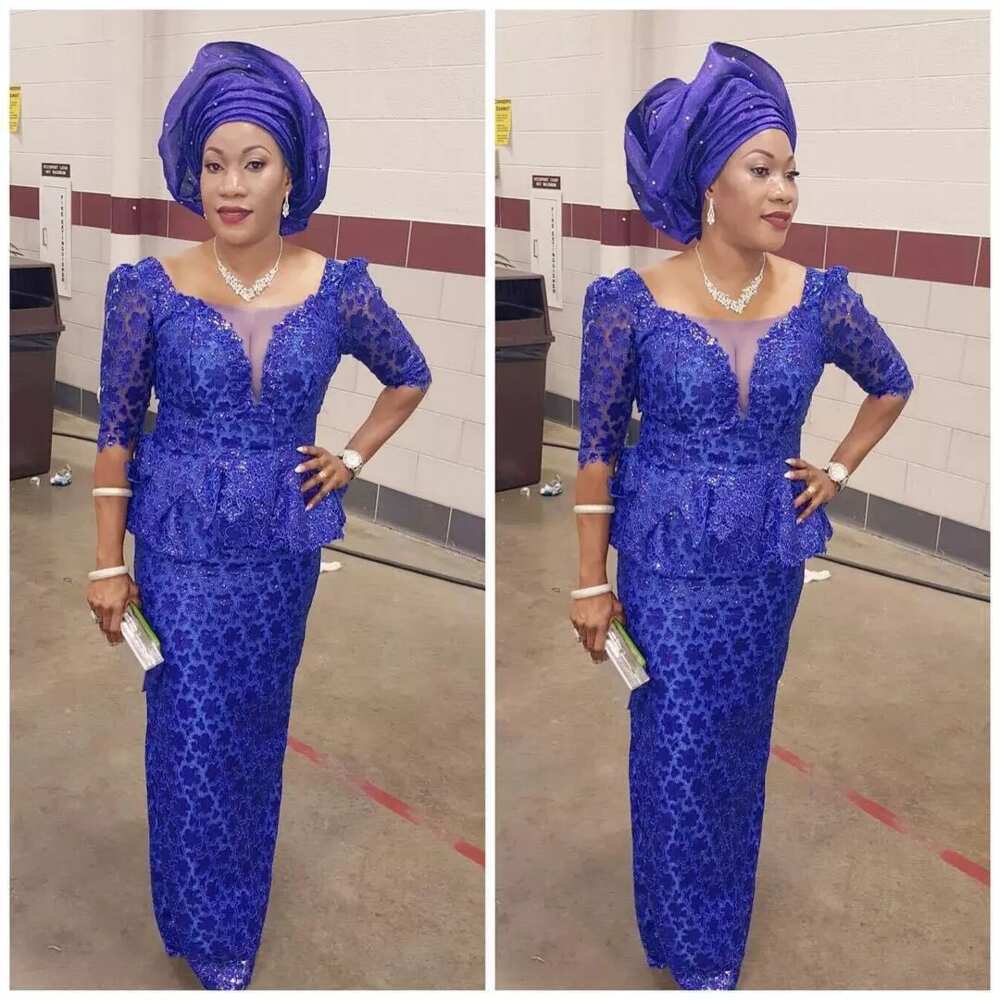 Aso Ebi lace styles
We cannot talk about Aso Ebi style without bringing up lace. It's used both as a decor and the main fabric. French lace Aso Ebi styles and Aso Ebi styles with cord lace are very popular. Dresses sewn entirely from lace are gorgeous. They don't require additional decor. Besides, if you have chosen a lace fabric with a rich and large pattern, you'd better sew a simple dress without excesses.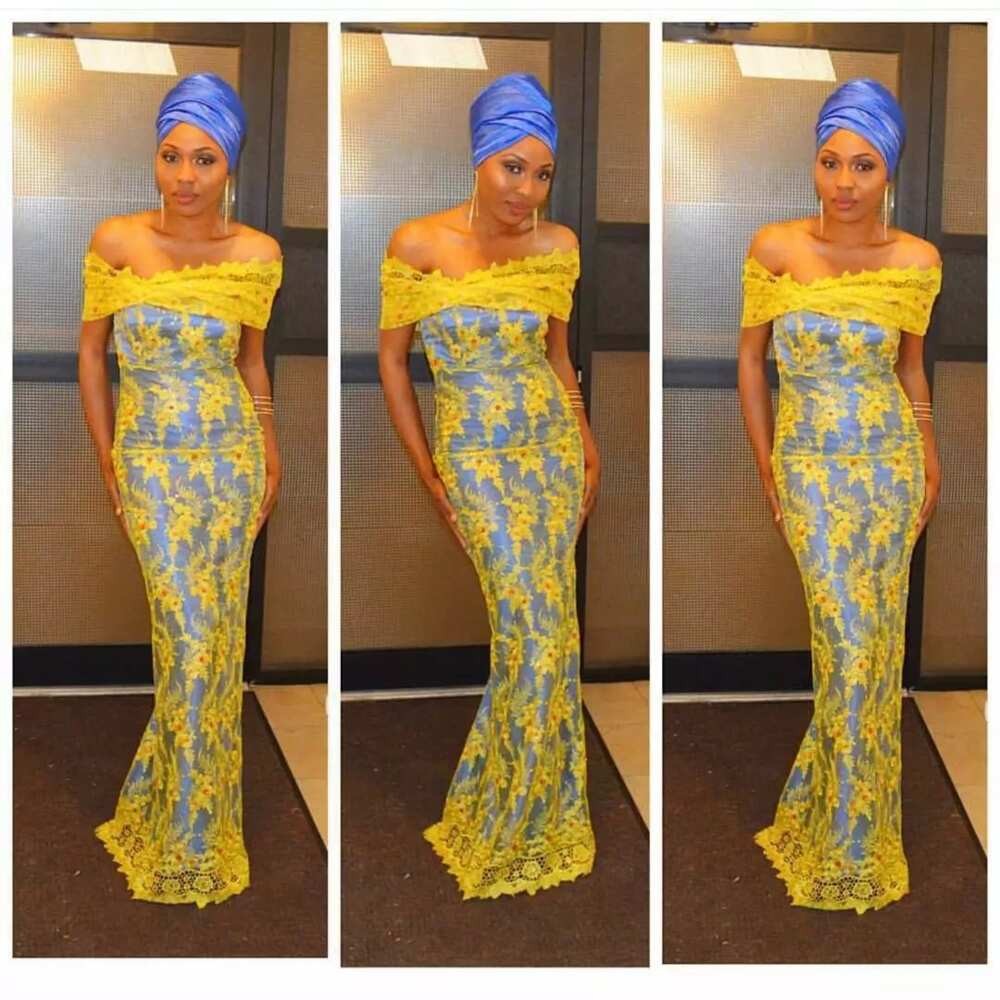 If you intend to make a lace outfit, you must keep in mind that you need an underdress, if you don't want to look vulgar. The underdress is usually sewn in the same colour as the gown or slightly lighter (or darker). You can experiment and make it a different colour.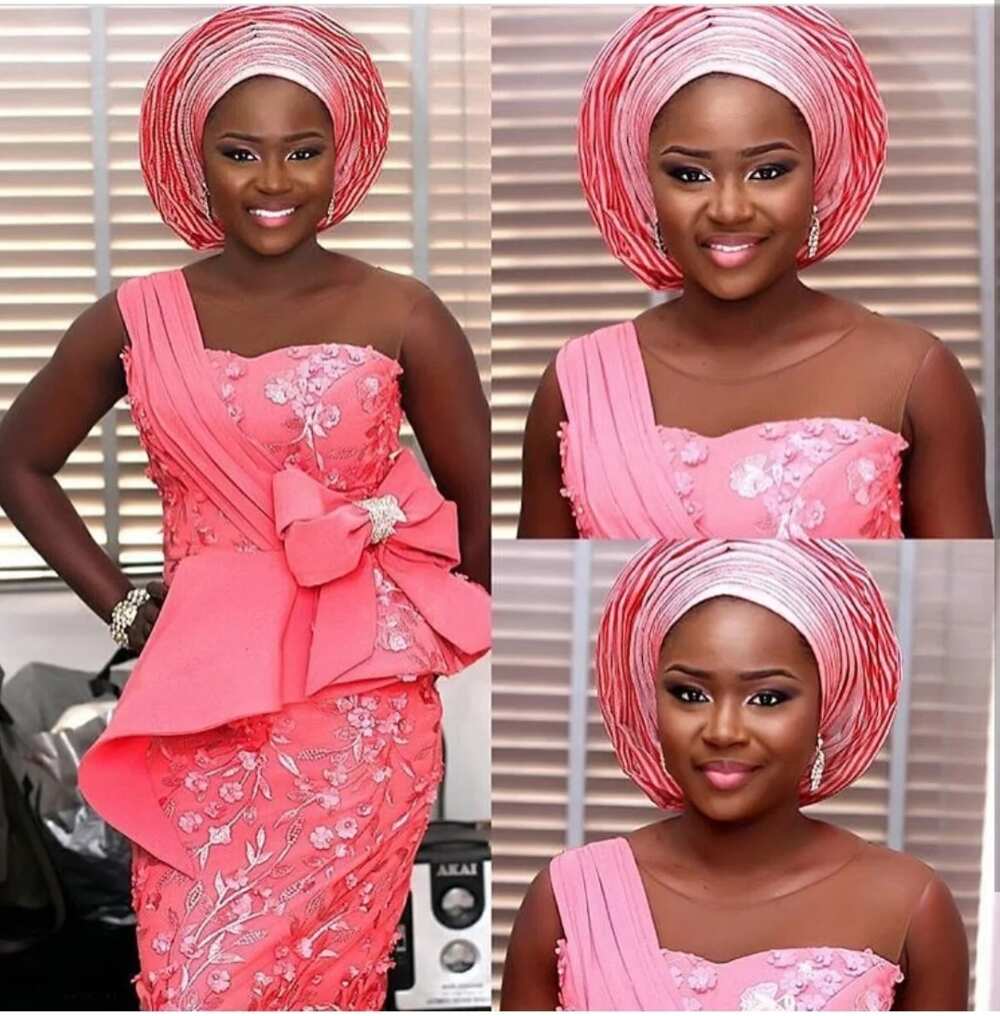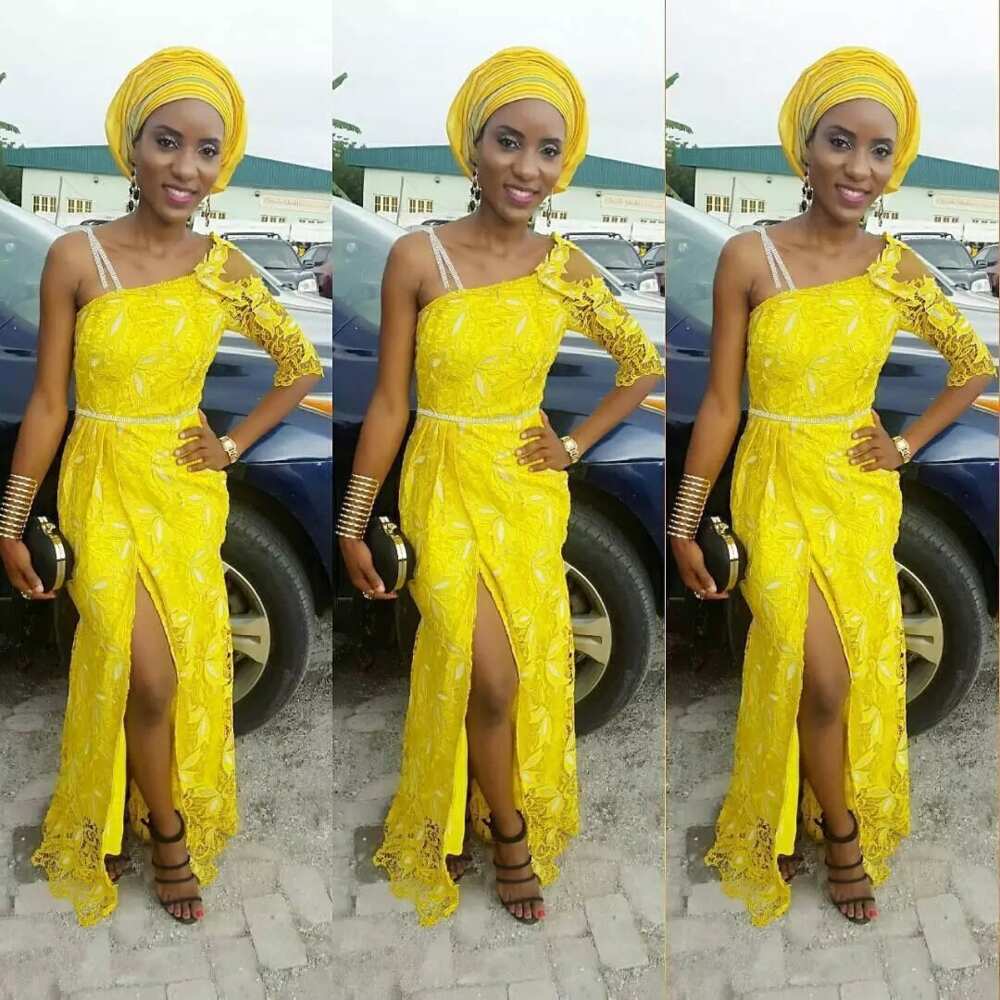 Now, a few words about the Gele. This headdress is a required addition for Nigerian traditional styles. You can choose a one-colour Gele or use two colours when creating the headdress. In this case, a saturated and bright tone is used as a basic colour, and a light pastel tone as the added design.
The Gele come in different colours. You could choose a colour from your outfit for your Gele or make it completely similar and uniform. If you are in doubt, go got a white Gele and you will not go wrong.
As you can see, the latest fashion styles are ideal for creating beautiful and feminine looks in Aso Ebi designs. Look closely at fashion trends, use your sense of style and create beautiful looks for the important and festive moments in your life.
READ ALSO: Lace aso ebi styles
Source: Legit