A 25-year-old Nigerian man identified as Emeka Nwangwe has won the attention of ladies in Yaba axis with the kind of service he offers them. The young man fixes and polishes nails for ladies in Yaba market.
Legit.ng had an exclusive chat with the young man whose appearance and composure fascinated our correspondent. He stood out from the men hustling in the market with his well-built bold and polished English.
Nwangwe who hails from Ikeduru local government area of Imo state shared his intriguing story with Legit.ng after he was asked about the things he does for a living. Interestingly, he found passion in doing something one would think is limited to only ladies.
He found pleasure in helping ladies paint and fix their nails; he confessed to ladies being interested in being served by men.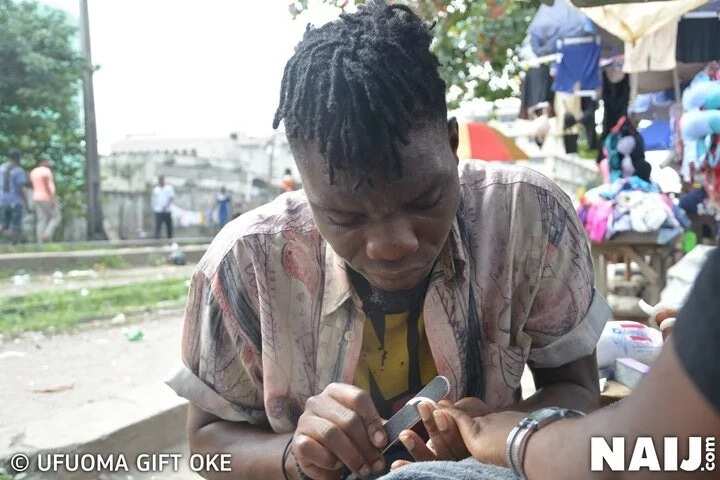 READ ALSO: Nigerian man Nwanta Anayoeze Yonaracha gives out N500k to a man on Facebook (photos)
The young man graduated from the North American University in Cotonou in 2016. He studied Business Administration and decided to explore something he is highly passionate about.
Despite the belief of many people concerning the odd vocational skill he chose to acquire, he went ahead to learn. The journey to learn how to make nails started four years ago in Festac where he learnt for four months. His friend had been into the business and this encouraged him too.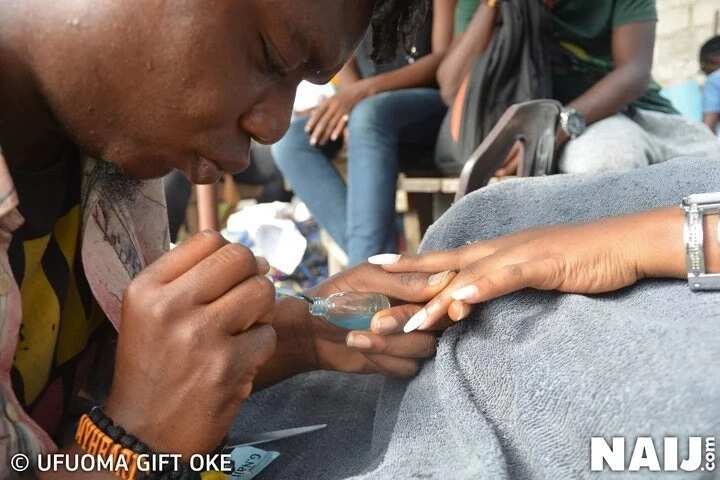 While Nwangwe shared his remarkable story with the Legit.ng team that visited him at his stand in the heart of the market, he attended to our female correspondent. It was fascinating watching him do the job with ease while he talked more about himself.
As the first born of four children, the nail maker does not have any regret about his choice of work as he is able to keep body and soul together with the little he makes from the business. He explained that being independent and doing something worthwhile is all that matters to him.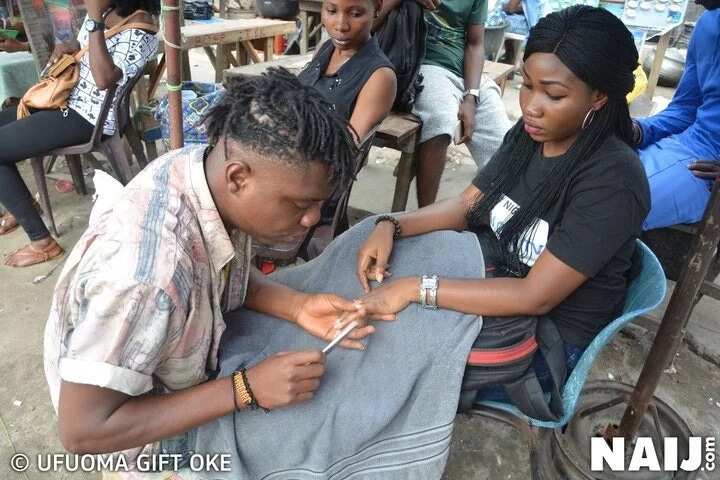 His family members have been supportive so far as they did not make him feel bad about his profession despite being a graduate. Apart from fixing nails for ladies, the young man also knows how to make hair and plays for the Thirty Six Lions football club in Lagos.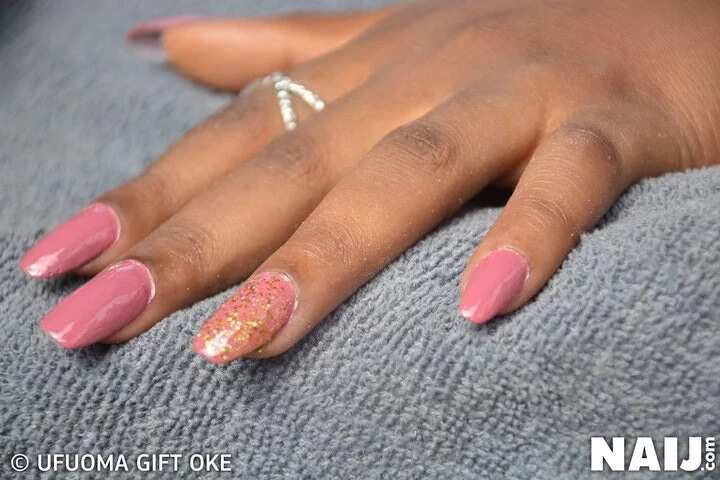 The well-built guy shared his future ambition with Legit.ng saying he plans to own a salon someday even though he nursed the thought of being a medical doctor when he was younger. He was asked what made him change his mind about studying medicine and he laughed saying science subjects turned him off.
PAY ATTENTION: Install the latest android app to get updates from Nigeria's number one online news platform
Fixing and polishing nails for ladies have made him a sweetheart to the ladies who patronize him. He revealed that he makes between five to ten thousand naira daily. Nwangwe boasted about being able to draw various designs on the nails he makes for the girls.
Watch the Legit.ng TV video below to see the beautiful works of this young artist who draws prominent Nigerians: