Top Ankara jackets on Bellanaija
A jacket is a classic item in a guy's wardrobe. But for many years this garment occupies one of the honorable places when it comes to the favourite attires of the female gender. The right jacket can emphasize the femininity and beauty of a woman especially when it's well combined with a stylish outfit. What styles of jackets are the most popular among modern fashionistas? How should you wear these jackets of different cuts and colors? We will try to understand these issues in this article and consider Ankara jackets on Bellanaija.
Popular styles of Ankara jackets
Classic jackets of Ankara styles
Uniform coloring or patterns, V-neck, smooth lines, empire waistline, buttons, patch pockets - the classic jackets often have these and more.
The latest Ankara styles of the classic cut can be considered as a business and evening clothing. But this all depend on what you pair it with. So the dress, trousers or skirts you are wearing with the jacket will determine where it can be worn to.
For example, a jacket of Ankara fashion can be combined with jeans, mini and maxi dresses or even leggings.
Shortened jacket
For business and office style, a short female jacket sewed with the Ankara fabric is an indispensable attribute. It can also be worn on a date if you like. You can even choose to attend certain events while wearing these Bella Naija Ankara styles but you must know how to put your look together.
For example, a white top, jeans and a jacket can be awesome for everyday wear. In a classic mini dress and cropped jacket, you can go out to town and have fun.
Some of these short or cropped jackets are most often sewn with 3/4 sleeves, zipper or buttons. The cutout of the neck can be both rounded and V-shaped. The colors of these jackets are very diverse: from light pastels to brightly saturated.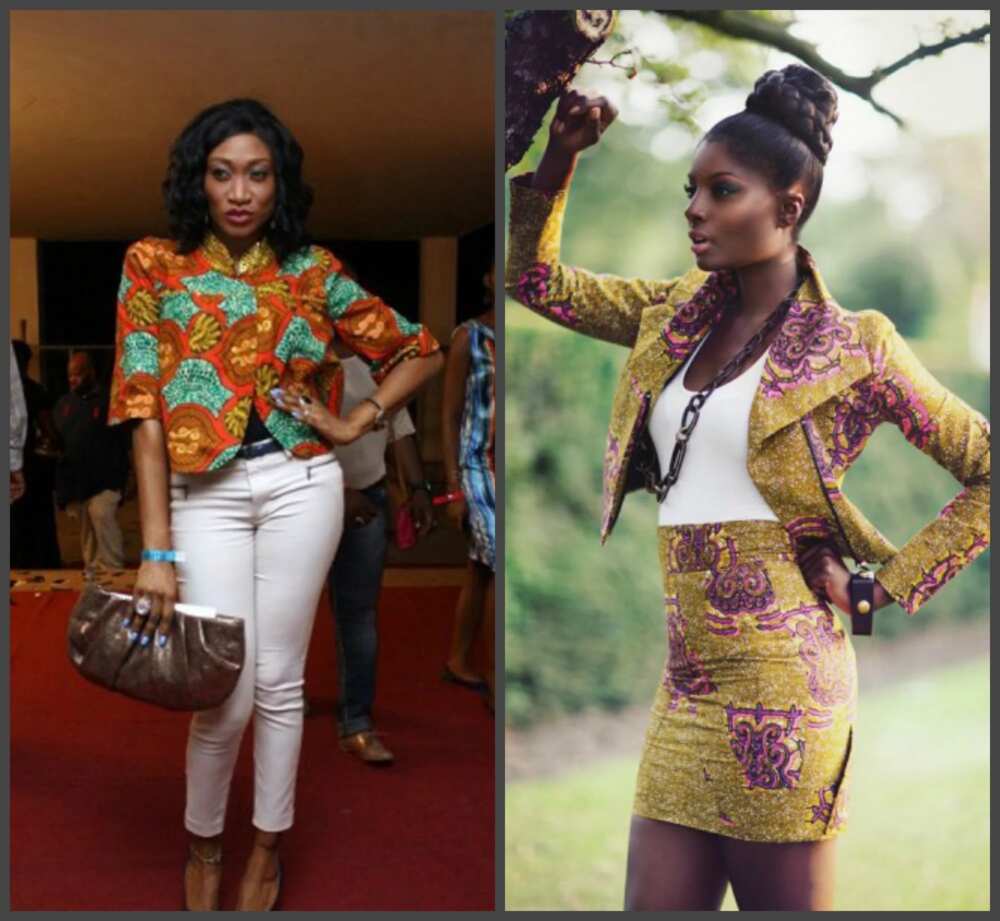 Jackets with fancy designs
Beautifully designed thread and beads, leather and textile additions are popular elements for the modern women of fashion. This is especially appreciated in jackets, the decor of which is usually handmade. Such decorations are usually very elegant and exclusive because of the uniqueness of handmade designs.
But you need to choose the appropriate way to complement this jacket. For example, it might be better to choose something plain underneath, so that attire does not seem oversaturated with the design. You can also make the jacket and skirt/trousers in the same design so you have a suit effect.
A long jacket
This unique trend is easily combined with different types of outfit. You should be careful about this trend so as not to look unusual. An elongated tight-fitted jacket can be great to wear to work or a corporate event.
READ ALSO: Top Bellanaija African dresses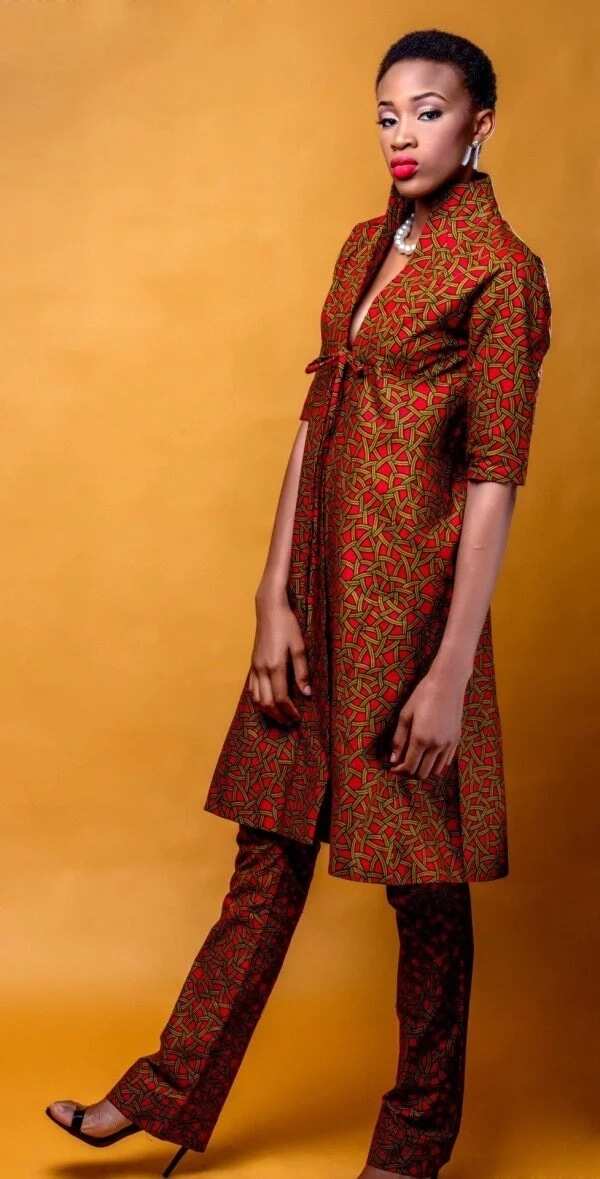 Bombers
A bomber is a short jacket with zips. Universality is the main positive feature of bombers. These do not only keep you warm, they make you look stylish and versatile. Female bombers are very original and may be decorated with rhinestones, sequins, embroidery. Don't be afraid to go for bright colours and design for an event. But for casual wears, your bombers should go with one color short dress, jeans, and leggings. As for colour choice, you can opt for a stylish jacket made from fabric of calm or bright colouring.
Quilted bombers, combined, for example, with leather sleeves and a fabric base, with floral prints, inserts and stripes can be a great choice for ladies.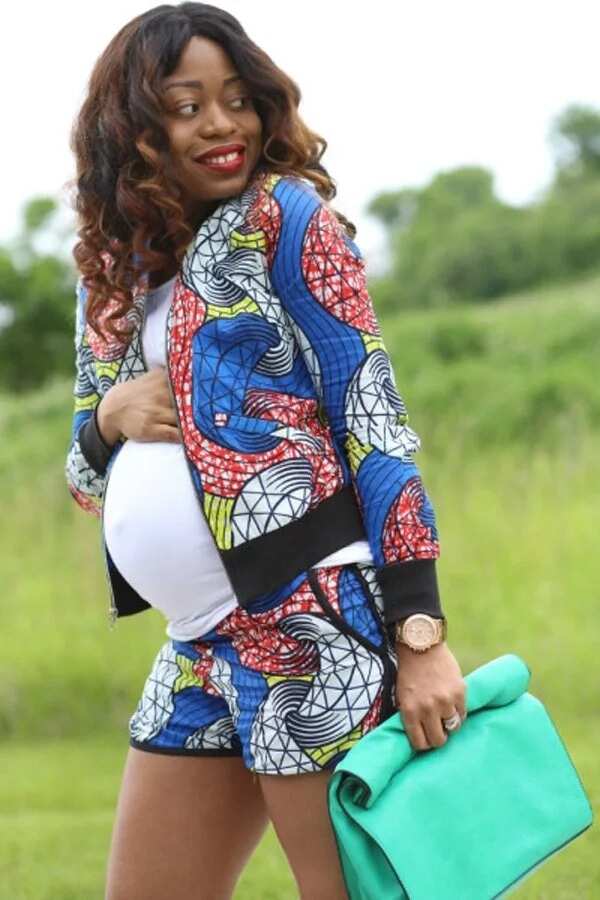 How to wear a jacket?
You can use a bright scarf, bow tie, massive necklace or bracelets as accessories, and your attire will be perceived in an absolutely different way.
Bella Naija Ankara styles of jackets combined with skirts or dresses have almost no limits. Wear them with fitted dresses or pencil skirts. Your strict and sleek business look is complete
Romantic playful attire can be created by combining a jacket with a chiffon dress or skirt.
Do not forget about the dresses and skirts of maxi-length. You have to admit that the latest Ankara styles 2017 are pretty spectacular.
For a long time, people usually prefer to go with jacket and jeans. You can wear Ankara jackets with jeans of classic cut with minimal or no design. For example, a monochrome pair of blue or dark jeans. This will make you stand out. Shoes, and accessories will add more colors, as well as the tone of the blouse worn under the jacket.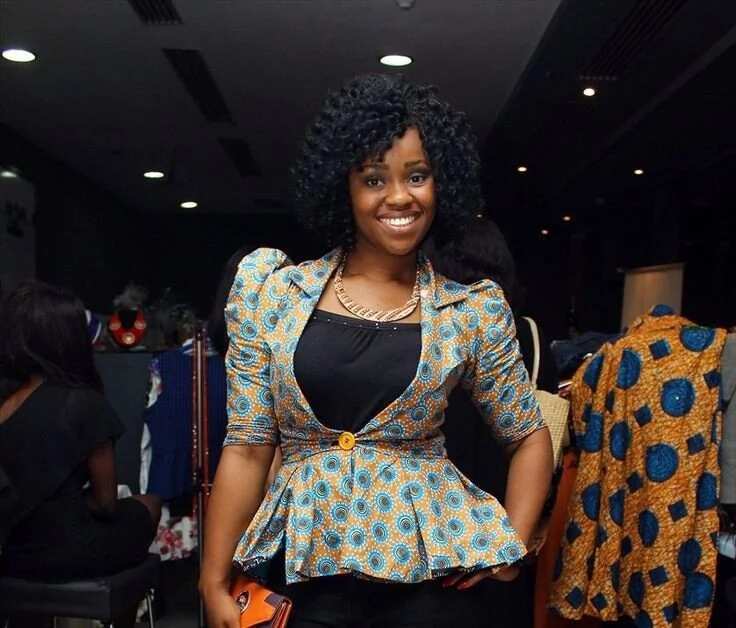 It seems that latest Ankara styles in vogue proposed by Bellanaija can be worn absolutely with any choice of footwear.
If you want to go sporty. Try combining sweatshirts or T-shirts with a great jacket. Sporty shoes like sneakers will also complete the look perfectly.
Features of the figure
When talking about the female figure, women with ideal proportions will look good in any Bellanaija jacket, while ladies with curvier hips should choose lengthened and fitted jackets that cover the hips.
If you have "rectangle" type of figure, pay attention to styles with a belt or button on the waist to give you a shapelier look.
Short jackets and styles with vertical stripes are great for shorter women who want to elongate their frames. Voluminous jackets of a simple cut can be worn only by slender girls that are tall. If you have broad shoulders, attention should be shifted to the hip line. To achieve this result, you might want to choose styles with V-neckline and patch pockets in the thigh area.
If you would like to hide your tummy, you should choose a free jacket that reaches the thighs. Darker coloured jacket will be the ideal option.
Men's Ankara jackets
Although women's fashion is traditionally considered more diverse, men also do not miss out on the opportunity to adorn themselves with bright fabrics of Ankara. Modern fashion designers have created designs to help guys look more manly, but at the same time super stylish. So, on the Bellanaija blog, you can often find interesting ideas that are useful to every guy that wants to create a great look.
This is an excellent option for lowkey event. Shoes, trousers, tie, and shirt create an official look. No lady can resist such a gorgeous gentleman. If you want to create a more casual and free look, you can wear shorts, T-shirt and white sneakers.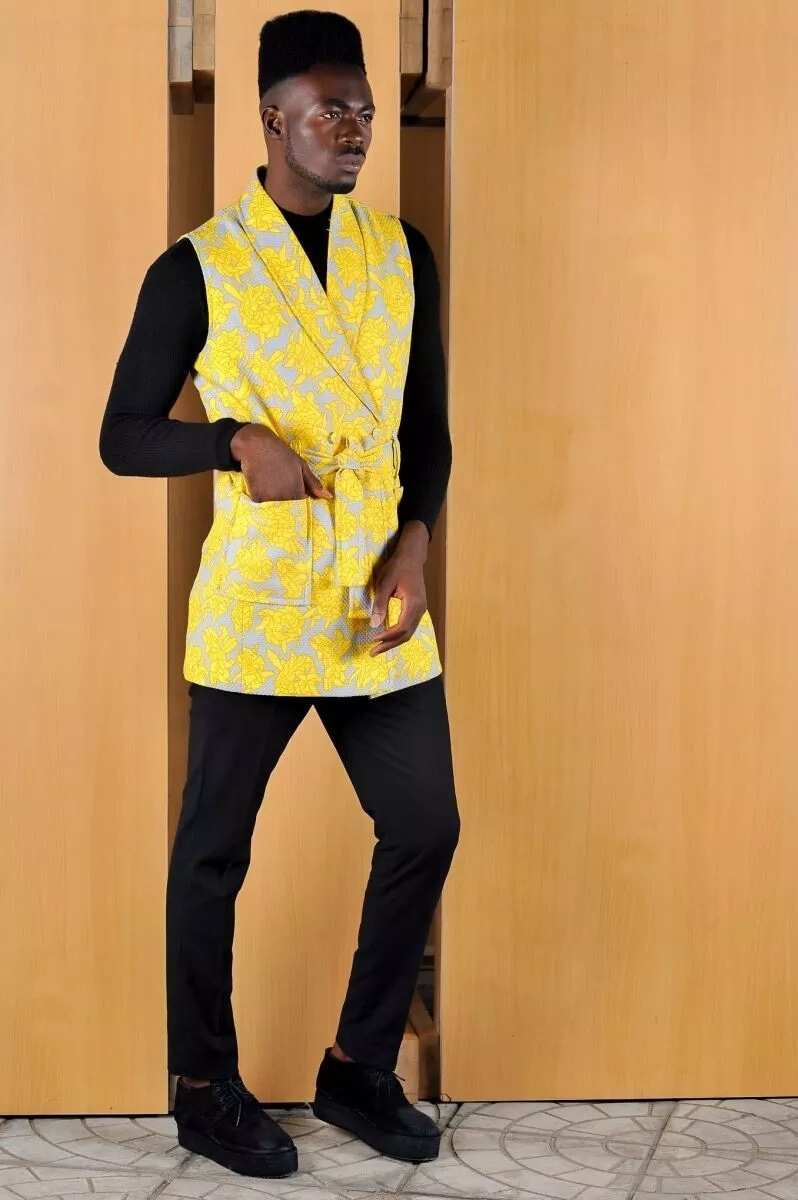 If you would like to look unique, you can go for jackets that are sleeveless and pair with a belt. You will definitely stand out.
Male Ankara jacket is a good option for a party, any other occasions at which you want to look original, but you don't want to add to many bright elements.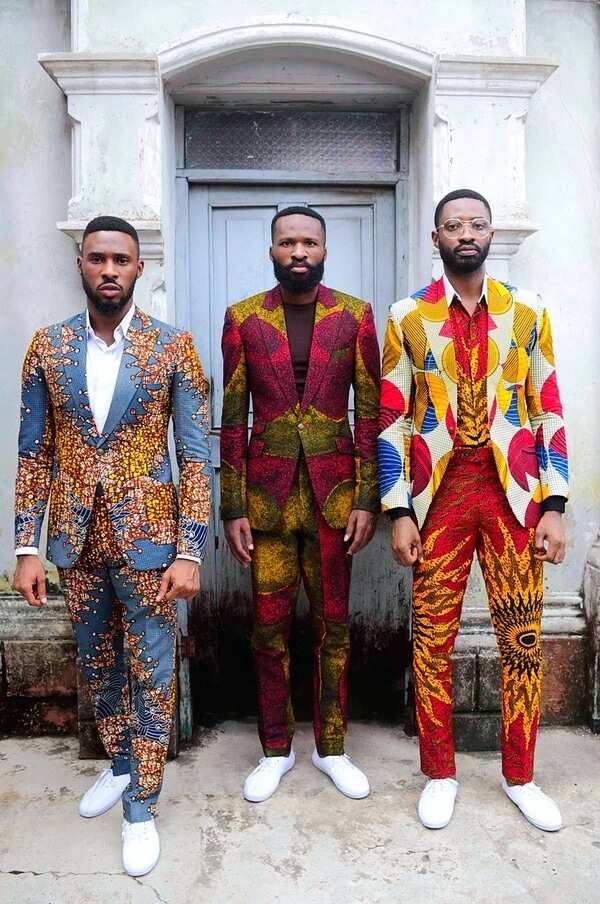 In summary, just keep in mind that every person is beautiful and unique. All that's important is to emphasize this beauty. Fashion and style play an important role in this process. An incorrectly chosen outfit can bring too much attention to your shortcomings: real and imagined Therefore, it is wise to approach your choice seriously, to clearly know the size and features of your figure. Then of course, find yourself a few trendy jackets and have fun showing off your gorgeousness.
READ ALSO: Trending Ankara shirts for guys in 2017
Source: Legit.ng