21-year old lady gets a house as graduation gift from mum (photo)
- A 21-year-old lady got a beautiful surprise gift from her mother on her graduation day
- Her mother who has been into real estate for 25 years presented her with a house
A 21-year-old lady identified simply as Iamlaurenlyrics on Instagram is over the moon after receiving a house from her mother as a gift for her graduation. The young lady took to her Instagram page to share the news with her friends and loved ones.
Excited about owning a house and being given the opportunity to go into real estate like her mother, the young lady could not hide her joy. Interestingly, it looked like a good deal as the young lady had told her mother when she was in high school that her mother would not have to pay for anything in college.
She worked hard to keep this promise and earned a full scholarship. Her mother had also made her a promise that after college, she would help her get on her feet.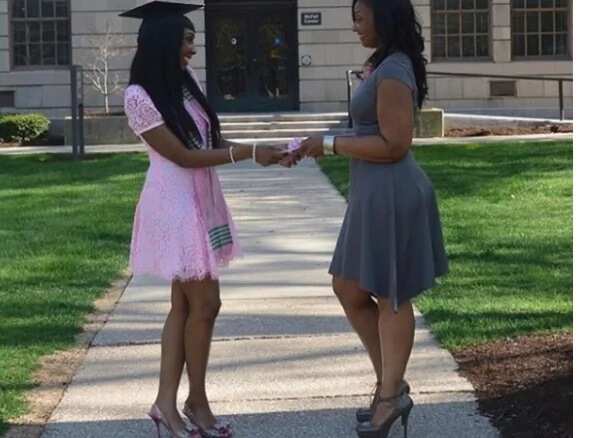 READ ALSO: Nigerian lady calls out sister's husband and his side chic, curses her (photos)
As a result of this promise, she handed her the deed to one of her rental properties. The name on the documents was changed to hers too making her the official owner of the house.
Iamlaurenlyrics' mother has been into real estate business for the past 25 years. The young graduate had no interest in joining her in that line as she had other plans for her life. All that has changed as she is now a licensed realtor working alongside her mother.
PAY ATTENTION: Install the latest android app to get updates from Nigeria's number one online news platform
She considers this pure joy as she enjoys working with the woman she calls a Girl Boss. According to her, her mother is a real estate specialist, broker and multimillion dollar producer. On this note, she appreciated the woman and thanked her for throwing all of her black girl magic fairy dust her way.
Watch the Legit.ng TV video below to see how devastated this old woman was upon hearing her house would be demolished:
Source: Legit.ng