Is palm oil allowed to pass through the Abuja airport?
Nnamdi Azikiwe International Airport which was named after Nigeria's first president, Nnamdi Azikiwe, is an international air harbour serving Abuja, the Nigerian capital.
It was built in the year 2000 and opened in 2002. The airport, which is approximately 20 kilometres west of Abuja, has an international and a domestic terminal that shares a single runway.
The airport has been in operation since the year 2000 but however, in January, 2017, a decision was made by the ministry of aviation to close the airport for six weeks to enable repairs on the runway, which was said to not be in good conditions and thus on March 8, 2017, Nigeria declared the airport closed six weeks to bring needed repairs to the runway.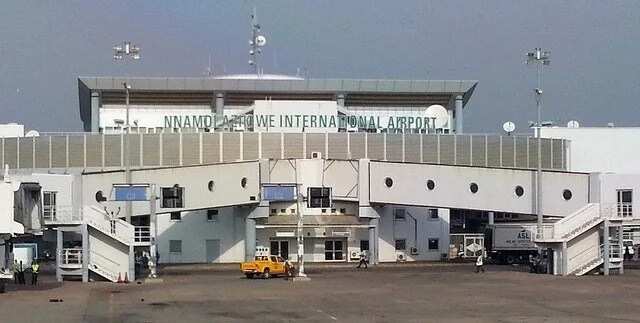 READ ALSO: All you need to know about flights from Lagos to Abuja
The airport was later reopened on April 18, 2017, following completion of this project.
Just like any other airports, there are several rules made as regards the items that are restricted and forbidden in the Abuja airport. The rules are usually exerted by the Nigerian Customs Service.
To avoid embarrassment and waste of your precious time and money, here are a few things among many you probably don't want to carry through the airport:
1. Sharp and pointed/edged objects such as axes, hatchets, arrows, darts, spears, ice axes, knives, scissors, machetes, razor, blades, saws, screw drivers, hammers, wrenches are prohibited.
2. Explosives and flammable substances such as erosol, spray paint, alcoholic beverages exceeding 100ml, detonators and fuses, fireworks, flares, petrol/gasoline, diesel, lighter, gas container, grenade of all types, paint thinner, etc. Ammunitions are also not allowed (although military/paramilitary personnel are usually expected to notify airlines of their firearms, guns and weapons before boarding).
3. Although some pharmaceuti*al products can be carried in a checked luggage, it is likely to be seized when carried in bulk.
4. Fresh and preserved foods are not allowed through customs. Things like vegetables, cereals and other preserved foods are forbidden. Palm oil is also not allowed through the airport due to its high risk of spillage and combustibility when at a high temperature.
5. Live animals are prohibited but there are exceptions to domestic animals such as dogs and cats which can be allowed permitted only if they are accompanied by a health certificate issued by a certified veterinary
6. And of course hard dru*s such as cocai*e and heroi*n are also prohibited for obvious reasons. This is one of the major reasons the security at most airports are tight and very strict. Dr*g peddling is a punishable offence in Nigeria and if caught, one may end up in jail.
7. Any cash exceeding $5,000 will be considered as money laundering and therefore seized. Money laundering is also a crime in Nigeria that may attract jail time.
READ ALSO: How much is transport fare from Abuja to Kaduna?
Watch Legit.ng TV documentary on the Abuja-Kaduna railway below:
Source: Legit.ng