Bella Naija ankara styles 2017-2018
Ankara is a fabric that a lot of people just cannot resist. Bella Naija depicts the spirit of Ankara style fashion and they capture the attention of everyone. It does not matter whether it is casual clothing, or aso ebi outfit, native wear or just a cute cocktail dress, every single Nigerian woman wants it. So we bet you will want it as well. Check out the best Bella Naija Ankara styles of 2017-2018!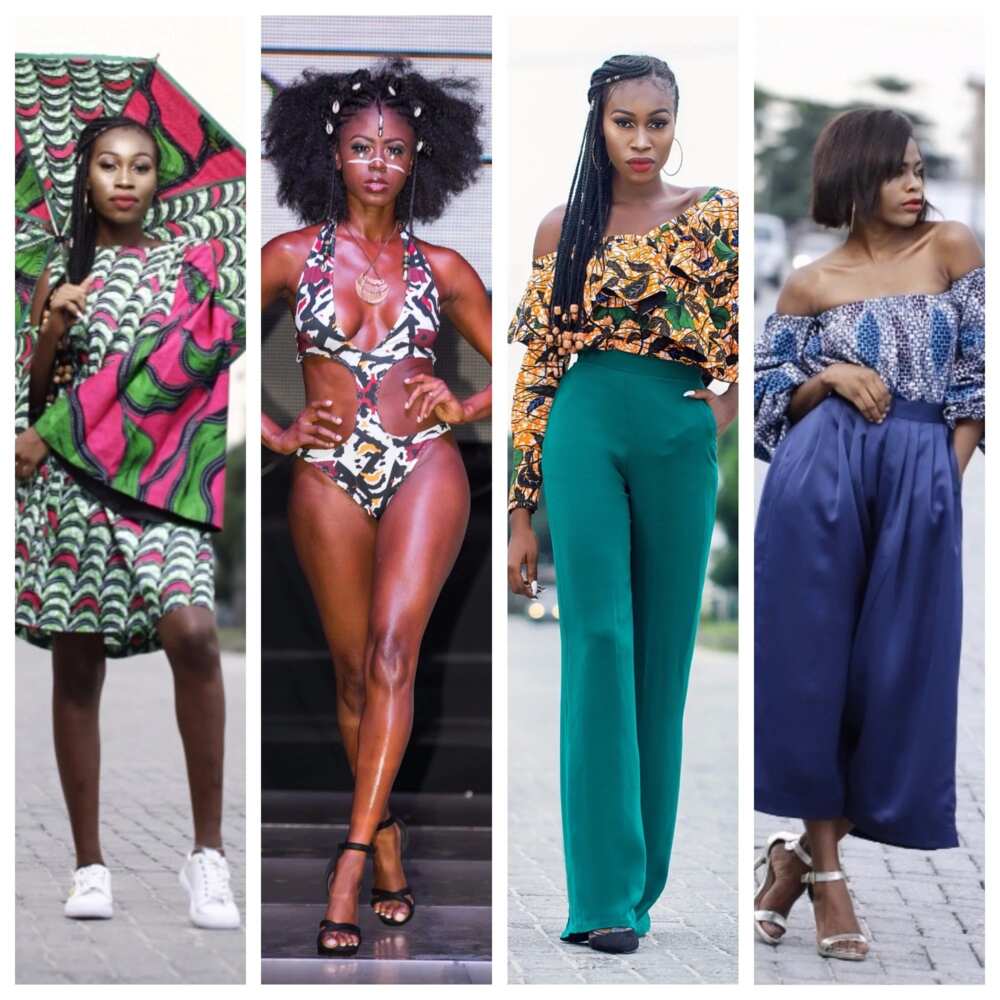 Bella Naija web site
The Bella Naija blog was founded in 2006, now it is the most visited and popular fashion web site in Nigeria. It is a very informative portal for even the pickiest Nigerian fashionistas. You can also follow the Bella Naija social accounts on Instagram, Twitter, Facebook and get the latest news and fashion trends conveniently. BellaNaija is visited by millions of fashion lovers daily and their content gets updated regularly. Therefore, you can definitely find at least one trendy Ankara outfit there as well. Search for any color or shape, it all depends on your imagination.

Of course, a true Nigerian woman cannot have a complete wardrobe without clothes made of Ankara. The outfits that are posted on Bella Naija website are the most famous and popular among all Nigerian fashionistas especially, when it comes to Ankara style dresses, stylish blouses and tops, breathtaking trousers, costumes, and cute skirts. We have analyzed the latest Ankara styles on Bella Naija for you and gathered the best and most stylish types to wear this season so you can shine like the brightest star.
READ ALSO: Bella Naija chiffon styles 2017
The most graceful and classic combinations have two contrasting colors, for instance: peach with mint, blue and orange, deep purple and yellow, turquoise with coral colors. You can add some gold jewelry to it and you will have all eyes on you.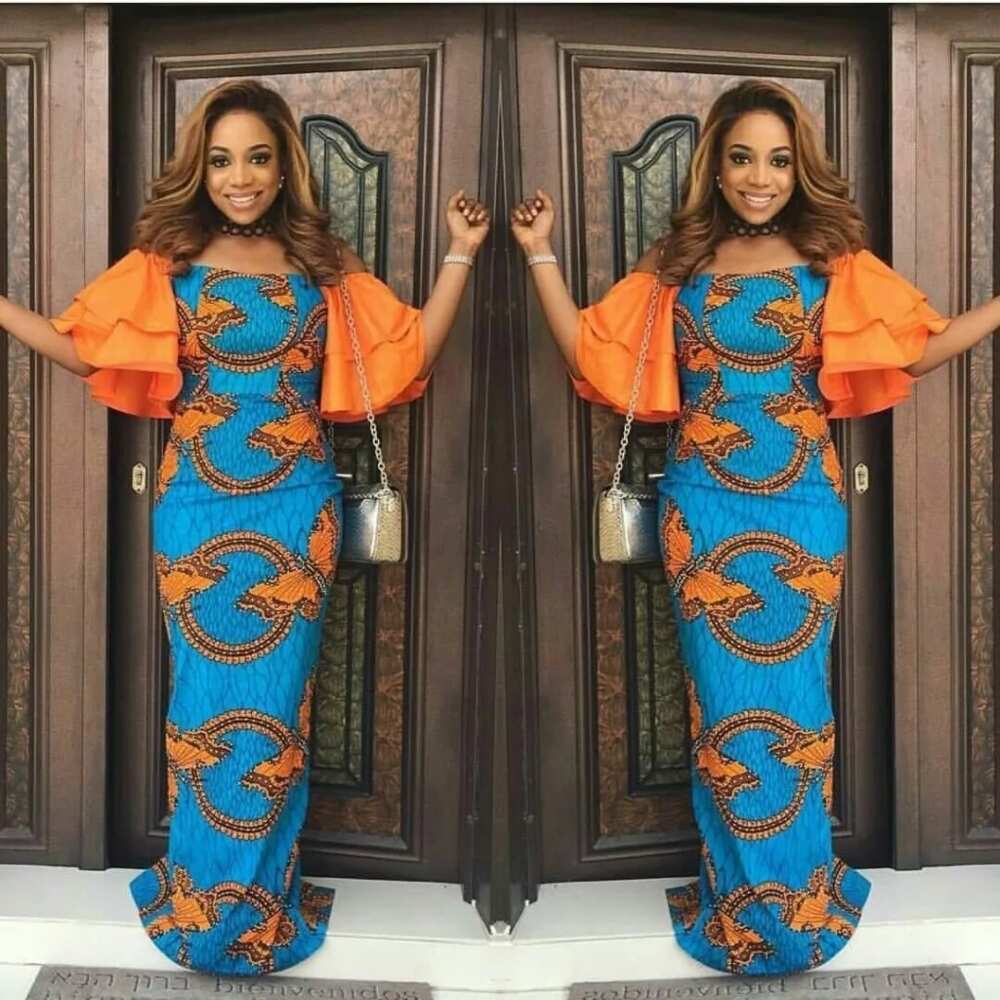 Ankara style evening dresses
Actually, these are our favorite ones! Ankara style wedding and evening dresses have come in so many colours and patterns. The most popular colours are blue and green, matched with gold.
Usually, Nigerian women wear Ankara evening dresses for special occasions, such as a wedding or birthday parties. If you want to make your dress outstanding, choose styles where the Ankara is combined with other materials like silk and lace. Just have a look at these cute and feminine options proposed by Bella Naija fashion. The only element unites all these dresses is beloved "mermaid" silhouette. It really accentuates a very feminine look.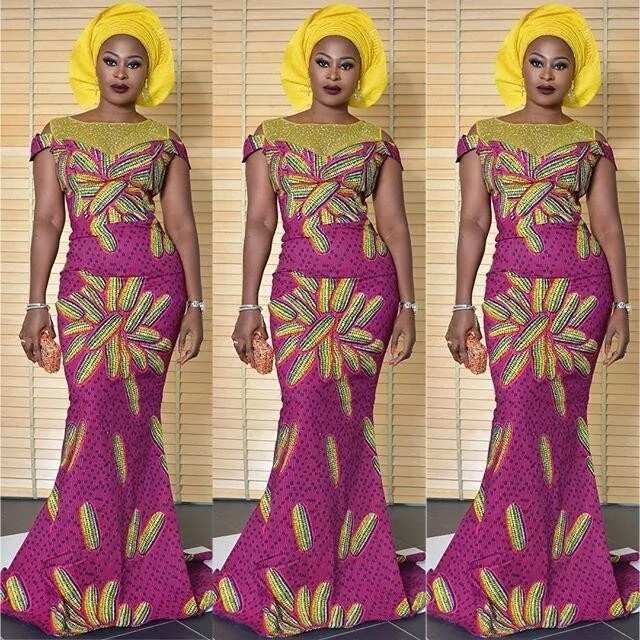 Ankara outfits for work
Do you think Ankara fabric is only for special events? No, no! We love to experiment and wear it for work, casual meetings and even just to hang out!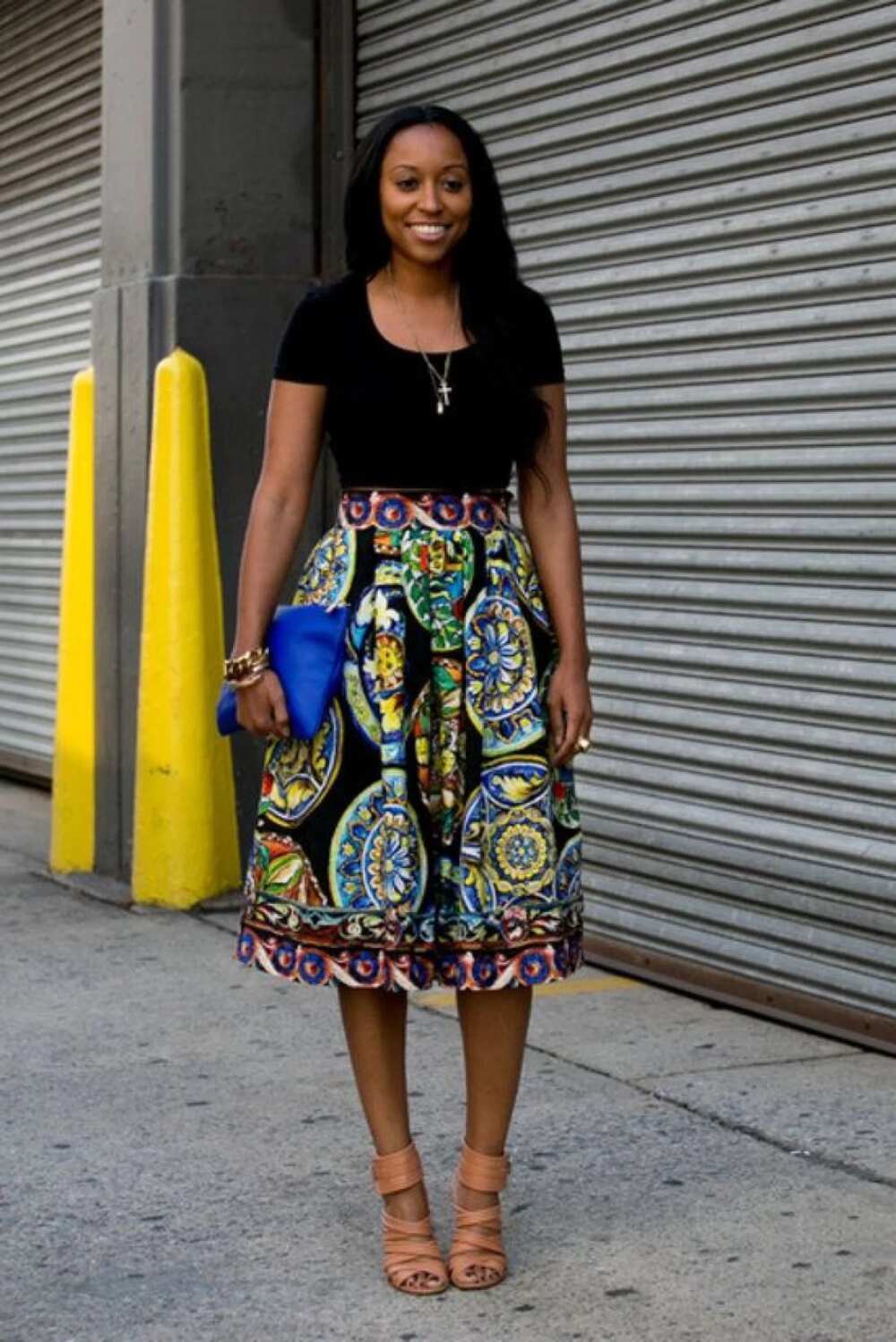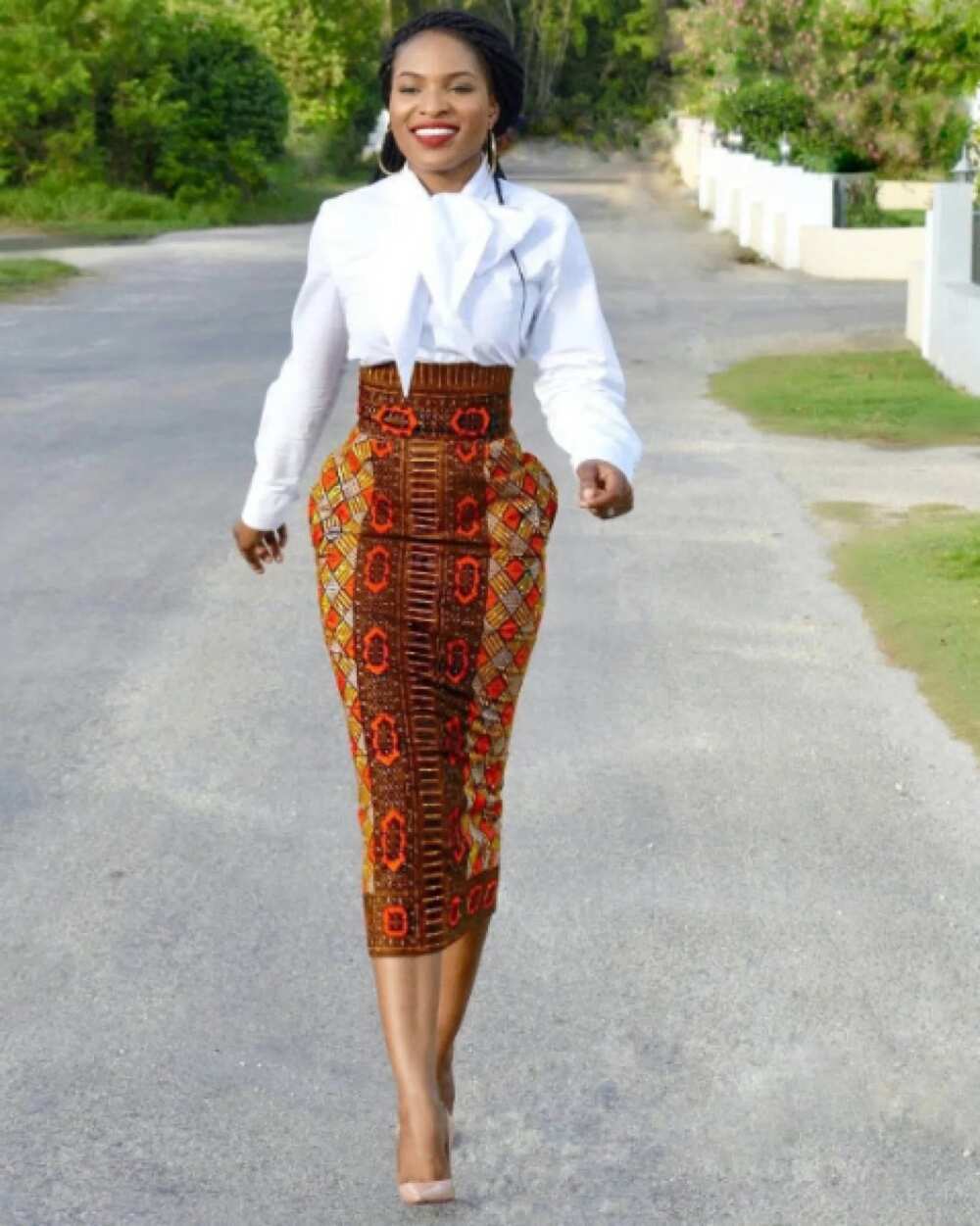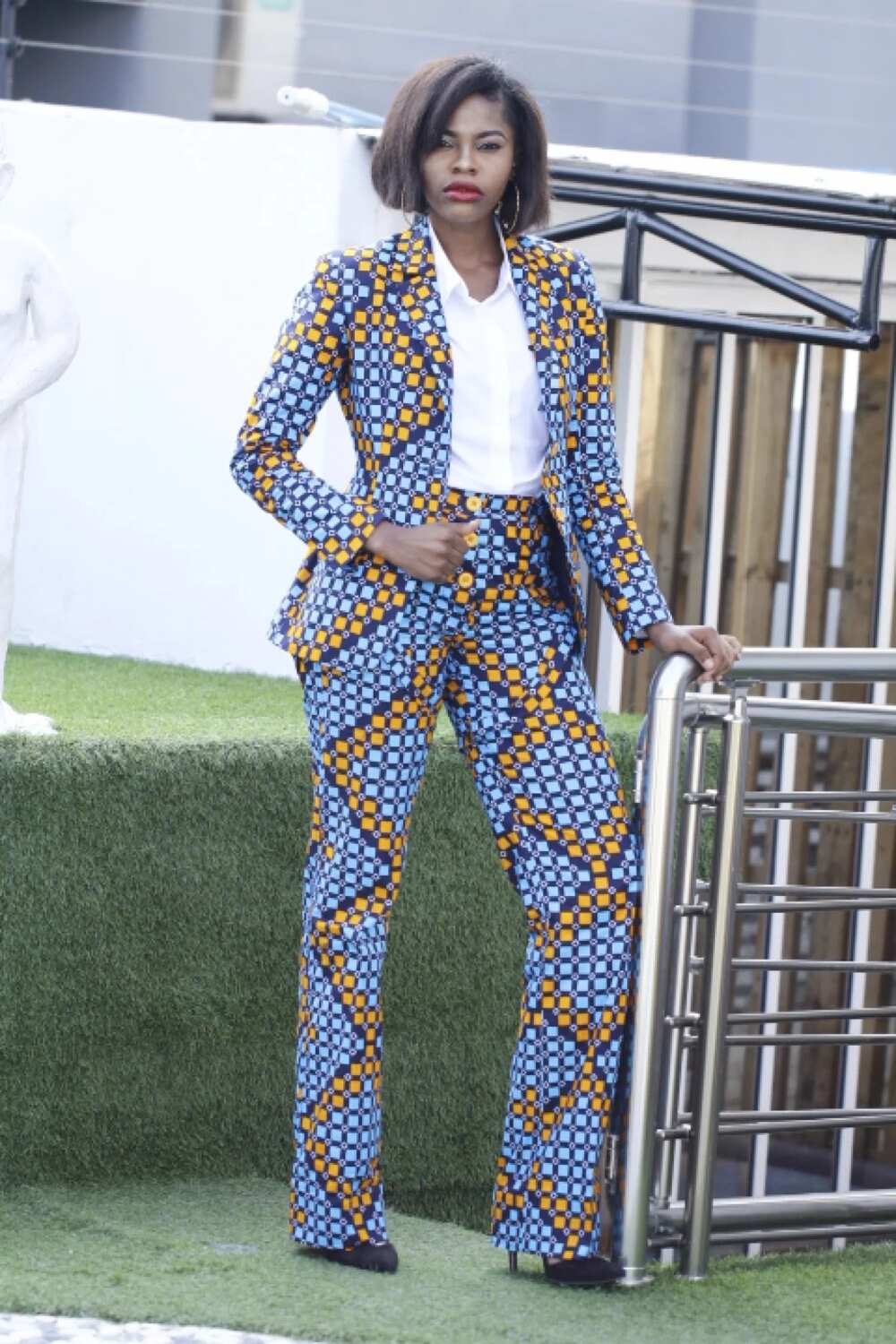 What about stylish and comfortable Ankara style jumpsuits? A lot of Nigerian designers love to play with ankara fabric.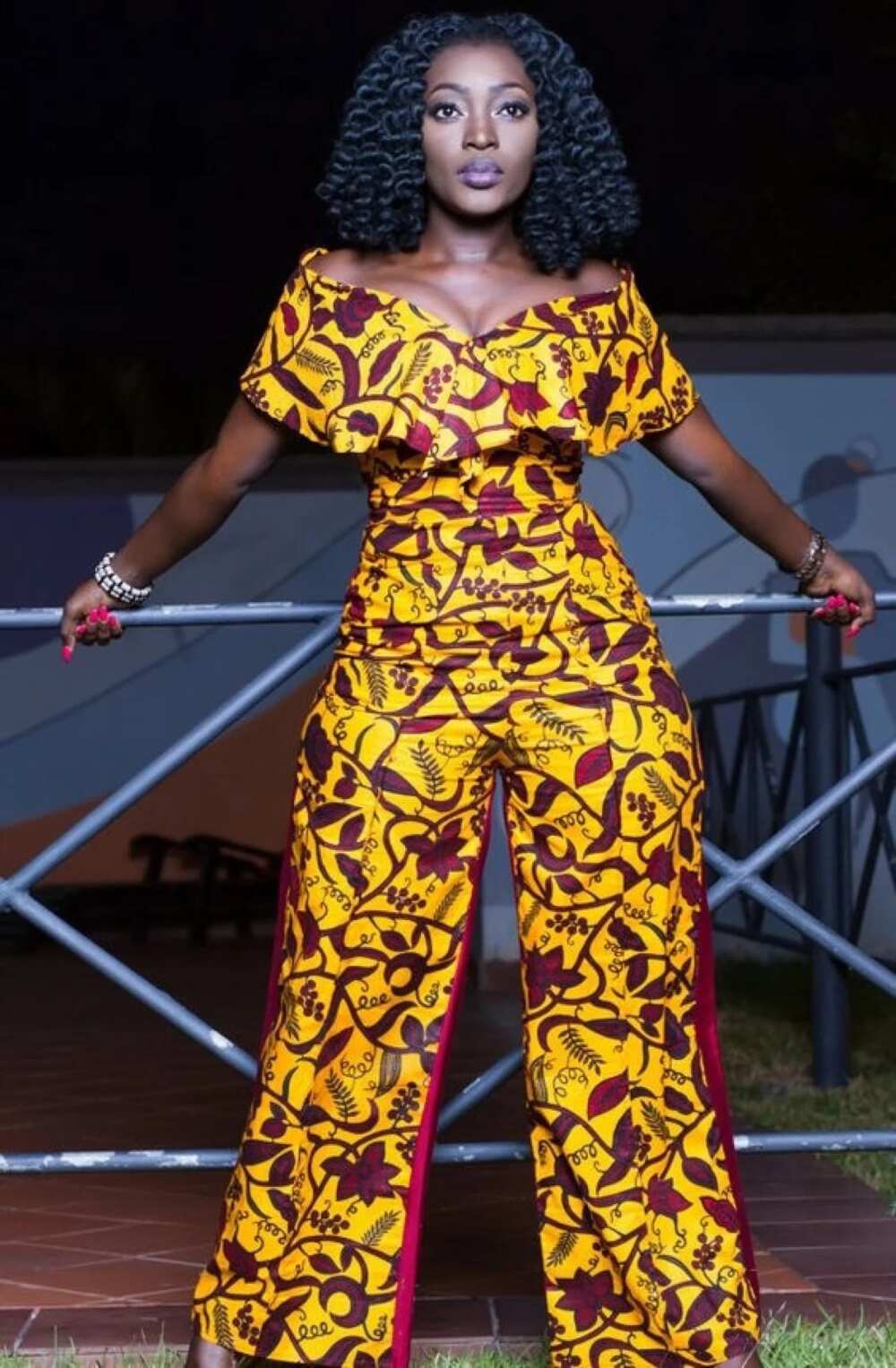 Nigerian Julyet Peters fashion house is one top designer that invites every fashionista to enjoy the new Ready To Wear collection.
The brand uses Ankara fabrics not only to make jumpsuits but everyday clothes and work style Ankara outfits. If you get tired of wearing Ankara style dresses, then take a look at these fabulous outfits! You can combine these amazing tops with various trousers and skirts and look stylish.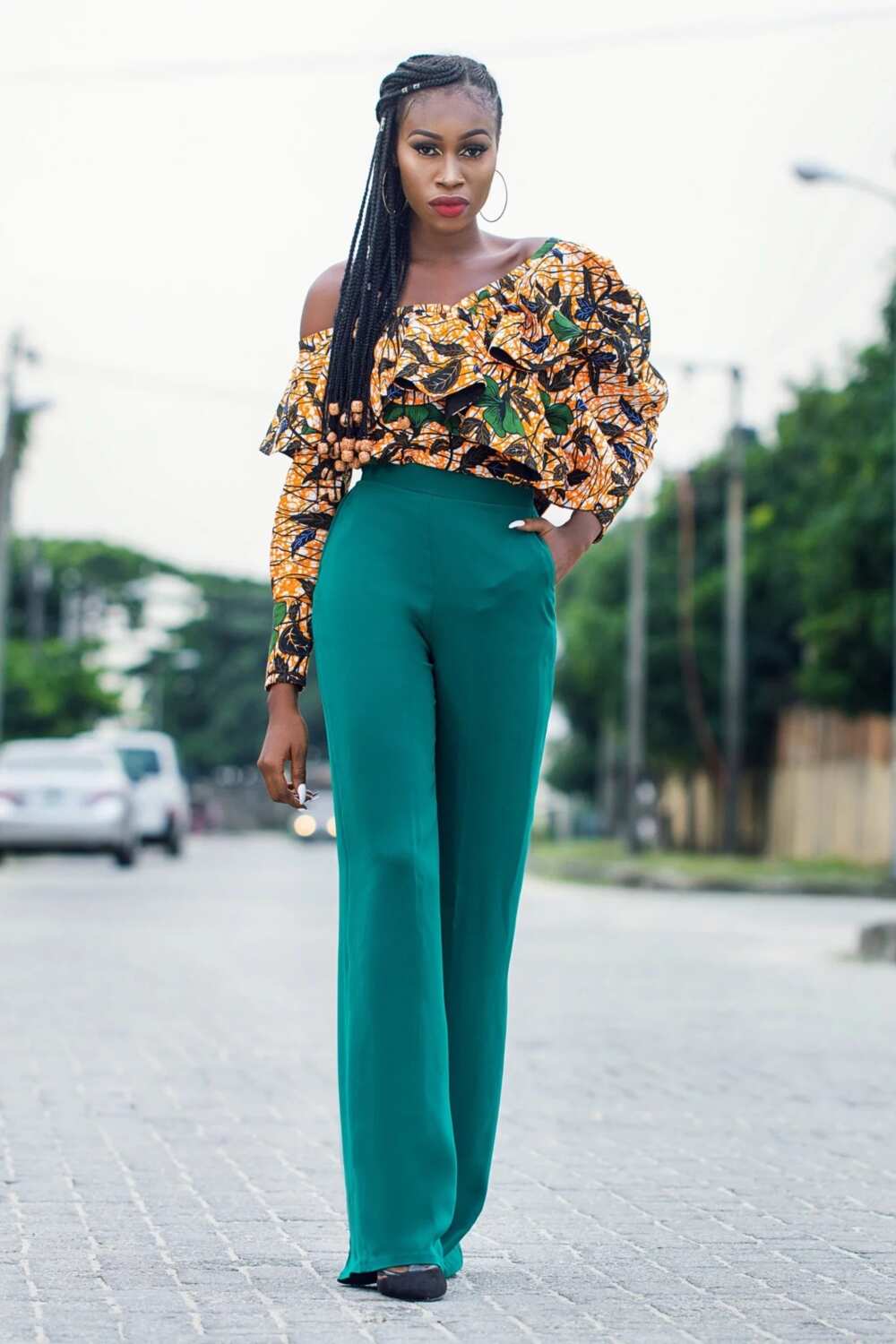 Ankara outfits for casual look
Who said that you can not look amazing when taking a walk or hanging out with friends? Choose these amazing Ankara outfits, and you will enjoy a fun, casual look.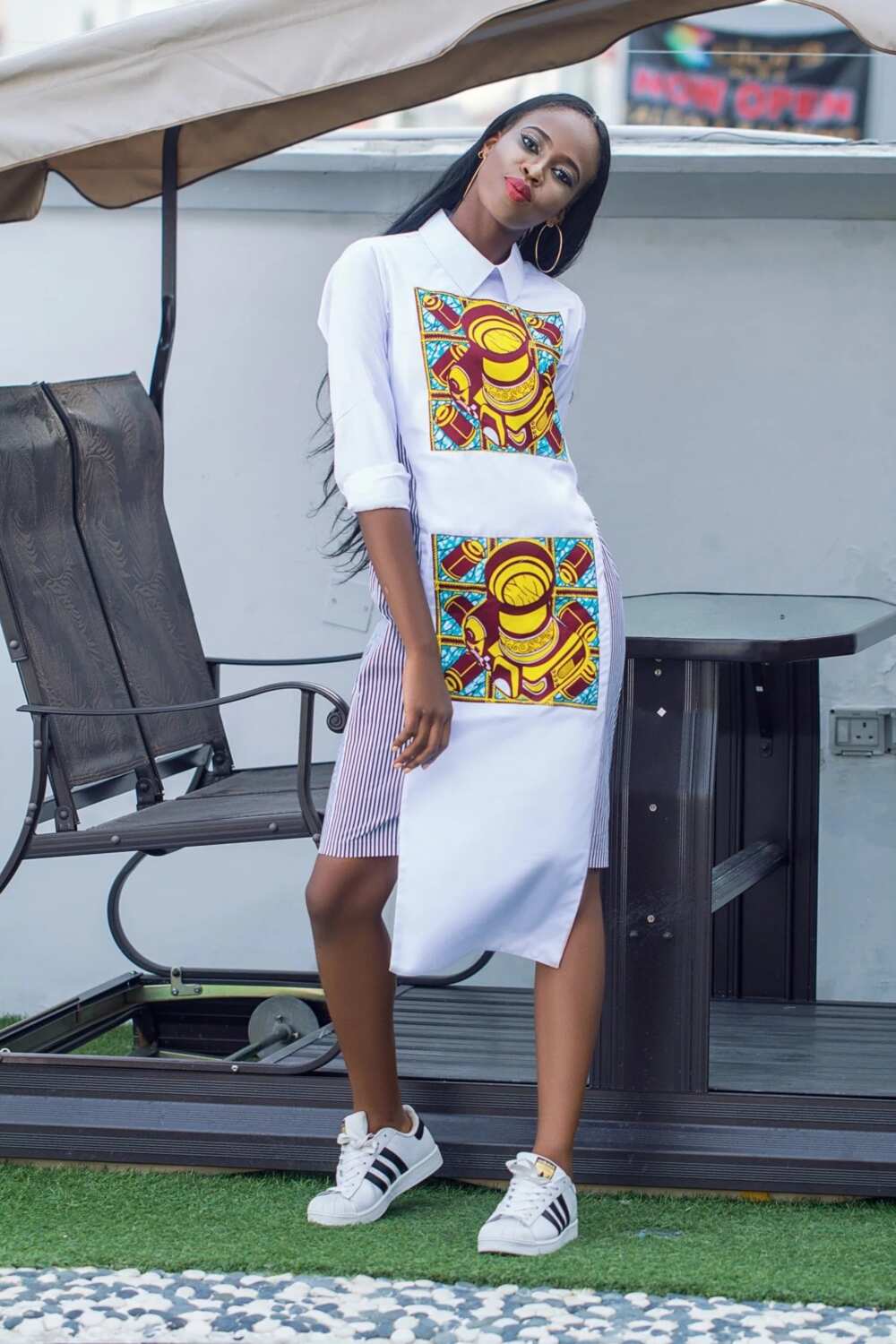 The amazing bright colors, interesting patterns will make you stand out of the crowd!
As you may notice, this season, designers urge fashionistas to wear Ankara dresses, shirt-dresses, and airy outfits with sports shoes like sneakers. One pair of white sneakers can be combined with absolutely every outfit made of Ankara if it is knee length or shorter.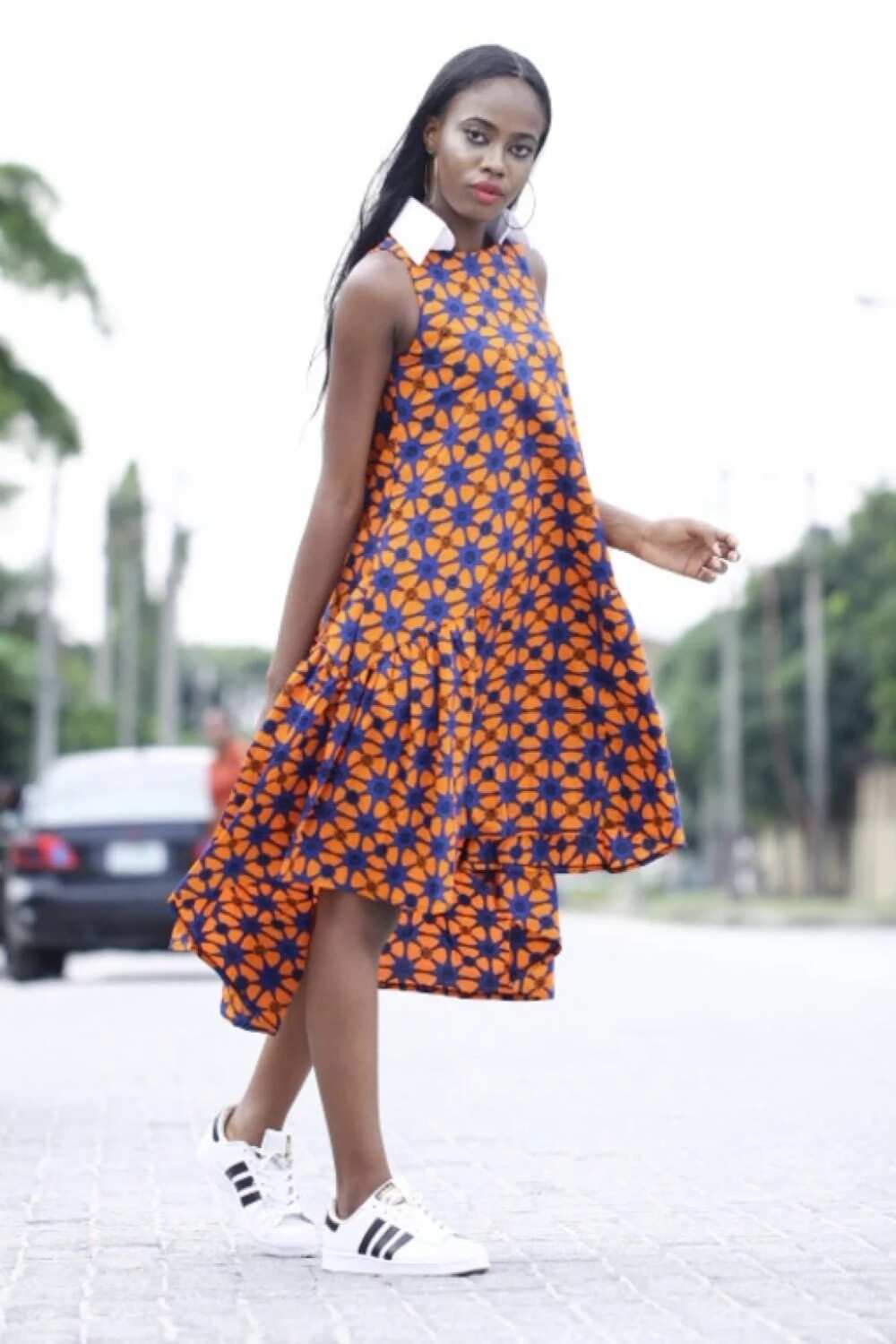 If you want to create a special feminine and va-voom look, you can try the options below. You will appreciate how lace can be combined with Ankara. You can rock this for festive occasions and stand out.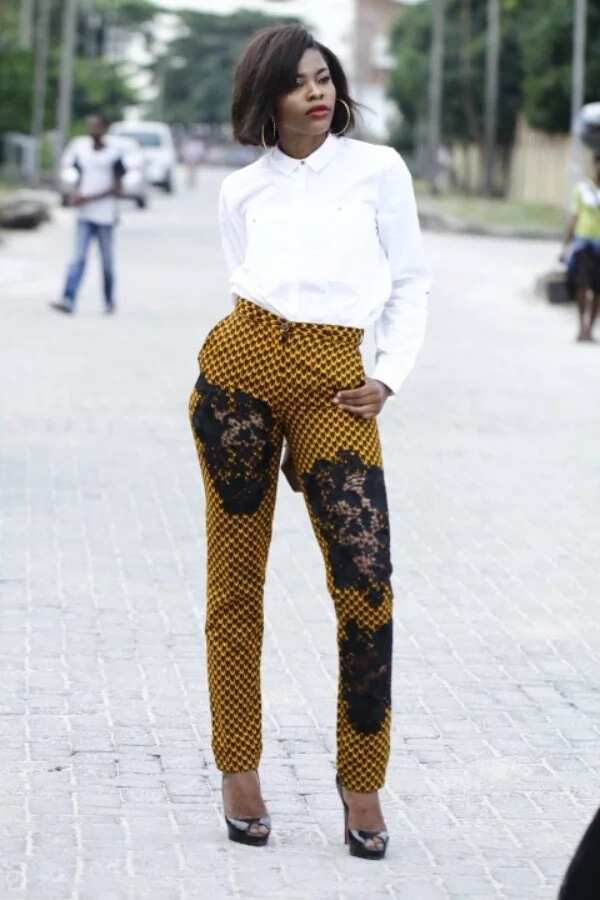 Ankara swimming suit style
Ankara fabric is so popular that even swimming suits are made from it! It's no surprise that all swimming suits made from this bright fabric are splendid. It does not matter where you choose to enjoy a swim, you will be noticed anywhere if you wear Ankara swimsuit.
There is even an special annual event called Ankara SWIM, which is aimed at showing all the fashion Ankara swimsuit brands. You can see braided styles, African prints and of course Ankara fabric swimsuits during the show.
This year, the show's program featured 8 young designers, who represented different African countries. The designers from Sierra Leone, Nigeria and Zimbabwe showed their latest collections of swimwear and accessories. Let's have a look!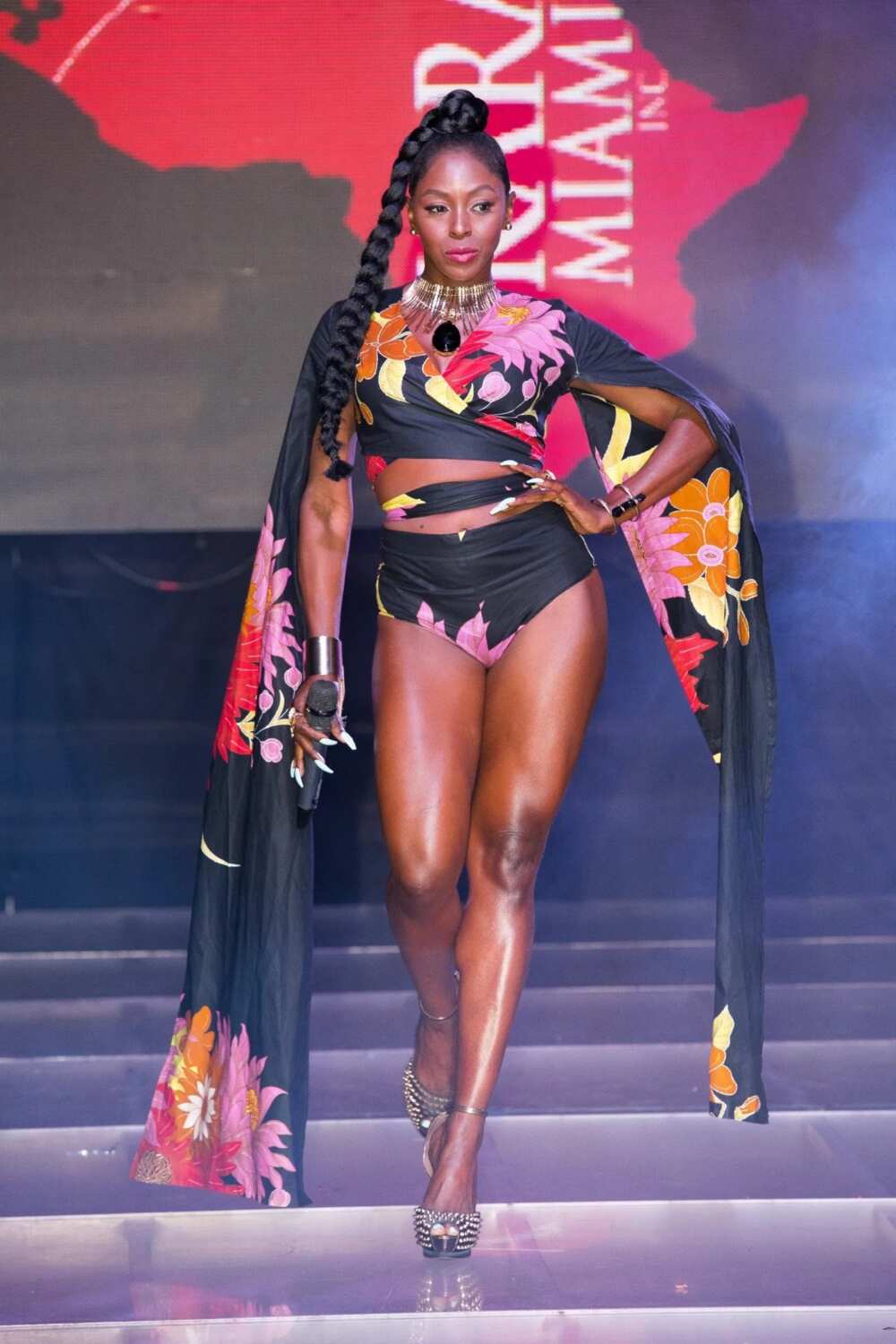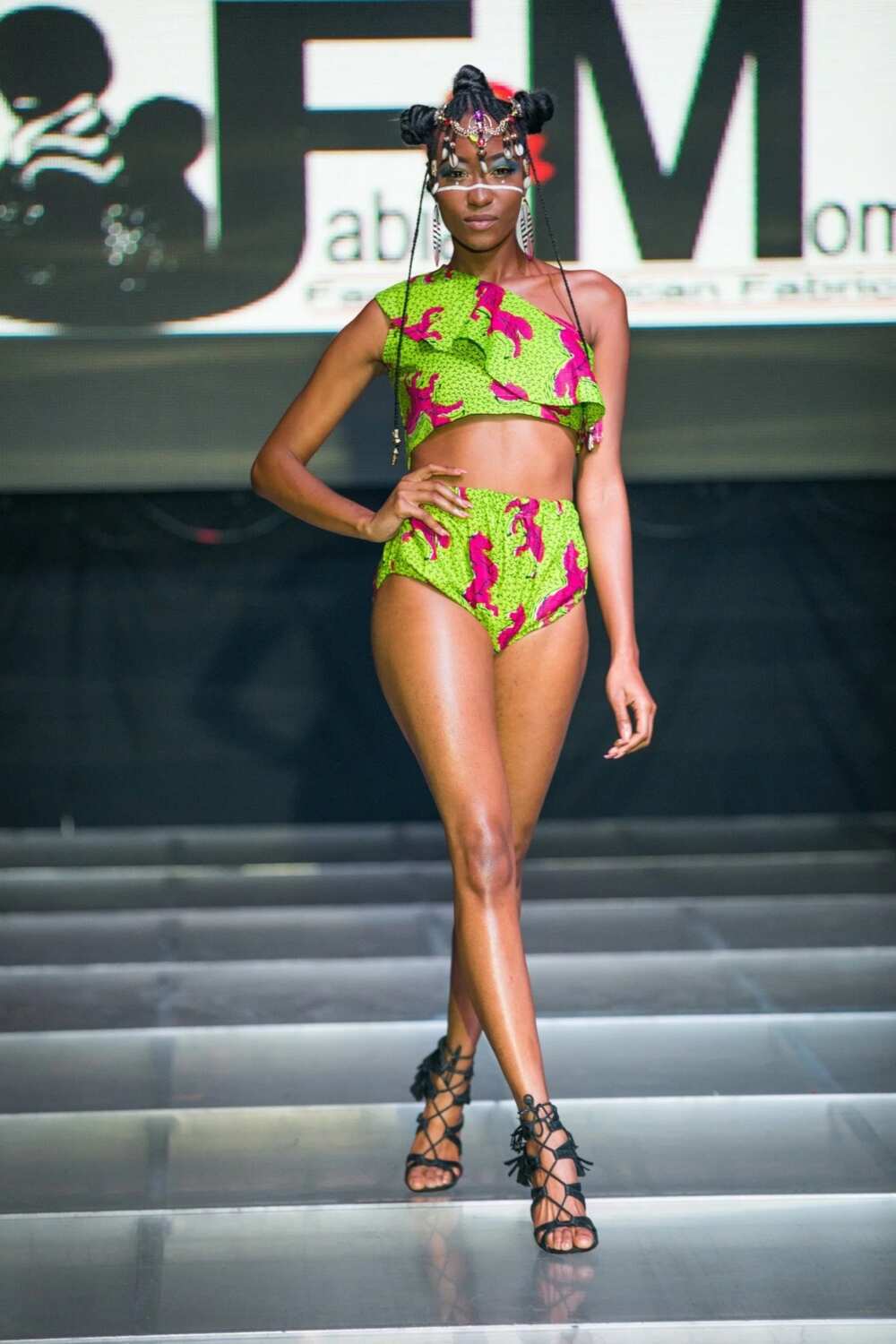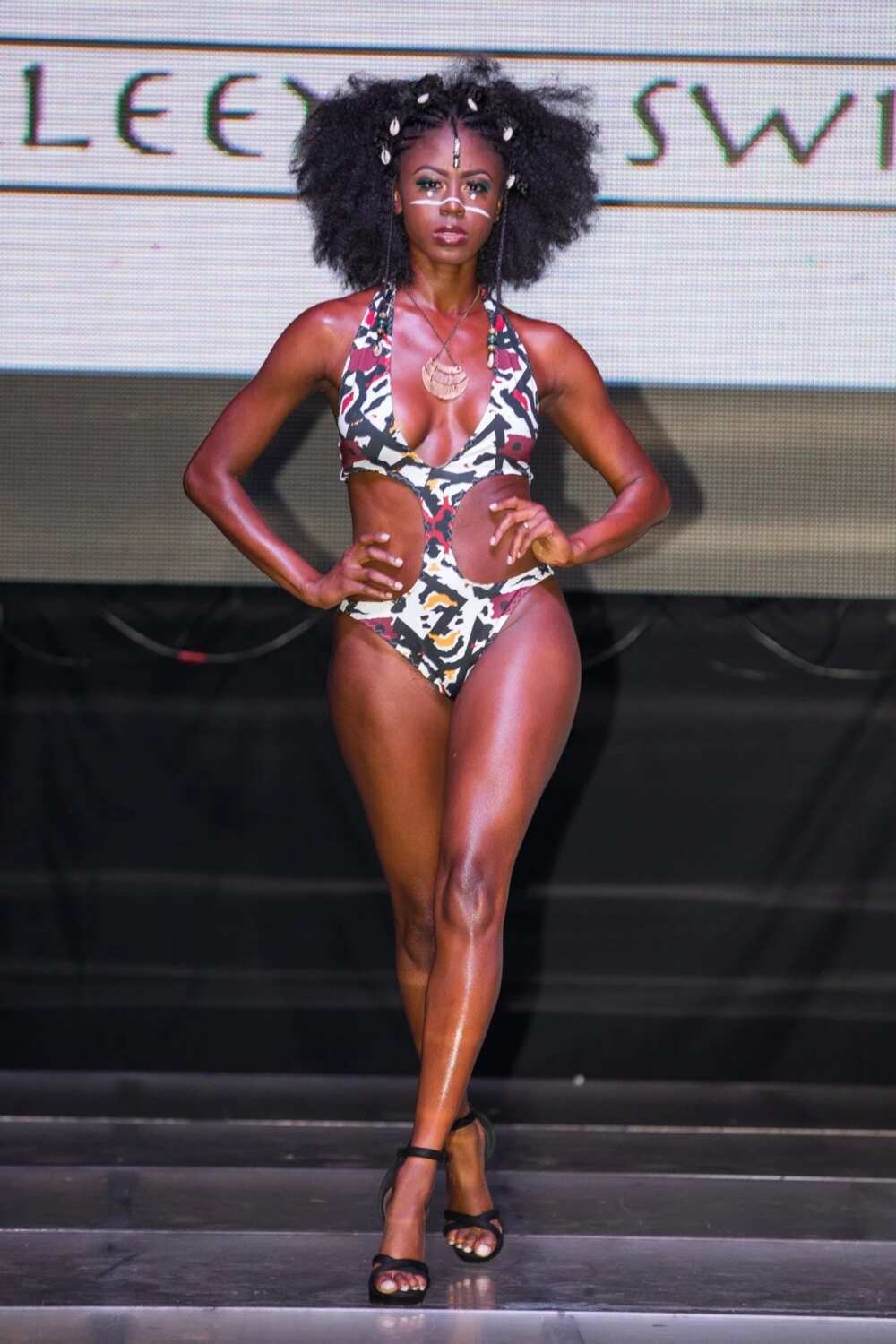 Cute Ankara outfits for children
It's not just women that can wear Ankara style dresses, little girls and boys also look good in Ankara. Take a look at these cuties!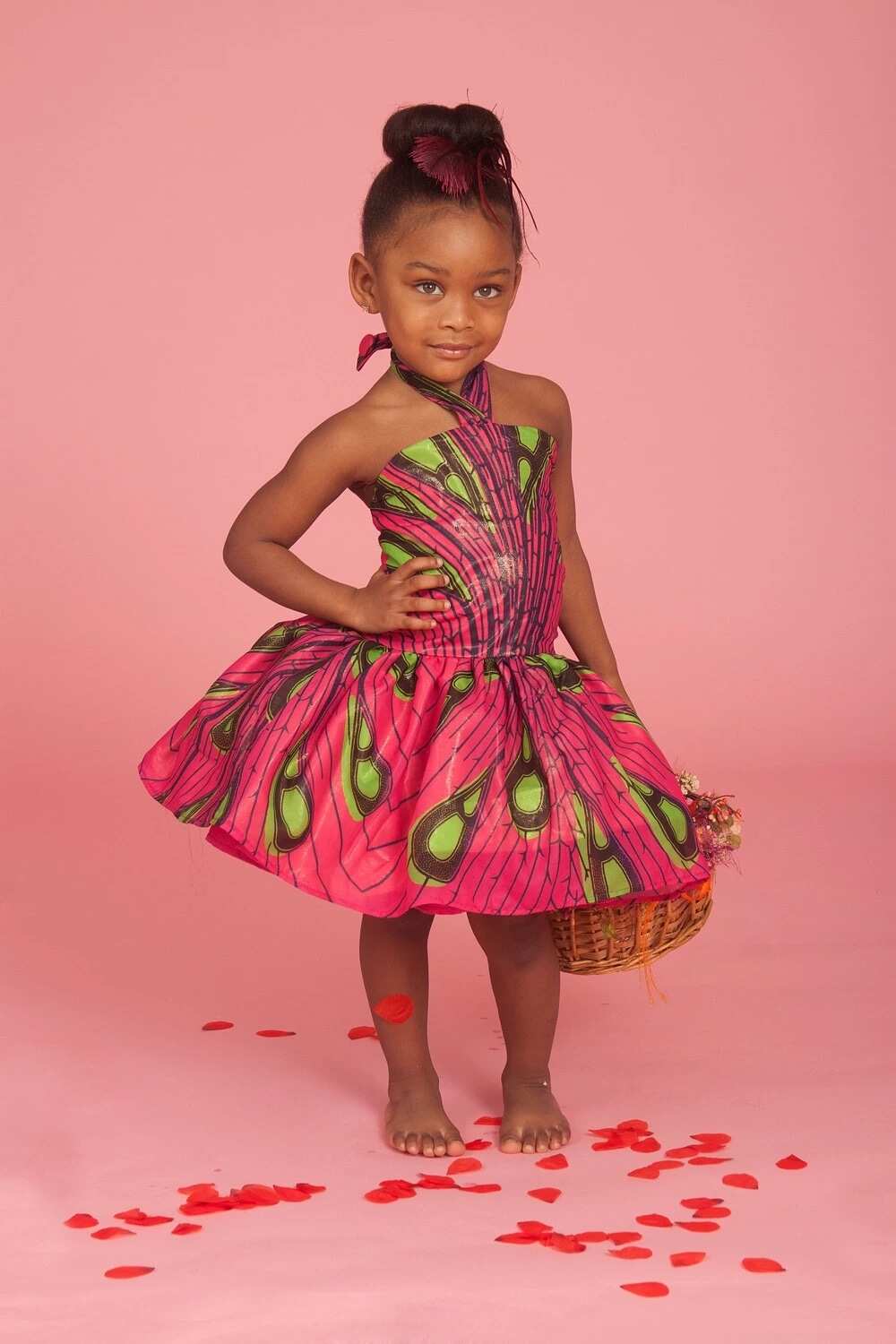 You can also choose a matching mom&kid Ankara style and wear it for a special occasion or party!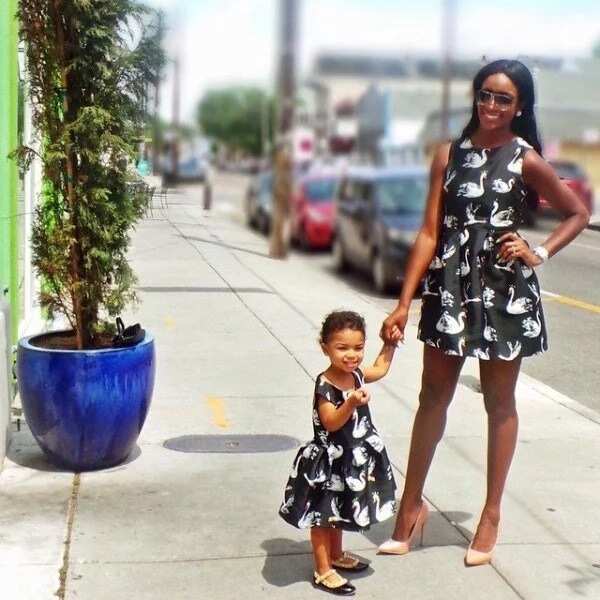 A little cutie chooses Ankara style pattern skirt to match her lace yellow top! It's clear she loves Ankara style clothes!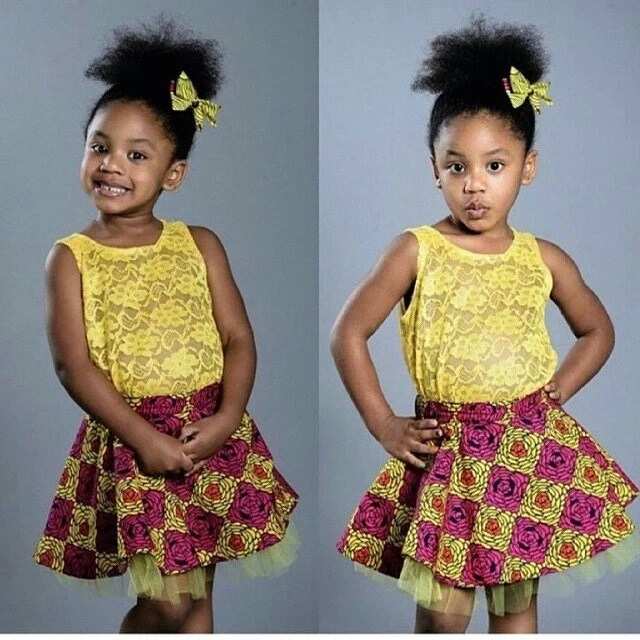 The most popular Ankara styles, introduced on Bella Naija website are casual and evening gowns, stylish tops and trousers, jumpsuits and even swimsuits. There are also a lot of family-friendly Ankara styles. Do not fall behind and follow latest Ankara style trends to look fabulous in any situation!
READ ALSO: Bella Naija cord lace styles 2017
Source: Legit.ng