- Dr. Solomon N. Yusuf has asked the government to work towards their release
- In a letter to his wife, he expressed interest in coming home
- He thanked ASUU for its agitation for their release
Dr. Solomon N. Yusuf who was one of the four lecturers abducted by Boko Haram terrorist during an oil exploration in Borno has sent a letter to his wife.
According to Sahara Reporters, the lecturer in the letter dated Monday, September 4 called on the federal government to speed up its process of negotiating for their release.
READ ALSO: President Buhari makes promise to Nigerians
He called on the President Muhammadu Buhari government to meet the demands of the abductors under the control of Abu Mus'ab Albarnawi, warning that delay in doing so poses a huge risk to their lives.
"I want to emphasize that delay in getting our freedom poses risk to our dear lives. We never expected we would spend over 42 days (as at 4 September) in captivity because the project has presidential orders to explore hydrocarbon in the Chad Basin."
"The government should please continue negotiating with the present contact given to them by the University of Maiduguri as a means of contacting soldiers of Khalifa under the leadership of Abu Mus'ab Albarnawi. We plead with the government to treat our freedom with all sense of urgency and sympathy so that that we can be reunited with our families. The use of force is a serious threat to our lives," he wrote.
He also told his wife that he and his colleagues, Messrs Yusuf Ibrahim and Haruna Dashe are alive, well and hoping to return home while also urging that the new baby delivered in his absence be named by his father, Mr. Nehemiah Yusuf.
PAY ATTENTION: Watch more videos on Legit.ng TV
Dr Yusuf noted that over 70 people had died in the exploration saga and that they have been in captivity for so long and would have expected the government to work towards their freedom.
He thanked the national and University of Maiduguri chapters of the Academic Staff Union of Universities (ASUU) for calling for their release.
See copy of letter below: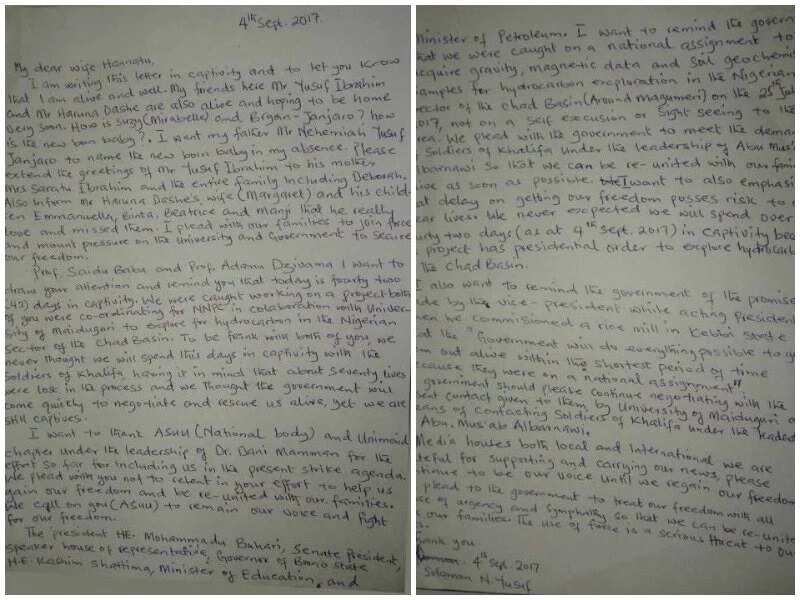 Meanwhile, the ASUU has disclosed that the union is still in talks with the federal government about how to secure the release of some University of Maiduguri lecturers abducted by Boko Haram terrorists, Punch reports.
In a recent interview, Prof. Biodun Ogunyemi, the ASUU president, stated that he could not divulge further details for security reasons, even as he stressed that the union had been assured by the government, of ongoing efforts.
Watch a Legit.ng TV video below of the Air Force giving an update n its fight against Boko Haram: