Nigerian footballer Samuel Perez Agong, who is currently living in the self-proclaimed Donetsk People's Republic (DPR), declares his support for the Russian president Vladimir Putin.
Agong, who was born in Lagos in 1989, received the DNR passport in December 2016. Mikhail Mishin, the DPR's self-acclaimed Minister of Sport, told Russian news site gazeta.ru that Agong had married a local girl and the couple have a baby together.
The Donetsk People's Republic (DPR, Donetska narodna respublika = DNR) asserted governmental authority over a part or region of Ukraine in south-eastern Europe without the authorization of the government of Ukraine and global recognition. (ed.note)
According to the footballer, he was unable to extend his Ukrainian visa so he decided to apply for the passport of a separatist state and shortly received it from the local "authorities".
"I lost my old documents. Now I have this passport, but there is absolutely no freedom. I cannot go anywhere. I've been in Donetsk all the time, I've been here for several years," he said.
READ ALSO: Just like Biafra: 7 groups who want their own countries in Africa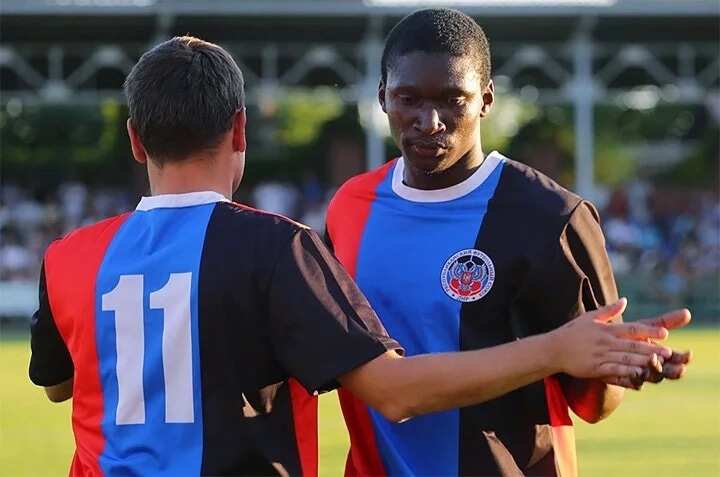 Perez Agong narrated the story of his life to one of the journalists of Tribuna.com, read some of the excerpts below:
What did Nigeria look in the 1990s?
I do not remember what Nigeria looked like in those years. But I can tell you about myself: I'm a simple person, I like helping people. If I were a homebody, I would stay in Nigeria. And there's a big trouble. I was not interested in football at all until I was 15 years old. A little later I went to the UAE and signed a contract with the Dubai "Al-Shah". The first goal in my career I actually scored there. But nine months later I returned.
Why?
They did not pay. The agents quarrelled with the club's managers, my contract was torn up, it happened in 2008. I returned to Nigeria for one year - I wanted to continue my education. But the same agents found me a team in Ukraine, and I went, although I strongly doubted. I could not exercise there - it was incredibly cold here, a lot of snow that I could not get used to.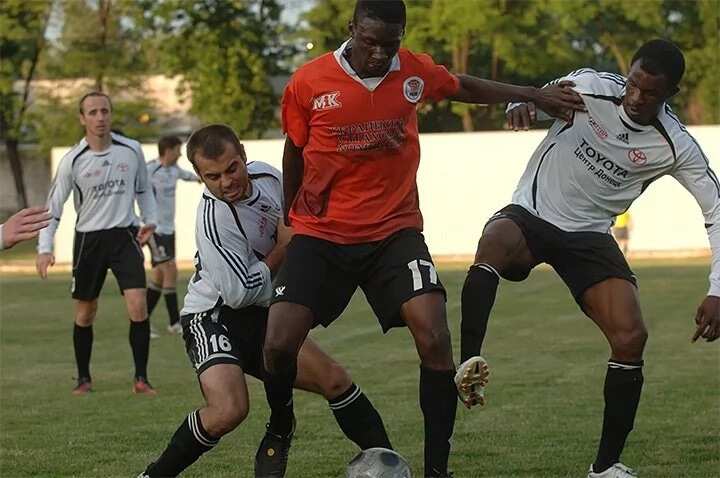 What club has you been playing for?
"Volyn" from Lutsk. I really wanted to go back to Nigeria, but the agents persuaded me to stay. They gave me a visa, it was comfortable for me, I played very well, scored goals, but the club had absolutely no money, and I had to leave. But I wasn't able to return to Nigeria: I simply did not have the money. In addition, I did not want to repeat the story with Dubai - to come home absolutely with nothing.
What did you do when your visa ended?
I was lost and confused, but I saw how happy my child is, and this motivated me to stay. My friends did not understand me at all - they insulted me. I was delighted when I moved to the "Oplot Donbassa" (Agong's current football club - ed.note) - all because of the director of the club, he was very friendly.
READ ALSO: Super Eagles player Ahmed Musa admires Russian president Vladimir Putin
And, of course, I was always close to God. When the visa was over, I extended it for three months through my friend, paying him immediately for the whole year. And when the new visa expired, I asked my friend to extend my stay. I gave all my money to him, and he handed me a blank passport and fled. All this time I lived in the city of Donetsk and worked at the construction site of the Donbass Palace Hotel.
What do you think about Vladimir Putin?
I think this question is incorrect, but I'll answer it anyway. We all believe in him very much. I do not even know how to say it correctly, but we all have a certain point of view: he is a strong man, I personally like him, for me he is the best president of the 21st century. This is my opinion.
What are you dreaming about?
My dream now is to do everything right, because one day we can wake up... I do not know how to say... We can die. So my dream is to take care of my family. I try to do everything that is required of me.
Now I'm happy, even if I do not play, because I'm with my family. It speaks for itself. I always said: I did everything to be with my family. I would not say that I am living in Donetsk for political reasons or I'm here because it's better here than in Nigeria. No. I'm just here because I love my family. I want to be closer to the child. I do not care if they kill me here or not - I just want to be with my family, and so I'm happy.
Below, watch an exclusive Legit.ng TV's video about female footballers being neglected by the federal government.
Source: Legit.ng