Nigerian man arrested for allegedly issuing fake visas (photo)
- EFCC has arrested a Nigerian man for issuing fake travel visas
- He was nabbed after he issued some fake Argentina visas to two people
A Nigerian man identified as Ajayi Olalekan Ezekiel has been nabbed by operatives of the Economic and Financial Crimes Commission (EFCC) for issuing fake visas to unsuspecting people.
Ezekiel was said to have issued fake Argentina visas to two persons identified as Oseni Ibrahim and Idudhe Ovuokero. The EFCC operatives nabbed the suspected fraudster after he issued the visas to these two.
One of the victims, Ibrahim, narrated his own side of the story saying he met with a guy identified as Olajide Kehinde sometimes in 2016. The young man was interested in traveling abroad with Kehinde offering to procure a Ghanian visa for him. He charged him N200,000 for this and the poor man agreed.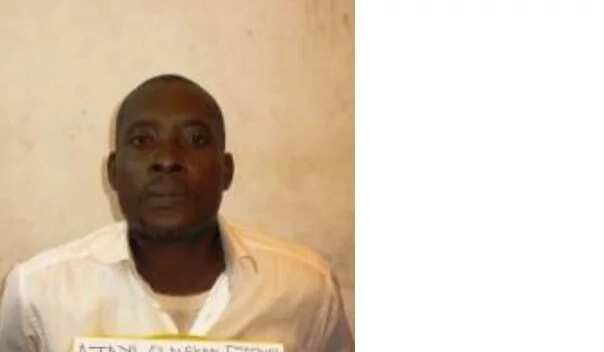 READ ALSO: 30-year-old man steals Sallah ram in Osun state (photo)
Ibrahim revealed that he paid the sum of N170,000 to Kehinde as part payment. Things did not work as planned as he could not get Ibrahim the visa. He then advised the young man to try going to Argentina instead. He offered to get him an Argentina visa for the sum of N270,000.
The Argentina visa pulled through as Kehinde told him everything worked with the help of the suspect, Ezekiel. However, Ibrahim took a step that helped him unravel the mystery. He sent the visa to the Argentina embassy in Abuja via e-mail and he was informed that the visa was a fake one.
PAY ATTENTION: Install the latest android app to get updates from Nigeria's number one online news platform
This made him contact the suspect. Ezekiel then did everything possible to pacify Ibrahim. He allegedly promised to get the young man a South African Visa but he never did. Ezekiel operates under an unregistered agency. The suspect would be charged to court after the investigations have been concluded.
Watch the Legit.ng TV video below to find out what was discovered when Evans, the notorious billionaire kidnapper got to court:
Source: Legit.ng News