A young Nigerian lady has revealed how she was attacked and brutalised by some policemen simply because she had some tattoos on her body.
What happens when the people who swore to serve and protect you, become the ones who endanger your lives?
According to a post shared on Facebook by Chioma Pius, she was beaten up by some policemen simply because they spotted the tattoos on her body.
She had been on her way from Bayelsa to Rivers state when she was stopped by the policemen who proceeded to harass her after asking her who 'she is'.
READ ALSO: Man accuses soldiers of brutalising him because he wore red trousers and a black shirt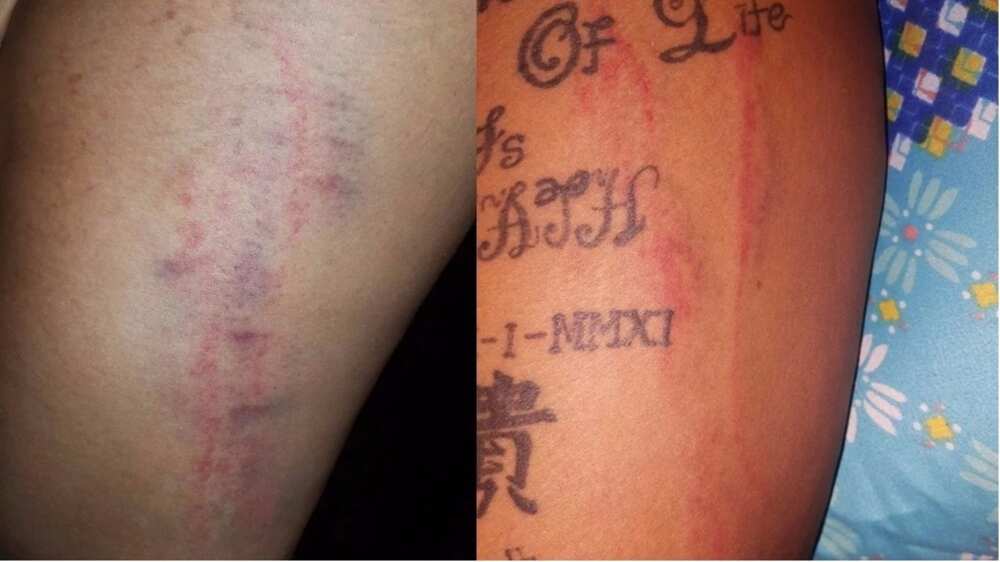 READ ALSO: Man brutalised by men of the Nigeria police cries out on social media
Sharing her post on Facebook, she wrote:
"Today was a horrible day, I experienced the worst day in my life. Today I was brutalized by police officers, this happened at Emohua axis of River state, at the highway leading to Bayelsa. My crime was that I tattooed my body. In this modern age. A police officer asked me to step down from the taxi I was traveling with from Bayelsa to Port Harcourt.
I asked to know why and he asked again so I got out of the car and then he asked to know who I was and what I did. I gladly introduced myself, after which I had a big smile on my face and my phone rang but I couldn't answer and then he said I should identify myself to his superior which I found funny and I was just looking at the guy when he said I should get detained. That I don't have manners and that I'm a cultist, prostitute, armed robber, there is no disgusting name this men didn't call me and all this time I was just laughing and telling them I'm not entering their mobile cell.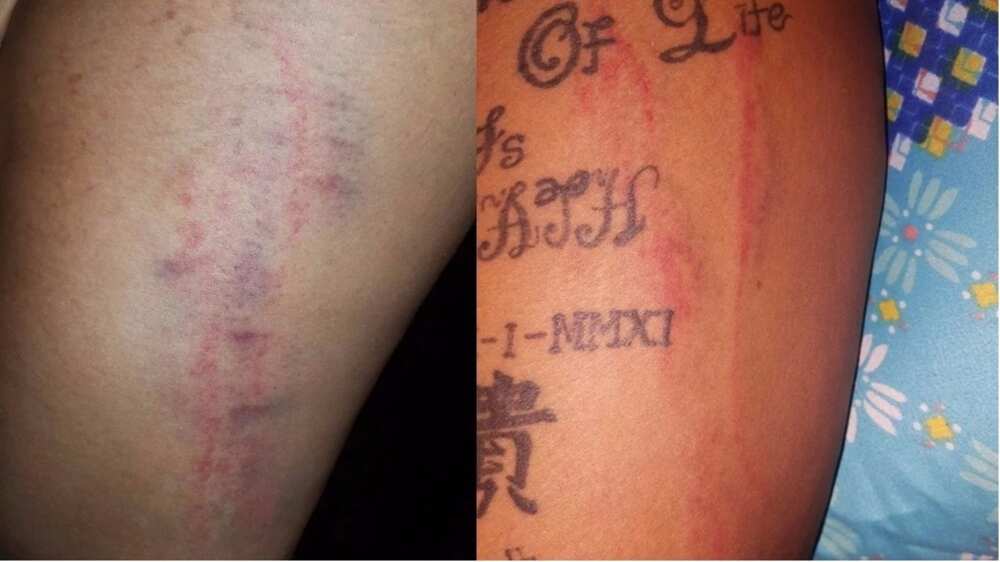 READ ALSO: Young man allegedly brutalized by soldiers who were carrying out his aunt's instructions
They seized my phones so I couldn't record them. They searched my purse and when they couldn't find any money they got more angry and said that I don't even have money and I'm showing myself. Before I knew it, one of the officers grabbed me by my trousers and pushed me to the van and the other guy slapped me and punched me repeatedly.
I was asking why they are beating me up and their boss used his gun to hit me on my thighs, went away came back with cane and was flogging me and calling me names. They pushed me into their cell. During the struggle I lost my ring and while this was happening they were collecting money from highway drivers and letting them through without searching them. These guys are animals. They touched the wrong one.They will not go unpunished. They sent away my taxi driver. Passersby were watching it and couldn't do anything.
I will not be humiliated for no reason, police officers are not here to protect us but only to hurt innocent ones but it's enough. What's wrong with one tattooing their body? "
See a video of the police van as shared on Chioma's Facebook page:
Na wa o!
Meanwhile, watch this video to see how Nigerians responded when asked if the police is their friend: