- Pep Guardiola reckons the Spanish league is tougher than the English Premier League
- The Spaniard points to the poor outings of English clubs in Europe in recent years
- Guardiola wants English clubs to do well in the Champions League and Europa League
Manchester City manager Pep Guardiola says he rates the Spanish League higher than the Premier League because of their records in Europe in recent years.
The former Barcelona boss admits the Premier League is a tough league but argues their failures to impress in Europe in recent years shows they have a long way to go before the Spanish league.
Guardiola says the Premier League is the 'most viewed' league in the world but not the toughest.
READ ALSO: Too much money: Paris-Saint-Germain agree another mega million deal to sign top French superstar (photo)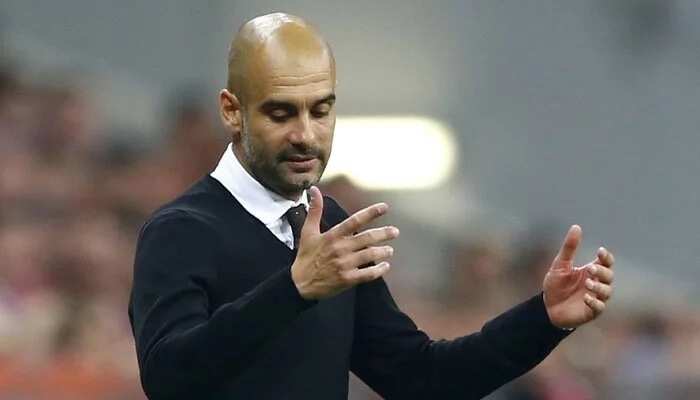 "I know you like to hear, 'It is the toughest one, congratulations'. You are the most viewed," Guardiola said, via the Mirror.
"Of course the Premier League is tough, so tough. But I would not say going to the [Santiago] Bernabeu, Camp Nou, [Athletic] Bilbao, Sevilla is easy.
"Because in the last decade all the Spanish teams arrive in the Champions League and Europa League. Winning the Europa League — like Sevilla did three times in a row.
"The Premier League will be tough when — this is going to happen — with five teams in the Champions League, they can achieve the last rounds.
"After we can say, 'That is the toughest league'. We have to make that step."
Guardiola is into his second season in charge of City, having won three La Liga titles — and two Champions League crowns — at the helm of Barcelona, and three Bundesliga triumphs with Bayern Munich.
PAY ATTENTION: Get the latest sport news on Legit.ng sport app
The last English side to reach a Champions League final was Chelsea who won the trophy in 2012, with Spain (six times), Germany (two) and Italy (two) the nations with finalists since then.
Guardiola's side scored a 97th minute goal over the weekend to secure a 2 - 1 win at Bournemouth on Saturday to make it seven points from three league games, enough to sit fourth in the table.
Meanwhile, you can see Legit.ng's video of the Super Eagles training ahead of the World Cup qualifiers;