Anambra election: Chidoka receives staff of authority as traditional rulers, others endorse him (photo)
- The former minister of aviation Osita Chidoka has received the staff of authority from traditional rulers in the south-east region
- The staff of authority was presented to Chidoka by Igwe of Igbo Ukwu, His Royal Highness Idu Martin Ezeh
- The staff was also given to the incumbent governor of Anambra state, Willie Obiano, during the 2013 Anambra governorship election
The former minister of aviation, Osita Chidoka, on Sunday, August 27, received the staff of authority from traditional rulers in the south-east region.
The traditional rulers led by Igwe of Igbo Ukwu, His Royal Highness Idu Martin Ezeh, handed the staff of authority to Chidoka, a candidate for the Anambra election, under the platform of the United Progressive Party (UPP).
The staff - Ofor igbo staff of Obi Igbo - which is an Igbo traditional symbol of power and authority was given to Chidoka ahead of the November 18 Anambra gubernatorial election.
READ ALSO: Be ready to fight, nobody should be afraid of police or army - Governor Wike tells followers ahead of 2019 election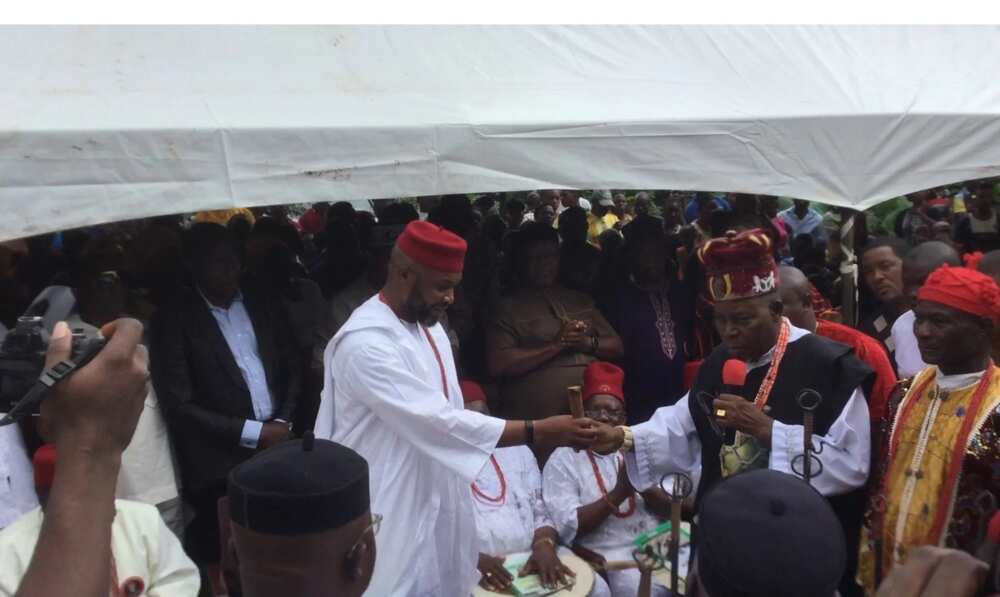 The staff of authority was earlier given to the incumbent governor of Anambra state, Willie Obiano, during the 2013 Anambra governorship election.
However, while presenting the staff of authority to Chidoka during the new yam festival in the community, Ezeh said Anambra state is in need of a leader like the former minister.
Ezeh said Chidoka possesses the required character, experience and commitment to steer Anambra towards the rights direction.
He also said that with Chidoka's political will, challenges currently faced by the people of the state will become a thing of the past.
READ ALSO: Nnamdi Kanu says anyone who tries to arrest him in Biafra land will be killed by IPOB
Ezeh said he has the "proficiency and political will to tackle the challenges facing the state".
Also speaking at the event, the national chairman of the Mbido Igbo Association, Okafouzu Ugochukwu, said Chidoka has all the qualities needed for a next governor of Anambra state.
Ugohukwu said: "The vesting of this symbolic staff on Chief Chidoka is very significant and it has very deep meaning."
He also said the former minister has been selected for the symbolic staff of authority.
While, noting the present governor of the state, Obiano, has done his best for Anambra, Ugochukwu said the state needs a more creative, energetic and determined individual like Chidoka for proper re-positioning.
Reacting to the honour bestowed on him by the traditional rulers and the association, Chidoka pledged never to let the people of Anambra down.
PAY ATTENTION: Read the news on Nigeria's #1 new app
Chidoka said he has already worked out all the processes needed to unlock a wealth creation potential for the people of the state.
He also said the processes will ensure that all the people of Anambra have equal access to opportunities and resources available in the state.
Legit.ng earlier reported that Chidoka picked a nomination form to run for governor in Anambra state.
Chidoka picked the form under the platform of United Progressive Party (UPP) at the party's secretariat in Abuja.
The former minister also said he is focused on transporting the people of the state to an environment desired by all.
You can watch this Legit.ng video of APC official stating how the party can loose elections in 2019:
Source: Legit.ng