The Nigerian Defence Academy (NDA) is the only military institution where selected young able-bodied men and women are groomed into well educated and courageous subalterns.
Training in the academy is takes 5 years, which includes 4 years of academic studies and 1 year of military training.
The role of the academy is to provide each officer cadet with knowledge, skills and values necessary to meet the requirements of a military officer through military, academic and character development.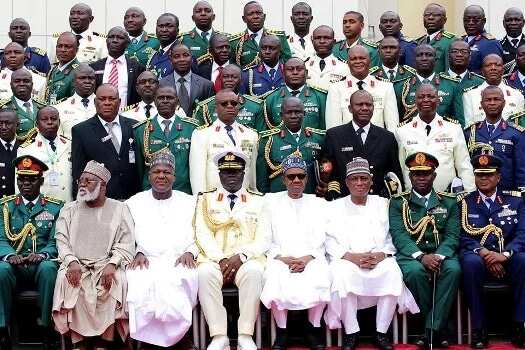 The academy was established on February 5, 1964 in response to the defence needs of independent Nigeria to train officers for the Armed Forces of Nigeria.
The institution was formerly known as the Royal Military Forces Training College (RMFTC), after independence in 1960, it became known as the Nigerian Military Training College.
The school is not in Lagos state but the institution has an examination centre in Ikeja.
Below is a list of NDA examination centres in Nigeria:
Serial State Examination Centre
1 Adamawa Government Day Secondary School Opposite HQ 23 Armd Bde, Yola
2 Akwa-Ibom Community Secondary School, Aka Offot, Uyo
3 Bauchi Army Children School, Bauchi
4 Benue Command Secondary School, Makurdi
5 Ebonyi Command Secondary School, Abakaliki
6 Edo Nigerian Air Force Primary School, Benin
7 Enugu Army Day Secondary School, Abakpa Barracks, Enugu
8 FCT Command Day Secondary School, Lungi Barracks, Abuja
9 Gombe Govt Science Secondary School, Jeka Da Fari, Gombe
10 Imo Holy Ghost College, Owerri
11 Kaduna Command Secondary School, Kaduna South
12 Kaduna Nigerian Defence Academy, Permanent Site, Kaduna
13 Kaduna Nigerian Defence Academy, Old Site, Kaduna
14 Kano Army Day Secondary School, Bukavu Barracks, Kano
15 Lagos Command Children?s School/Command Day Secondary School, Ikeja Cantonment, Lagos
READ ALSO: Nigerian Defence Academy short service requirements
16 Lagos Navy Secondary School, Ojo Town, Lagos
17 Ondo Army Day Secondary School, Akure
18 Oyo Command Day Secondary School Odogbo, Ibadan
19 Plateau Command Day Secondary School Rukuba Barracks, Jos
20 Rivers Navy Secondary School, Port Harcourt
21 Sokoto Army Day Secondary School, Sokoto
For more information visit www.nda.edu.ng
Watch a video on the Nigerian Defence Academy Short Service Program below: