Hey, fashionistas! Pay attention to the latest Ankara style in town 2017-2018! Conquer the fashion world with these bright looks made from Ankara! Be luxurious and trendy!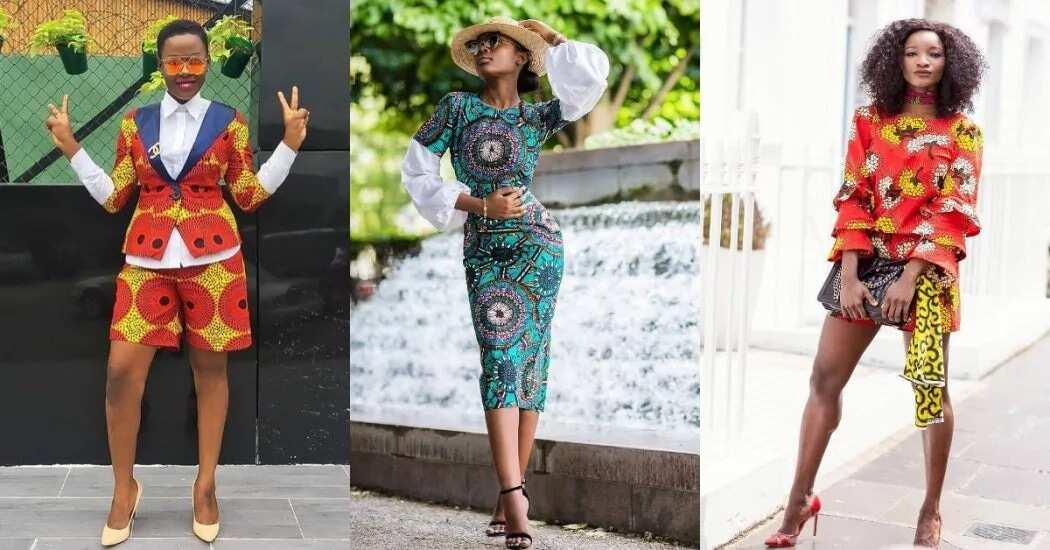 Everyday street fashion for women in town 2017-2018 reflects style, colour and confidence. The main Ankara styles have already been considered earlier, but now we want to refresh your memory and again look at the most important moments.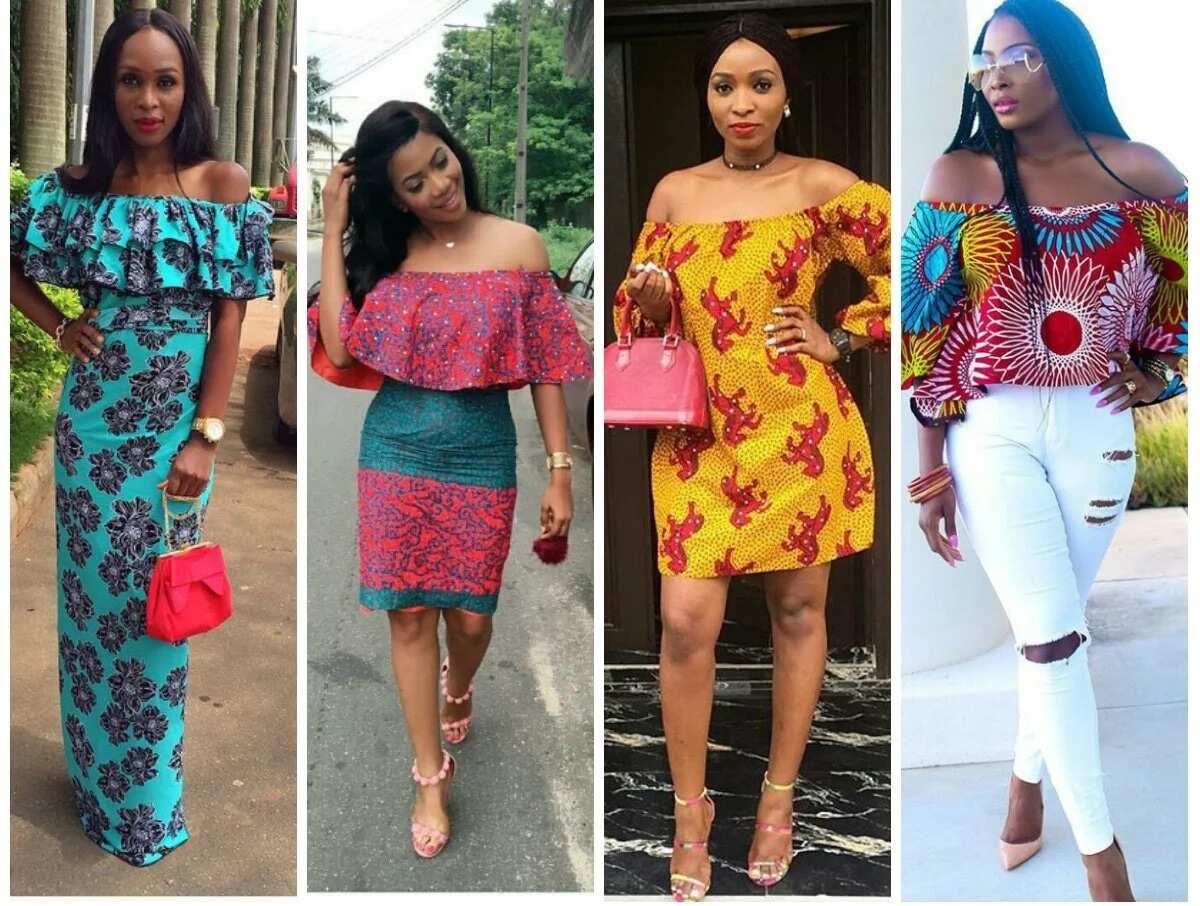 Street fashion with Ankara styles is constantly growing every season and this means there are always new ideas. For season 2017 it's crucial to take care of your wardrobe. It may be extravagant, calm, controversial or conservative depending on your mood and personality. But it must always attract attention, because Ankara fashion trends dictate: how you can look stylish, up-to-date and modern.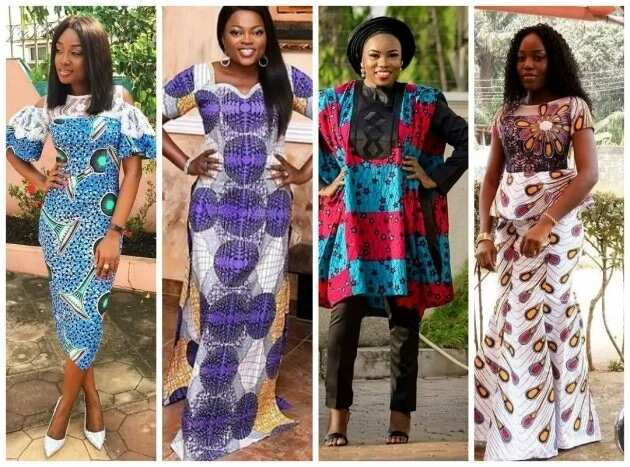 Latest Ankara style in town
Later we'll consider each part of the wardrobe separately. Now it's time to talk about the latest Ankara styles, or in other words, the season 2017. The street fashion for this period is filled with natural ethnic designs. The main characteristic of the female look is elegance and subtle chic.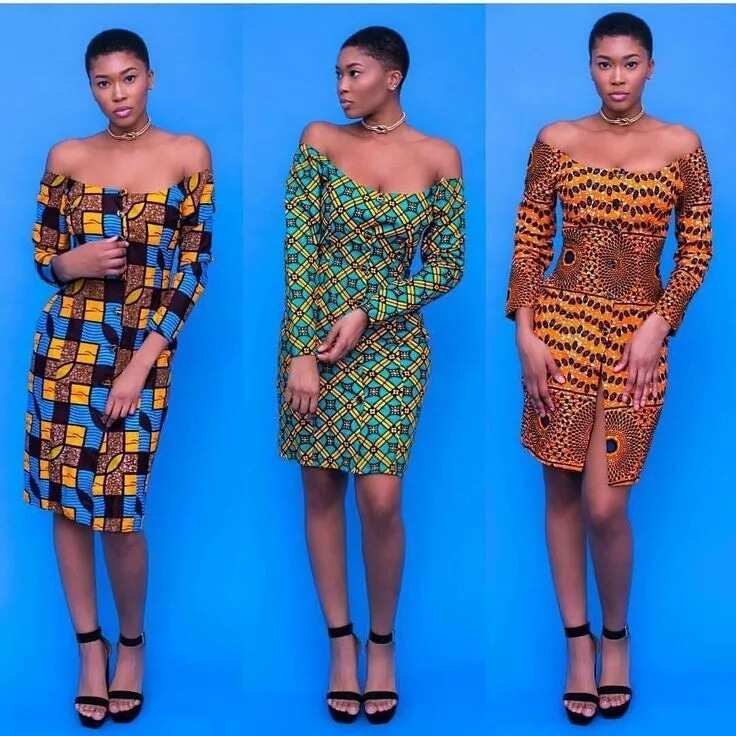 Fashionable looks of the season can be collected in parts. These parts make up the elements of the basic wardrobe. You must consider proportions, colours, materials, sizes, and shapes so you have the right looks. You can also go for fashion trends that celebrates airy and light with a subtle natural addition.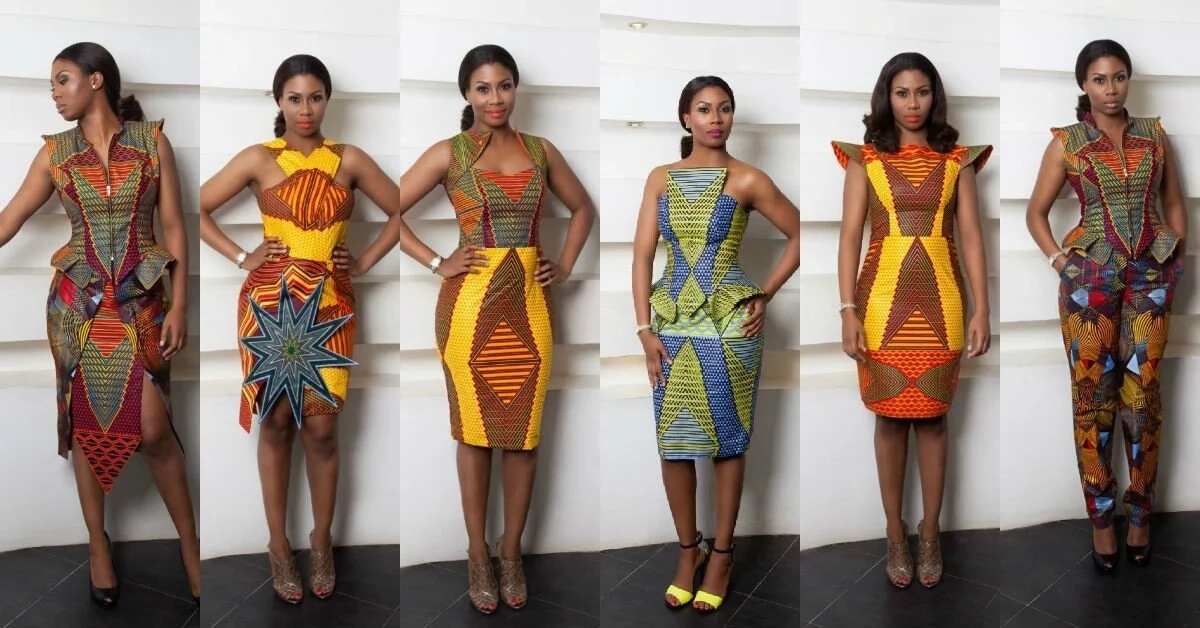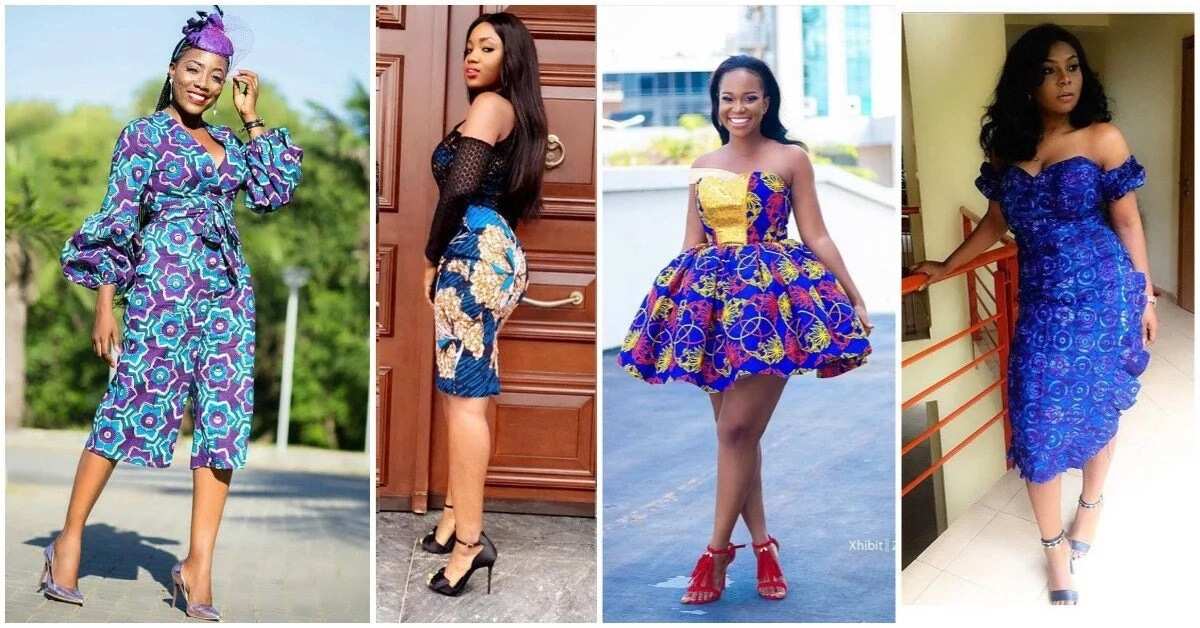 Street fashion is all about bright fabrics. They are often decorated with floral and geometrical prints. Such prints and patterns are relevant for Ankara dresses, trousers, shorts, and blouses. As for classic dresses, stripes are often employed.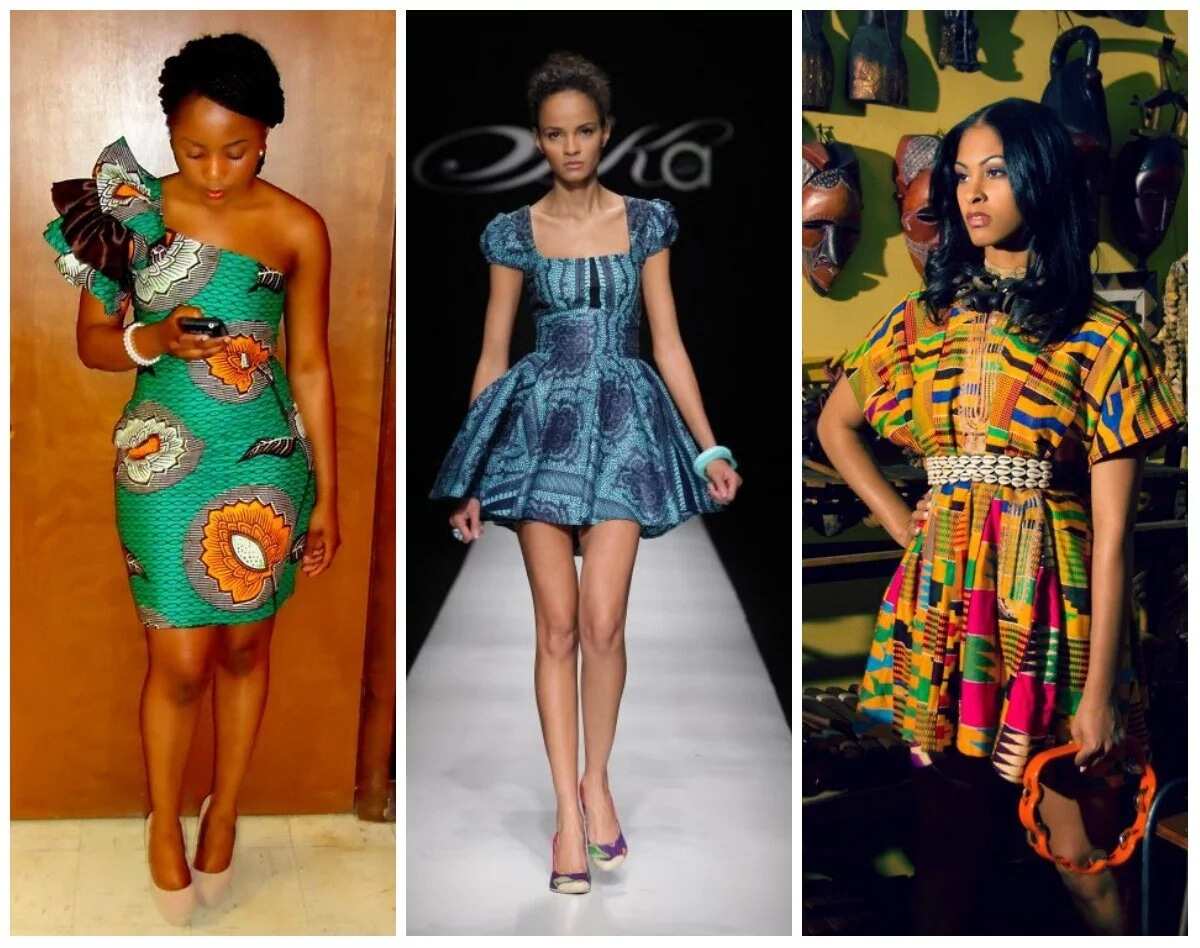 Primary features of Ankara style in town 2017-2018
In addition to the Ankara trends already mentioned, you can also note:
● Focus on the central elements. It can be ruffles, laces, and frills.
● Use African ethnic patterns. Usually, these are floral prints that cover your outfit.
● Bright tones, colour mixing, geometric patterns, unique designs are on trend too.
● Deep cuts and slits are also popular. Of course, you need to be careful with them, because they are suitable only for slender figures. But with the right skill, they can look stylish and feminine on anyone.
● Cruise-style outfits are relevant in the season 2017-2018. The main feature of this style is an accent on the back. Usually, it has a back cut and accentuates the legs.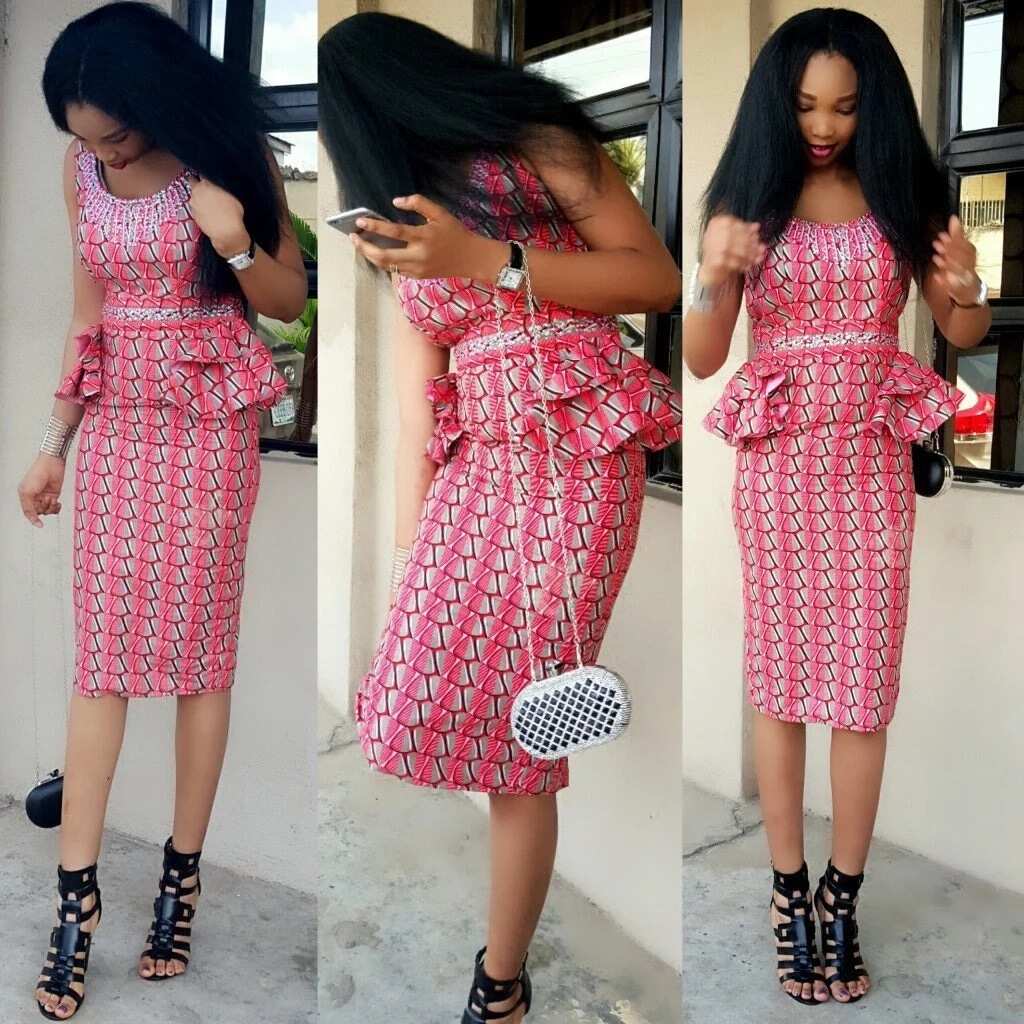 The colour combination of this style is very much appreciated. The pleats in the mid section gives the look an added edge. The main color is pink and related tones. It can be combined with blue, mustard, and brown when you're thinking of shoes.
It's time to talk about each piece of clothing individually for a complete picture. After all, fashion lovers like when the details of the whole look are perfectly blended.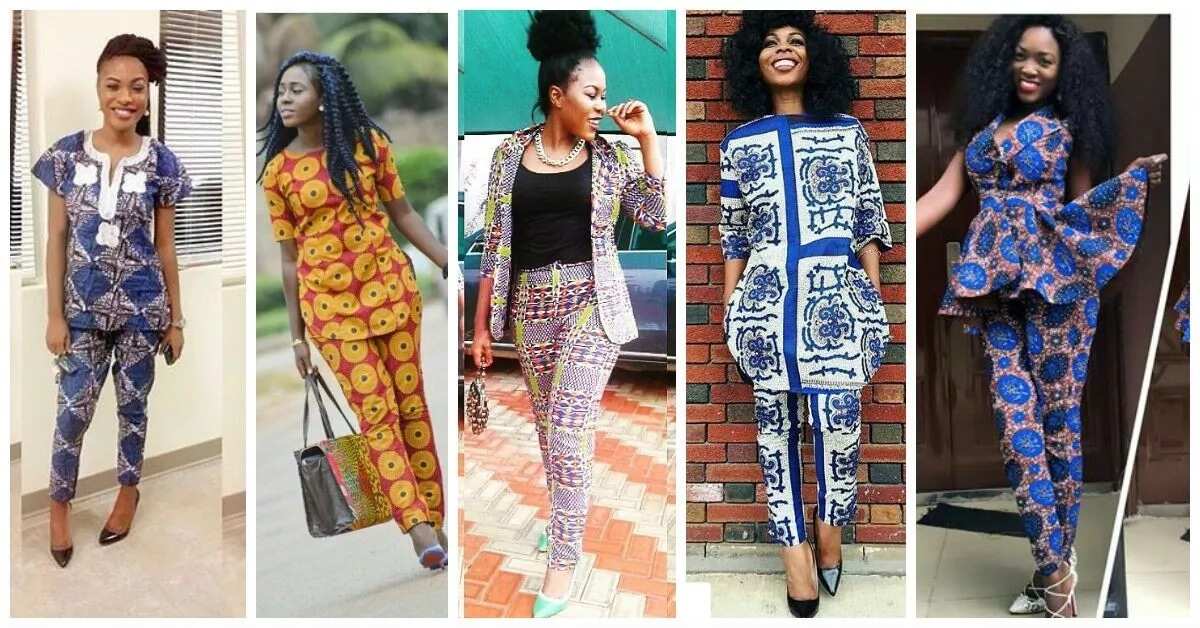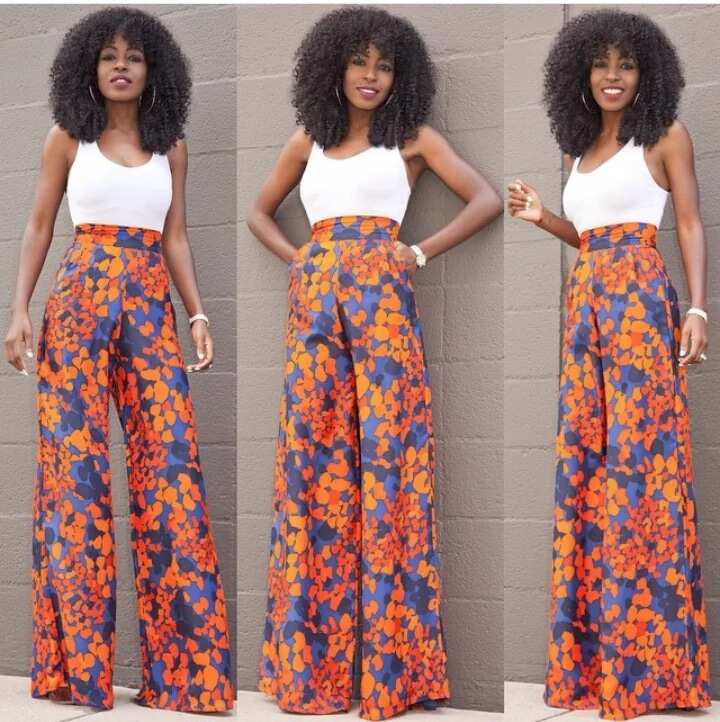 Ankara trouser styles for ladies 2017-2018
Town fashion cannot exist without trousers. It's a practical element clothing and is capable of bringing you some welcome attention. The classic Ankara trousers is always in trend. The waistline of such pants can be extremely high. The bottom can also be flared from the hip, or executed in a retro style. It is possible to emphasize such trousers by using wide belts and other fun accessories.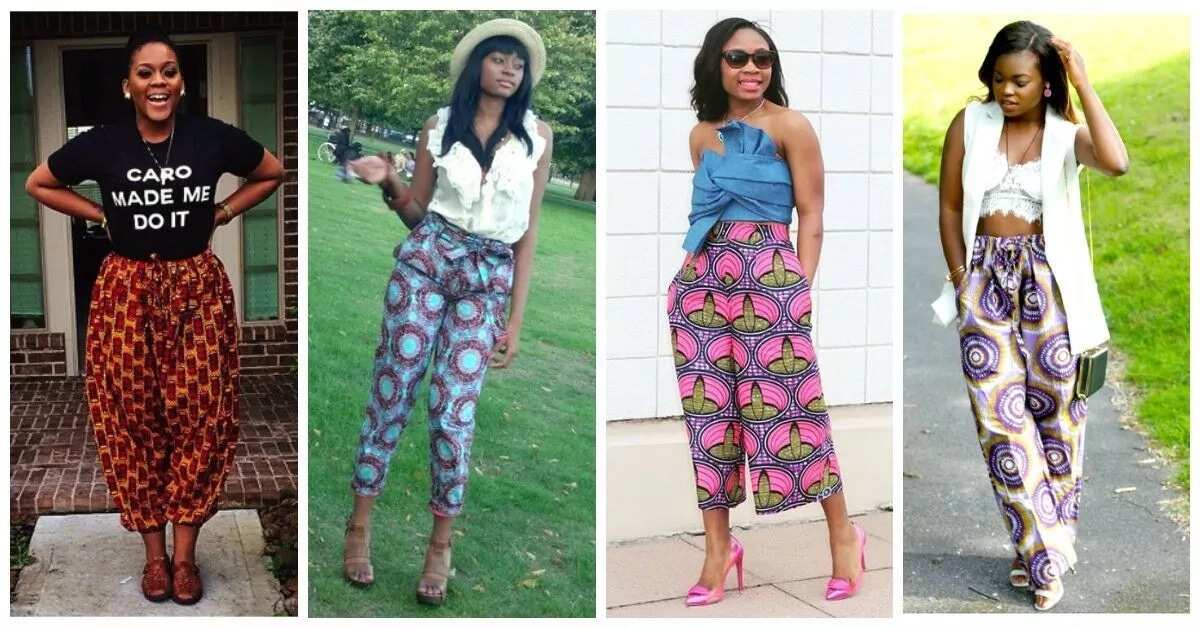 This season, fashion lovers are not afraid of colour. In addition to deep black, red, dark blue, you can use fabrics of lavender, mint, and coral tones to create your look. In general, there is no strict adherence to a certain colour palette, so choose your favorite tones for your pants and you will stand out.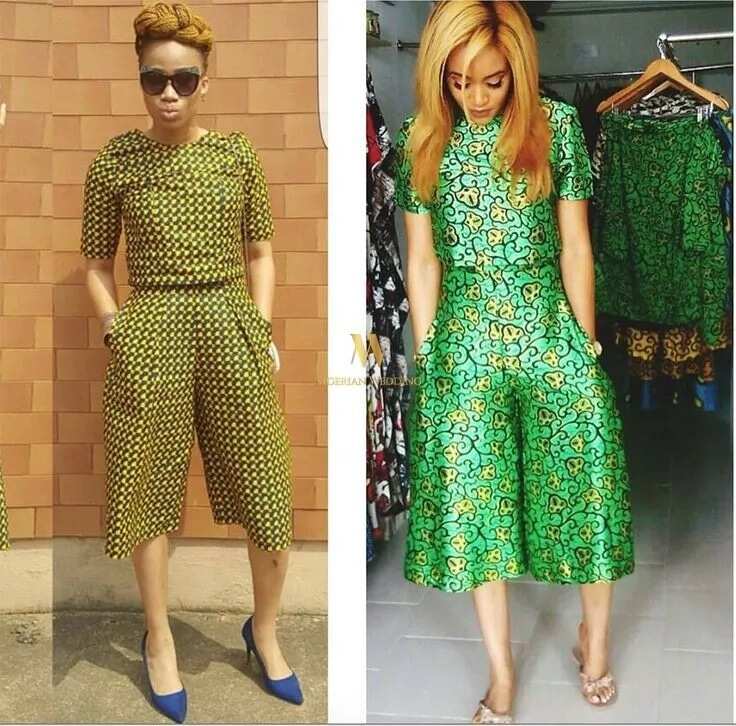 The culottes (knee-length trousers cut to look like a skirt) are also in demand. But it's important that they are made of Ankara dense fabric. Combine these trousers with a jacket or fitted tops to balance the wideness of the pants.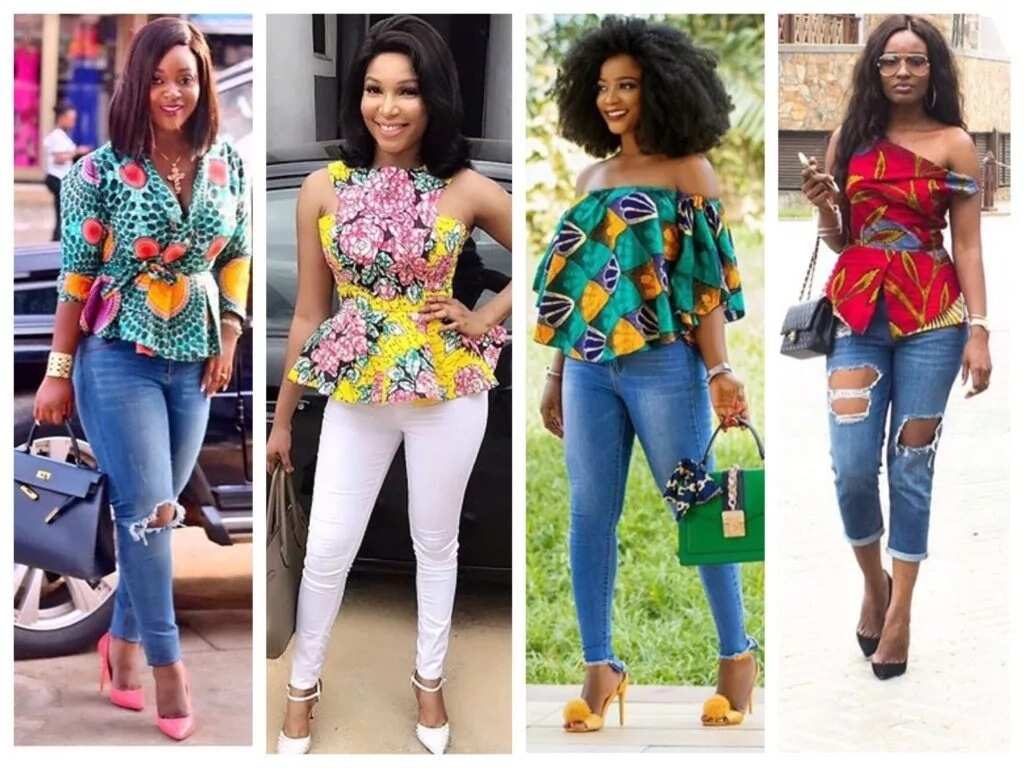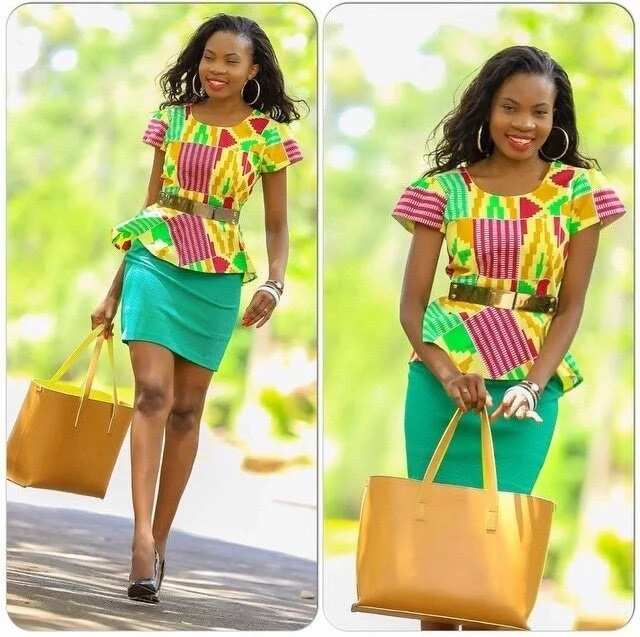 Ankara top styles
The peplum Ankara style became a hit last year and it is still popular in 2017. Don't be afraid to experiment with the sleeves. Tops and blouses can be with sleeves, sleeveless or have an open shoulder line.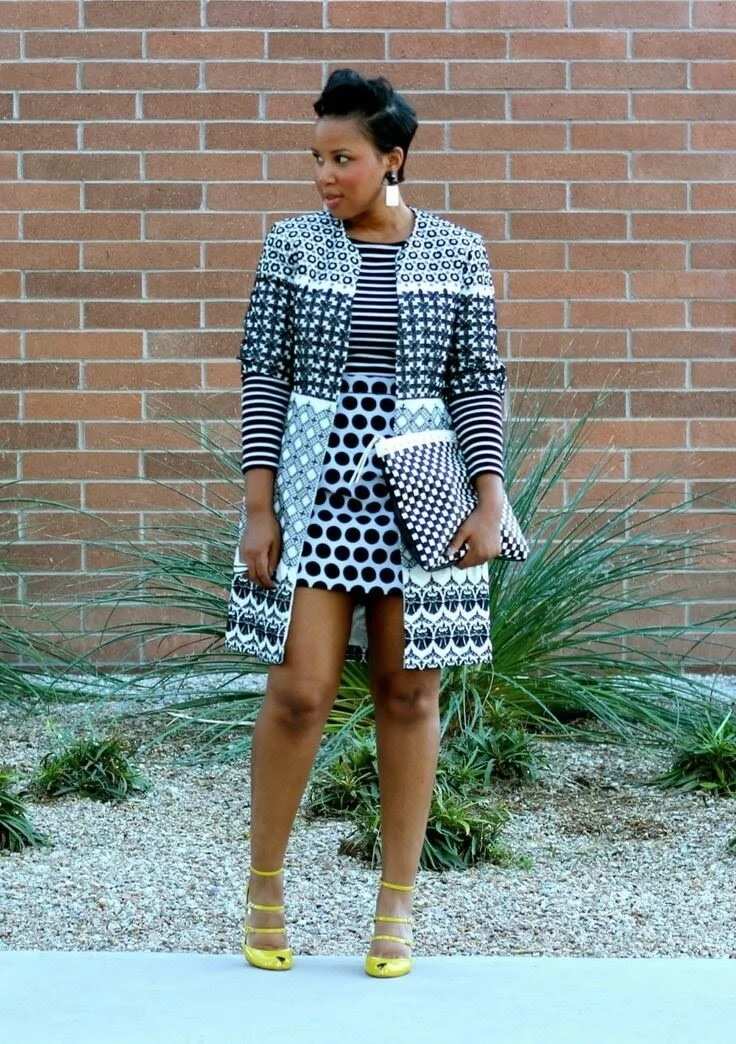 The feminine Ankara jackets and also popular.You can make them fitted or free and cinched together with a fancy belt. Jackets that look like cardigans with a classic collar in the season 2017 are superb.
The sleeves can be wide, the volume and bulges look well blended and stylish in the shoulder area.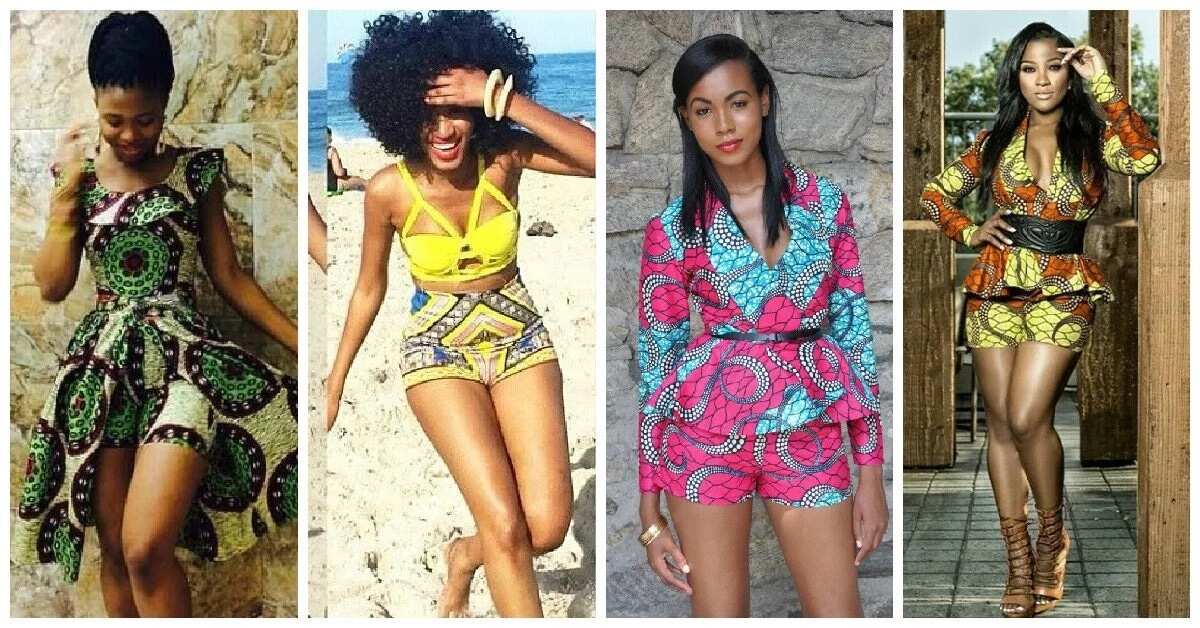 Ankara shorts
Street fashion of season 2017 dictates that shorts are in trend. Like trousers, Ankara shorts could have a very high waist and fitted to your body. The style of shorts should be free with deep pockets added.
READ ALSO: Latest Ankara gown styles 2017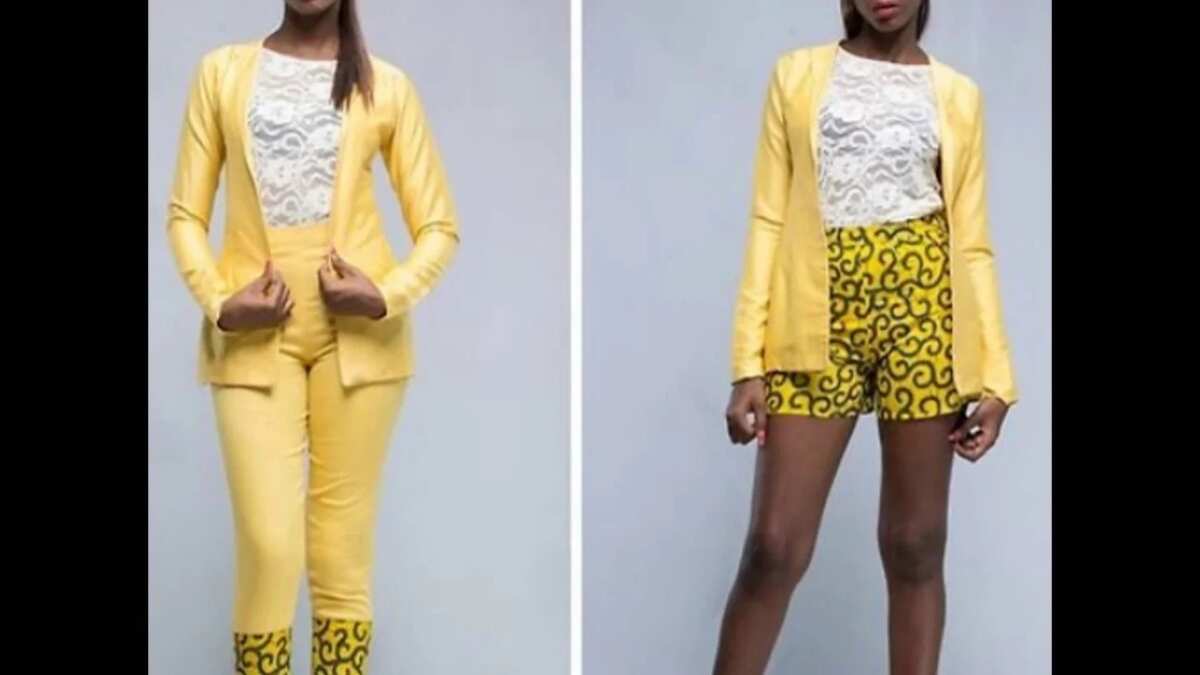 Shorts with small cuts from the side are very interesting and fashionable to look at. As for the colour, Ankara shorts can be of different tones, in particular, pink, crimson, yellow, and mustard. Such brightness is suitable for bright day. It perfectly emphasizes the fun and playful mood for any lady.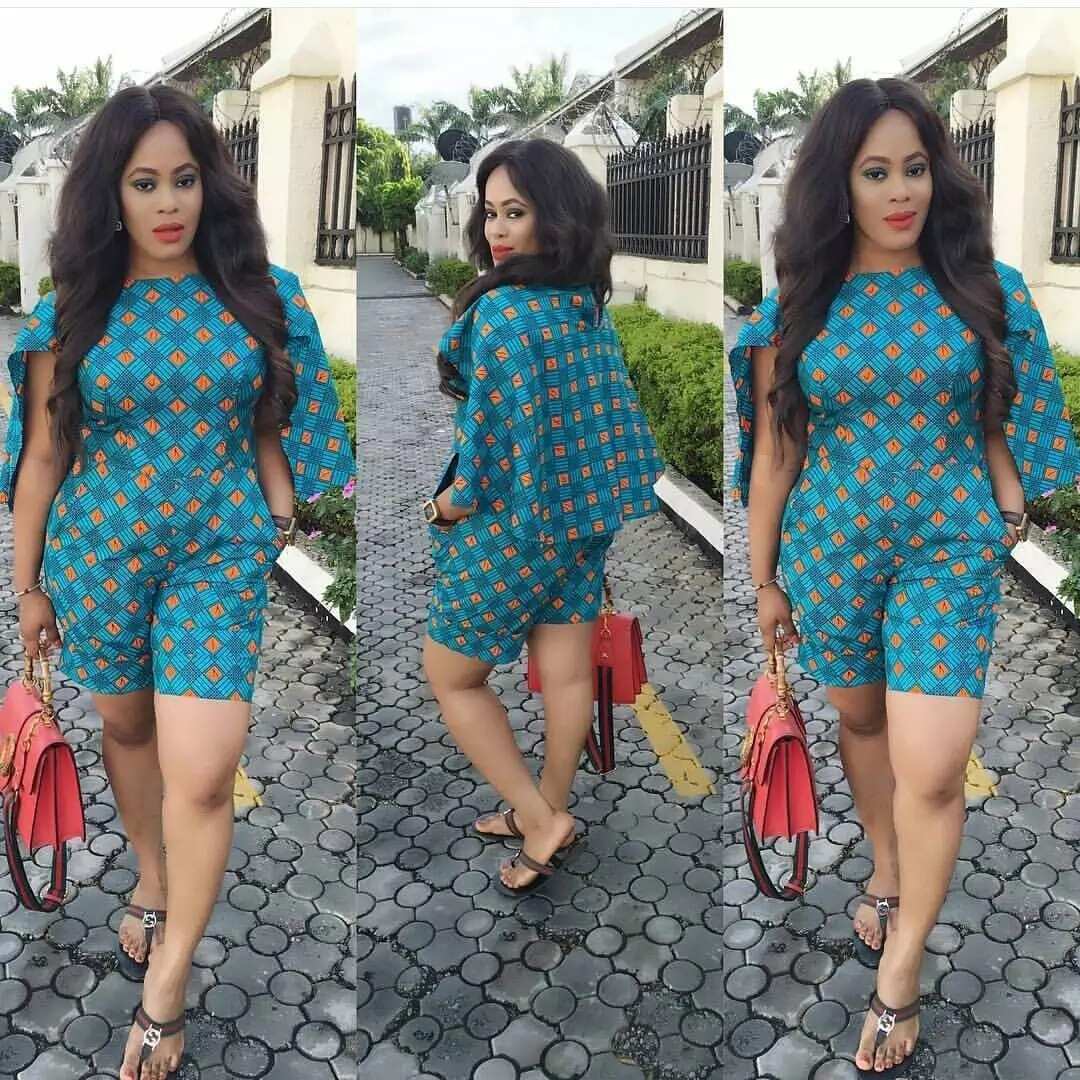 This shorts jumpsuit is also a popular trend. But you ought to be careful as it is often better suited for slimmer ladies. The look emphasizes your hips and gives off a classic effect.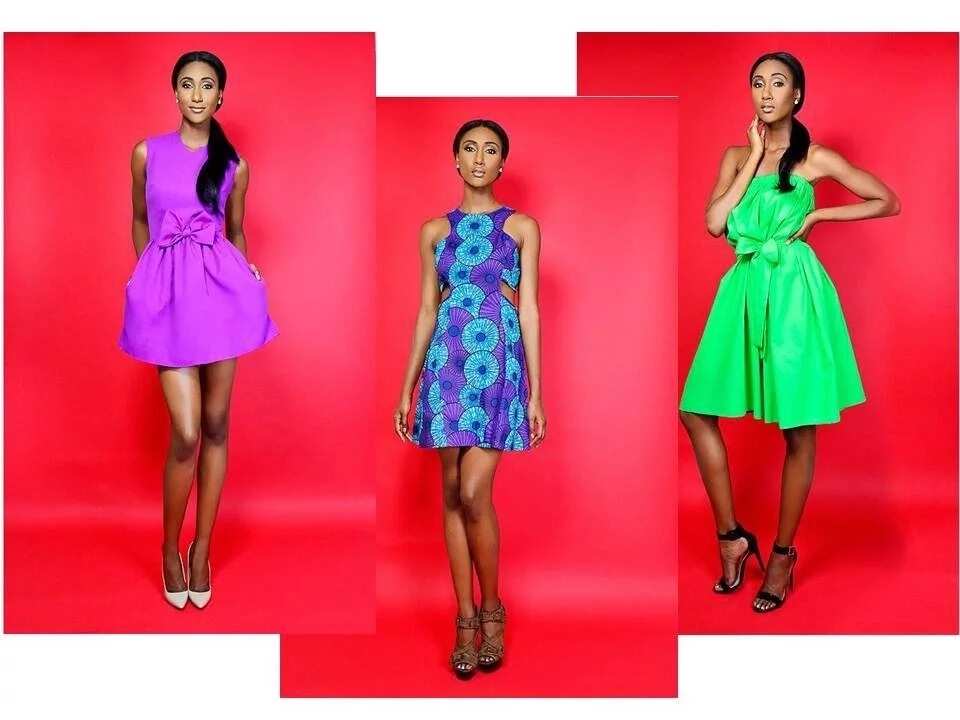 Ankara gowns
As for Ankara short gown styles, in season 2017, everyone wants to do something different. Here it's interesting to add ruffles and mix a few different colours.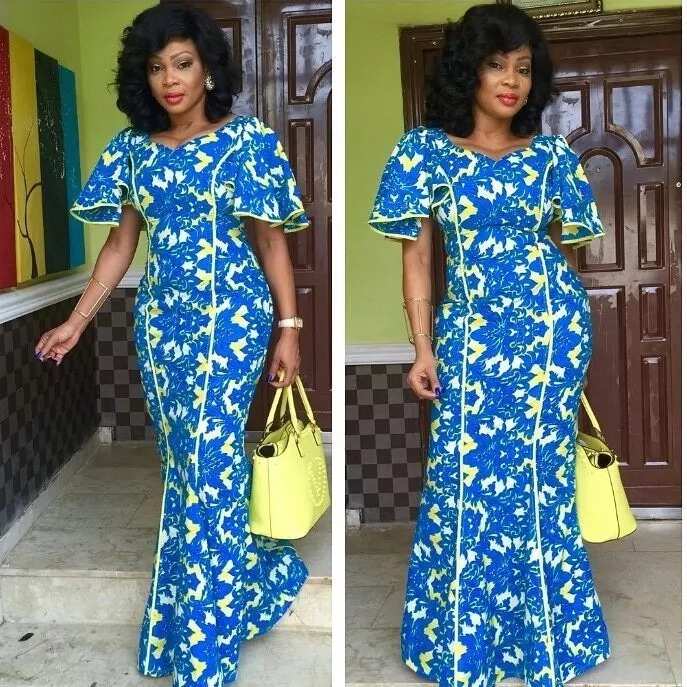 The floral print is actually great in Ankara dresses. These make the skirt area flirty and pretty. Short and fluffy skirts are also popular. They can be multi-layered. You can also add a pocket or two for that super special look.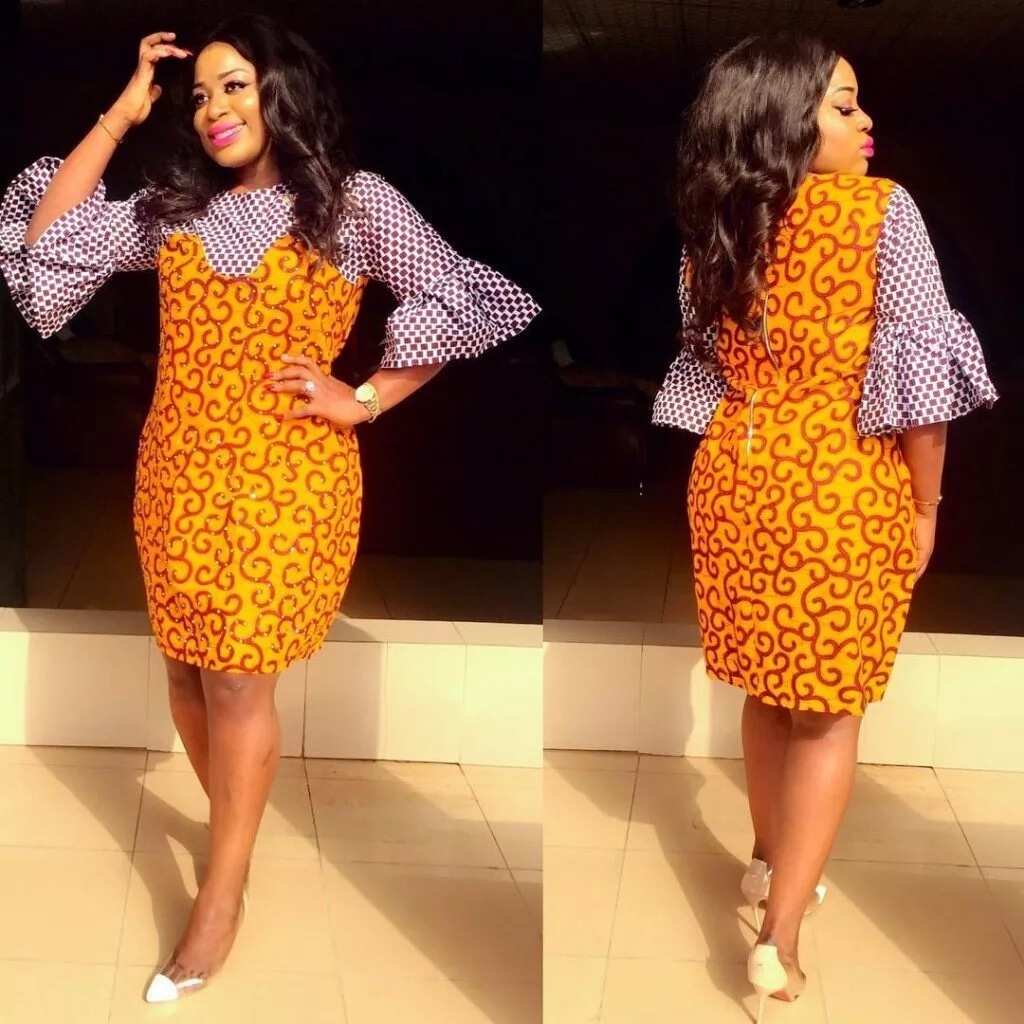 When you choose dresses with short or long sleeves, it is important to pay attention to the kind of fabrics used. Fitted dresses are the most popular trend of the season, especially if it has a turndown collar. Just check out how this snow-white collar comes into contrast with the dress colour.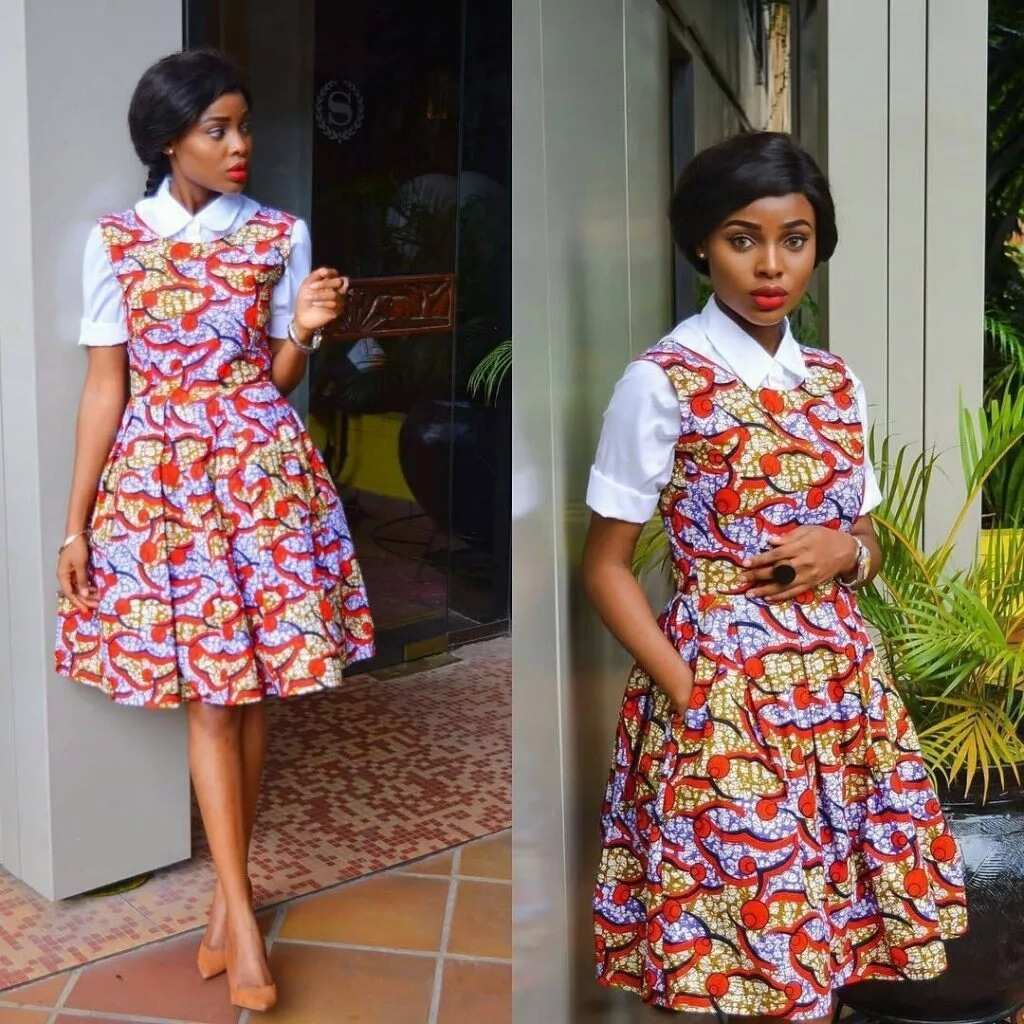 If we are talking about length, then the choice of whether to be conservative or daring is up to you. Ankara long gown styles are better left for events and occasions. Ankara fabrics should be flowing and light. Also, don't forget about lace. It can make your dress look more refined.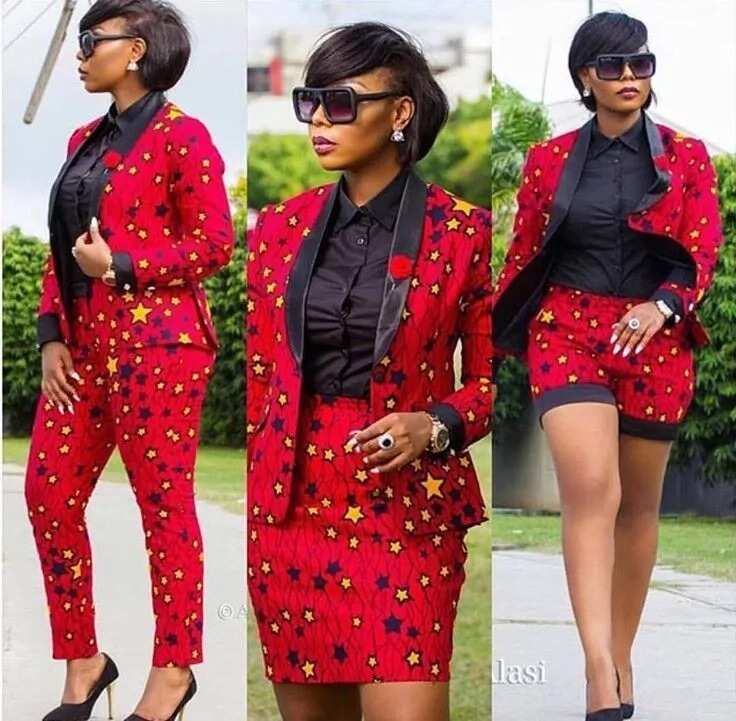 Ankara business looks
Everyday street fashion in season 2017 also includes strict business look. Cotton and linen suits are in demand here. The style can come in skirt and trousers. The classic cut of the jacket can be made in the peplum style. But the trousers must always have a wide cut and it should be loose along the entire line of the legs. They should sit perfectly on the waist line. There are no understated waistlines in this season. The main colors of business suits are white and beige, peach and lilac. Instead of the classic black color, go for dark gray, and blend it with a peach or pink shirt.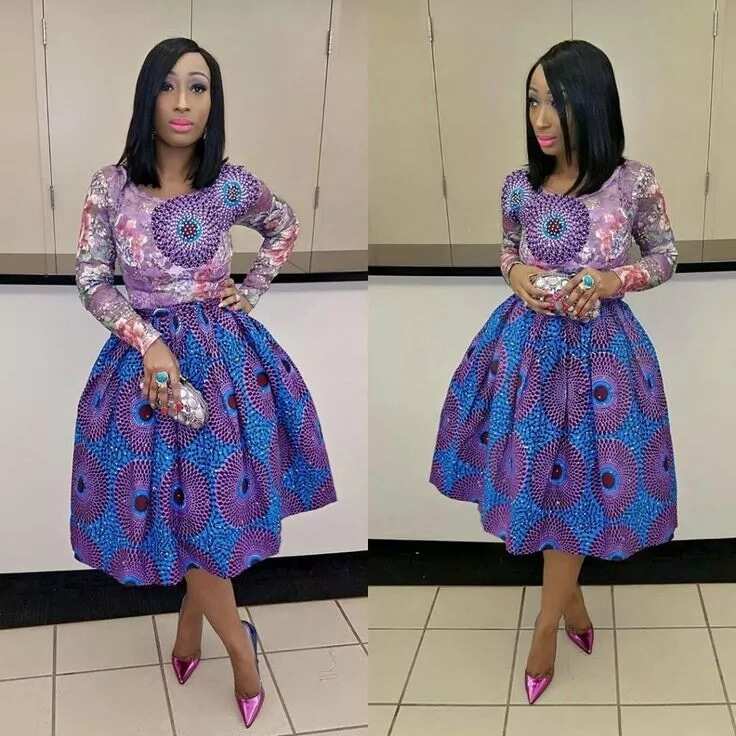 Ankara skirt and blouse
The business look on the hot sunny day is not necessarily complemented with a jacket or blazer. You can choose a cotton Ankara shirt or blouse suitable for the office. Under the jacket, it is more appropriate to put on Ankara tops and fitted T-shirts. The Ankara skirt should be straight and strict, the ideal length - to the middle of the knee.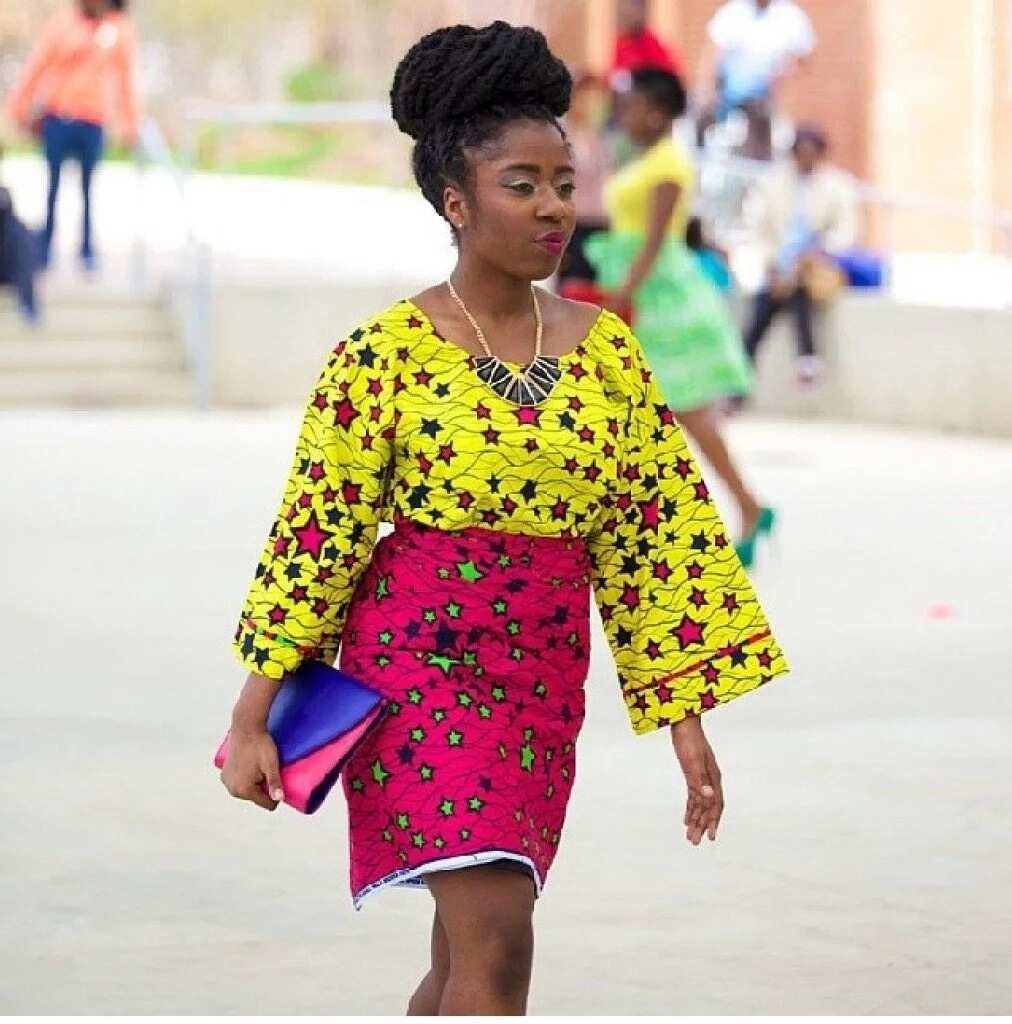 A little more about Ankara fashion
To conclude trendy Ankara styles in season 2017-2018, we want to pay attention to such topical details as:
● Belts can be worn with any look. Leather and suede leather belts are popular;
● Flared shorts and trousers are great;
● Sleeves sewn like a bell are in trend;
● Striped items are also loved by fashionistas;
● Dresses and gowns can have several layers.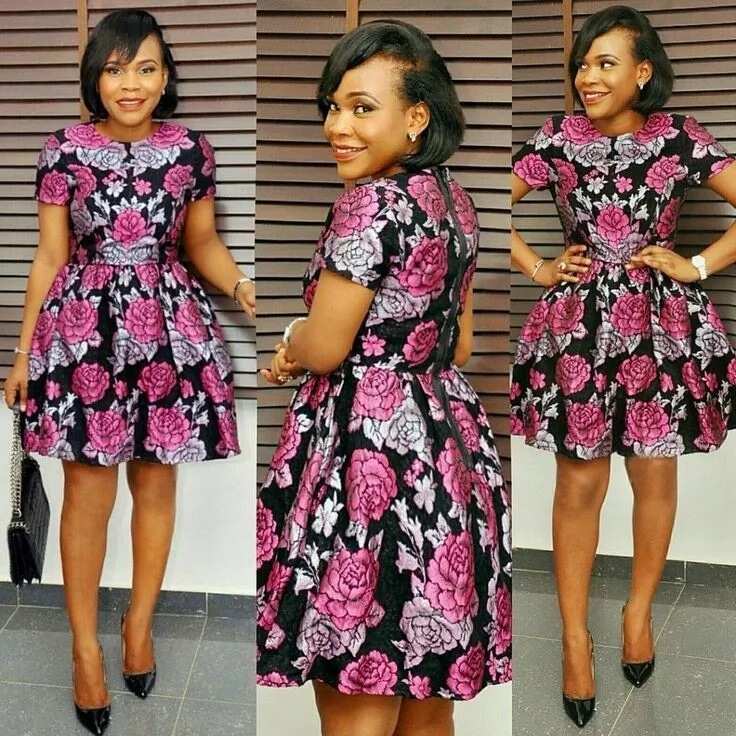 Bright colors and unusual styles are the primary trends. A crimson dress combined with black shoes can attract everyone's attention. Also, green trousers with a yellow T-shirt with a large graphic print are perfect for any walk around town. The safari style is manifested in shirts, trousers, and dresses. It emphasizes the skin and creates a great impression of the figure.
These are the main ideas for beautiful Ankara styles and solutions in town 2017. Look, choose, come up with new trends, and imagine how these unique Ankara styles will suit you.
READ ALSO: Unique Ankara styles 2017