Top 5 Stephanie Coker braids styles
Nigerian ladies are known for their love of braids. Their hair braiding skills are out of this world. Lately, we have been absolutely obsessed with Stephanie Coker braids. Therefore, we decided to share with you some of the most iconic hairstyles that this Nigerian TV personality has sported. Continue reading to see the top 5 Stephanie Coker braids styles.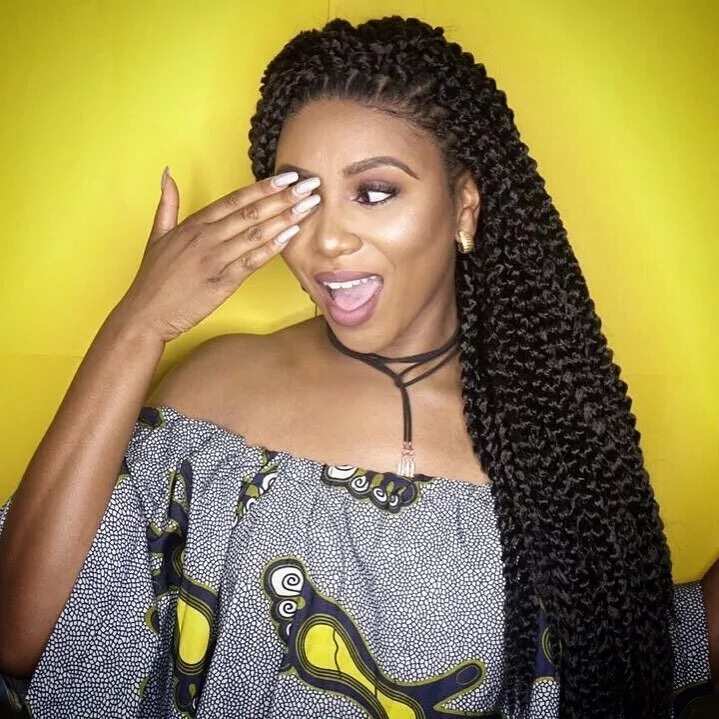 Who is Stephanie Coker?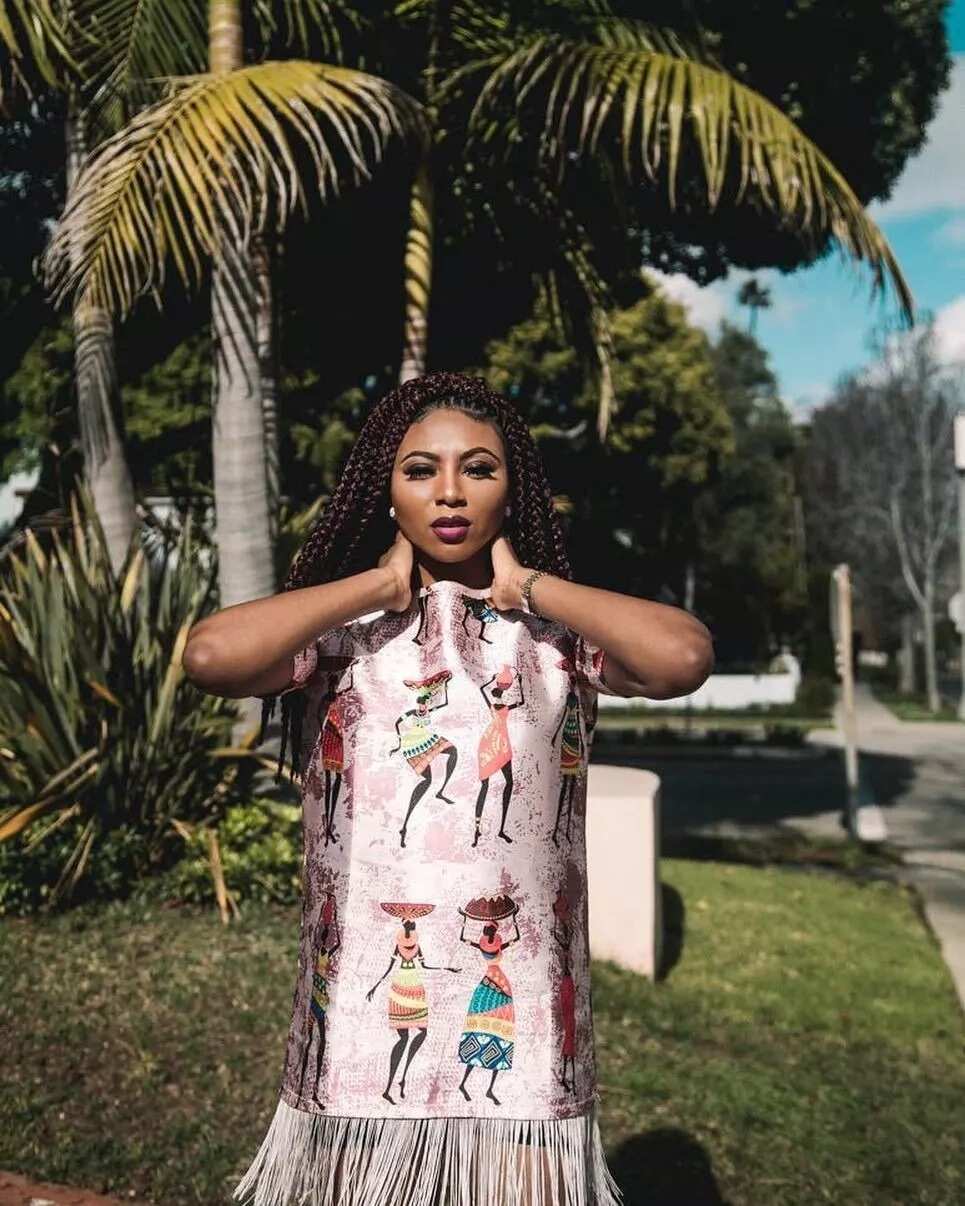 Before we show you Stepnahie's best hairstyles, let's take a moment to learn more about her. Stephanie Omowunmi Eniafe Coker is a famous Nigerian TV and radio personality. She was born on November 28, 1989 in Lagos, Nigeria, but spent most of her life in London.
Up until 2011, Stephanie worked in the United Kingdom as a TV presenter. Later she moved back to Nigeria, where she continued her work as a presenter, adding a few Nigerian radio and TV stations to her resume. Stephanie even won an award for the TV Presenter of the Year in 2014.
Stephanie recently married her long-term boyfriend Olumide Aderinokun, who is a nephew of the late co-founder of GT Bank Tayo Aderinokun. They had a traditional wedding back in December 2016 and a white wedding on August 12, 2017 on Mykonos, Greece.
Top Stephanie Coker braids styles
READ ALSO: Nigerian cornrow hairstyles 2017
In addition to being a memorable presenter, Stephanie is most famous for her flawless hairstyles. Even though she often sports straight long hair, she is known for her gorgeous braids. Each time she posts a new picture with her hair all braided and beautiful, we drop everything and bask in her beauty.
It was very hard to narrow our choice to such a small number of styles. Somehow, we managed to focus on only five of them. Here are top five Stephanie Coker braid styles that we adore.
Box braids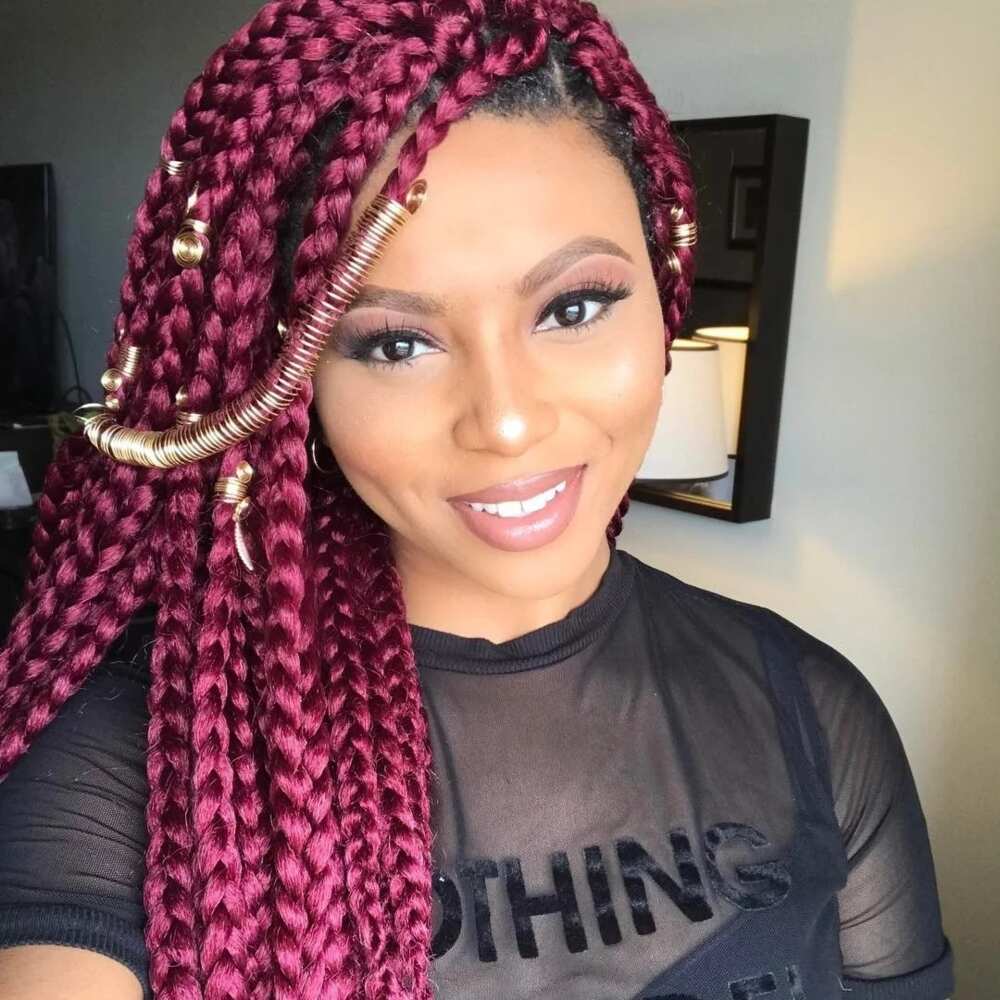 Box braids are one of the most popular hairstyles among Nigerian women. Even though this style is a seemingly simple three-strand braid, it looks absolutely amazing. Stephanie often sports big box braids adorned with various beads and rings.
You can often see her with this look at various red carpet events. However, she often opts for box braids when chilling at home or hanging out with her husband or friends.
Senegalese/Marley twists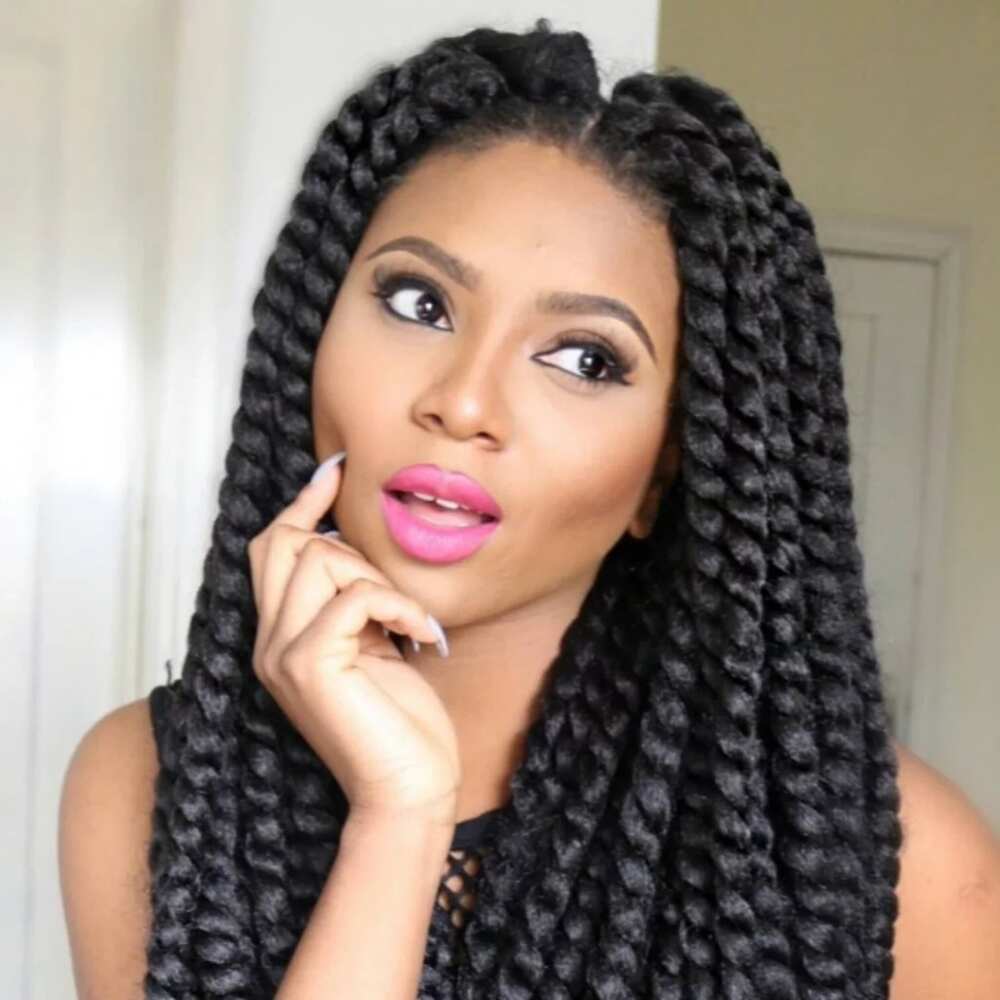 Senegalese twists are a very popular crochet twist hairstyle. To achieve the Senegalese twists look, people wrap synthetic hair to the roots of their natural hair and twist it to the end in two strands.
You can often catch Stephanie wearing her hair in Senegalese twists. She also often goes for Marley or Havana twists. The main difference between these styles is the hair. Unlike the Senegalese twists, the other two types require the use of rough-textured hair. Either way, Stephanie pulls them off flawlessly.
Tree braids/micro braids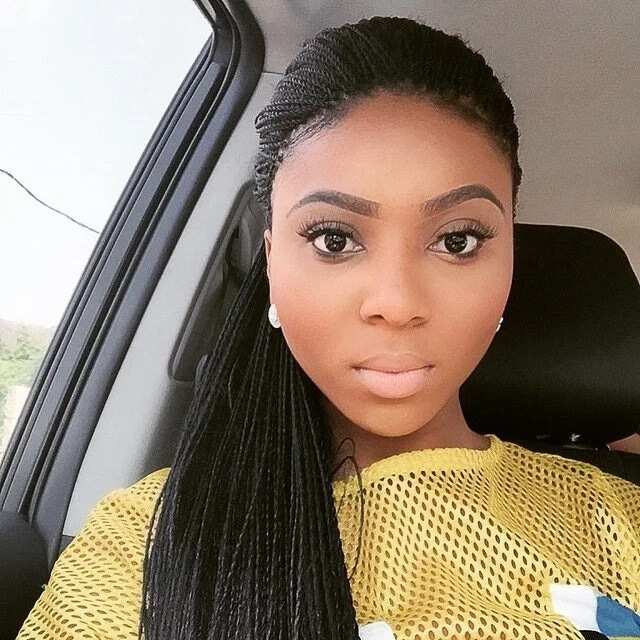 Tree braids are a method of attaching hair extensions to the natural hair by braiding it near the roots in tiny strands and letting it fall the rest of the way. Micro braids are almost the same, only the extensions are usually braided all the way to the end.
Even though this style is very time-consuming, the result is always worth it. Stephanie does not go for this hairstyle often, bun when she does it looks incredible.
Yarn braids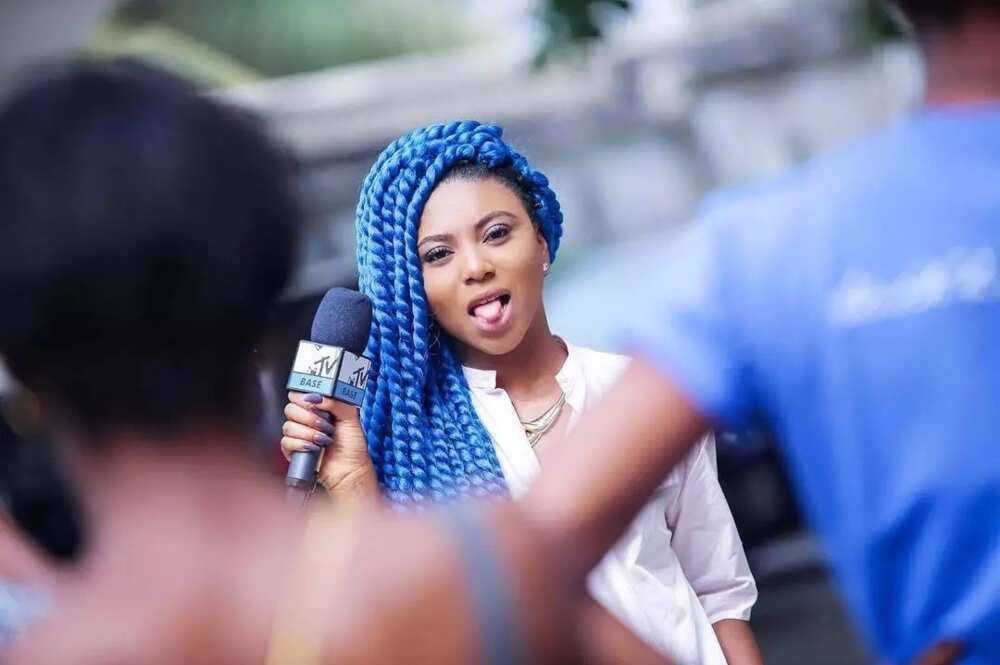 Yarn braids is the umbrella term for all kinds of braids (twists, faux dreadlocks or regular braids) when people use yarn instead of hair extensions. Most of the yarn braids are very bright and colourful, but some women choose to go for simple black ones.
Stephanie loves to try different colours for her yarn braids. So far, she has been seen wearing green, grey, blue, black, red and purple braids. Quite soon, she would have all the colours of the rainbow!
Ghana braids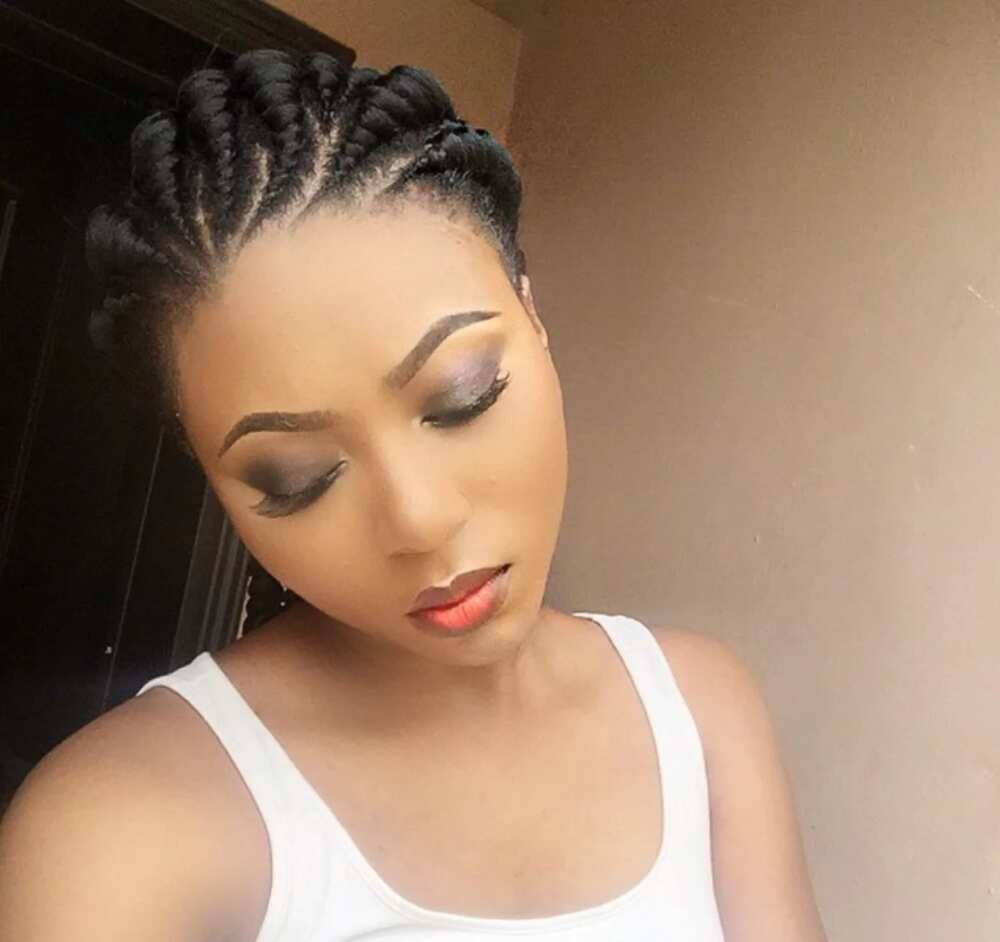 And last, but not least, let's look at Ghana braids. Some call them didi braids or banana cornrows for their volume. These begin with simple cornrows and end with braids or twists. Stephanie Coker has absolutely mastered this style. Both times we saw her wear this style, we were stunned by her braiding skills. She always makes it look so easy!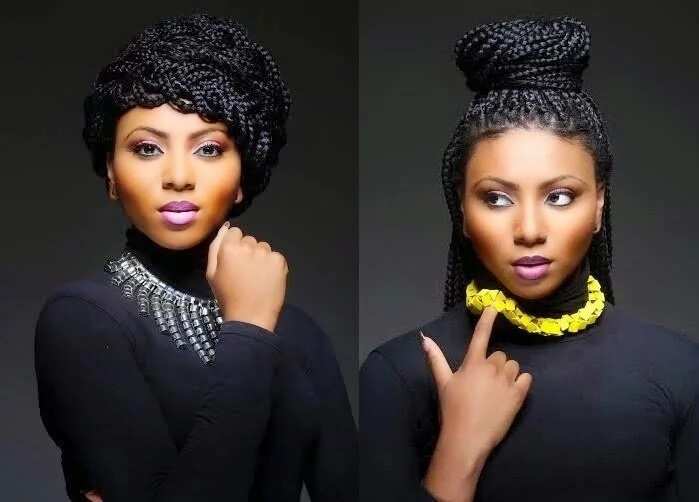 Today we highlighted only five of Stephanie Coker's wonderful braided hairstyles. However, the Crochet Queen has many more ideas for crochet hair. She often post pictures on her Instagram page, showcasing her latest crochet braids.
You can follow her @stephaniecoker and get inspired by Stephanie Coker braid styles and other immaculate hairstyles. Lately, she has been mostly posting pictures with her hair straight and not braided. However, we are certain she will soon return to her roots (no pun intended).
But wait, there is more:
Stephanie Coker is also the creator of the Krochet Kulture hair brand that sells hair extensions for crochet braids. On Krochet Kulture's Instagram page (@krochetkulture) you can see pictures of not only Stephanie herself, but also of her happy clients proudly wearing her extensions. Follow the brand on Instagram, if you want to buy quality hair extensions or to simply look at stunning Nigerian hairstyles.
We hope she continues slaying us with her hair game, as her braids are truly legendary. All hail the Crochet Queen!
READ ALSO: Kinky braids hairstyles in Nigeria
Source: Legit.ng