Ankara short dresses for bright ladies
What is the best attire for beautiful ladies? No doubt, every girl will say that it should be something short, light and gorgeous. Perhaps the most appropriate item is a short dress. Ankara short dresses for fashionable ladies are "must have"! Be in trend and make cool looks!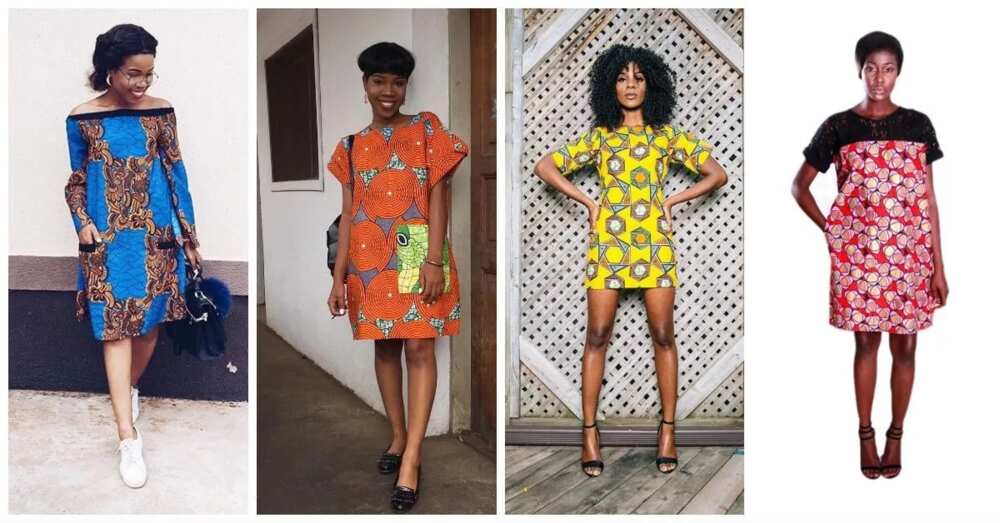 We decided to tell you in detail about such dresses. Our goal is to find out how to choose, how to wear, and harmoniously combine short Ankara dresses. We assure you that after our practical recommendations you will be able to create a stylish look.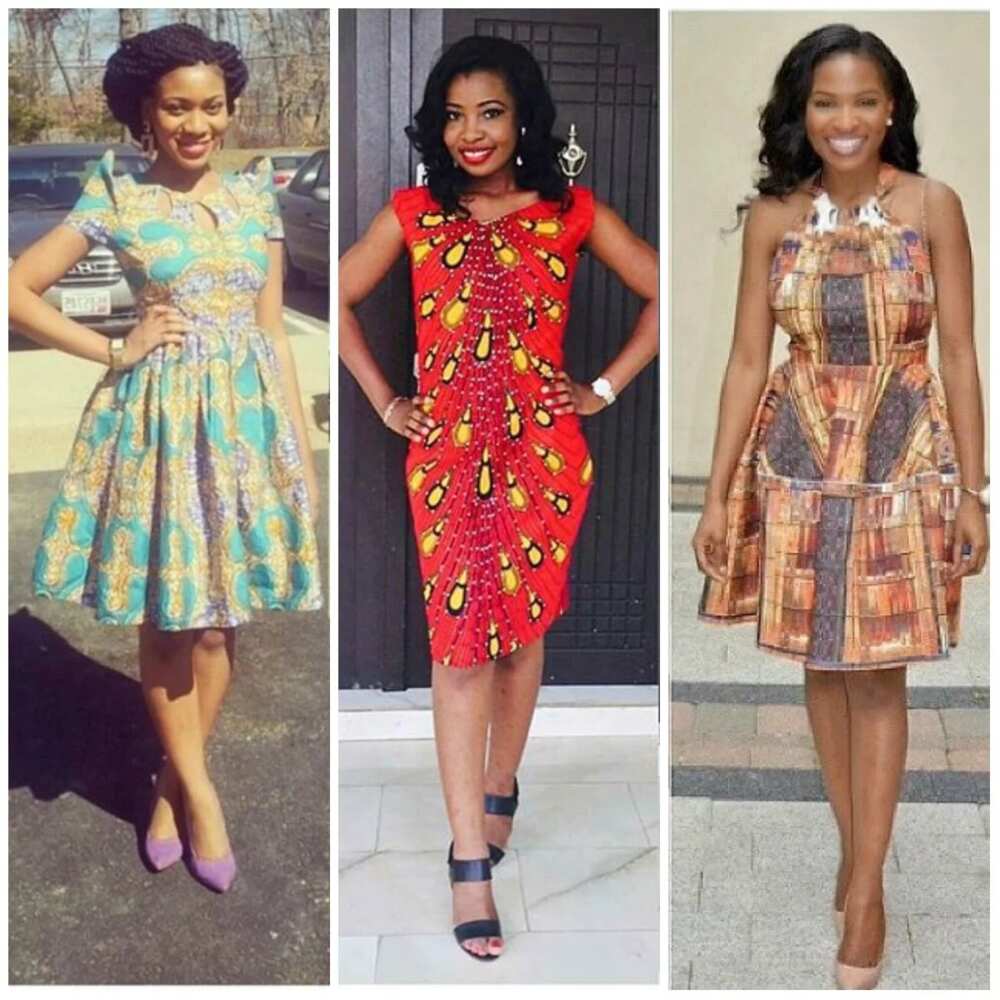 Unique Ankara dresses are always beautiful and practical. There is no need to invent and combine tops, skirts or shorts. The right choice of dress solves several problems at once.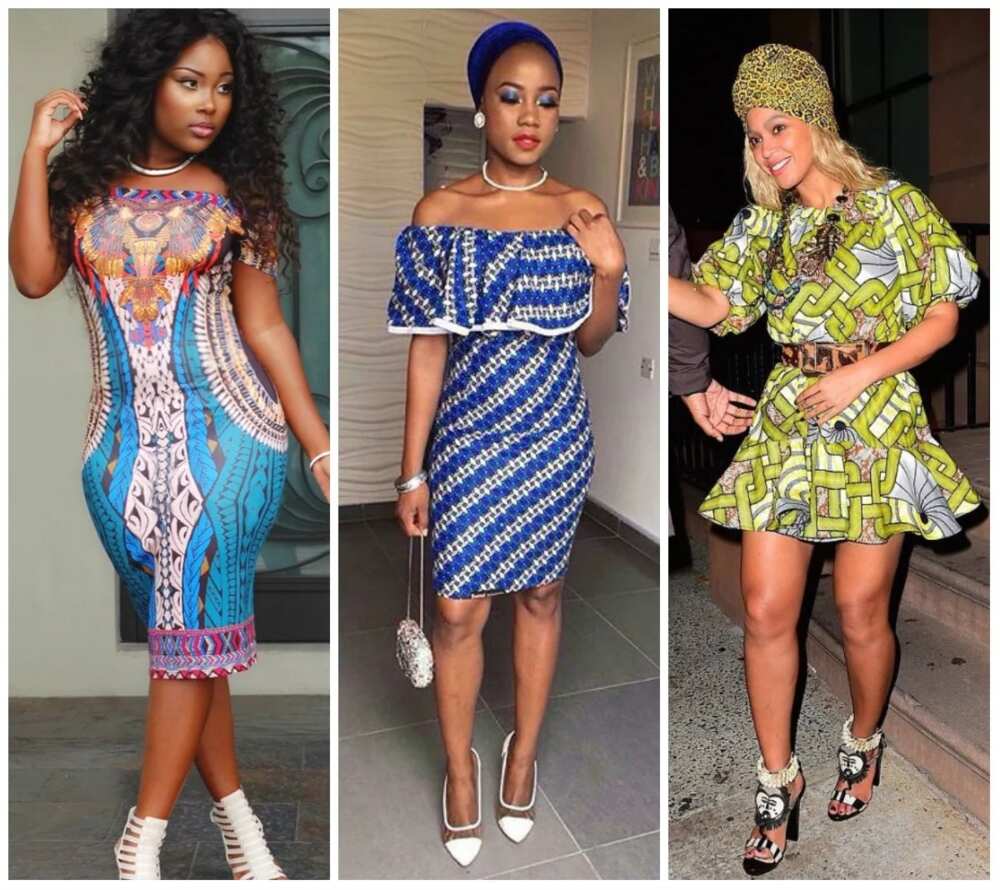 The variety of Ankara styles 2017 will allow each girl to choose a dress that suits her, depending on body type, the hair colour, and skin tone. Short, thin and light or dark- we have the solution for everyone. You can wear casually, to go shopping, for a date or a trip.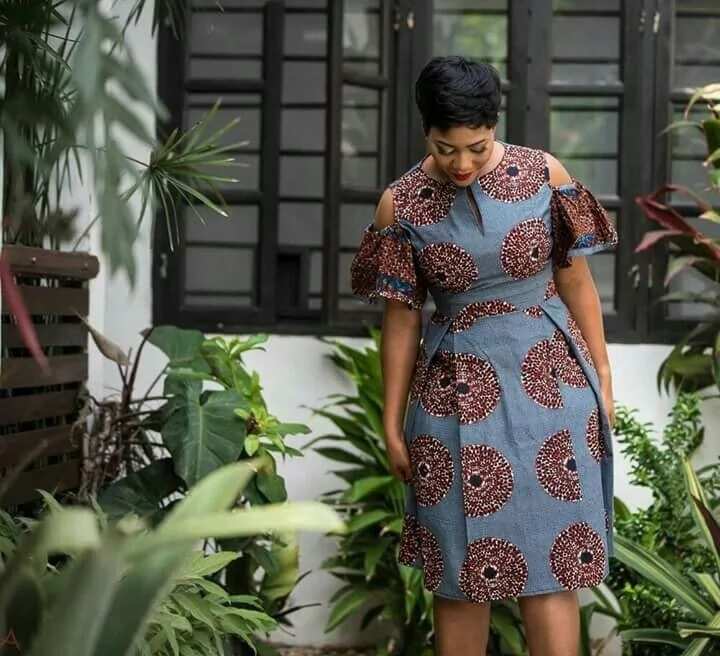 Get chic in Ankara gowns
Trendy Ankara styles, in particular, emphasize the femininity, tenderness, and beauty of the wearer. There is a wide range of styles for short dresses.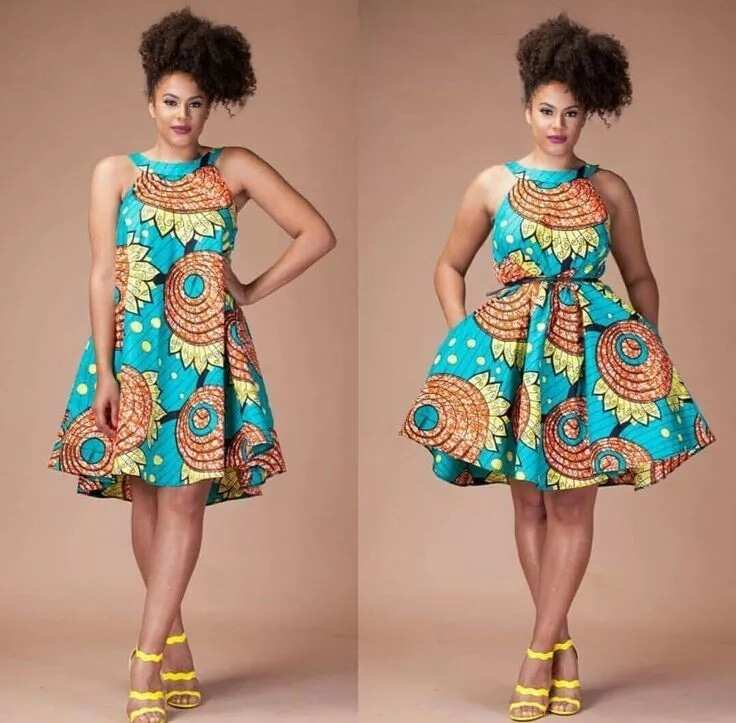 A-Line dress
It is just the basic design of any wardrobe. It is universal and suitable for any occasion. Such a dress can be complemented with a thin strap or a strap of contrasting tone. It adds an additional emphasis on the waistline. A-line dresses are suitable for almost any type of figure.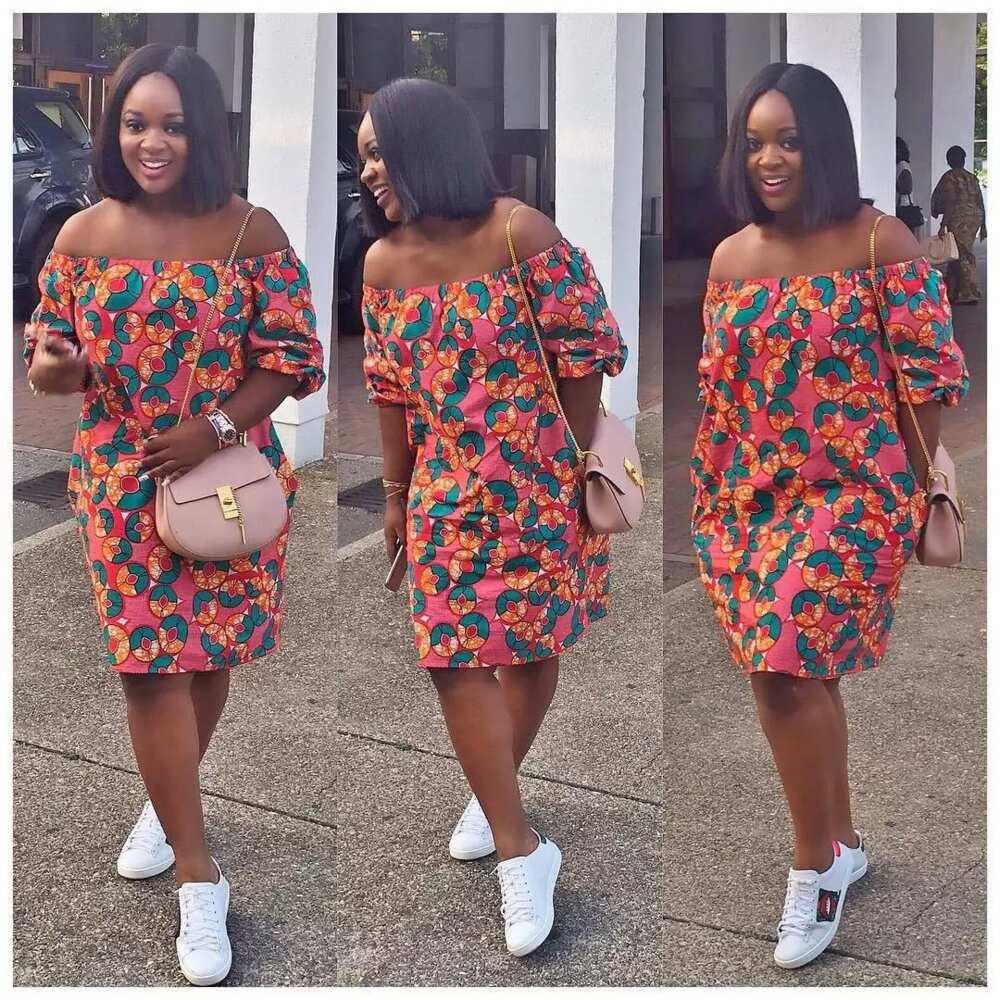 Cold-shoulder gown
At first sight, it's a simple design, but choosing a unique jewellery and nice shoes can make the whole look amazing. The dress suits both young girls and older women.
Dresses with an overstated waist
They usually have a tight top (bust), and a skirt flared from the chest. This dress fits well with many types of figures and brings attention to the slender legs. The style resembles a dress in Empire style or Greek style.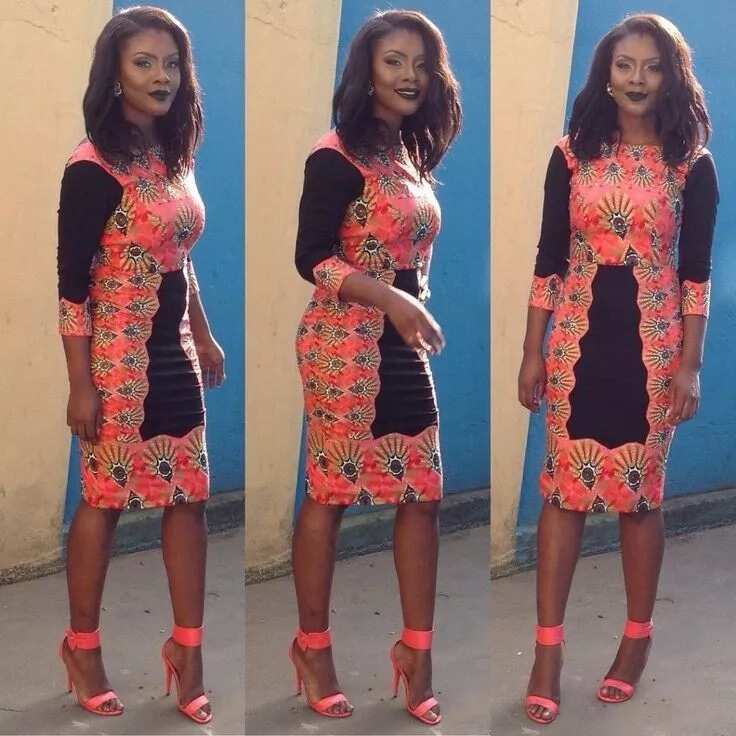 Fitted dress
Such dresses are typically sewn from thin elastic materials. Thus they don't inhibit movements and are comfortable. You should be careful with the fitting style because the material will emphasize all the curves and creases on the body.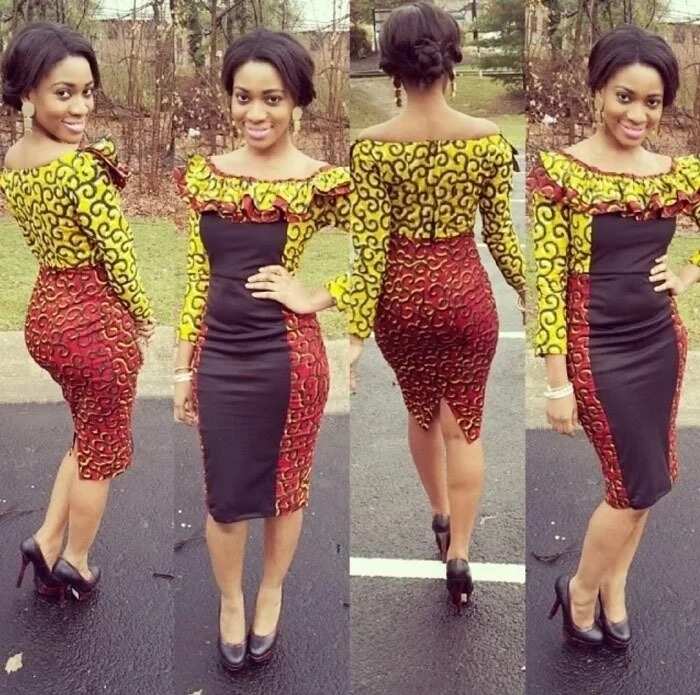 Ankara with pleated neckline
It's a great choice if you need to attend a serious event. Despite the short length, it has a conservative yet adorable neckline that makes it look beautiful.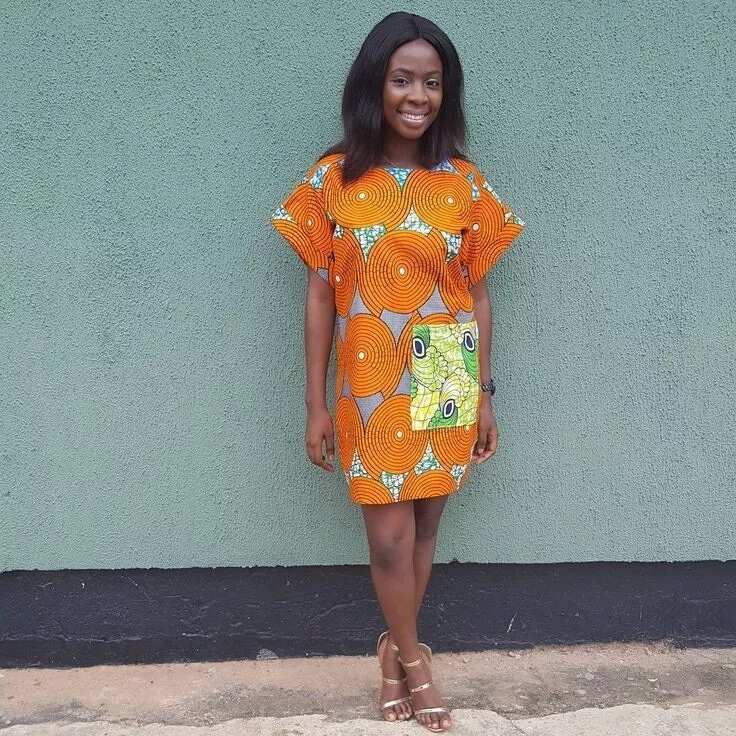 Short-sleeve gown
This is a simple look. It can be come in both narrow or wide straps and has a cutout of various shapes. There is no limit to the variety of styles, so you are free to choose.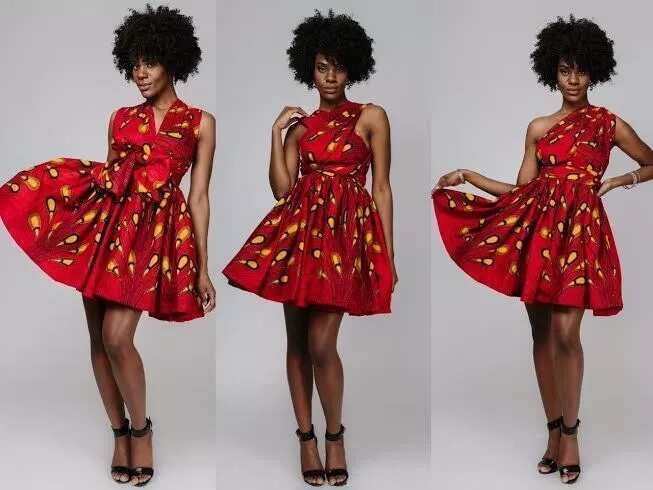 Dress transformer
This is a dress with simple straps. But the amazing thing is that you can transform the straps' position. So it can go from being on the shoulder normally, to being crossed along the neckline and can even become a monostrap dress. For this style, you can be three ladies in one.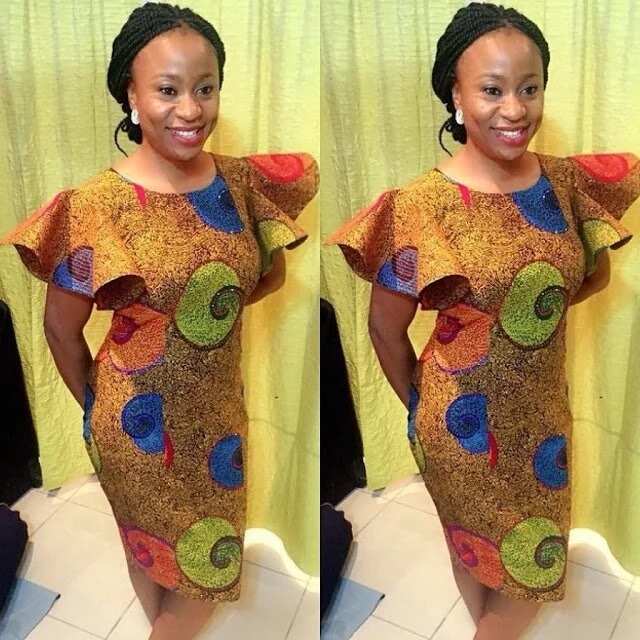 Ankara Short dress with overstated shoulders
Ankara short dresses can also be decorated with various ruffles, bows, flounces or fun inserts. The shoulders in this one brings more character to the look.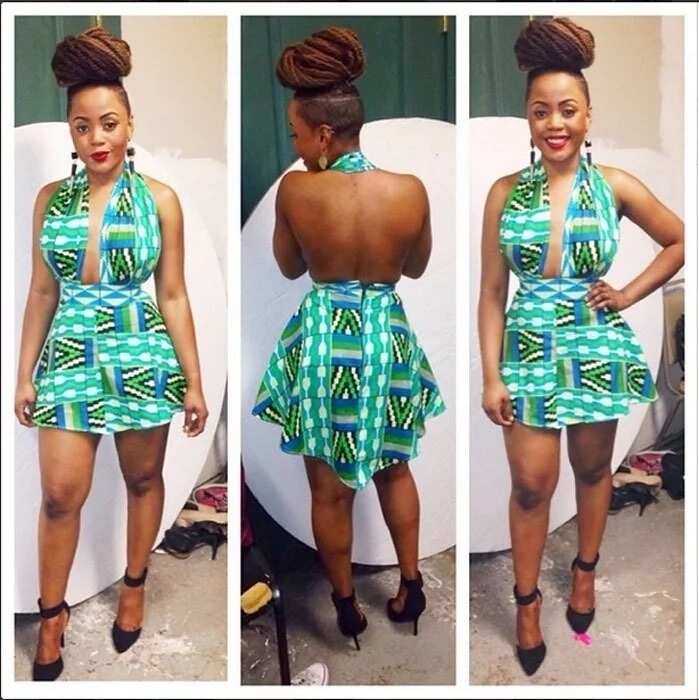 Open back Ankara dresses
The use of such details as a V-neck or an open back is also popular among girls. They add a touch of sultriness to the look. It might be a little less conservative but if you are brave and have a great figure, why not show it off?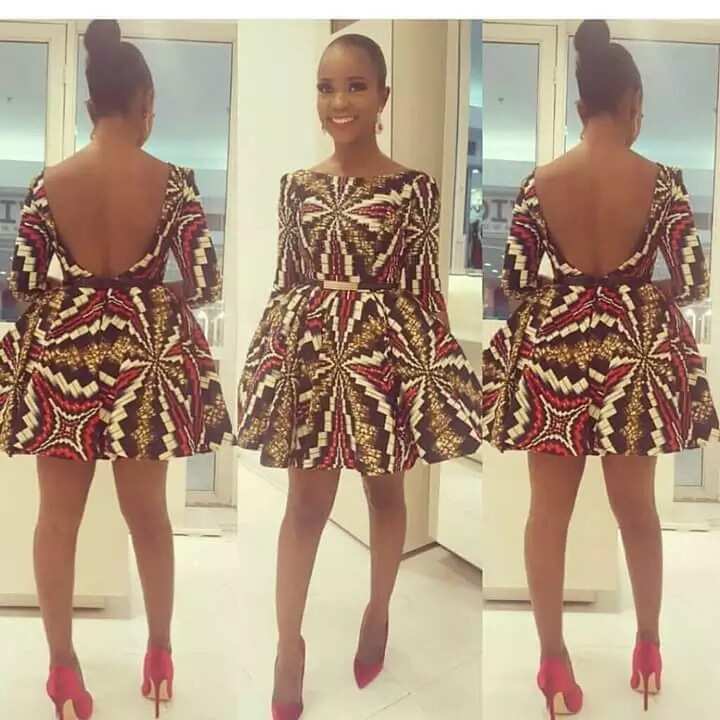 Length: mini or short
Short dresses also have different length variations from very short (mini) to slightly elongated (above the knee), but still short. Choose the length that is best for you. In either case, you will emphasize the beauty and allure of your legs. However, note that the dress should not be too short. Otherwise, you risk looking vulgar.
It is worth paying attention to shoes. If you want to put on shoes or sandals with heels, then the dress should be a little longer. In case you prefer a flat sole, you can go with a mini.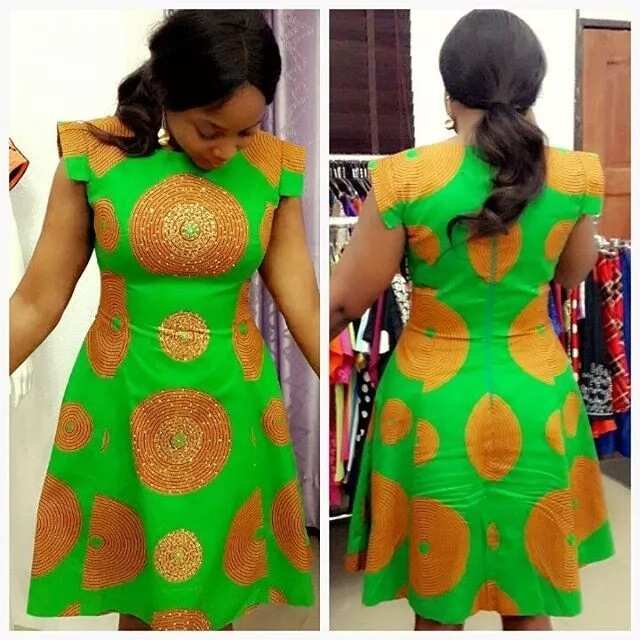 Whom will it suit?
Since we are talking about short, beautiful dresses of the latest Ankara styles, it's worth it to evaluate your figure. Take into account all your shortcomings and direct all attention to your pride.
Girls with the "hourglass" type of figure can go for almost any looks: elaborate, tight-fitting, ultra short, and many others.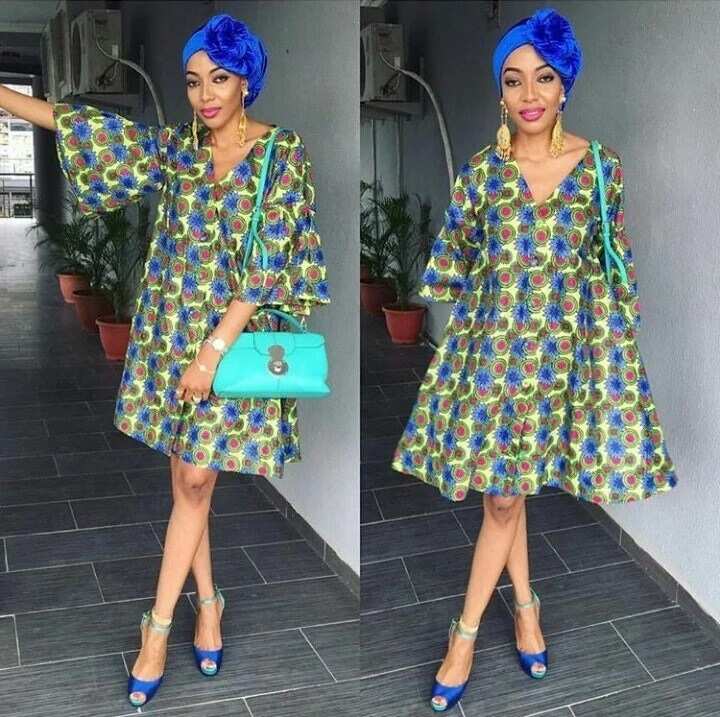 If you have extra centimeters in the abdomen area, choose the flared, peplum, A-Line or straight styles. Focus on the décolleté area and hands. You belong to the list of those who don't have a clearly defined waist line. Choose a straight, flared or tight fitting style and emphasize the waist with a belt.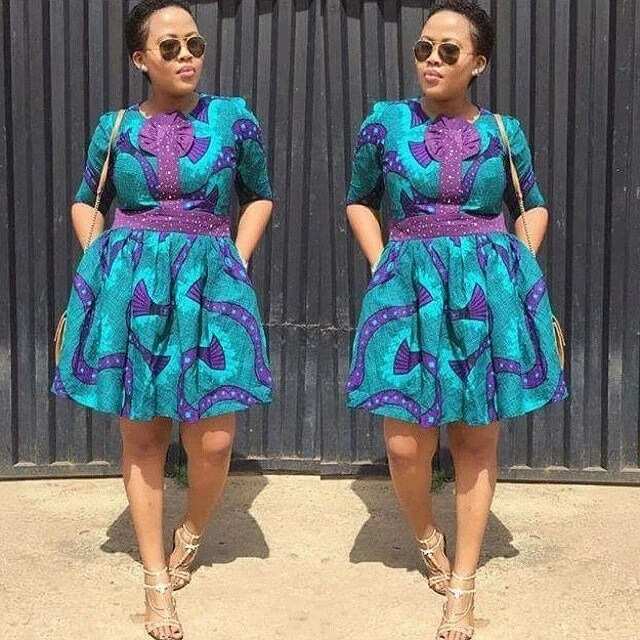 Girls who have wide hips should balance their silhouette with the focus on the upper part. Go for dresses with overstated shoulders, beautifully designed top area, and other details that adds some volume.
And this works vice versa. Girls with broad shoulders should focus on bringing attention to the skirt area and their legs.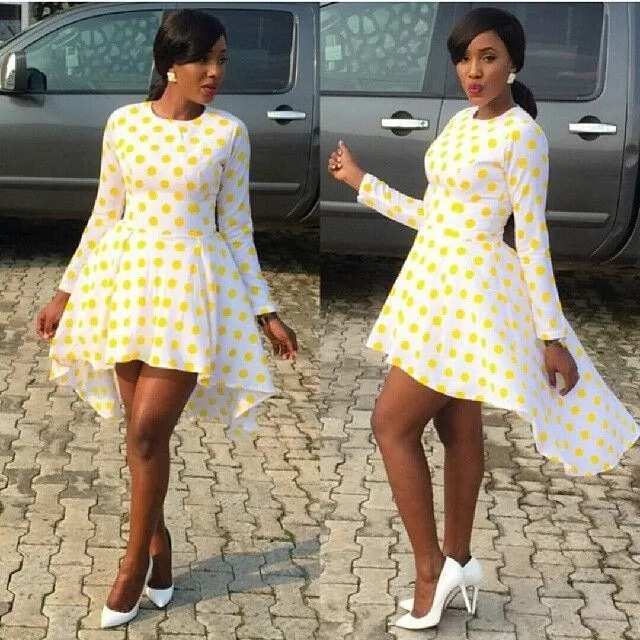 Actual colours and prints for beautiful Ankara styles
Black
If you like black colour and don't want to part with it, then you can easily pick up dresses in this tone. In addition to being a casual wear, black dress can also make for a great evening attire. All you need to do is to supplement it with several accessories.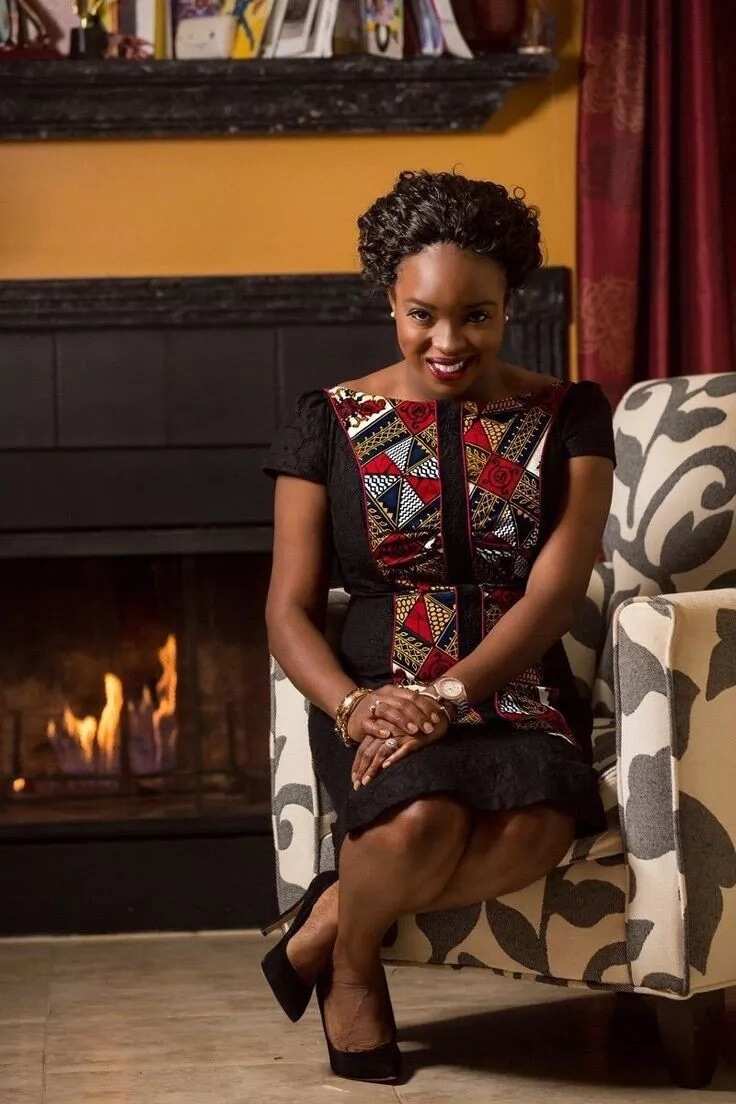 Red and yellow
It's a great choice for a sunny day. With the red and yellow combination, you can create a warm and bright look. A dress of these colour perfectly suits African women as we all enjoy being the centre of attention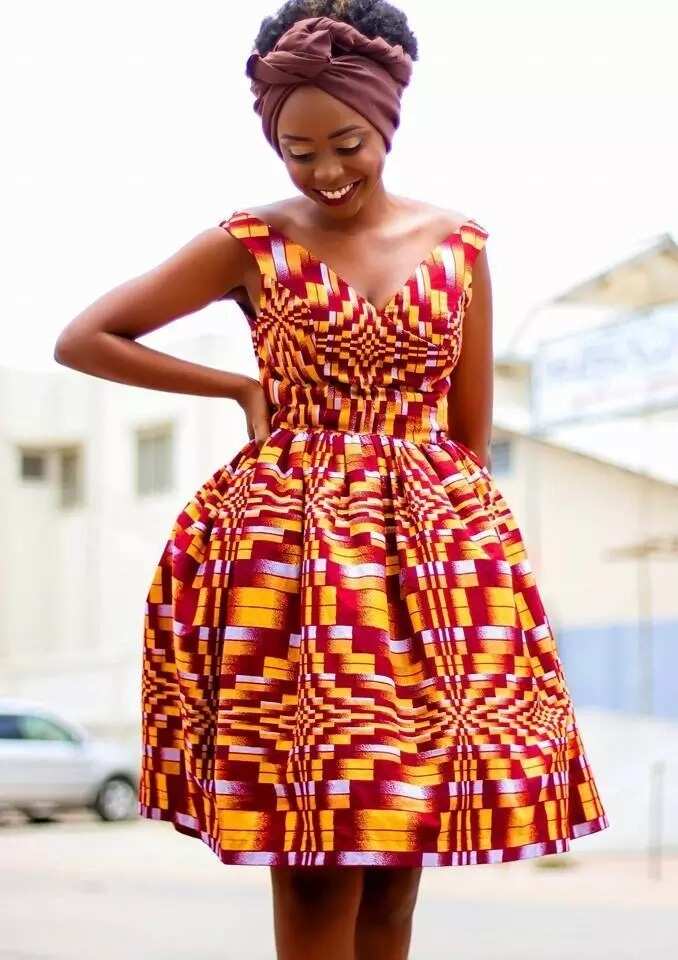 Green
Another saturated colour that is good for Ankara fashion. It comes in a wide range of tones. So every girl can find her tone. The green dress is comfortable to wear and mix.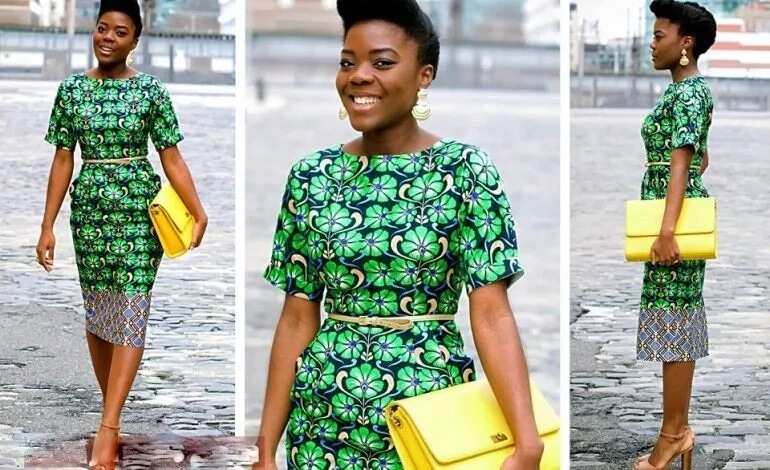 Yellow
It's no less attractive colour. It's an excellent choice for Nigerian girls. It looks great with white and gold colours.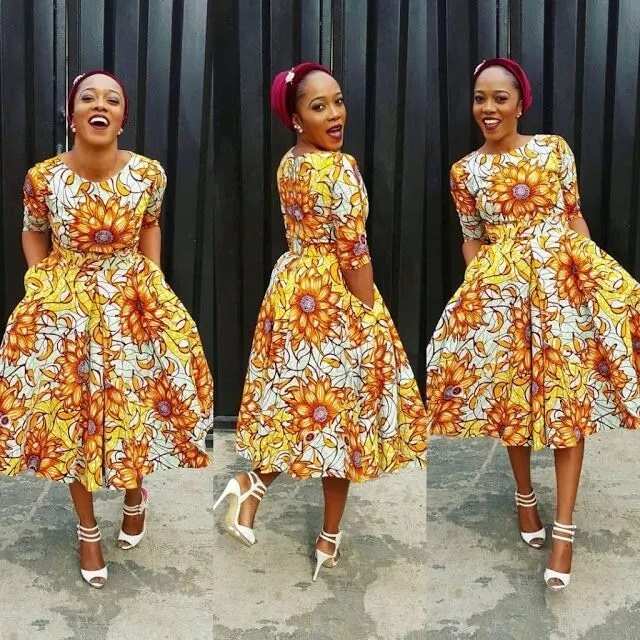 White
White is the record holder in a hot day. The colour is universal, and it suits almost every girl. A white dress is always elegant and can mix well with other colours of accessories. But it can make you look a little bigger so avoid this if you are plus-sized.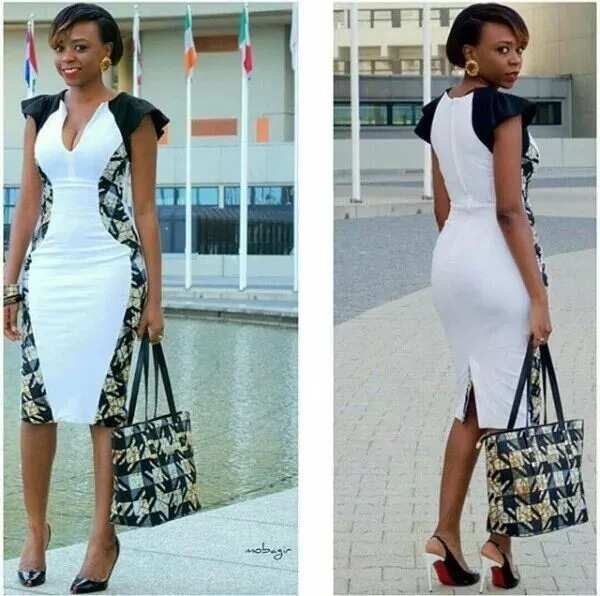 Turquoise
The stylish and fashionable dress colour looks great on African women. It's an excellent choice for a vacation or an evening stroll.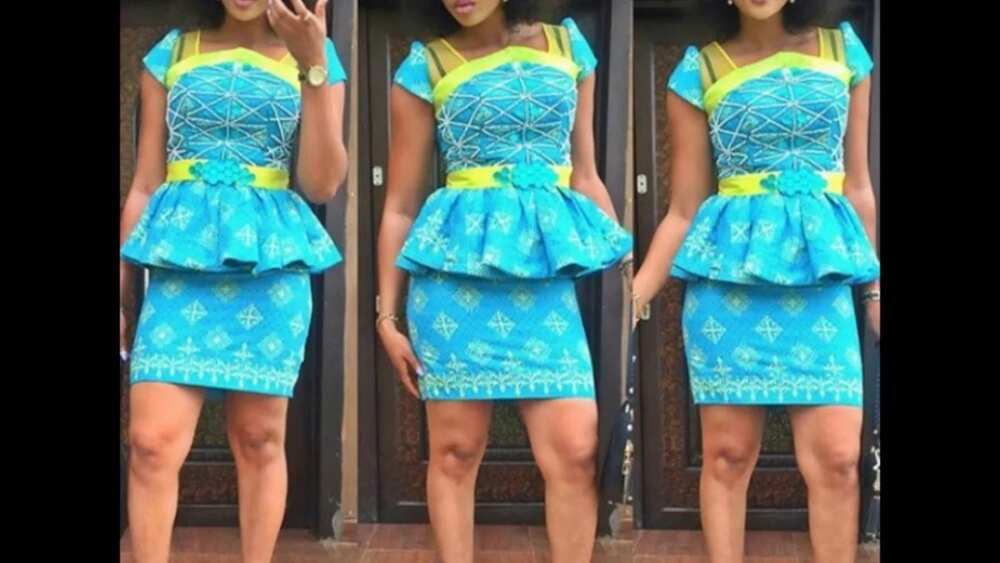 Of course, the colours we listed are not the limit. Ankara fashion offers you a wide range of colours and tones as well as colour combinations and patterns. A bright pink, purple, blue, coral, and a series of pastel colours are on trend too.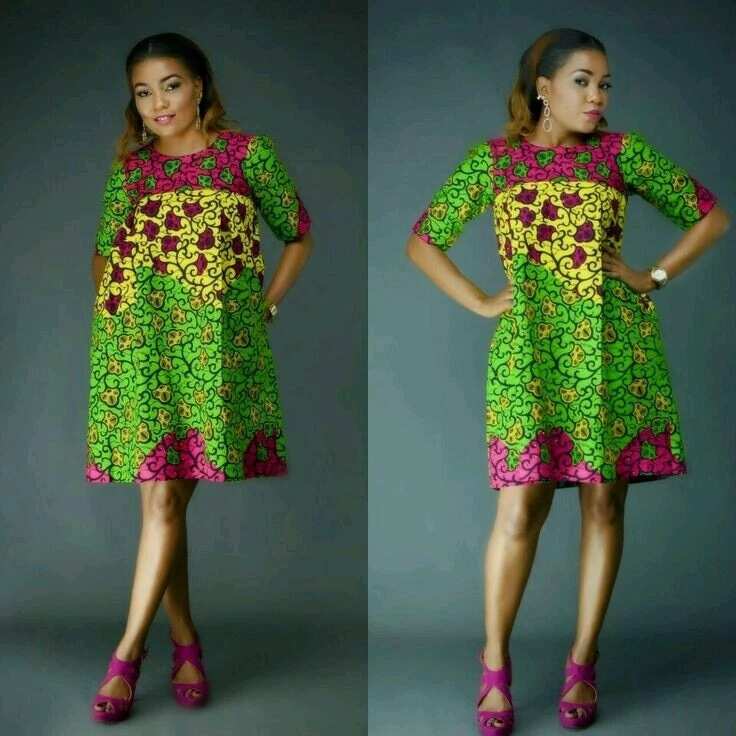 Complete the image with a selection of accessories. Ankara gown gives you the chance to wear something shiny and fancy. They can be beads, pendants on long chains, large bracelets, and extravagant earrings.
READ ALSO: Unique Ankara styles 2017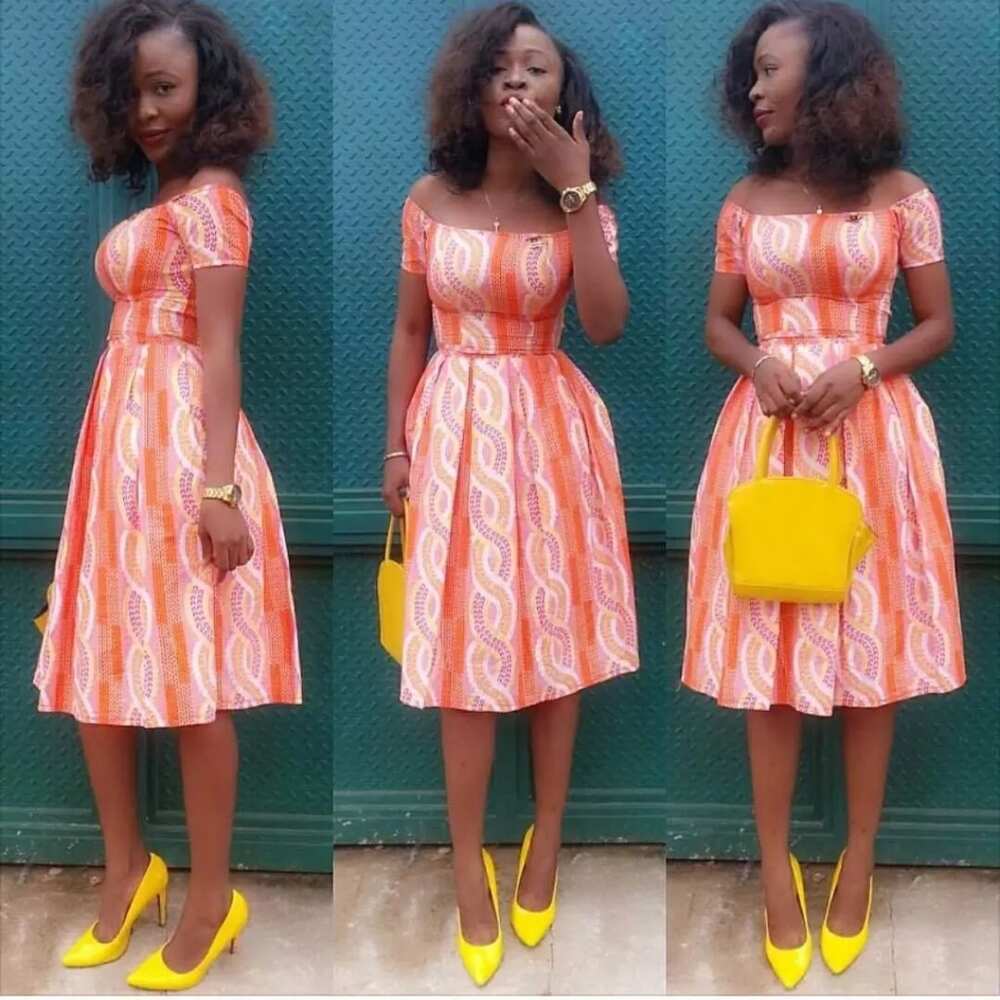 Choose the jewellery colour based on the colour scheme of your attire. If you put on a dress with beautiful Ankara print, then the colour of jewelry should correspond with the print.
A short dress can be monochrome as well as contrasting and have a print or pattern. In season 2017 Ankara floral and geometrical designs and prints are as popular as peas and strip patterns.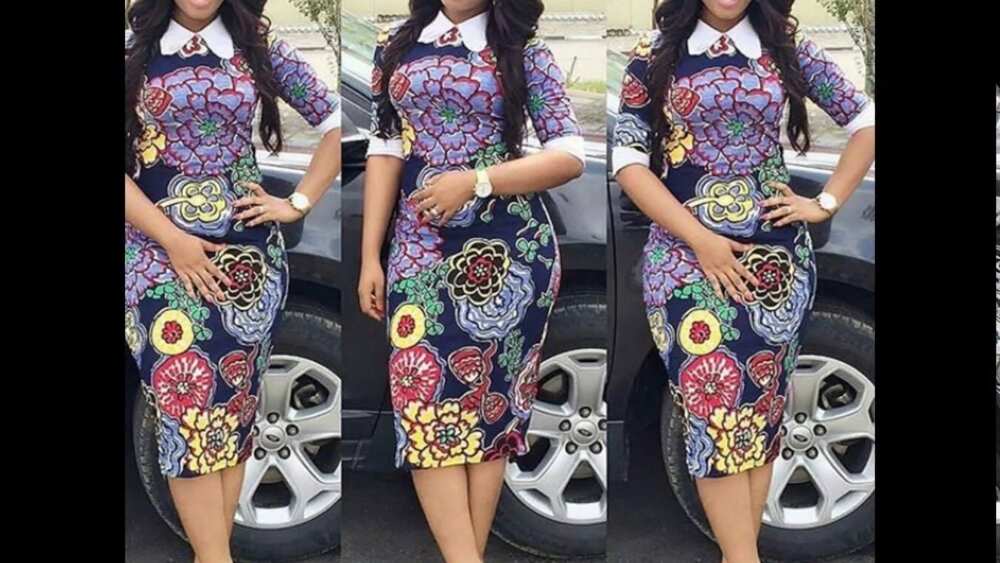 Floral and flowery designs for short dresses are in high demand among fashionistas. They add even more femininity and tenderness to any lady.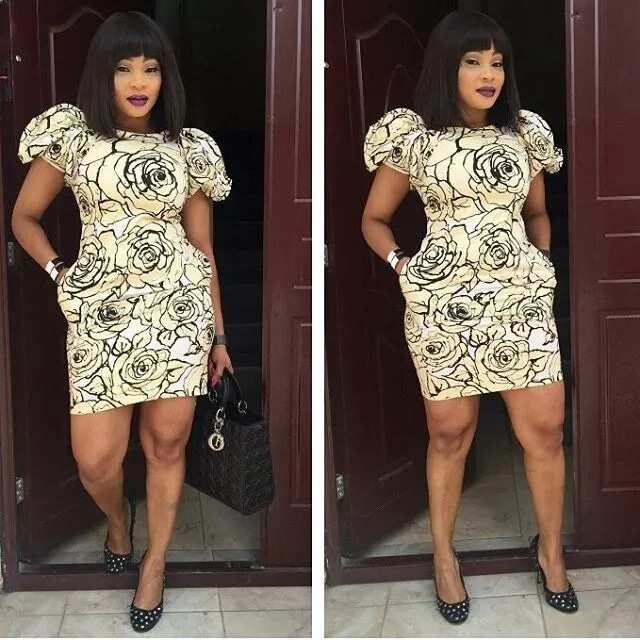 Materials and fabrics
For hot weather, it is necessary to choose only natural materials so you will not feel too stuffy. Ankara textile is perfect for this purpose.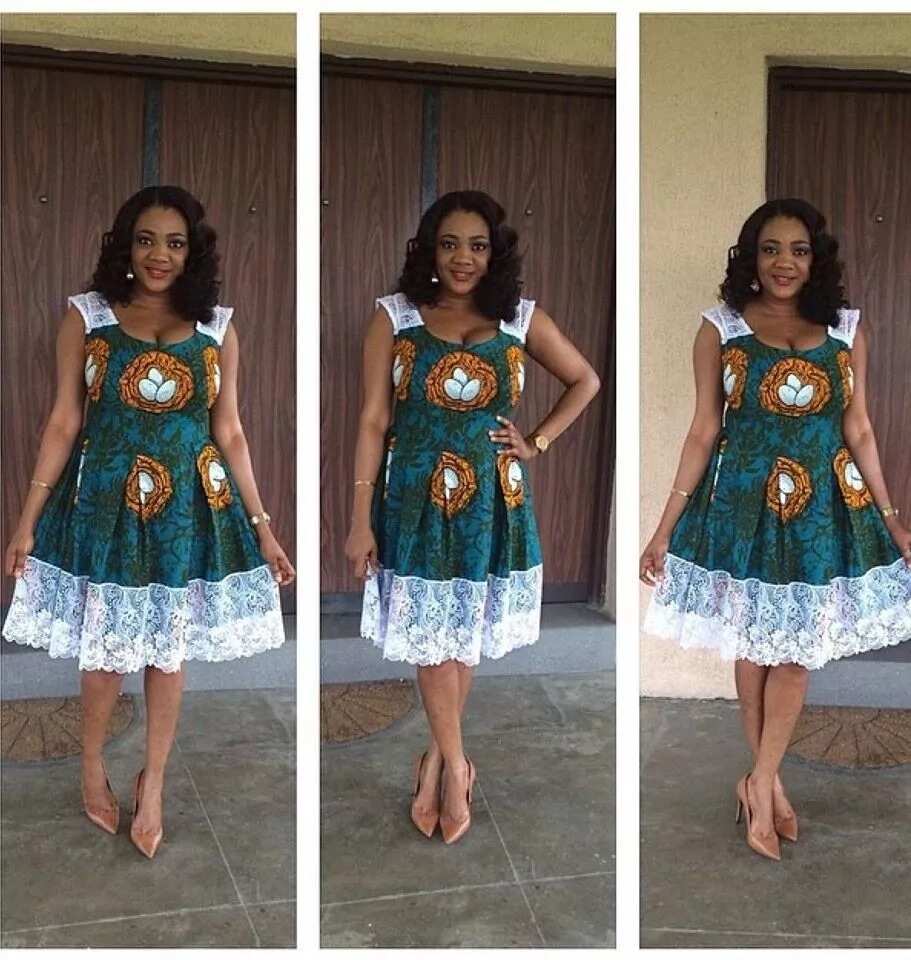 How to wear?
As we already noted, Ankara short dresses are comfortable to wear and combine.
An important point is the choice of shoes. For those who prefer heels - sandals are perfect for your look. For the lover of shoes on a flat sole, there are ballet flats or flay sandals. Short dresses look good with a sports style shoes. Feel free to wear them with slips or sneakers.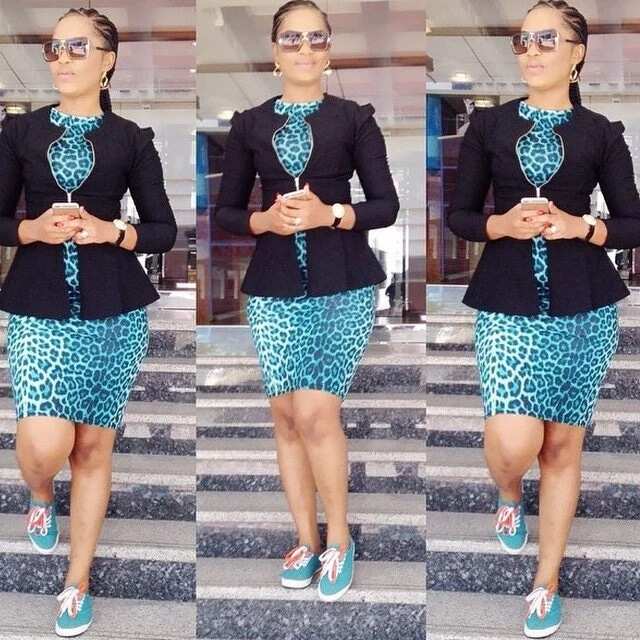 When an evening turned out to be cool put on a light jacket, bolero or blouse. Short gown can go perfectly with a denim jacket or vest.
Use small bags on a long or short strap and cool backpacks with short dresses.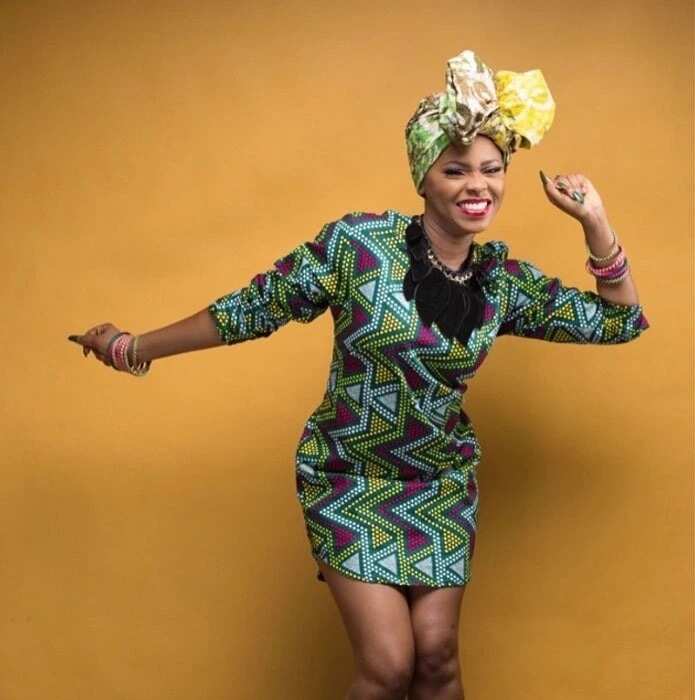 Stylish novelties of 2017
Today, minimalism is in trend. A short dress with a minimal design and often monochrome will look good on any girl. Emphasize the look with stylish shoes and bag.
Dress-shirt with a mini length can be seen in the collections of many famous designers. A free silhouette is a perfect solution for the hot day.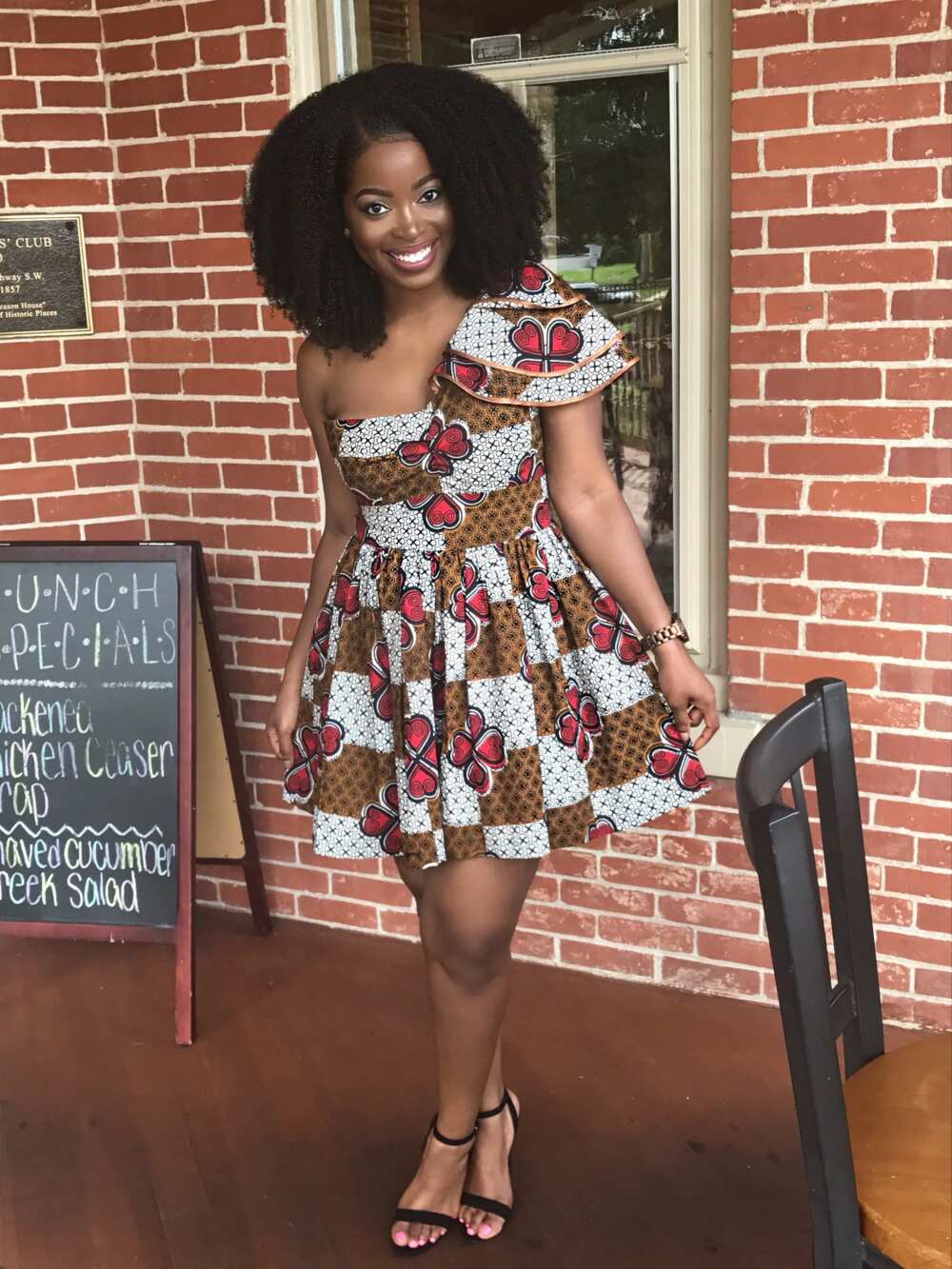 Like we said before before, asymmetrical design is in fashion. The top or bottom of the dress can be asymmetric. For example, it may be a strap on one shoulder or skirt hemline of various length.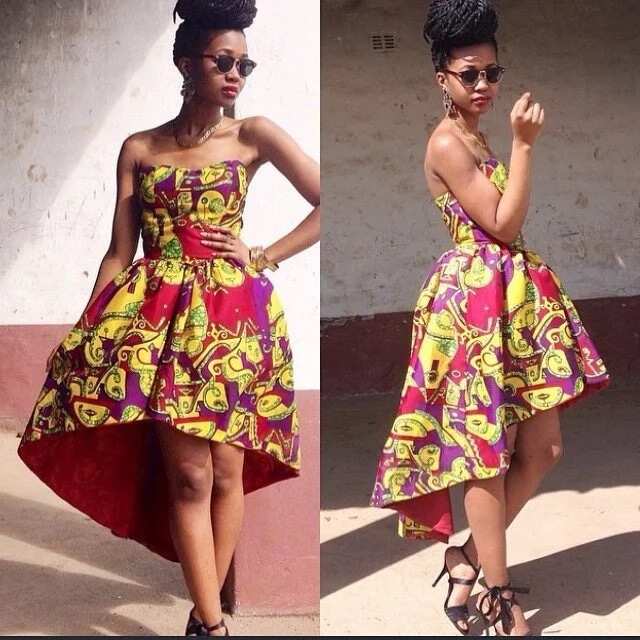 A particularly unique short dress is "oversize" type that falls slightly off the shoulders. A free silhouette at the same time does not diminish your femininity. On the contrary, such look bring more attention to you, while emphasizing the semi-naked shoulder.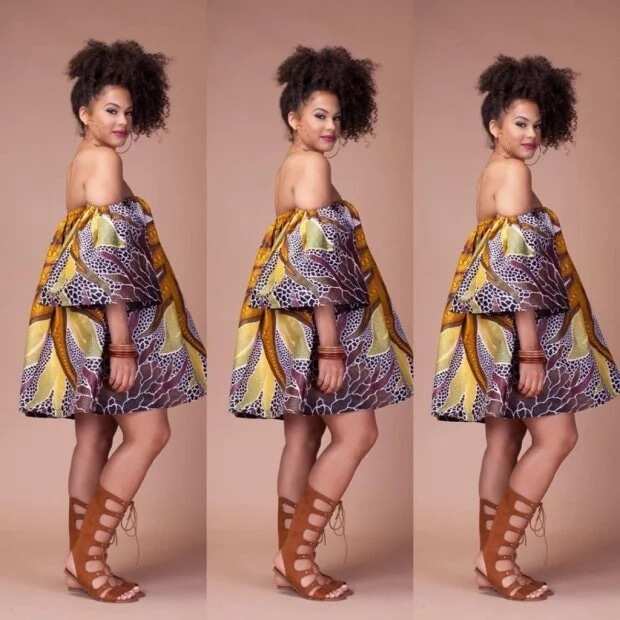 Bright short Ankara dresses makes any girl look fun and stylish. Fill your wardrobe with some beautiful attires, and you will always be in trend.
READ ALSO: Ankara mixed with lace dresses 2017
Source: Legit.ng