Legit.ng Weekly Price Check: We are yet to see the change this administration promised us - Traders spit fire
- Business owners and traders at some of the major markets in Lagos state continues to lament over poor sales
- Findings by Legit.ng at Ijora 7UP market, Lagos, showed a reduction in the prices of some good like rice, garri, beef, groundnut oil, palm oil, tomatoes, pepper and onion and an increment in the price of foodstuff items like egusi, ogbono, crayfish and dry pepper
- A time when one would have expected to see buyers trooping into the market, expecting an increased market activities and sales, everything appears 'dry'
- Traders at the market bemoaned the negative impact of poor sales, bad roads but are optimistic that the change would come in due time
Business owners and traders at some of the major markets in Lagos state have continued to lament over poor sales. Findings by Legit.ng at Ijora 7 UP market, Lagos showed a reduction in the prices of some goods and an increment in the price of others.
The survey revealed that the poor sales came as part of the after effects of the economic recession plaguing the nation. Also, the construction of new shops that is on-going at the market affects the level of patronage and position of the traders. According to them, the new shop worth about N3 million naira, open place cost N250,000 and not all traders can afford such amount.
A time when one would have expected to see buyers trooping into the market, expecting a hike in prices of goods and services, increased market activities and sales, everything appears dry as some traders were seen sitting idle in their shops and others take a nap.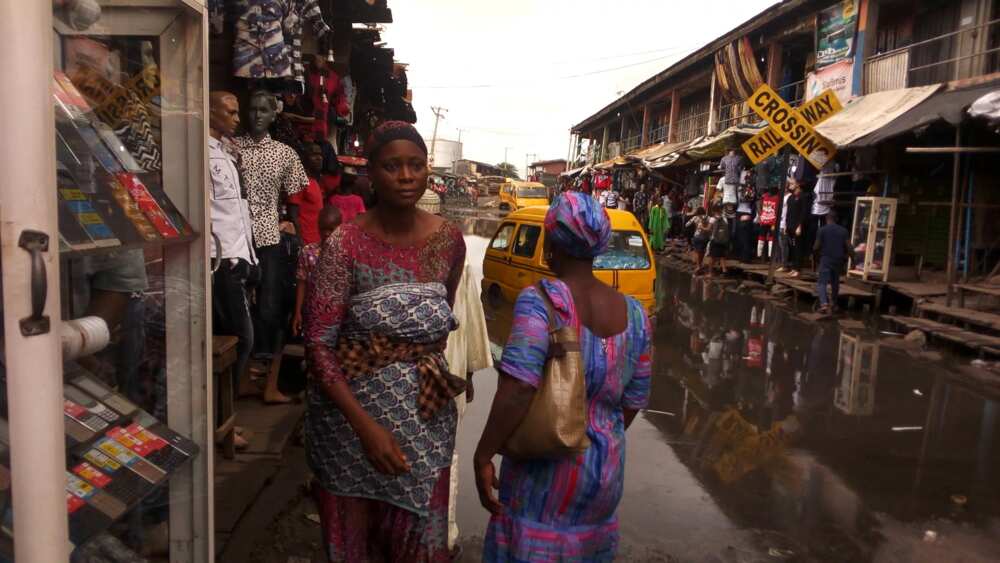 A trader identified simply as Ndidi, who sells clothes at the market spoke with Legit.ng, explained that there is no money in circulation which thus affects the purchasing pattern of customers. He maintained that it was far worse than what they experienced in previous years.
Adding that, the increase in the cost of goods is one of the reasons customers do not patronize him any longer:
"Sales and rate of turnover have been very poor. Many customers do not have money, while traders have been turned into bench warmers in the market. Market has never been this bad. Sales have never been this terrible, quite unlike what we experienced in previous administration."
"A round neck shirt cost N2,500 upwards depending on the size and brand. A jean trouser goes for N3,500 upwards depending on the size, the design on it and as well the brand. A female top goes for N2,000 while a female pencil jeans goes for N2,500. People hardly patronize us these days, due to the cheap ones they get from second hand items. We just sit idle but how can a hungry man who is still thinking of how to survive remembers to shop for brand new wares this period? Our customers are complaining. The government should do something about this before things get out of hand," he suggests.
At the open market, further investigations by our correspondent revealed that sellers of foodstuffs, food commodities, beef, and perishable items like tomatoes, pepper, fish, provisions and cosmetics were most affected by the poor sales.
When Legit.ng visited the stall of Baba Hafusat, a butcher at the market, he lamented on poor state of the economy, calling on the government to quickly intervene because the people are suffering.
"Nigerians are really suffering, there is no money in circulation and things are costly. The cow we used to buy for N70,000 naira now sells for N120,000 and when we begin to sell beef in an expensive rate, people will not patronize us because of the high cost. So, we decide to sell cheaper yet, we end up not making profit. The meat we sell before for N1,800, now cost N1,200 or less: still, we struggle over customers and at the end of the day, we do not make profit. We have been here since morning and as you can see, I have not sold anything profitable but N500," he said.
A meat seller known as Alfa Ibrahim complained bitterly about the drop in sales due to the poor state of the economy.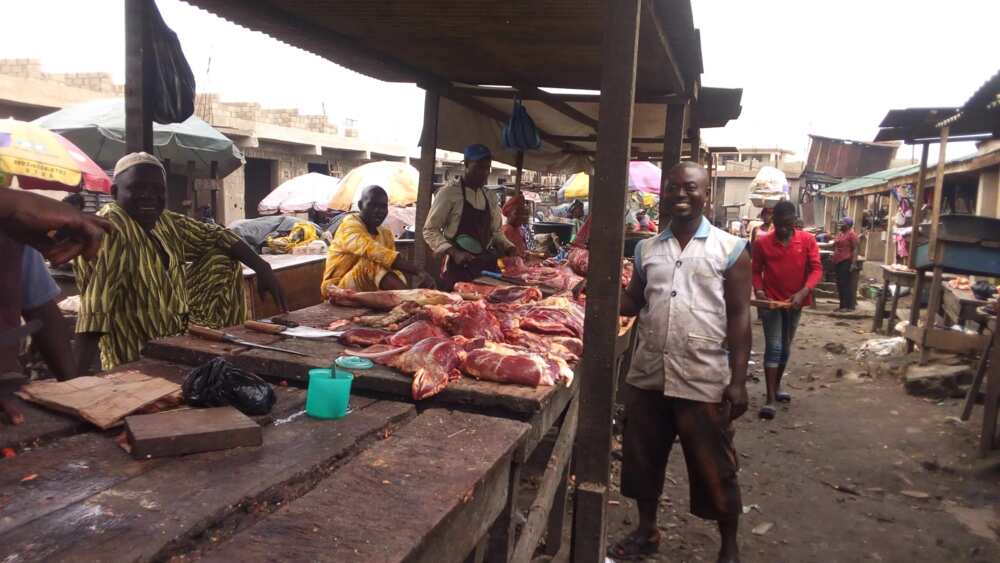 "Before now, I make an average of about N10,000 to N15,000 daily; but these days, I would have to stay here till late in the evening before I would be able to sell meat worth N3,000.
"As I speak, my children are at home, my extended families are there to take care of and the house bills are there too but how can I meet up with these huge expenses when sales have dropped completely. We return the meet and refrigerate it here in the market. We still pay for the security of the meat as well," he said.
Benedict, another boutique owner, attributed high price of goods and low sales to the fluctuating rate of dollar and naira. He however maintained that once the exchange rate is regulated, the price of goods will be normalized.
"The goods we sell are being purchased outside the country and thus, the fluctuating rate of dollar has not only affected our level of sales but has affected our purchasing power. How? It is only when we finish selling the previous goods that we can go to purchase a new one. But the reverse is the case, as the market is vacant, no buyers trooping in large numbers, all thanks to the economic situation of the country and the bad road in the market. Based on this, the difference will definitely reflect in the prices of the items," he said.
Mr Isaac, a foodstuff dealer at the market, said traders only watch people go around pricing goods without buying them. He attributed the bad situation to the poor state of the economy and low income of workers'.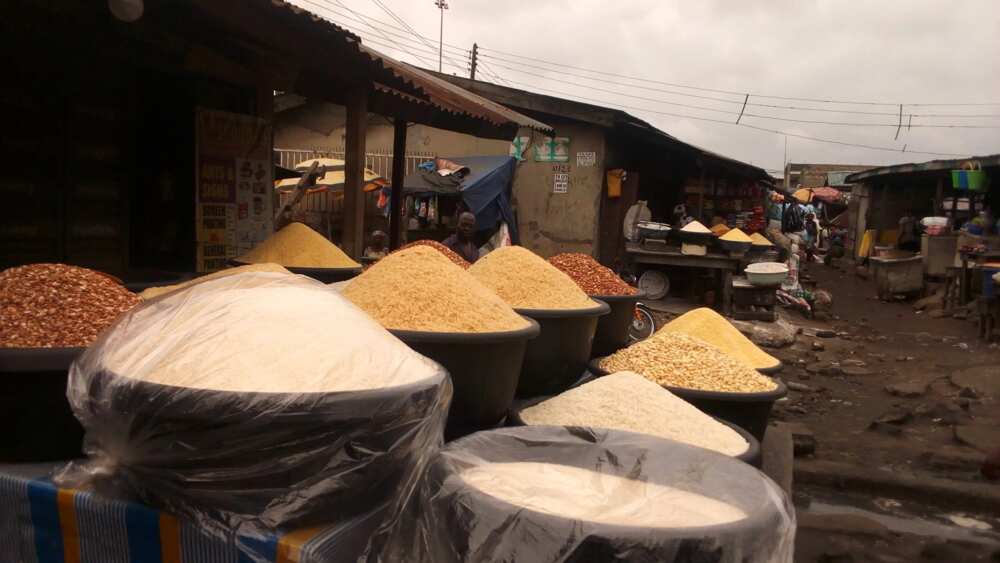 "We are tired and frustrated. The prices of goods keep fluctuating. We do not know what is really happening to our economy. Right now as I speak, some of the traders' only sell their goods at an affordable price just to retain their customers so as not to result into loss. It is really not convenient selling at the same amount you purchase an item. But this is the only option left for us to sell off the goods.
"A bag of rice (Aroso) cost N15,000 and rice (Agric) cost N16,000, the demand for Agric is higher than that of Aroso. People prefer Agric because it is sweeter than Aroso. A big bag of beans (Oloyin) cost N50,000 at the market , while beans (Oloone) with about 80 derica, cost N 45,000. But a bag of beans (Olotu) cost N54,000. If you want to purchase a small bag of garri (White), it cost N10,200 and the garri (Yellow) cost N11,500. It is cheaper now, that is why we even manage to record low sales unlike when they were very expensive, our customers did not even step their foot into the market.
"We often see people walk around the market pricing goods but they do not buy anything. It is so painful. There is no money in circulation because workers are being owed salaries while some companies lay off staffs. All this is affecting sales and no one understands the real state of the country now despite governments' intervention in reviving the economy from recession. Before I make nothing less than N25,000 to N40,000 daily, but now I struggles to sell foodstuff worth 10,000 daily.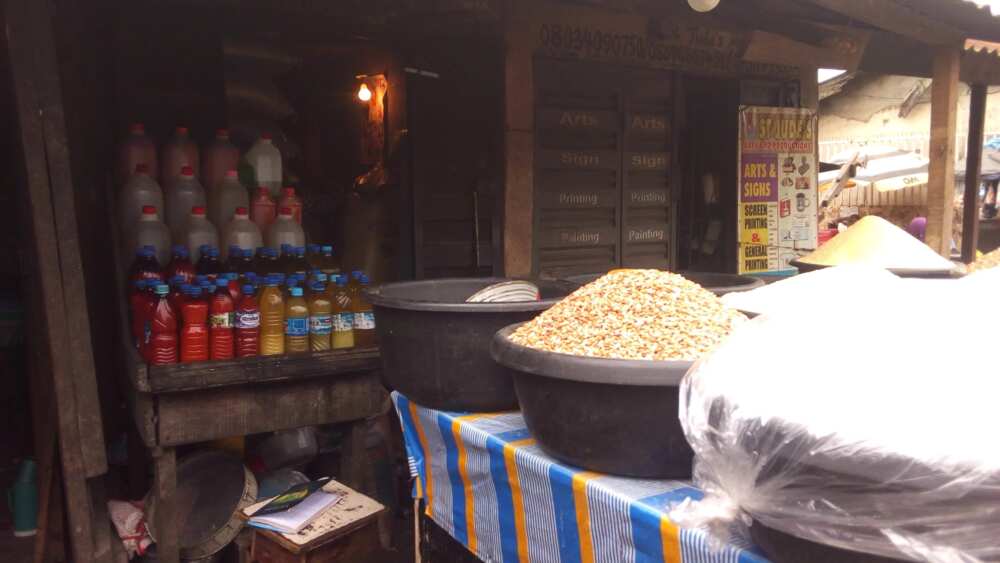 "This is not a good one we anticipated for. Everyone is in confusion over the way affairs of the nation are handled. We do not even understand the economic policy of this present administration. People are saving their money, they are not buying things in large quantities anymore. Everything is just difficult for people. I just hope things get better in the coming days," he hoped.
For Iya Hassan, a graduate turned trader who sells palm oil, groundnut oil and other food condiments at the market, sales have been very poor.
She said: "People no longer patronize me like before but I appreciate God for the few ones that are still coming. This is because they found out that the prices of goods have become affordable. Before, when groundnut oil was very expensive, the retailer who patronizes me was about three out of eight all due to the fact that sales are poor. Right now, I try really hard to sell my goods. I purchase my goods from Cotonou because it is very cheap compare to other countries. A 25-litre of groundnut-oil cost between N12,500- N 13,500, while that of red-oil cost N11,500.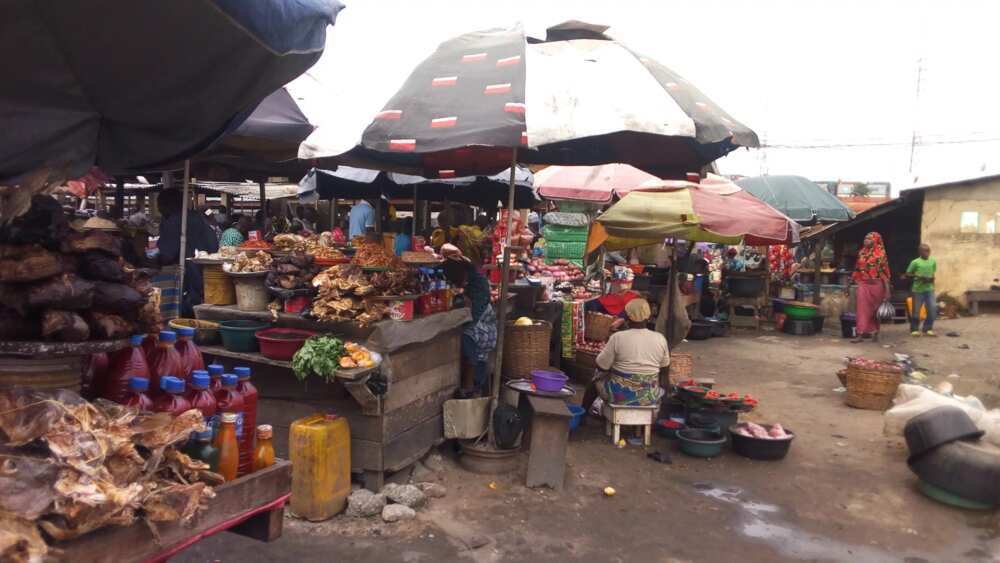 "I graduated year 2009, there was no job, since then I joined my mother in this business. But right from that year till now, sales have never been this poor. It is really hard for us to sell off our goods lately."
When Legit.ng visited the section of foodstuff commodities shops, the traders who are mainly from the eastern part of the country were seen sitting idle in their shops while those who own stands abandoned their table with goods due to poor sales.
Also, most of them declined speaking with our correspondent, responding angrily that sales are poor while others informed that sales have nosedived due to the economic downturn and scarcity of resources.
"We have been sitting like this since morning, no sales. The price of a basket of tomatoes varies. You buy according to the amount you have. A small basket of tomatoes cost N7,000 while a smaller basket goes for N3,000. But for pepper, I can only afford the small bag of fresh pepper which cost about N4,500 at Mile- 12 market. I can tell you that the smashed tomatoes and pepper are very cheap but they are not healthy for meals. Also, onion is very cheap in the market now. A bag cost about N22,000 for the dry one and the new onion cost about N15,000.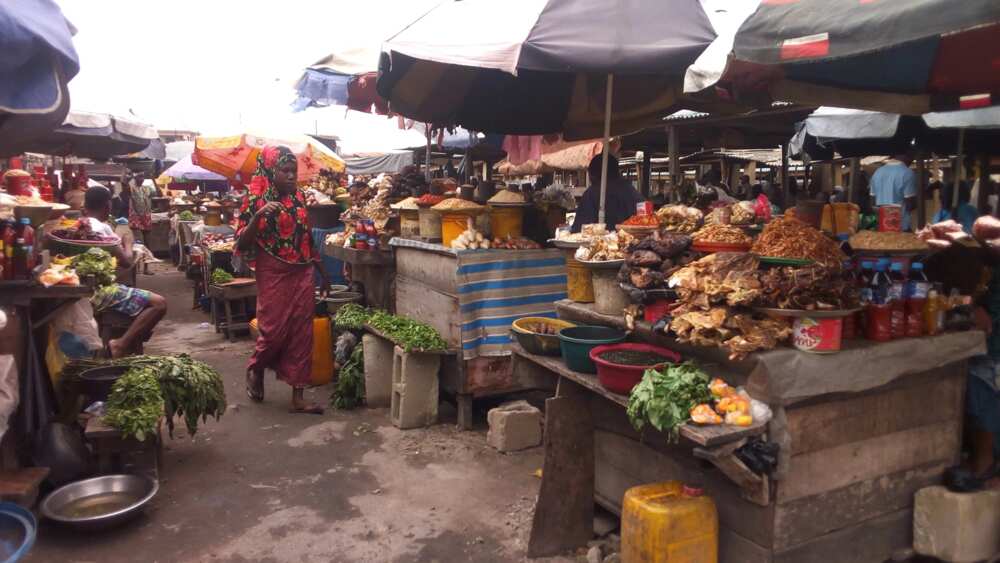 "Our customers are workers and some full housewives; the few ones who patronize us complain bitterly that there is no money and that they are finding it hard to cope with the inflated prices of goods in the market. When they come around, they complain of no money. So they rarely patronize us as usual these days," Iya Kemi, a trader informed our correspondent.
At the market, buyers are lament over the economic situation of the country, saying it has affected goods and services greatly; adding that there is high rate of inflation.
"The economy is not stable, same with the forex market. This instability in the foreign exchange market has resulted in decline in the standard of living of the populace, increased cost of production which also leads to cost push inflation.
"The prices of goods have increased. Prices of some food items such as rice, beans, and vegetable oil, and crayfish, fresh tomatoes and canned tomatoes have risen and this is affecting households.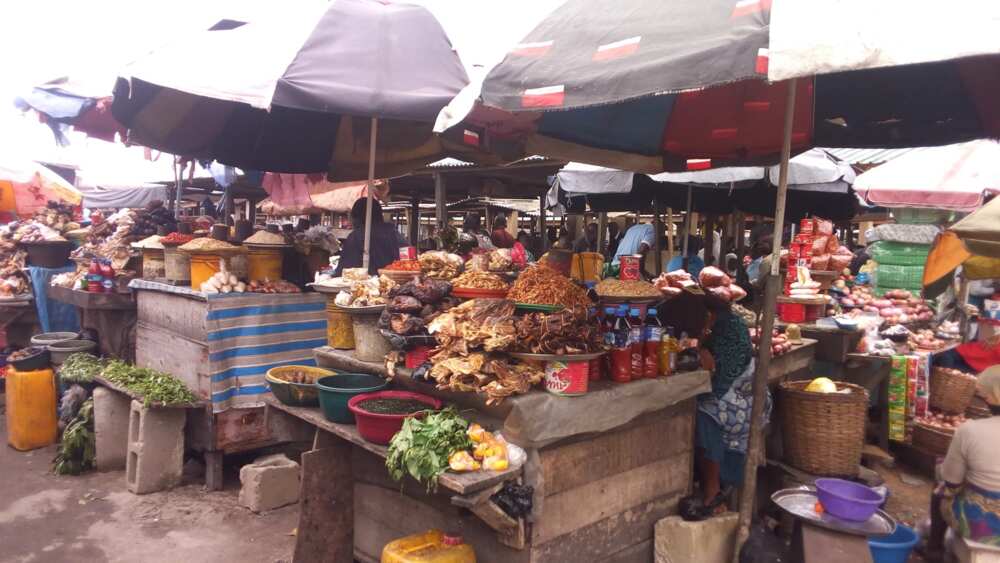 "For instance, a bag of rice that I bought for N12,000 early 2016 is now sold for N16,500. Golden Penny large macaroni that cost N3,600 before, now goes for N3,750. The retailers attributed the rise to the fluctuation of the naira against the dollar and vice versa," a consumer who pleaded anonymity informed Legit.ng.
A trader at the market, Mrs Ebele who sells egusi, ogbono, crayfish, dried pepper, dried fish and other soup ingredients, said the market situation appeared to be unstable.
"We cannot afford the bag of these items again unlike before, because of the situation of the things. Now, we go for the quantity our purse can afford. For Ogbono, the price is not stable same with Egusi which is relatively low. But, a bag of ogbono now cost N90,000 depending on the market location, the size of the bag and the type of ogbono. But it is very very expensive. Egusi is relatively low; a bag of egusi (Handpeel) can be purchased from N55,000 upwards while that of egusi (Machine) can be purchased from N60,000 upwards, because the bag is bigger than the former and the quantity is higher as well.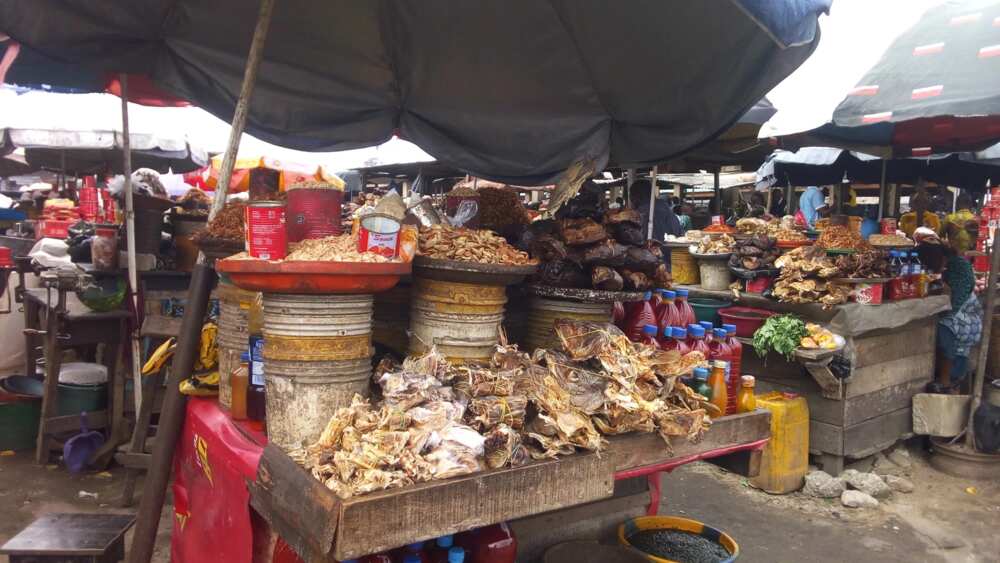 "For crayfish, it keeps fluctuating but it is fair for now. Some people thought because it is rainy now, the price will be lower but it is not true. The big nylon (patala) still cost about N26,000 while some buy one big nylon for N20,000, but the cheaper crayfish is not always neat and fresh. Dried pepper has become very expensive too; a derica cost N700, same with stock fish and dry fish.
"Prices of food items change daily and traders say it is caused by fluctuation of the naira to the dollar. I am not interested in that fluctuation because some households and indeed, families, are finding it difficult to feed; hence, they do not buy their usual quantity. We appeal to the Federal Government to urgently intervene and revive the economy because it is not easy for us," she added.
Traders therefore expressed hope that things would improve once the economy is normalised.
Meanwhile, Legit.ng correspondent recently visited the market to ask if the report that recession had ended in the country was true.
Check out what the respondents had to say:
Source: Legit.ng