Ankara mixed with lace dresses 2017-2018
Do you think Ankara mixed with lace dresses are lovely? We'll reveal to you the secrets of combining Ankara fabric and lace, both in everyday and festive attires. Let's talk about the fashion trends of this season. We can help you to create a gorgeous look.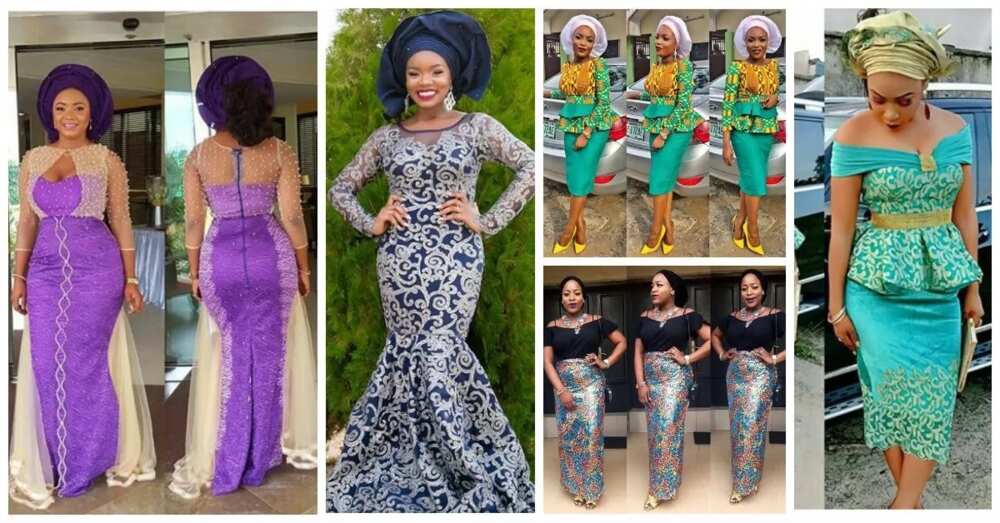 Lace has always been used in making clothes from time immemorial. The first lace fabrics were costly, as all intricate patterns were made by hand. It took the artisans a lot of time to create. Now any fashionista can afford to buy clothes with lace. Depending on the pattern, lace can be used in the creation of both festive and everyday looks.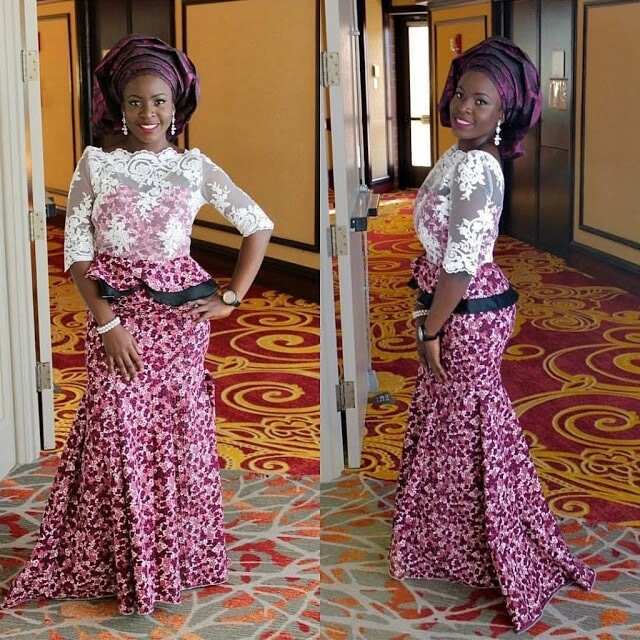 Ankara mixed with lace dresses
Nigerian fashionistas like to use lace fabric for their outfits. For instance, Ankara and lace combination styles look beautiful. Bright Ankara fabrics with large or small prints and monochrome delicate lace inserts make any attire look more refined and exquisite. Clothing made with lace elements looks very bright and at the same time very feminine and gorgeous.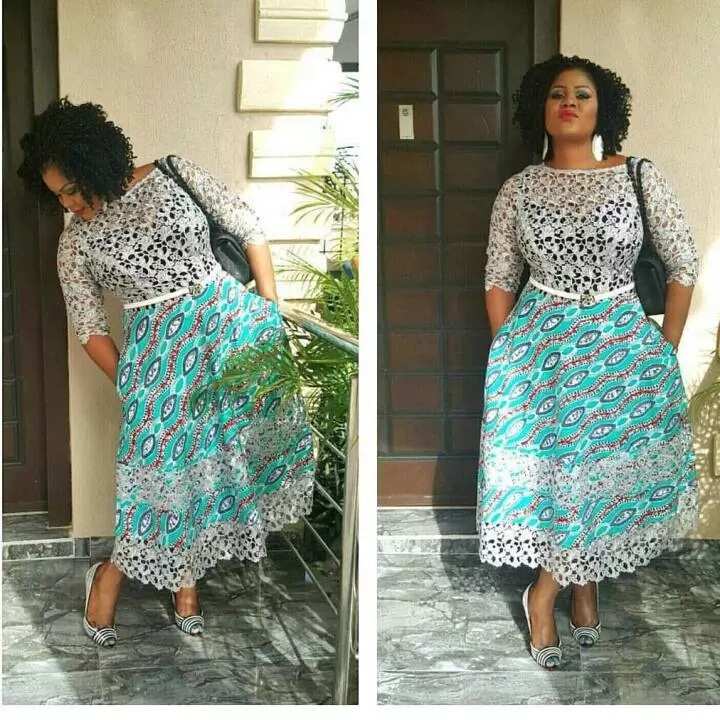 Often times, lace elements are used in the creation of festive evening dresses and blouses. The classic option is a lace-decorated neckline and sleeves. Any lace fabric can be used here, with any patterns. The textile can be completely translucent and thin like a web. And, on the contrary, it may be dense with a strongly marked lace pattern of floral or abstract design. Everything depends on the woman's imagination and taste.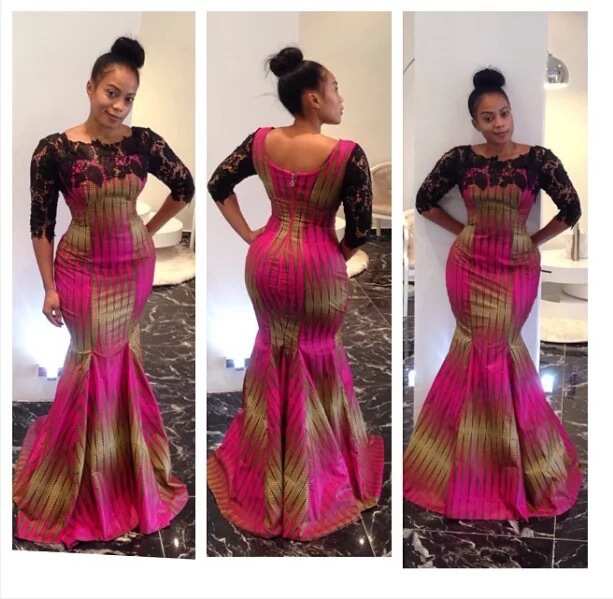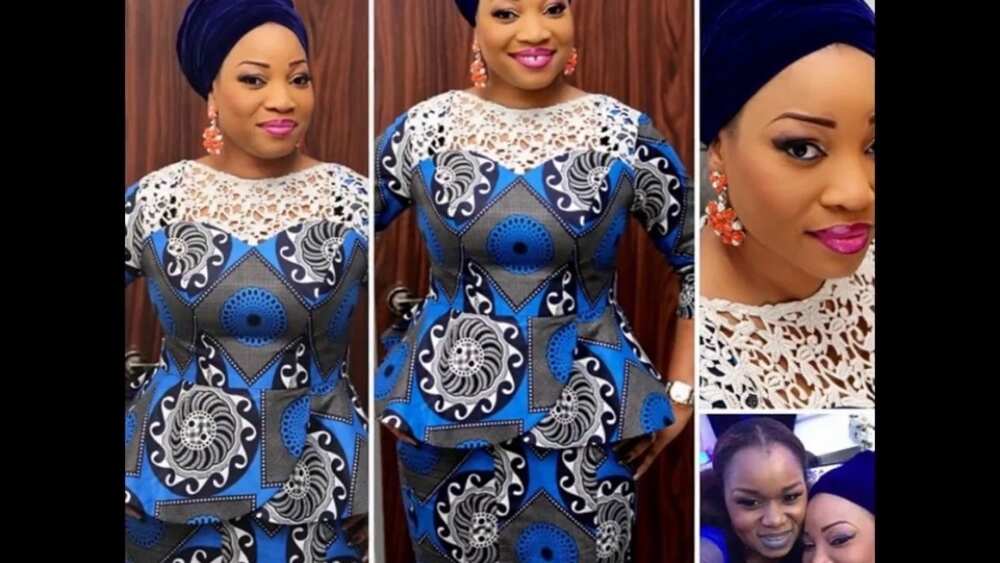 The rule for using such lace inserts is the consideration of colour and pattern. The simpler the pattern on the lace, the brighter and lighter the colour of lace fabric should be. And vice versa, large obvious lace pattern work best in calm tones and colours. For especially festive occasions, you can choose lacemdecorated with rhinestones or artificial pearls. Also, it may have embroidery with gold or silver thread. In this case, the fabric texture should be thin and delicate.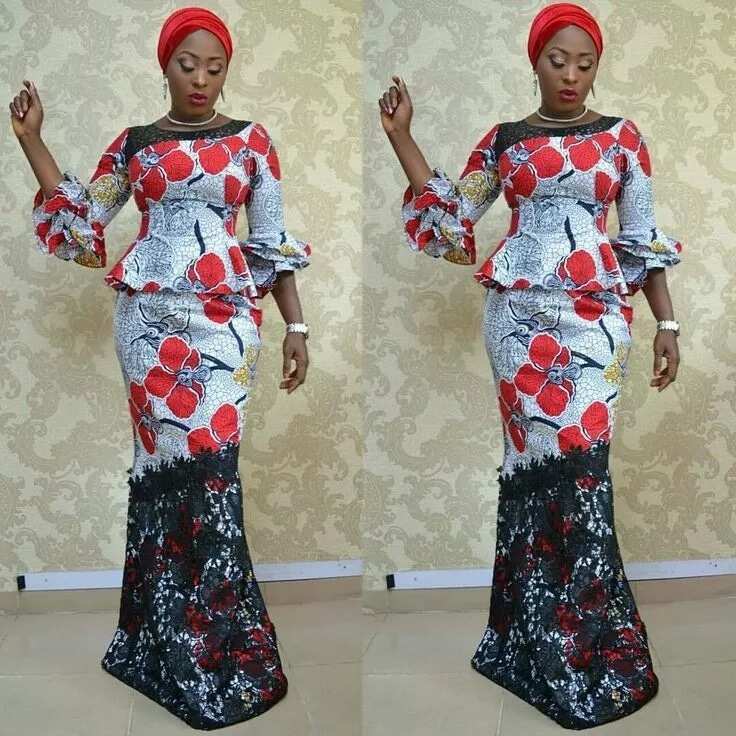 As for the colour palette, lace inserts in the décolleté area can be of absolutely any colour. You should know that the classic black colour and neutral light beige with sparkles always remain in vogue. For a lace that is black colour, an Ankara fabric of bright colours fits perfectly, for example red, blue, turquoise, and yellow. Lace of light beige colour is perfectly combined with fabric of pastel colours and tones, for example, sand or light-blue.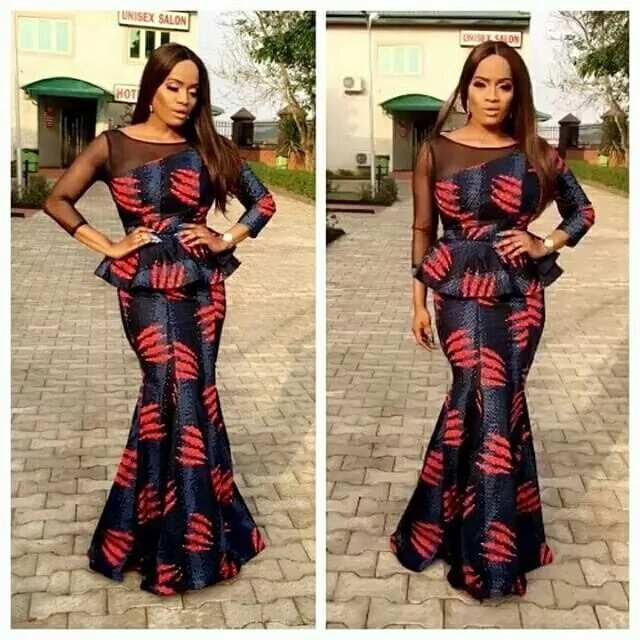 Ankara dresses in lace
To create an evening dress, you can choose lace in the same colour scheme as the basic attire. But try to adhere to the rule: if the main Ankara fabric is bright, then the lace should be of similar colour in a more subtle tone. If the main Ankara fabric is dull, when choosing a colour for the lace, make sure it is a little brighter.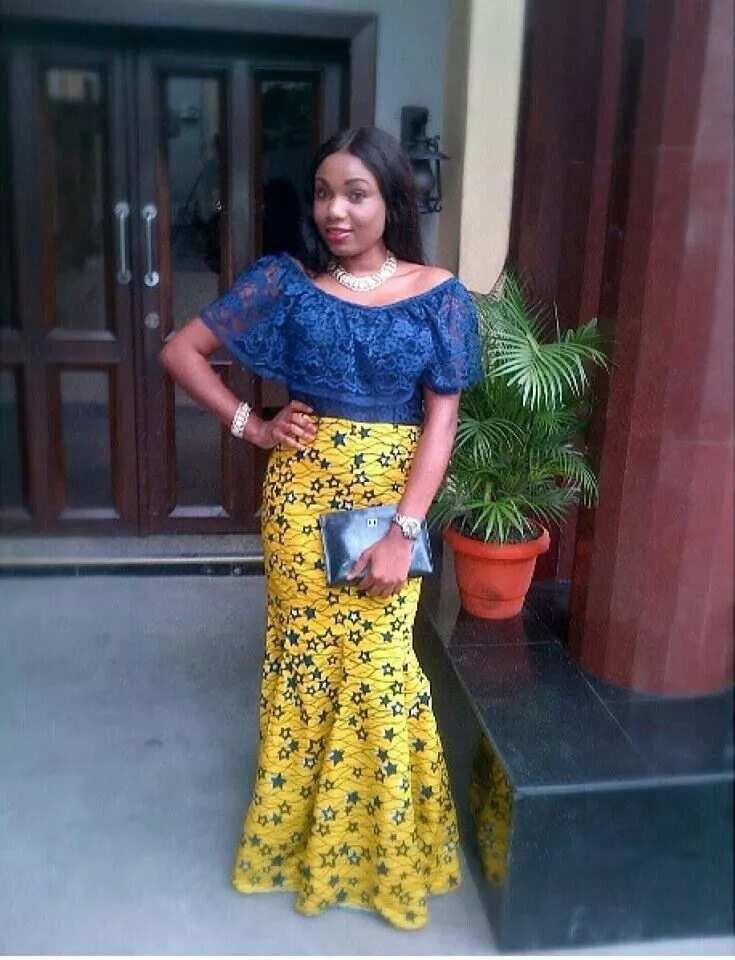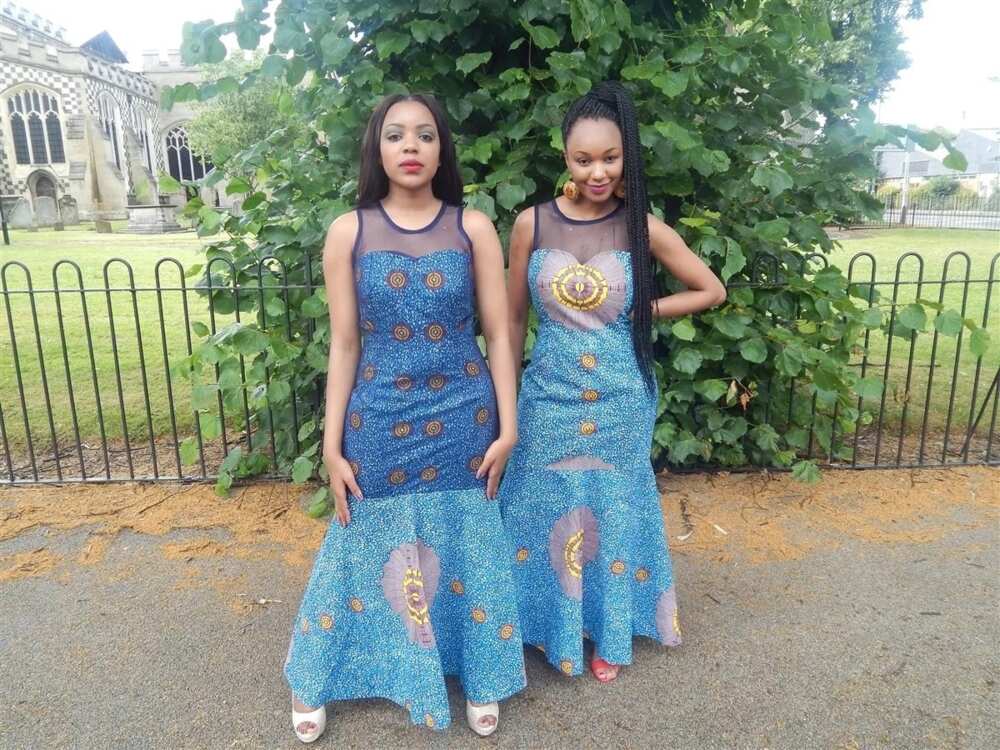 If you are not afraid to create fascinating looks, you can highlight the décolletage area of the dress or blouse with a completely different colour. For example, a yellow or red lace with a blue base fabric perfectly combined. Fashionable pink lace or powder colours suit better with light blue, ash-gray and brown basic fabric for the season. White lace design complements main fabric of any colour, and make your image more fresh and elegant. Get chic in Ankara gowns.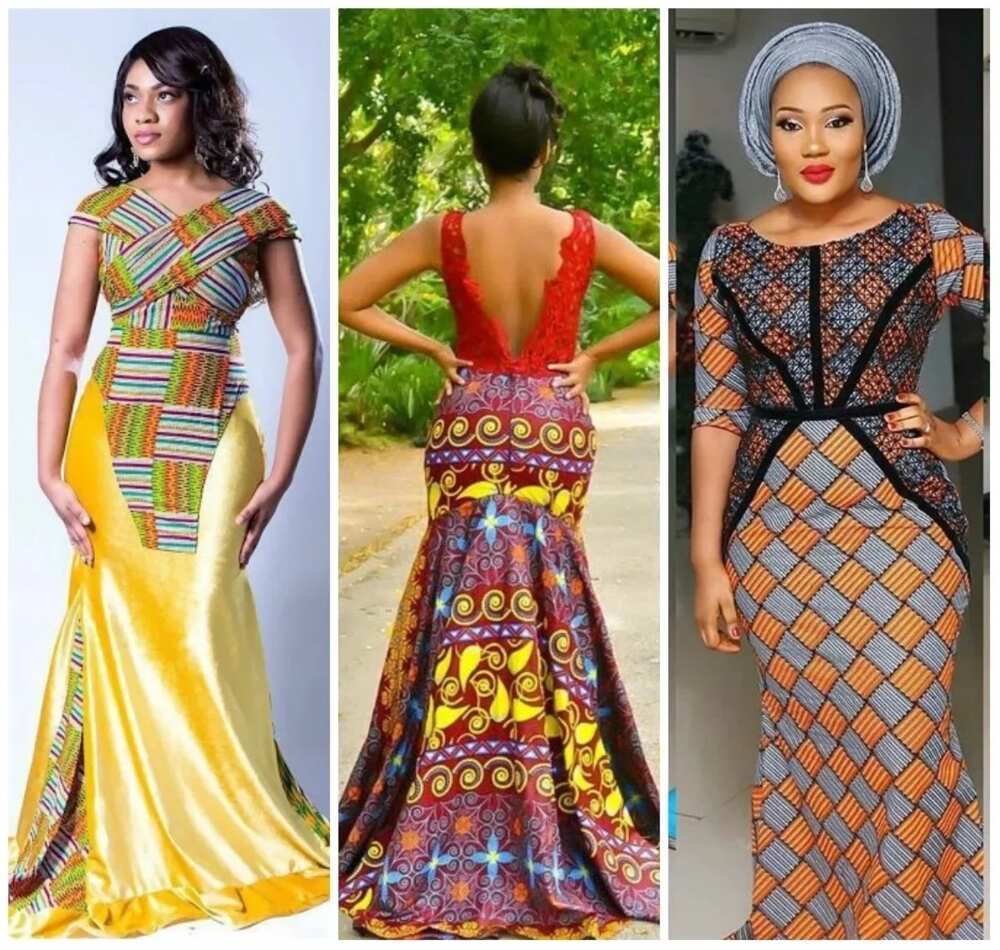 As for the quantity of lace fabric in the attire, it depends on your preferences. If you like, you can make your complete attire mostly late. Just be sure to choose the right style. If the lace pattern is large, it's better to sew a gown with a straight silhouette. The sleeves, if they are needed, should be made narrow. If the pattern is small and the fabric is airy, you can sew a flared long or short dress. Its skirt can be flared at the bottom.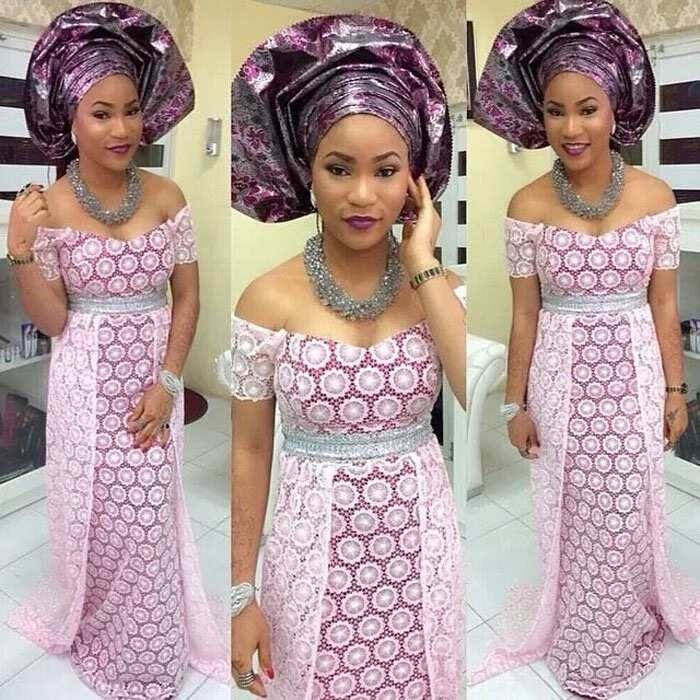 For 2017-2018, it's fashionable to combine different lace types and fabrics in one look. For example, the dress top is made of a thinner and more delicate lace. At the same time, the dress bottom and sleeves can be made of the more dense lace. Just make sure to blend your colours and textures beautifully.
READ ALSO: Ankara and lace - Mix of styles for a gorgeous outfit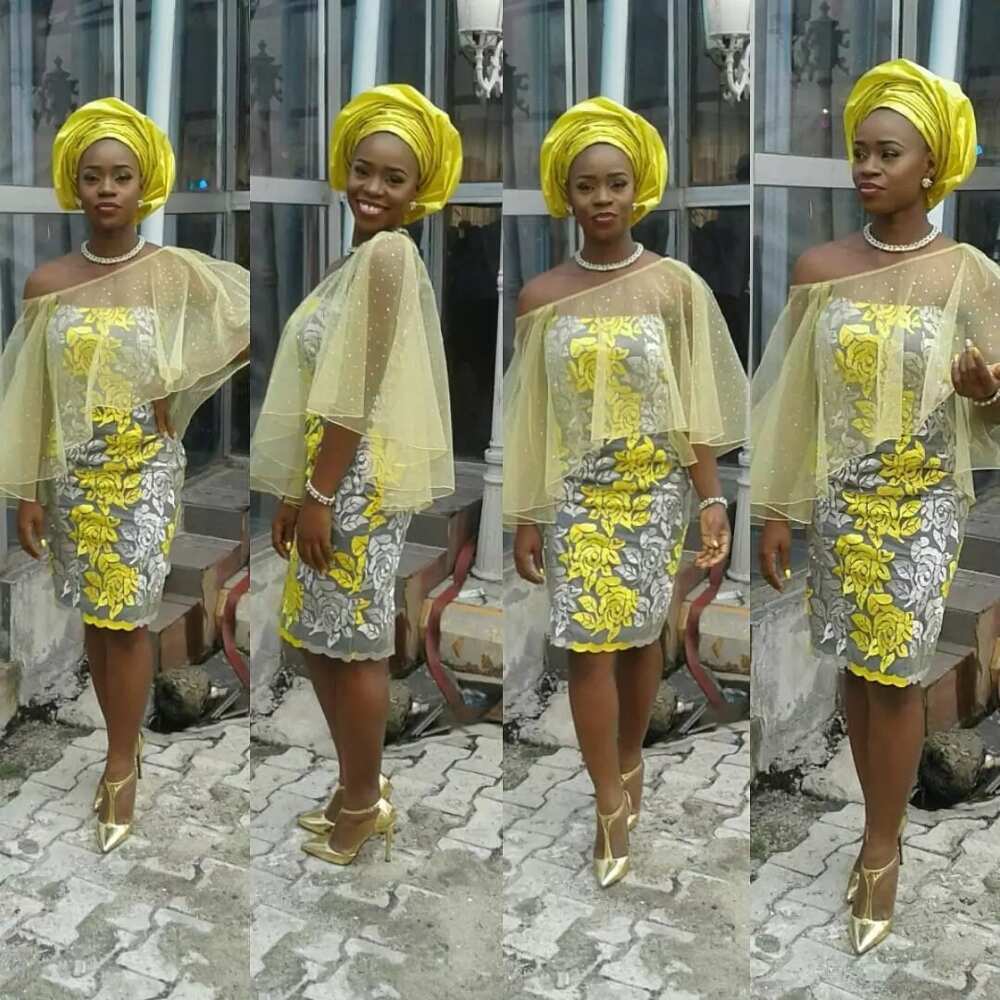 If you want your neck, chest and sleeves of your outfit to be made with lace, it is better to go for softer fabric.. You can even choose to create a beautiful look by making a lace bolero jacket or just a cape to wear with an Ankara style. Keep in mind: if you have a very thin lace, you need to sew an something underneath as a lining for your fabric.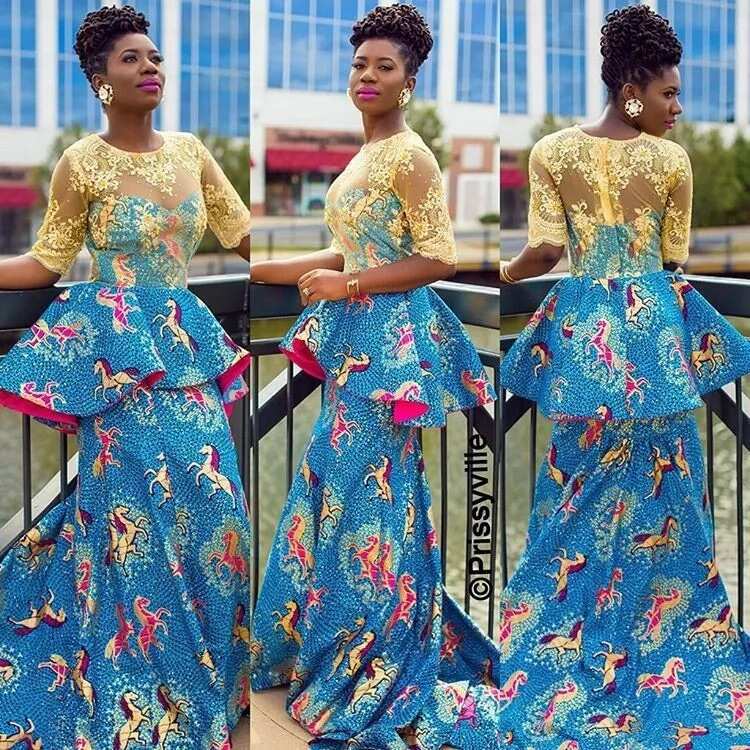 Ankara lace styles
If you don't like a dress or blouse entirely made of lace, you can use only lace inserts, which is known as the Ankara and lace combo. We have already talked about the classical version of the lace trim at the décolleté (neck/chest) zone. Decorating the neckline with lace gives you a chance to play around with the design. You can go for a round cut, but also a square or triangular, or even an asymmetric cut.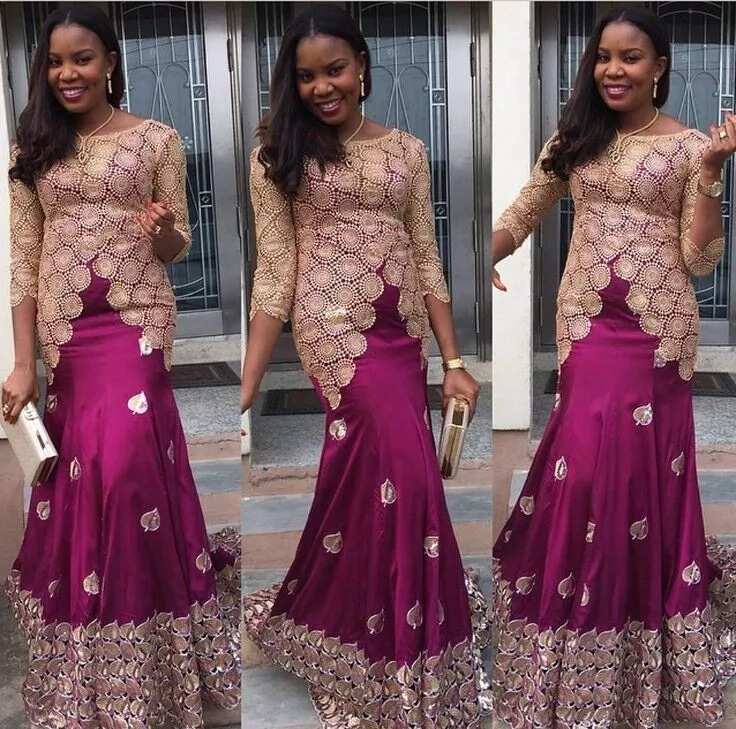 If you go for a complex cut, then then it is better for the rest of the outfit to not be too extreme in design. Remember: the riskier the cut, the more conservative the fabric and vice versa. Often there are also inserts from the lace at the back of your dress. You can even choose to make the back completely with lace fabric. You can also do the same for sleeves and upper torso.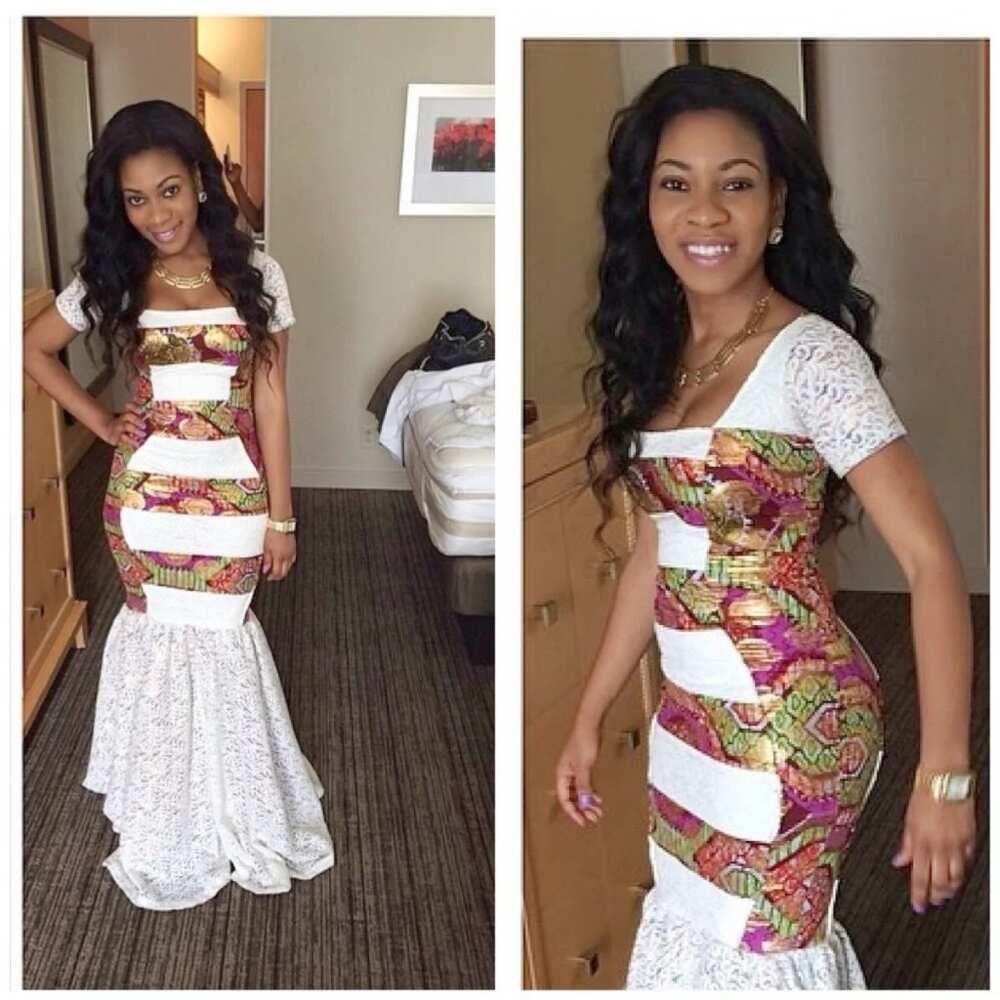 As for the skirt or the bottom of the dress, if the cut is straight, you can finish the bottom of the dress with lace, or sew a lace wedge of any size to your liking. You can make several wedges. It all depends on your imagination and taste. If a pattern of the lace insert is large and the colour of the lace is bright, it is better to make one large wedge or insert. However, if a pattern is small, delicate and gentle, then you might want to a couple of lace layers. You can even choose to make them smaller in size. If you sew a dress with a mermaid tale skirt, then you can sew the 'mermaid tale' area in complete lace.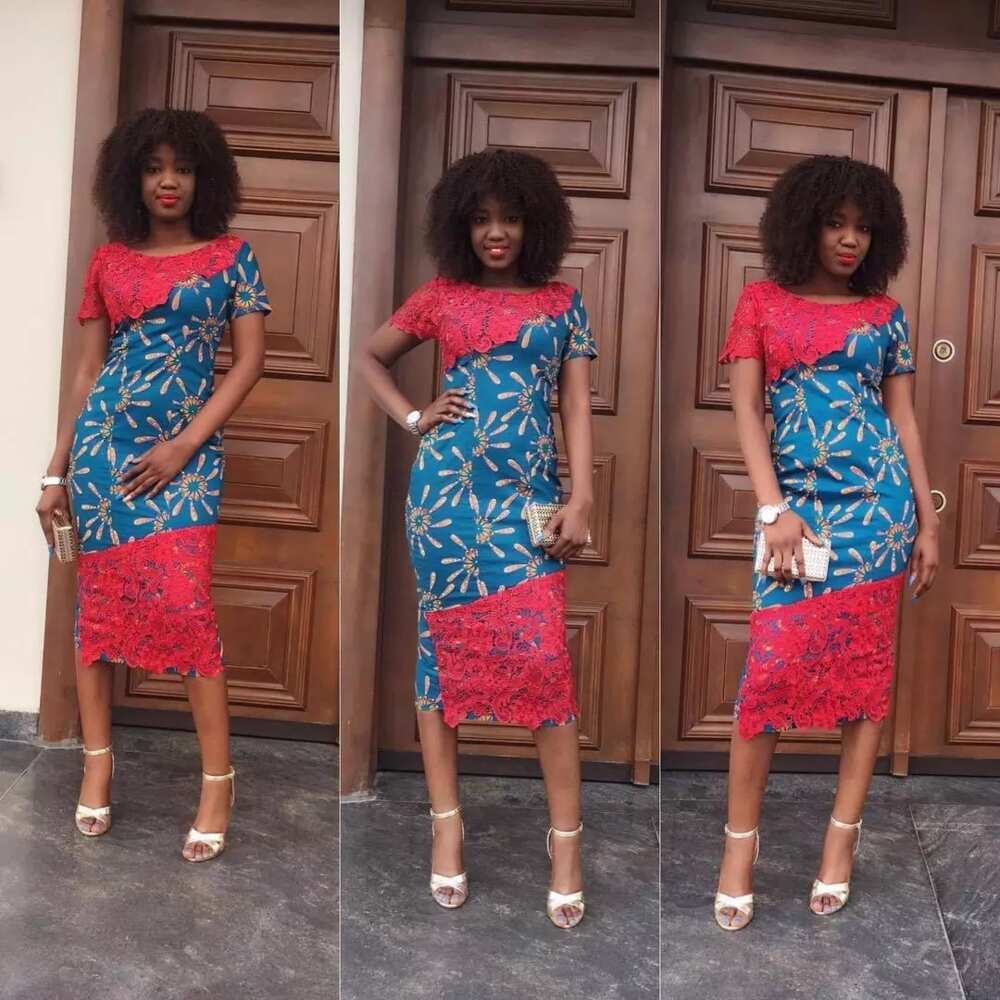 Ankara fabrics are gorgeous and bright. The patterns are also eye-catching. You can show off your fashion sense by adding a little or a lot of lace insert to your outfit to make it pop.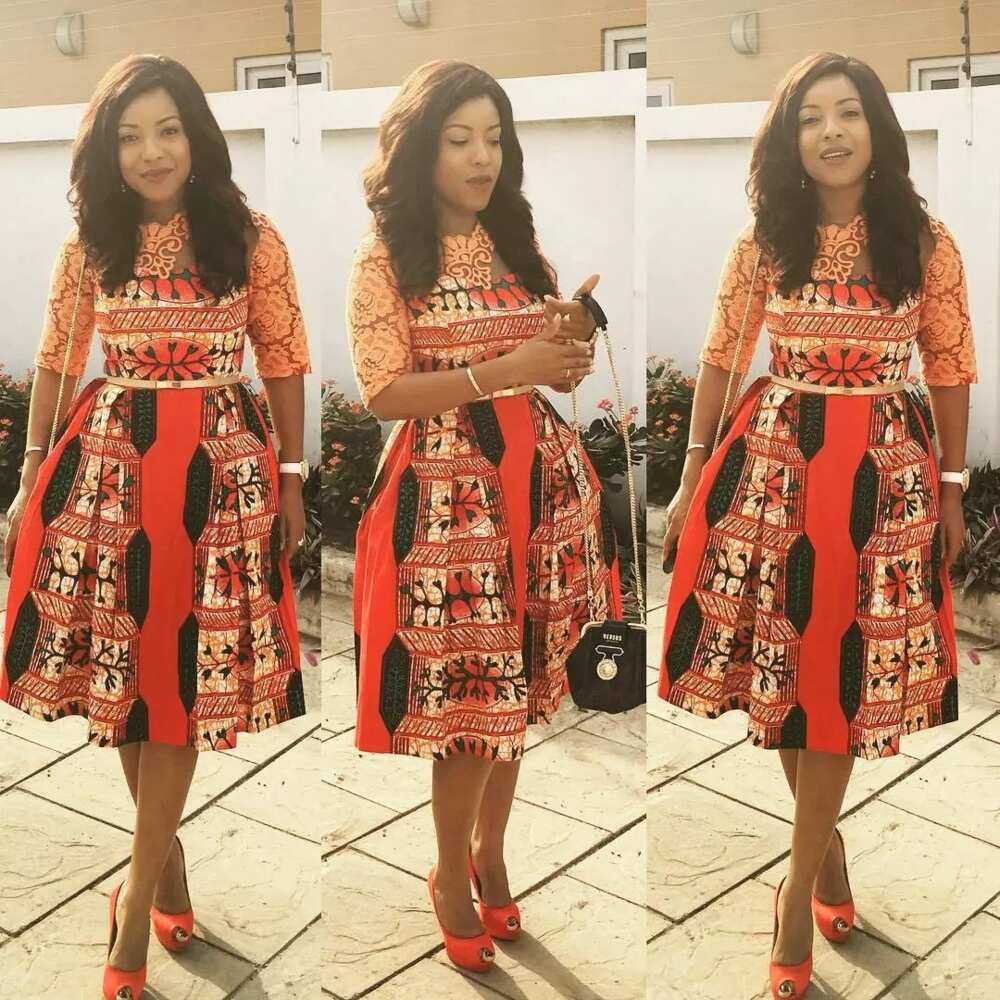 Don't be afraid to experiment. Combine different textures of fabrics. Create new looks. Adding lace to an otherwise plain Ankara outfit can be that one extra element that takes it from casual to party.
Be creative, beautiful and unforgettable in lace and Ankara combination style!
READ ALSO: Unique Ankara styles 2017
Source: Legit.ng