- Sand dredgers at the bank of River Niger have said it is a big business for those involved in it
- Sand dredging is mainly carried out at the bank of rivers from where the sand is moved to building construction sites
- Many of those involved in Onitsha and Asaba told Legit.ng that they make their living from sand dredging
Mr. Michael Chekwube is a sand dredger along the bank of the River Niger, and has been in the business for close to six years. Even though he is not the owner of the business, and is just an employee, the business has provided enough for him to marry, take care of his wife and the children from the marriage, without having to go borrowing. The business has provided him a viable means of livelihood, thus preventing him from going into vices, just to survive.
Okoh was seen very busy by the Niger when our Legit.ng reporter visited the riverside on Monday. He was among others loading sand into waiting tipper for onward transmission to various cities and communities where they are used for construction works. Okoh told our reporter that he has been in the business for a number of years. He has earned his living from it, though may dump it if a better alternative comes his way.
He is one of those who have benefited from the River Niger which separates Asaba from the eastern states of the country. Along the Niger from either the Asaba or Onitsha axis, sand dredgers are seen making business with youths working assiduously to earn a living. It has created a lot of jobs for youths and tipper owners living along the bank of the River Niger. Okoh said he has grown up children whom he takes care of with his wife from the sand dredging business.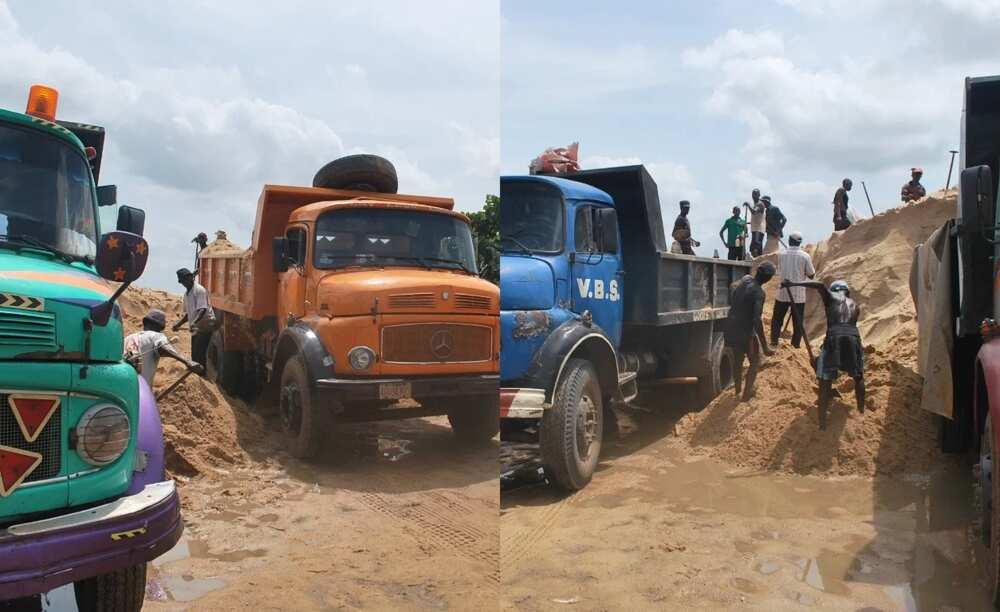 With this, one gets a clear insight into the way the River Niger has catered for many families through the sand dredging business. Being a big river, it serves as relaxation spot in some small towns and villages where it extends to, and to others it is a fishing spot. However, where the river flows through major towns like Asaba and Onitsha, it becomes a point for dredging sand and selling for building of houses and other construction works.
As menial as the business might seem, sand dredging is fast becoming a mini-industry, set to take over the construction business in Nigeria. With the increasing number of structures being built daily and the ever increasing demand for the commodity, investors in the business are hardly out of trade, irrespective of change in stock market prices, fall in naira value, rainy or even dry season.
READ ALSO: Breaking: Nigerian Senate amends Nigeria constitution (Checkout details)
It is one of the few all-weather jobs where patronage is on an all-time-high. One only has to imagine what would happen to houses being built by individuals daily, as well as infrastructures being developed by the government, if the dredgers were to embark on a single day strike, in order to get a clear picture of the level of importance the industry has attained in Nigeria.
Some dredgers turned down our reporter's desire to get comments from them. They even refused this reporter taking photographs of their sites, even though there were some dredging machines on the site in action. They also had other trucks and tippers scooping and carrying sand out of the sight, and it was easy to agree that they were really into business. The tippers taking the sand were heavily busy carrying sand going out and coming for business.
Their reaction brought to mind what the former Delta commissioner for the ministry of environment, Chief Frank Omare, said in an interview that dredgers who went into the business without obtaining any permit from the ministry, or conducting Environmental Impact Assessment (EIA) to be sure that the site was okay for dredging would be mad to face the law.
However, many others gave audience to our reporter, thereby getting useful information from them regarding the business of sand dredging. At the dredging site, one could find a long line of dredging points, obviously in their busy hour, all drilling sand from the Niger.
As the sand was being poured by the dredging machine, the water naturally separated itself from the sand and was re-channeled back into the river. There were also able-bodied young men scooping the sand and putting same into a line-up of tippers waiting to be loaded with sharp sand, and embark on their journey to their desired destinations.
According to one of the tipper drivers sitting and looking-out for prospective buyers, the drivers go out in search of construction and building supply contracts, and then come to the dredging spot to buy the sand and make supplies.
The driver who gave his name as Mr. James Ogbonna explained that after locating those who needed the sand, they charge them extra as cost for taking it to the building sites where it will be used. He told Legit.ng: "I don't know how they drill the sand from the river, but I buy from them and supply to others and that is where I get my profit."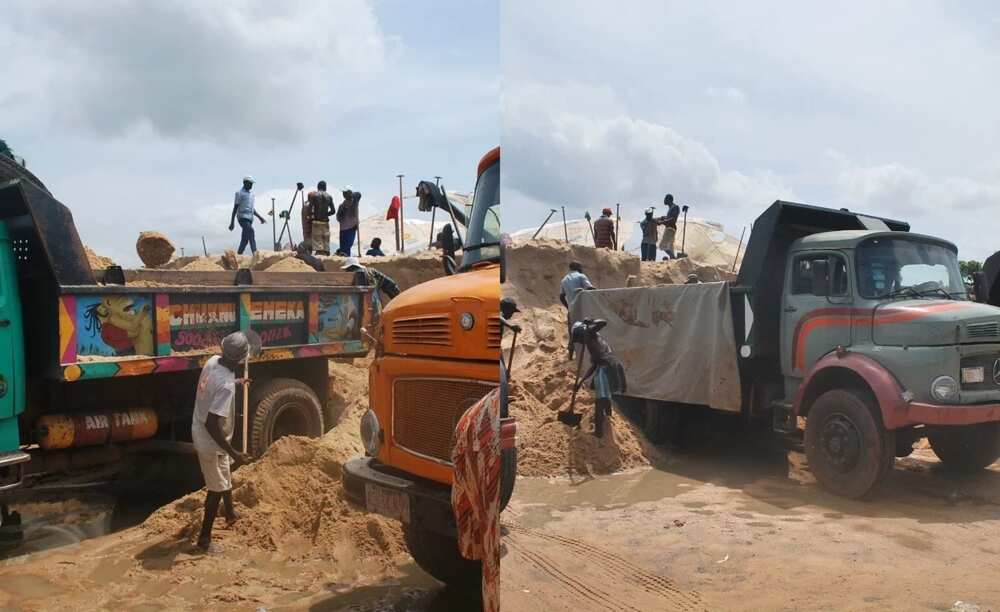 He added that sometimes, their search is made easier when people who need the sand come to them in search of sand. "We look for people who need the sand, sometimes they come here to buy the sand and pay us to take it to where they will use it. As I saw you coming, I thought you wanted to buy sand," he said. On what they collect from prospective buyers, he stated that the price given to each customer differs, depending on the distance from the dredging point to where it will be used.
READ ALSO: Senate votes for independent candidacy, change of police name
"The price for one tipper of sand is N4200, then I will tell the buyer how much I will use to take it to the place. The price will depend on the distance. Like from here to Asaba, I can charge N9000 to N9200, then the money on top will be for my fuel and profit. If there is work, and depending on the distance, I can move up to 10 times in a day.
"The distance will determine the number of times I will go, and also if there is go-slow, it can affect the movement. After balancing the owner of the tipper, the rest is my gain. I like the business, but assuming I have my own tipper, I will make more money," he said, stressing that attending to immediate family needs has not allowed him save up to buy his own tipper.
Toeing the same line, one of the dredgers who spoke to our reporter stated that in most cases, the tipper drivers serve as middlemen between the dredgers and the end-users of the sand. Mr. Gabriel Ifeanyi, a 35-year-old man with children, explained that the dredging business goes on in different places, but the tipper drivers choose where to go, depending on the type of sand they need. "We supply sand to them, and they take it to those who will use it. Buyers come from Mkpor, Awada, Awka, Idemili, inside Onitsha, depending on the type of sand they want. We are making some money here, but if you are the owner of the business, you will get more from it."
Another dredger who identified himself as Mr. Okonkwo Chukwudi, stated that they were all operating with government approvals and were not being disturbed in anyway by any agency or ministry. He went further to state that they had even started a union in order to regulate their dealings and operations, as they were presently selling at different prices ranging from N4000 to N4500, but that the union was yet to fully gain grounds.
PAY ATTENTION: Read the news on Nigeria's #1 new app
Sand dredging is, however, said to have adverse effects on the environment and natural condition of the water body, especially when it is done on a wrong location, and without environmental impact assessment. Environmental experts say it is a direct cause of erosion, and a threat to bridges and structures surrounding such water body.
Disturbance of underwater and coastal sand causes turbidity in the water, which is harmful for such organisms as corals that need sunlight. It also destroys fisheries, causing problems for people who rely on fishing for their livelihoods.
Removal of physical coastal barriers such as dunes leads to flooding of beachside communities, and the destruction of scenic beaches causes tourism to dissipate. Sand mining is regulated by law in many places, but is still often done illegally.
Meanwhile, Legit.ng had previously reported that the National Orientation Agency (NOA) warned residents of flood prone areas to quickly evacuate to avoid danger as environmental experts predict intense flooding across Nigeria this year.