60 N-Power volunteers may face prosecution for fraud - FG
- Mr. Afolabi Imoukhuede, the presidential aide on job creation, revealed that many volunteers have been collecting monthly stipends of N30,000 without reporting for work
- The 60 erring volunteers would reportedly be used to set an example to other recruits, so they don't tow the same fraudulent path
- Imoukhuede also informed the volunteers that their performance would be evaluated with various technological programmes, and advised them to be technology-compliant
- Volunteers with stipend issues have also been warned to rectify them before the end of July in order to avoid been withdrawn from the scheme
No fewer than 60 volunteers in the Federal Government's job creation scheme for youths have had their payments withheld and may be prosecuted for fraud, the presidential aide on job creation, Mr Afolabi Imoukhuede, said on Monday July 24.
According to NAN, he gave the indication while addressing 5,559 N-Power volunteers in Kwara at the Banquet Hall of the Government House, Ilorin.
Imoukhuede had led a team of Monitoring and Evaluation officials to assess the performance of the volunteers in the state as well as mandate the state's institutional partners to take absolute charge of the volunteers.
READ ALSO: FG to kick off north-east rebuilding plan - Yemi Osinbajo
According to the aide, many volunteers have been collecting unbroken stipends of N30,000 monthly without reporting for work which discourages serious volunteers from giving in their best.
He said the 60 volunteers already identified nationwide would be used to set examples, noting that the programme was not a cake-sharing or cake-collection scheme.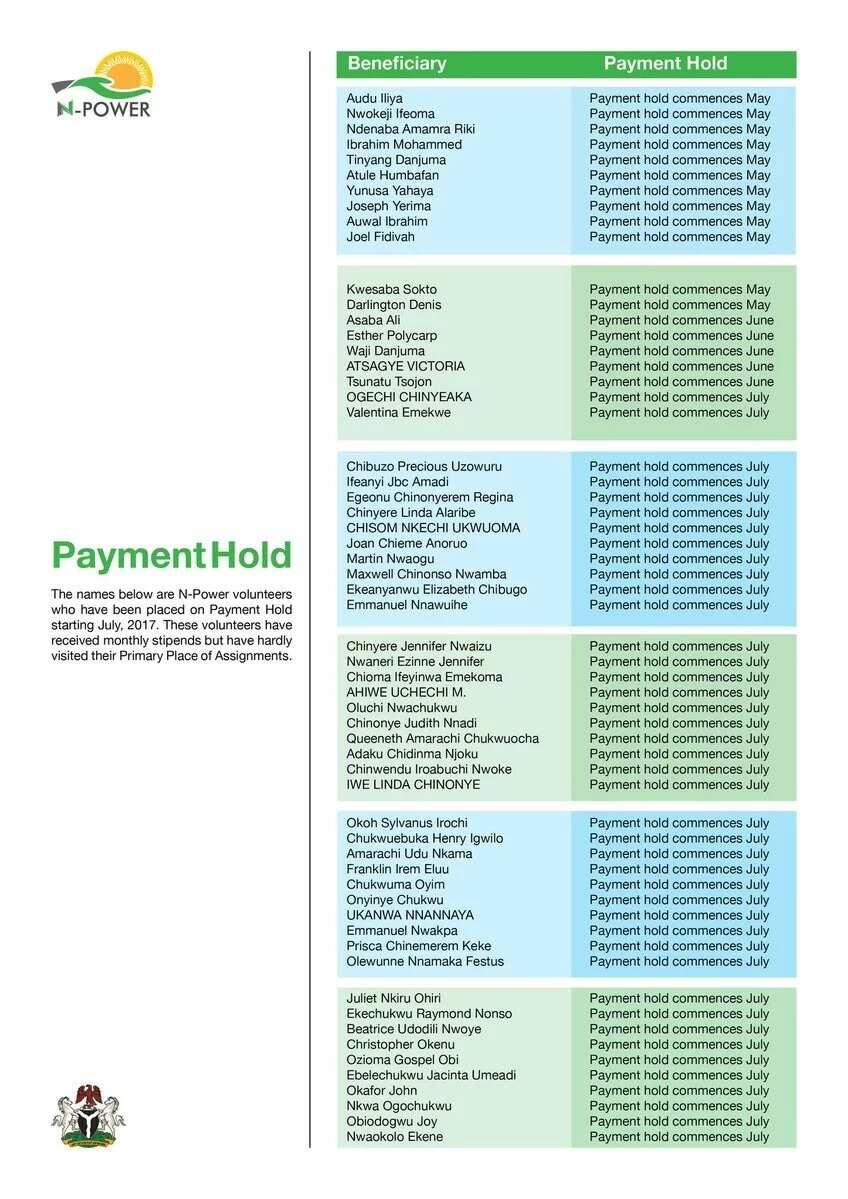 He said that no fewer than 363 volunteers deployed in Kwara were ghosts and did not exist in the programme, adding that those found guilty of absenteeism would be forced to return all stipends received and prosecuted.
He explained that volunteers were the cause of non-receipt of their stipends because they failed to validate their financial records more than seven months into the graduate scheme.
He further dispelled insinuations of irregularity in the payments of stipends nationwide, explaining that disparity in dates of payment was to accommodate newly validated volunteers.
"There is no irregularity in the payment of stipends; we do not discriminate against states.
"The reason for what you tag irregularity is that we are trying to update your accounts.
"Our goal is that everyone will receive all stipends unbroken,'' he added.
Imoukhuede said that N-Power was a lifeline extended to youths by President Muhammadu Buhari and Acting President Yemi Osinbajo as a platform for learning, working and gaining entrepreneurship.
He said it was a technology-enhanced and designed programme where the graduates were expected to be technology-compliant; which informed the addition of a device for learning and data collection to increase volunteers' employability skills.
"There will be evaluation of performance through the devices.
"Google and Microsoft Academy have provided lots of learning materials in the devices for your benefits, so you have to take the devices seriously as your daily manual,'' he advised.
Earlier at a stakeholders' meeting, Imoukhuede emphasized that July ending was the last chance given to all with stipend issues to resolve them or they would be written to withdraw from the scheme.
"Those of you yet unpaid are enjoying several months of grace.
"End of July is the last chance and if they are unable to reconcile their accounts we will call them to exit the programme and 263 of them are involved in Kwara,'' he noted.
PAY ATTENTION: Install our latest app for Android, read best news on Nigeria's #1 news app
Meanwhile, Legit.ng previously reported that the Nigerian government released the different ways N-Power participants can contact it for inquiries.
The federal government in a recent description on the official twitter page of the N-Power programme listed seven official social media channels for participants to use.
Watch this Legit.ng TV video of Andrew Yakubu in court over allegations of fraud:
Source: Legit.ng