Jumbo Ghana braids: which one would you like to try?
Jumbo Ghana Braids can be the perfect hairstyle for you to rock this summer! If you want to get your hair out of your face, then choose Jumbo! The Jumbo Braid comes in different sizes depending on the style. Let`s show you some great versions of Jumbo Braid!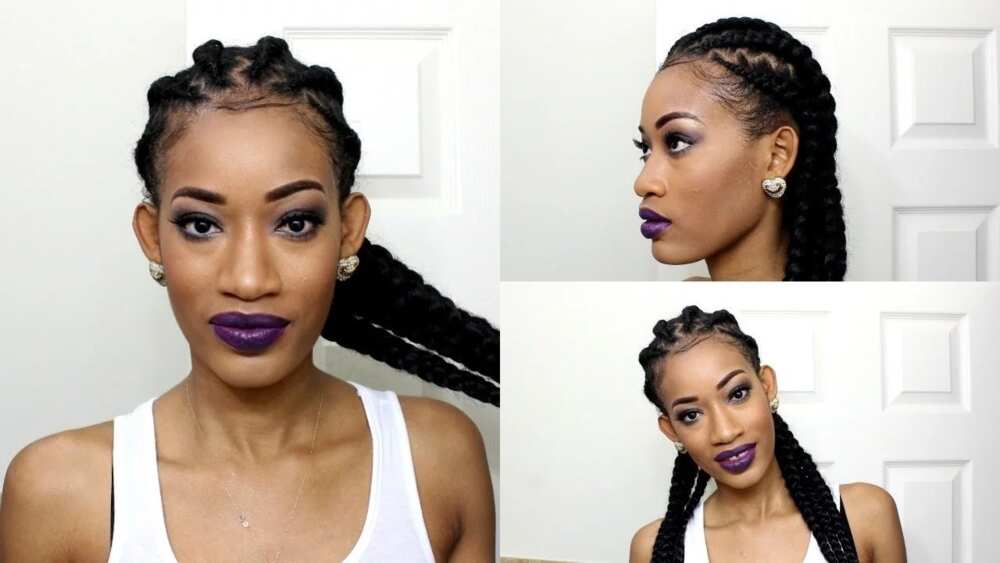 Jumbo Ghana Braids Styles Top 10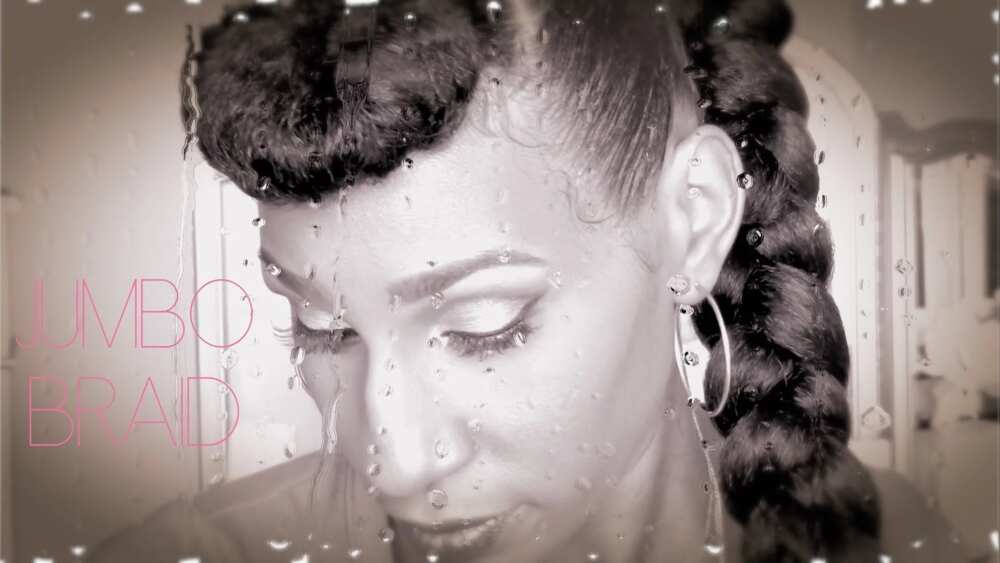 10. Jumbo Cornrows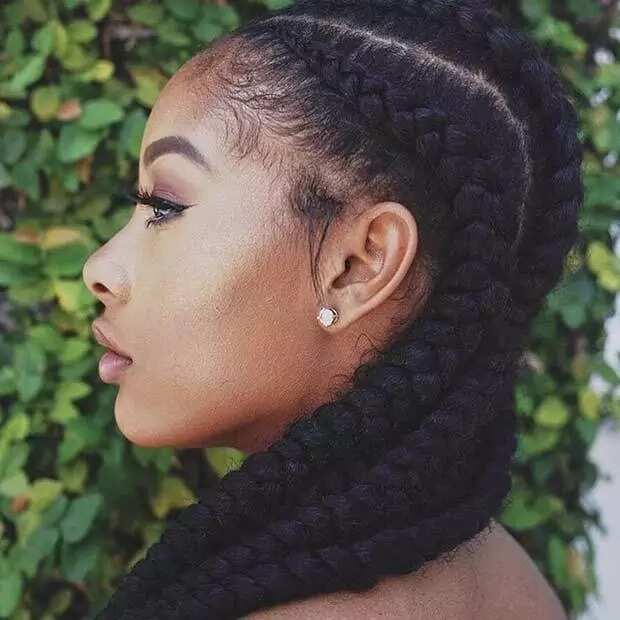 One of the best options for this summer is Jumbo Cornrows! It just looks great! You can wear it with thicker and thinner braids. It is totally according to your preference! These braids are very easy to take care of!
9. Black And White Jumbo Ghana Braids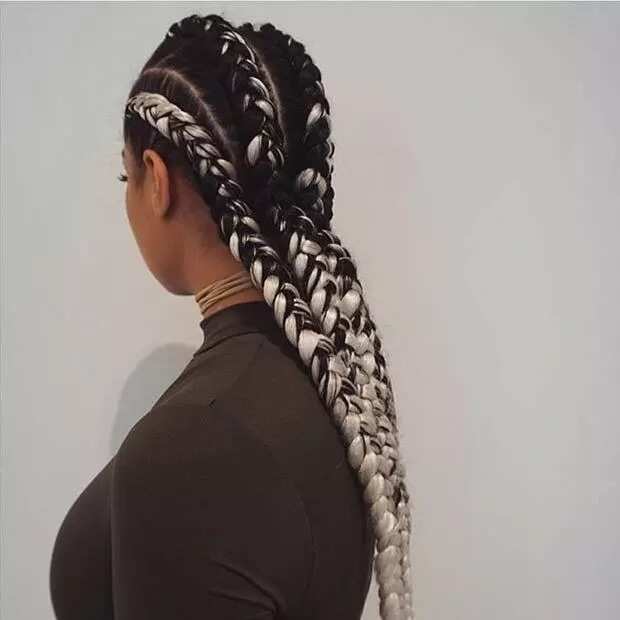 Back to 90`s and 80`s! This fabulous Black and white style is exactly what you need! It's vintage look will leave you feeling classy and beautiful. It seems that the style of 90`s is back and we are totally loving it!
8. Jumbo Front Brush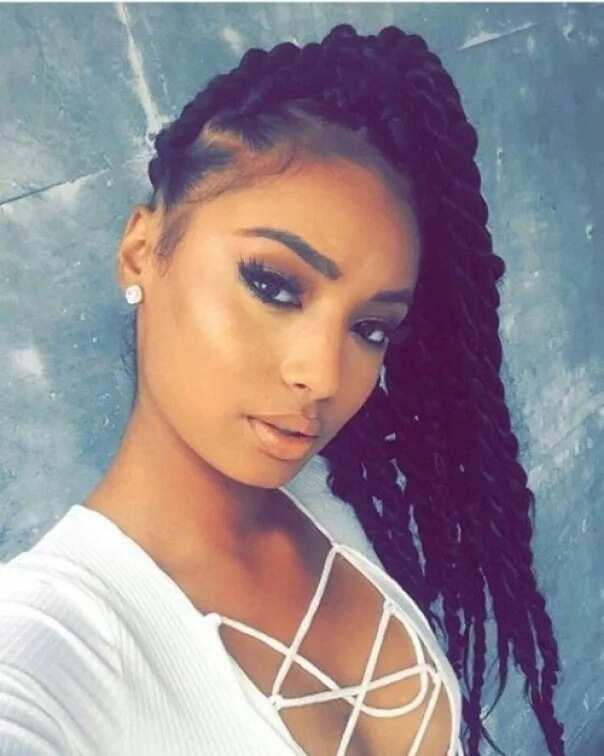 Have your Jumbo hair tied and tightened together in thick pony tails at your back. Give your front hair a little bit of rest with this style.
7. Sharp Ghana Braids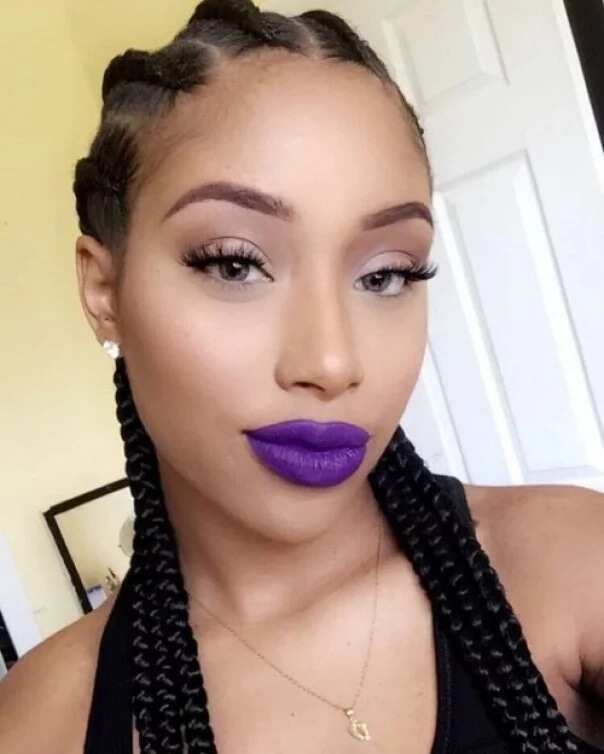 Look absolutely sharp and beautiful this season. You will need to use sleek weaving to get this effect! Choose a colourful make-up and have some fun with the look!
6. Native American Ghana Braids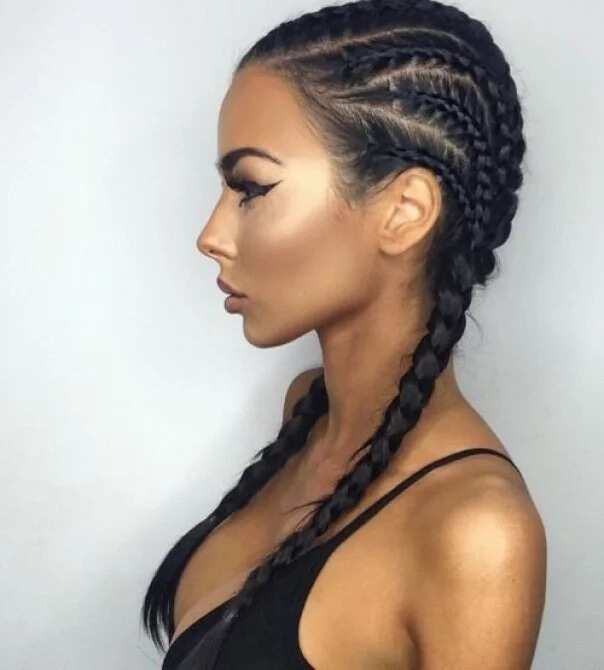 Native American style is another good option for this summer! These thinner braids will drive men crazy and have them looking on in wonder.
5. Blonde Ghana Braids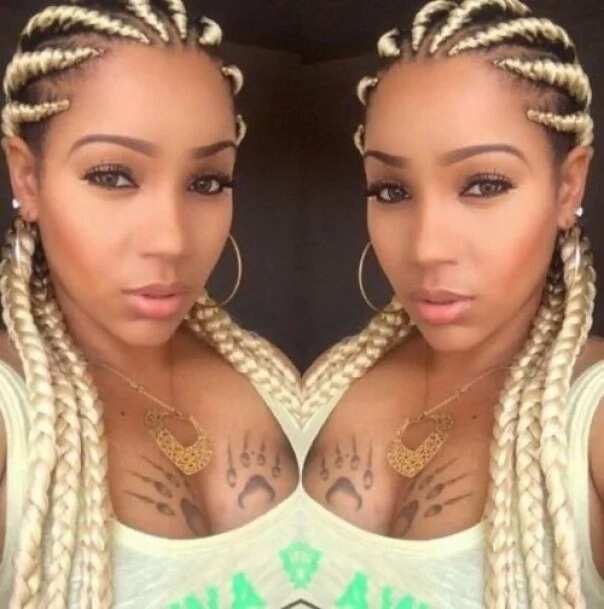 Add some brightness to your look with this style! Find a blond colour that blends with your skin, and you will get a really unique look! It will emphasize the beauty of your skin!
4. Twist Ghana Braids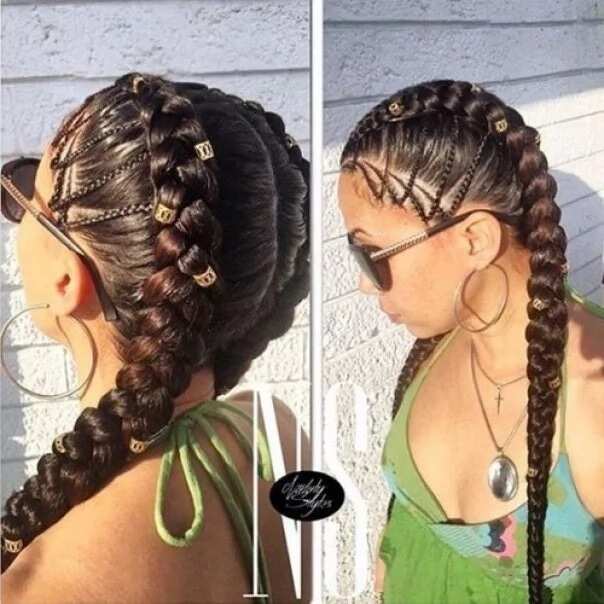 Do you want to stand out work or at parties! Then choose these Ghana Braids. Just have your Ghana Braids resting on your sides! This effect will make an impression!
3. Elegant Ghana Braids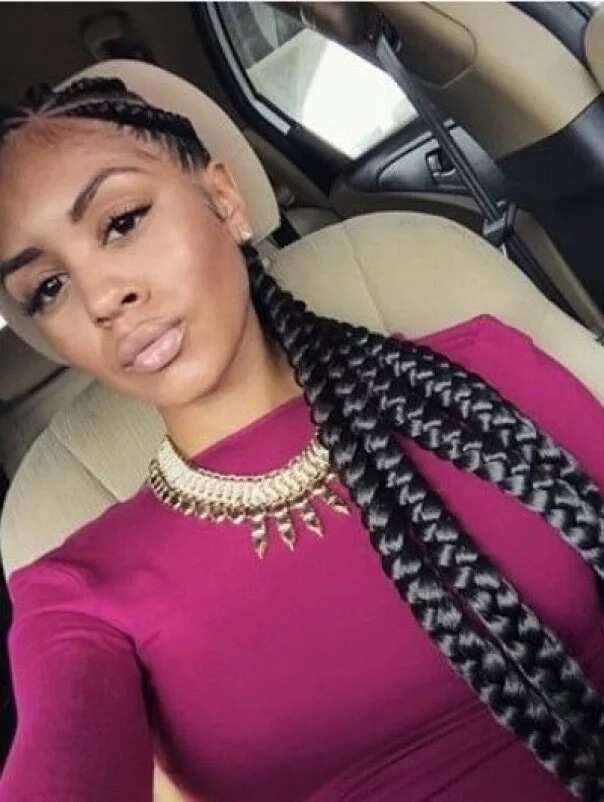 If you are going to a party, wedding or any other important event – try these Ghana Braids. They have an absolutely stunning look!
2. Shiny Ghana Braids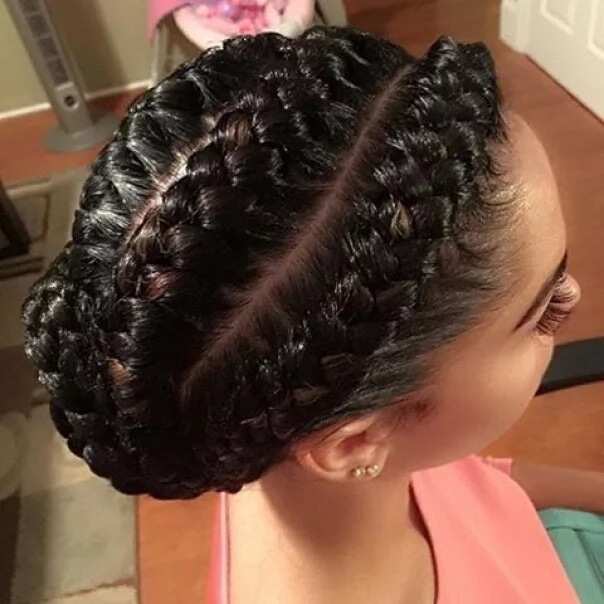 Shiny Ghana Braids with a hidden bun will be perfect for a wedding or beach party! It is also simplistic yet gives you a look fit for a queen.
1. 3D Ghana Beams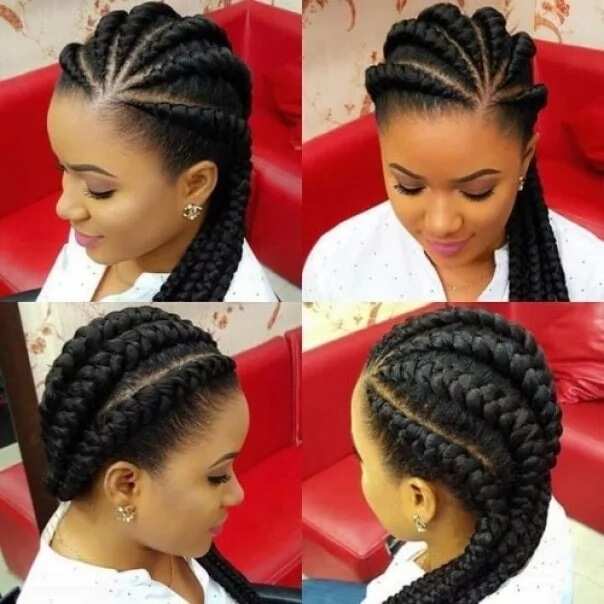 It`s the newest trend for this summer! Have some fun!
How to make Jumbo Ghana Braids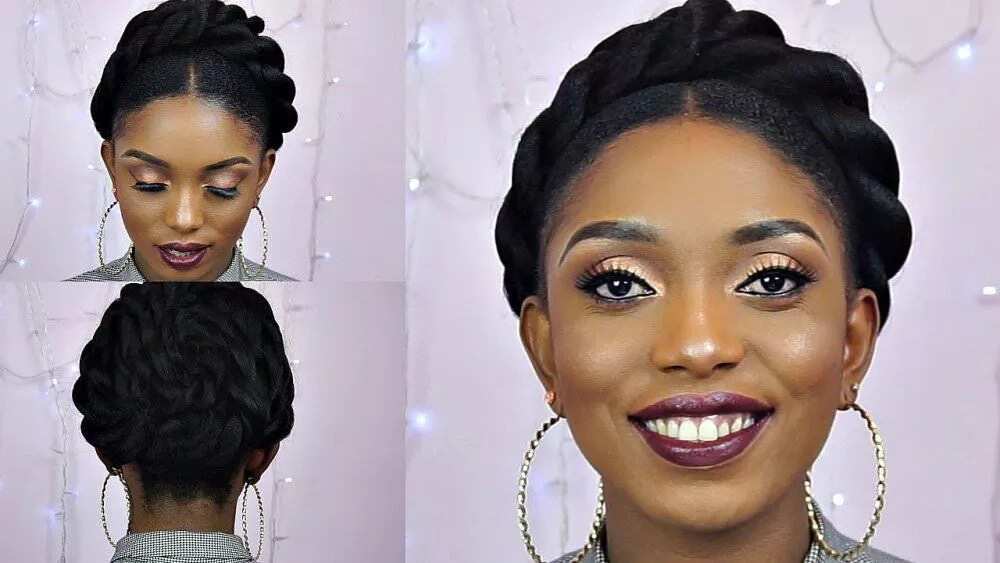 READ ALSO: Maid of honor dresses in Nigeria
Do not forget, that you need thin pieces for Jumbo Ghana Braids! You can make use of any good quality attachment. Simply make sure you know what you are doing and then have some fun with a variety of styles.
Hairpieces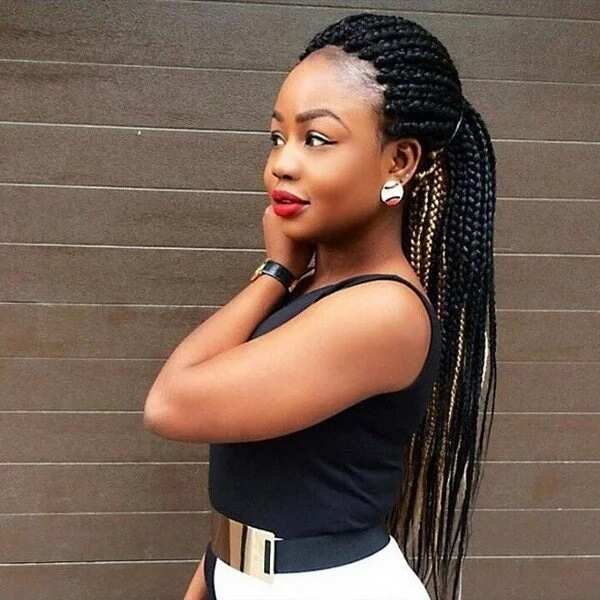 Let`s start with a simple Jumbo Ghana Braids tutorial! For this, you need to purchase your preferred Jumbo Braids hair pieces. Just attach your rubber band to the center of your hair pieces. Place arubber band at the very center of the thinned hair. Feed the looped ends together one by one! They should be wrapped tightly around the pieces. Some of the hair pieces are sold with a loop in the place.
You need to apply some shea butter to your hair. It will smoothen the hair. Use your hands to work the butter through every hair. Your hair will greatly benefit from the shea butter. It also makes your Ghana Braids shinier. However, try not to make it too oily!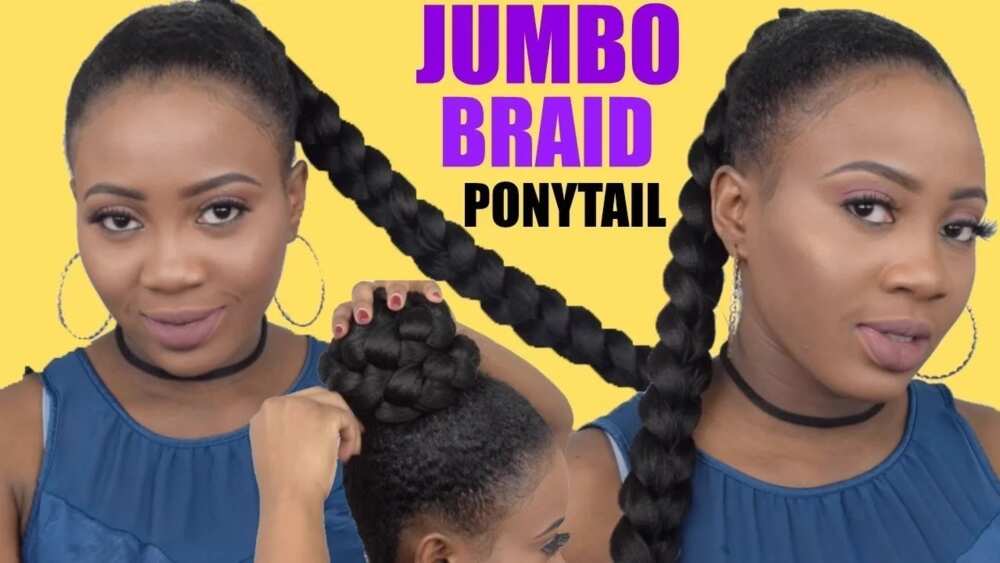 Now you can brush the hair in an upward direction. When you gather all your hair in one hand – secure it with a ponytail.
You will need to use a rubber band if you want to secure the hair pieces in one ponytail. Then, attach the hair pieces to your ponytail.
Push your natural hair under the hair pieces. Your natural hair must be hidden completely under the braided pieces.
Ghana Braids – It`s time for hair braiding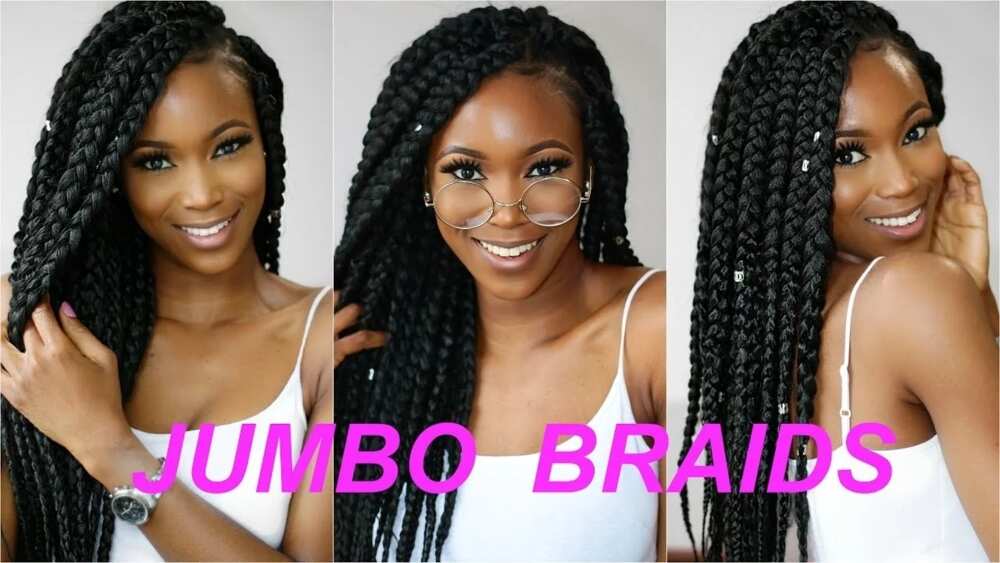 For this, you will be making use of some hair attachment. It`s time to begin the process of braiding!
Separate the hair pieces into three even strands. They must be even.
You should incorporate your real hair when you begin the braid. Take one section and, starting from the very basis of your hair, and incorporate the natural hair and attachment inch by inch.
Once you are done with all the sections, you can tie your hair with rubber bands. Clear rubber bands work the best in this situation. Do not forget that the rubber band must be lighter than your natural hair braid.
Variations to your Ghana Braids Hair Styles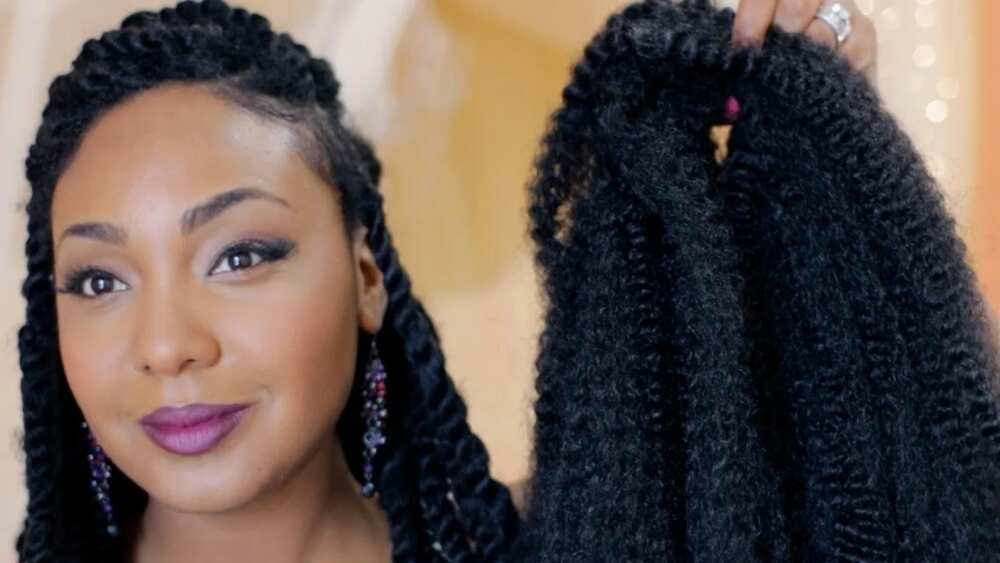 You can use various colours to make your Jumbo Hair braids. It`s not difficult to find hair attachments with various colours. The exciting shades of colour will only help draw more attention to you! Get creative and don't forget to explore all your Jumbo Ghana Braids option!
Hair accessories are another way to stand out. Do not be afraid to add various hair accessories to your Ghana Braids. It will add a pretty feminine touch to your style. Do not forget to coordinate these accessories with your hairstyle. Too many accessories in the hair are not advisable. You want to look gorgeous, not silly! Remember that!
Would you like to know the best part?
Use colorful hair ties. If you add some colorful hair ties, it will create a fun and even stylish appearance to your hair braids! Bright colors are the best for this to work. You can choose a great variety of colors!
Remember!
You shouldn`t over do your Ghana Braids hairstyles! You will need to find a balance between the colours and braids. Also, do not forget to moisturise your scalp and hair. You will need to sustain your hair in a fine condition to keep your Jumbo Ghana Braids.
Ghana Braids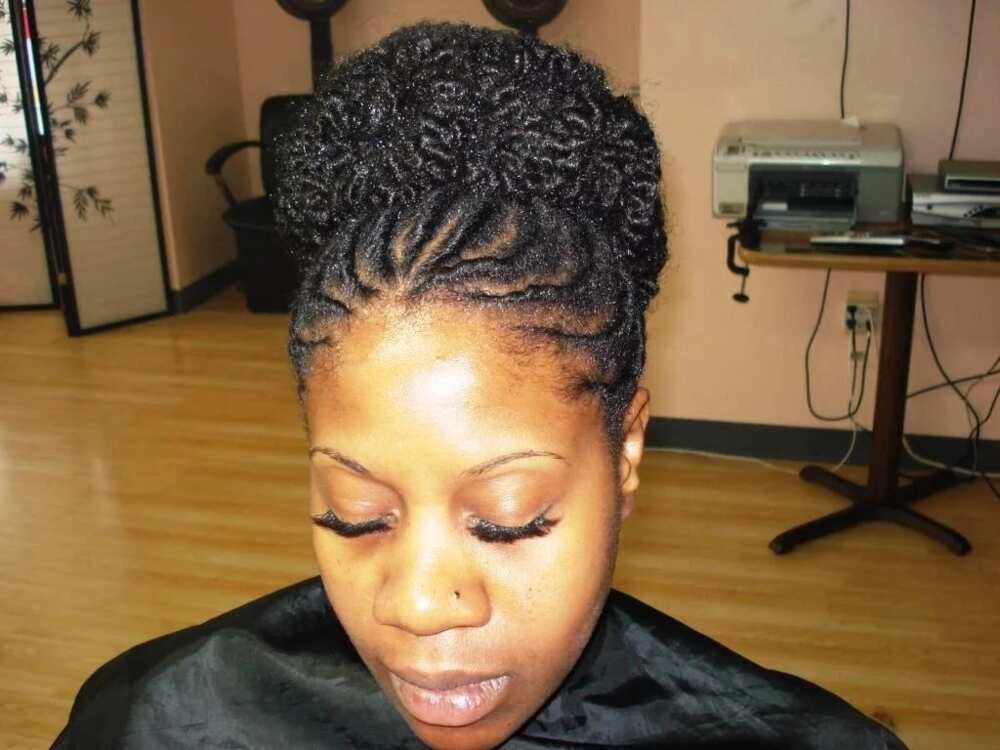 Jumbo Braids have various names across the globe! For example, you may know them as banana braids, invisible cornrows, pencil cornrows, African cornrows and even Cherokee cornrows. Still, it`s fast becoming a popular style. It draws the attention to your beautiful face and makes you look unique.
It`s your chance to be bright this summer! Choose one of the Top 10 best Ghana Braids hairstyles mentioned above! You will surely catch the attention of men! Choose your best Ghana Braids style!
READ ALSO: Nigerian hairstyles for kids
Source: Legit.ng