With the rate at which most people are 'going back to their roots' and learning to use natural remedies while gradually leaving products with harmful additives behind, it is fast becoming a necessity to know how to make most of what you put into and also apply on your body.
These days, people are beginning to figure out how to maintain the general body wellness, by using the same kind of 'healthy products' for both the body and hair. One of such products which can be applied in both cases, is the castor oil.
What is castor oil?
Castor oil which is derived from the seeds of the Ricinus communis plants grown in wastelands across tropical regions, is regarded as a therapeutic carrier oil which is basically used to dilute essential oils, making it easier for the oils to penetrate the skin or the scalp, as the case may be. It can also be used for medicinal purposes, as it is known to have antibacterial, anti-inflammatory and antifungal properties. It is often used as a laxative, to increase bowel movements thereby preventing constipation.
The oil is well known as a source of ricinoleic acid, which is a monounsaturated, 18-carbon fatty acid. It also carries vitamin E and linoleic and oleic acids. Contrary to belief that it is harmful to the health especially when taken in large doses, it is majorly used for the treatment of several ailments and very often used to do 'wonders' for the human hair.
READ ALSO: Two simple ways to make almond oil at home
How do you make castor oil?
Castor oil is gotten from processing the castor seeds. It is usually extracted by cold-pressing the seed, squeezing out the oil and then refining it to remove all its toxins.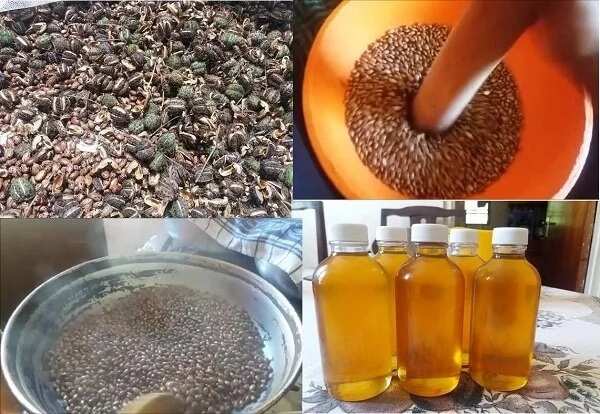 First you will need to get hold of the castor seeds, remove the shell either by hand or with the aid of machines used for deshelling seeds.
After the shells have been removed, the next step is to dry it. You can dry it by leaving it out in the sun for some time and you can also dry it in an oven at about 60°C for 7hrs. The drying is necessary as it helps to reduce its moisture content.
After drying, it is necessary to roast the seeds, as that will make it easier to grind into a paste.
For the grinding process, commercial dealers usually use a cold press machine, but for the Do-It-Yourself (DIY) process, a clean mortar and pestle will perform the same function only that it'll require more energy.
The next step after grinding is to pour the fine paste into a pot with some water, then apply high pressure (boil).
While boiling you can go ahead with your daily tasks as it takes up to 4-5 hours for the oil to float to the surface of the water.
For the next step, experts say it is best to leave it to cool overnight so that the condiment can settle and the oil is ready to be scooped.
By the next day your castor oil is ready to be packaged and stored in a bottle.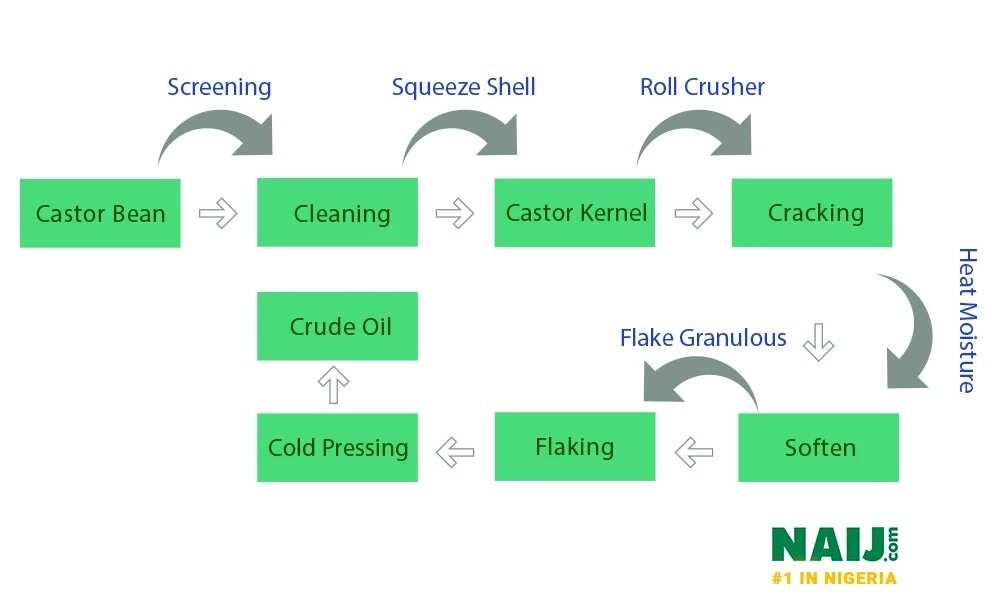 READ ALSO: How to make coconut oil without heat?
Uses of castor oil:
There are many uses for castor oil apart from the ones already listed above. Here are some more uses of castor oil and its derivatives:
Castor oil is used in the production of paints, lacquers and other protective coatings.
It is also an active ingredient in some soaps and hair products (ask all the #teamnatural girls and they'll tell you). Research has shown that castor oil is very effective for treating hair loss and for thickening the eyelashes. It also treats and clears dandruff.
It is a well known natural remedy for treating rashes, ringworm, and other fungi/infections.
Castor oil is known to fight arthritis and rheumatism by joining its powerful anti-inflammatory, antioxidant and antibacterial properties, to boost the immune system, thereby countering the inflammation.
Castor oil is famously known for its ability to ease bowel movements and treat constipation (for this, about 1-2 tablespoons are recommended with any soft drink of choice). It was even given to people as a form of punishment back in the 'olden days'.
READ ALSO: How to make carrot oil at home?
Just as everything that has an advantage has one or two disadvantages, castor oil is not left out. See some of its disadvantages below:
Pregnant women are advised to consult their doctor before attempting to use it, as it is known to induce labor
Due to it being a laxative, people who tend to suffer acute stomach problems like appendicitis, are advised to consult the doctor before use
An excess dosage of castor oil can cause nausea and diarrhea, sometimes abdominal pain.
Even though castor oil is usually sticky to the hands and tends to leave stains on clothes, its usefulness cannot be emphasised. If you are still in doubt, ask people in the cosmetics, lubricants, paints, polymers, surfactants, pharm and plastics industries, as they'll attest to its usefulness.
Now that you know the benefits and how to make castor oil, why don't you give it a try.
Do you know the benefits of eating cucumber? This video will teach you:
Source: Legit.ng