Is my money safe after giving my BVN to Paylater?
The essence of the Bank Verification Number (BVN) is to curb or reduce illegal bank transactions and to be able to uniquely identify each customer using biometric details.
The essence is to link all your bank accounts and help banks, especially in the case of loan defaulters who think they can approach another bank for credits. The BVN allows the banking industry to collaborate to reduce such kind of theft.
What is Paylater
Paylater.ng is a form of online loan service where you are expected to download the app before you can use the service. Once the necessary requirement has been done, payment is approved within 72 hours and money is disbursed to your account.
For your first loan, you can borrow up to ₦10,000 for a period of up to 30 days. You decide how much you want and how long you want it for. Once you have paid your first loan on time, the possibility of you receiving a higher credit limit increases. The more times you take a Paylater loan and repay successfully, the bigger loan you can get.
The service also allows you to borrow as much as N1m, but in this case, more documents are required.
These are:
- a valid employment, and/or confirmation letter;
- 3 month bank statements of a salary account;
- staff ID card;
- another valid identification document (e.g. driver's license, international passport, tax ID, voter's card, etc.);
- a picture of yourself.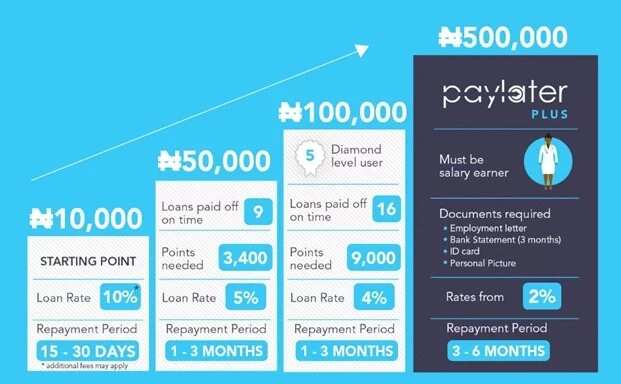 Why is the BVN required at the point of registration?
According to the explanation provided by Paylater they request the BVN of a person"to verify that the individual applying for a Paylater loan is the same as the owner of the provided bank account. This is to ensure that your details cannot be used to apply for a loan without your authorization in the event a 3rd party has access to your account details. Please note: Your BVN does not provide access to your account. If in doubt, we encourage you to confirm this from your bank before you proceed."
The provision of the BVN also makes it possible for defaulting loans to be reported to the national credit bureaus, and this can severely affect person's ability to access loans in future.
Having access to your BVN also allows the loan service to check your credit history thereby allowing them to reject people with history of defaulting on loans.
Is my money safe if I release my BVN to Paylater?
As with any financial engagement, it is important to do a background research before releasing any personal information.
So far, review of Paylater service has been positive with no known cases of fraud reported. According to the service, your BVN does not provide access to your account.
Watch a Legit.ng TV video below of Nigerians speaking about the state of the national economy:
Source: Legit.ng