Just in: FG awards oil block license to Ondo for bitumen exploration
- The federal government of Nigeria has awarded an oil block licence to Ondo state government for bitumen exploration
- The state government has also signed a memorandum of understanding with an agricultural company for the planting of rice in over 5,000 hectares of land
- Governor Akeredolu announced that the state has also signed an MoU with ministry of Niger/Delta and NDDC for the funding of 50km Araromi road in Ilaje LGA of the state to Ibeju/Lekki, Lagos
In efforts to diversify the economy and boost the country's foreign exchange, the federal government of Nigeria has awarded an oil block licence to Ondo state government for bitumen exploration, given the fact that the state has the second highest reserve of bitumen in the world.
The minister of Mines and Steels Development, Dr. Kayode Fayemi made this known at the 1st Ondo state Investment Forum held at the International Event Center (DOME), Akure, the state capital.
READ ALSO: Doyin Okupe joins Accord Party after dumping PDP
The minister who was represented by the director of Mining License in the ministry, Engr. Mohammed Amate said the bitumen reserve in Ondo state can serve the whole of Africa hence the federal government's decision to explore the opportunity towards economic development of the country.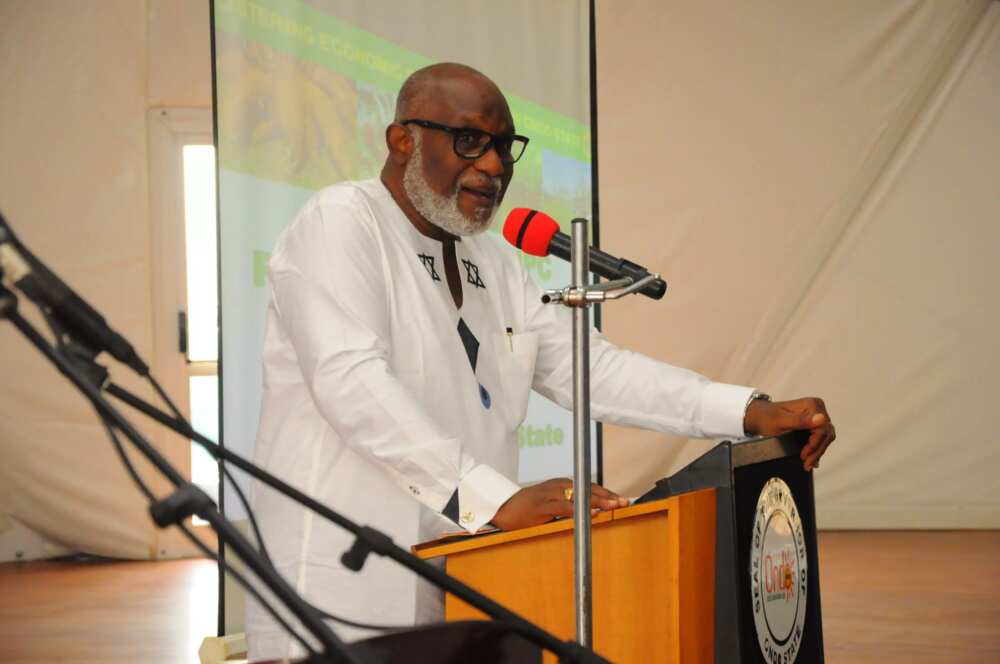 "Nigeria currently imports over 600,000 tons of asphalt per annum and the nation spends billions of naira on importation of asphalt every year. The naira is weak now because of much demand for dollar and less demand for naira and the poor export policy in the country.
"With bitumen being produced in Ondo State, federal Government will ensure that none of its road contractors imports asphalt and I am sure that many state governments will prefer to buy from Ondo state because it will definitely be cheaper here than imports from outside the country," Fayemi said.
In his response, the Ondo state governor, Oluwarotimi Akeredolu SAN, appreciated the Buhari led federal government for the partnership.
Consequently, the Investment forum which was held in conjunction with the Presidential Economic Diversification Initiative (PEDI) also witnessed the signing of a Memorandum of Understanding (MoU) between the state government and WEMS Agro Ltd for the planting of rice in over 5,000 hectares of land at Akotogbo in Irele Local government area of the state.
PAY ATTENTION: Read the news on Nigeria's #1 new app
"Our coastline which is about 120km, is one of the longest in Africa and is home to various fish species like sole snapper, croaker, barracuda, big eye grunter, catfish etc. This is an unchartered territory to be explored as part of this administration's drive towards economy diversification.
"Let me announce to this gathering that Ondo state had been granted two Free Trade Zone (FTZ) licenses which are Olokola (being oil and gas FTZ in partnership with Ogun State government) and Ondo State Industrial City (as a non-oil and gas FTZ). They are both coastal FTZ's with the Atlantic Ocean bordering the southern flank.
"In addition to Oil and Gas, Ondo state boasts of possessing one of the largest reserves of Bitumen and Tar Sands in the world; about 42 billion barrels. Ondo State is also endowed with large deposits of various solid minerals including Limestone, Coal, Granite, Kaolin, Silica Sand amongst other minerals.
"Whilst attention over the years has been on Oil and Gas; this Government is willing and ready to exploit its Bitumen reserves in a sustainable way particularly in the area of providing asphalt for road development. It is estimated that over 90% of the minerals in Ondo State are unexploited and unutilized.
"Ondo state as one of the nine oil and gas producing states has abundant oil and gas reserves that remain undeveloped, even though we produce about 12 % of the daily oil production in the country.
"However, gone are those days that any government will be reliant on oil and gas alone. I am happy to inform you that in Ondo State, we are aggressively driving our non-oil related industries," he said.
The governor also pointed out that state fed the Western region during the first republic and he's poised to bring back the lost glory.
"It is no longer news that Ondo state accounts for over 40% of Nigeria's annual cocoa output, however we process less than 2% of our cocoa output. Additionally, Ondo state is also a major player in other agricultural produce in tree crops such as: oil palm, rubber, cashew and kolanut; also arable crops such as: cassava, yam, maize, rice, sugarcane; fruit crops such as: pineapple, citrus, mango, pepper and tomato are all cultivated in abundance in Ondo State.
"Our Special focus is on our comparative advantage in agriculture, which are palm oil and cocoa. We want to develop our palm oil to the extent where we have a self-sustaining palm oil industry. We fed the western region during the first republic and I can assure you that we will do it again.
"Meanwhile, we will not leave out rice production in Ondo state. It will interest you to know that our Rice paddies are taken all the way to Lagos or Kogi by our farmers to be processed because we don't have any rice mill in the state. To complement the production effort of the farmers, the State plans to setup specialized staple Crop Processing Zones (SCPZ) for these crops to enable investments in the production of finished products ready for export," Governor Akeredolu said.
Governor Akeredolu also announced to the gathering that his state has signed a MoU with ministry of Niger/Delta and NDDC for the funding of 50km Araromi road in Ilaje LGA of the state to Ibeju/Lekki, Lagos aimed towards business development.
Dignitaries at event included the Deputy governor of the state, Hon. Agboola Ajayi, the Secretary to the State Government, Hon. Ifedayo Abegunde, the Chief of Staff to the Governor, Chief Olugbenga Ale; the head of service, Mr. Toyin Akinkuotu, Senior Special Assistant to the Governor on Investment, Mr. Boye Oyewumi and many others.
Others on the delegation of the Federal were the Minister of Niger Delta Affairs, Pastor Usani Usani, the representative of Minister of Mines and Steels Development, Egnr. Mohammed Amate, Minister of State for Niger/Delta Affairs, Professor Cladius Daramola, Senior Special Assistant to the President on Economic Matters, Mrs Fola Oyeyinka, National Coordinator, Senior Investment Corporation, Dora Akugbulo, NNPC's Director of Energy, Mr. Isa Abdullahi among others.
Legit.ng had reported that Governor Rotimi Akeredolu of Ondo appealed to investors to come to his state and do business arguing that Lagos has a major challenge with traffic congestion and human population. A statement obtained by Legit.ng showed the Governor Akeredolu saying Lagos is traffic-ridden and human congested.
Legit.ng learnt that Akeredolu spoke in Akure, the capital of Ondo, as he hosted a delegation of federal government industrialization and economic diversification team.
Watch this video of traders complaining about the Nigerian economy:
Source: Legit.ng