Nigerian weddings will always rank highly among the best kinds of weddings in history. It is no secret that we have done what may seem impossible to some. We have preserved our culture while also incorporating modern trends to celebrate the union of two lovers. In Nigeria, we celebrate two kinds of weddings: the traditional/engagement and the church wedding. After the introduction, the engagement usually precedes the white wedding. For these ceremonies, special pride, and attention are given to our traditional attire. One of the most popular garments worn is Aso Oke for engagement. To learn more about this special attire, continue reading the article below.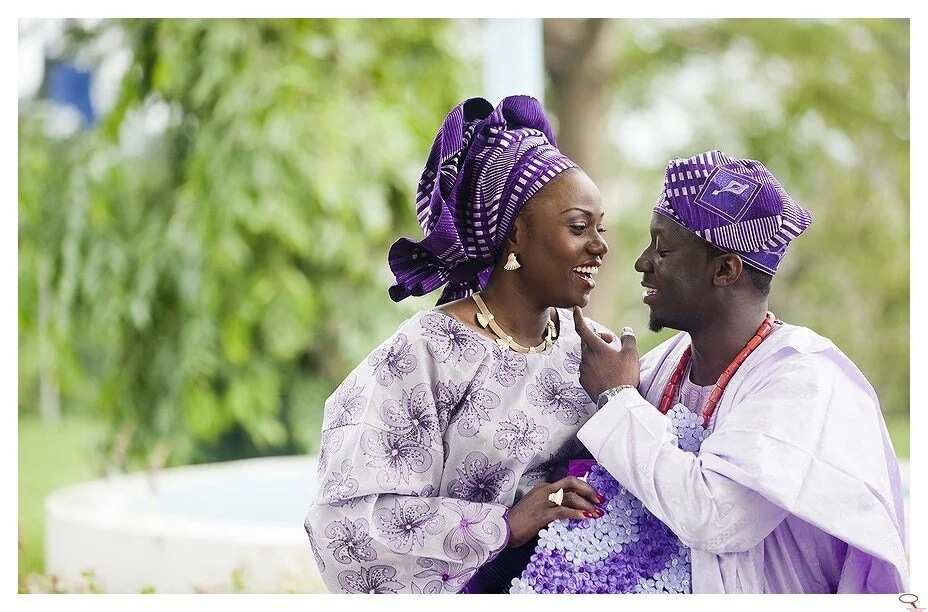 About the Aso-Oke
The Aso-Oke is a popular hand woven garment among the southwest people of Nigeria, the Yorubas. This cloth is commonly worn on special occasions, for instance: naming ceremonies, festivals, and for the purpose of this article, engagements. The making of this type of fabric requires a lot of time, effort and detail to transform it from ordinary cotton into a beautiful garment. This garment also bares other names, depending on the kind, texture, and quality. Originally it comes in three kinds and its other names include the following:
● Alaari - reddish-purple in appearance, made of waste silk
● Etu - dark blue dyed cloth with light blue stripes
● Sanyan - light brown or beige looking cloth
READ ALSO: PHOTOS: This Is How Aso-Oke Is Made In Nigeria.

Aso-Oke designs for engagement
Popular colours and their meanings that are in this season are:
● Cream - associated with white, this neutral color is calm, classy, and relaxing
● Gold - this is an extravagant color that showcases wealth, prosperity, and good health.
● Green - showcases harmony, freshness, growth, and fertility for the newly weds.
● Peach - this is a charming color that means friendliness, grace, and gratitude.
● Pink - this color displays friendship, love, and romance.
● Purple - associated with royalty, this luxurious color displays ambition, power, and wisdom.
● Red - this color displays love, power, passion, and desire on a joyous day.
● Royal blue - this is a symbol of faith, loyalty, trust, seriousness, and integrity between the two.
● Turquoise or light blue - this is an indication of softness, understanding, and tranquility.
● White - the cleanliness of this color signifies purity, innocence, and goodness.
● Yellow - this is a vibrant color that shows positivity, and happiness.
Once the colour selection is out of the way, then a special design must be decided upon. This design can be either store bought or customized to their liking.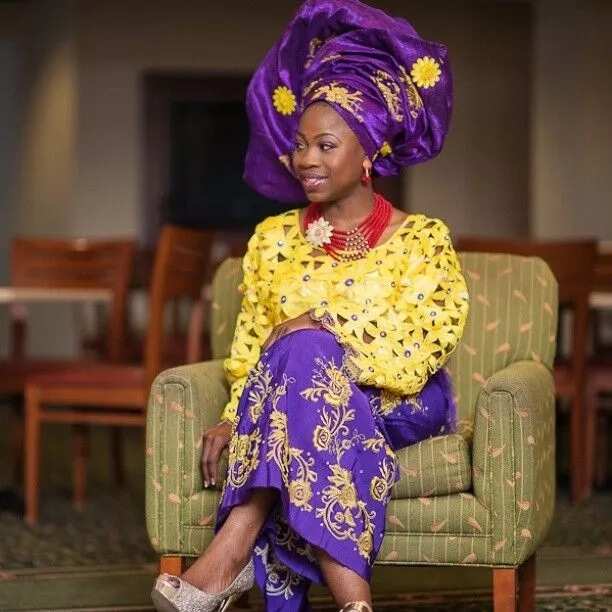 Below are photographs showcasing the latest Aso-Oke for Engagement that is trending right now:
(1) Striped and Multicolored Aso-Oke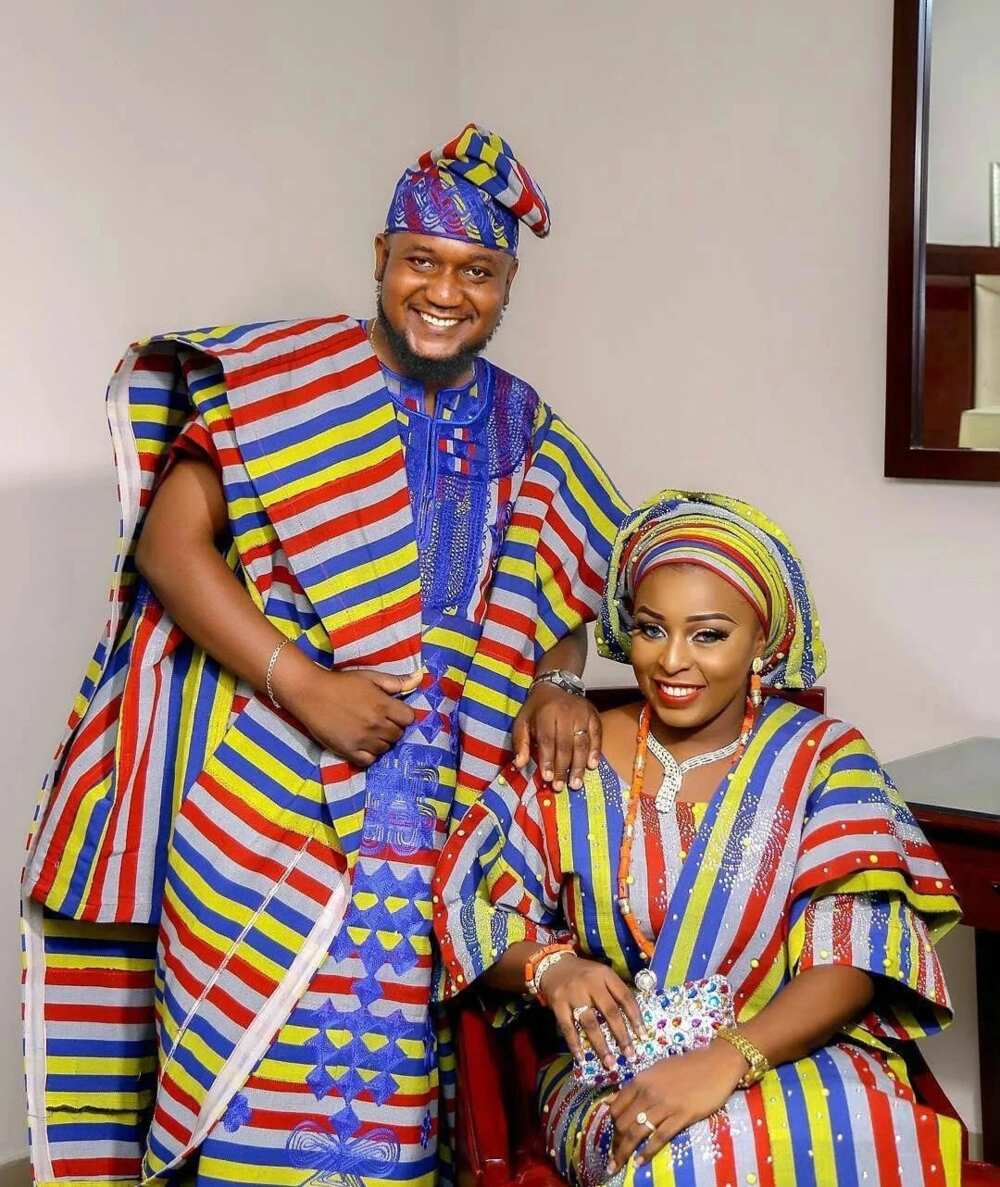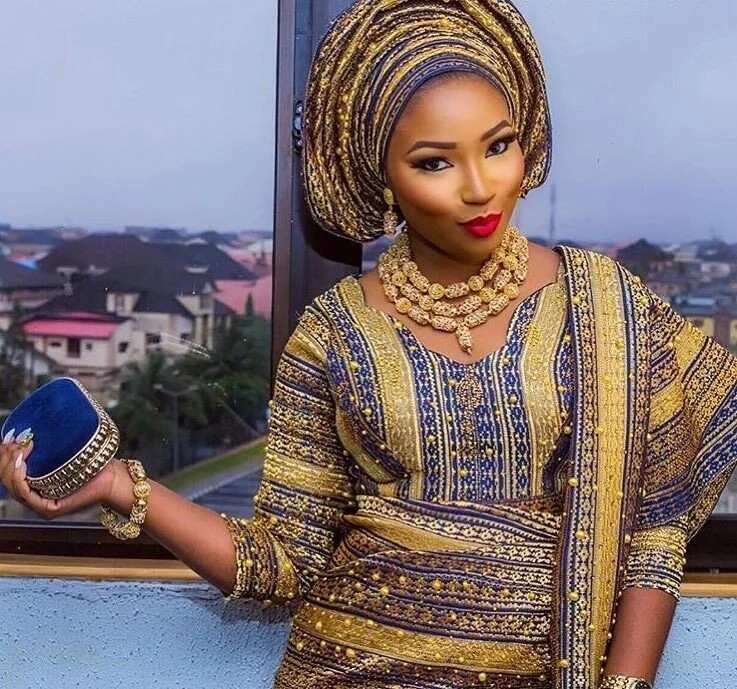 (2) Floral Aso-Oke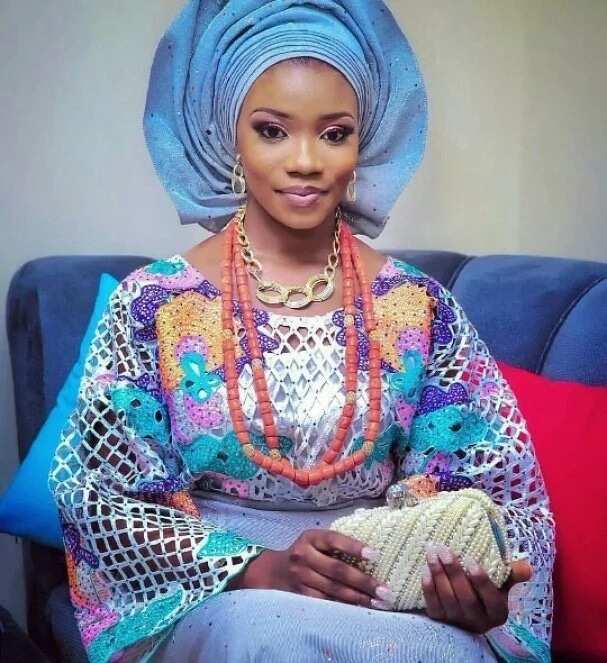 (3) White Aso-Oke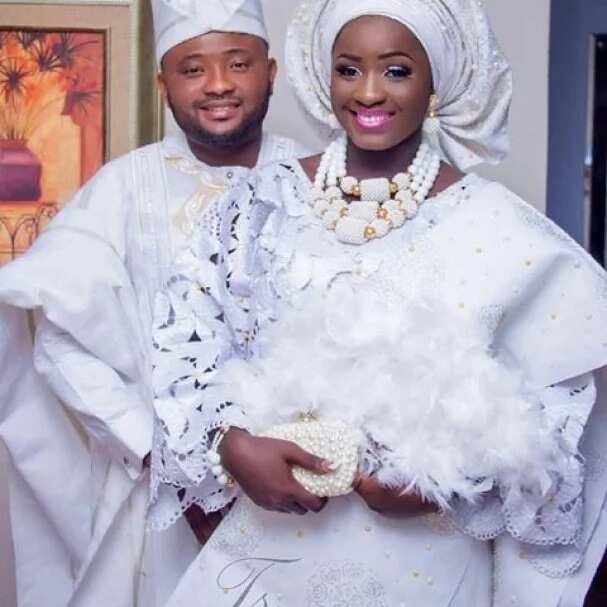 (4) Beaded Aso-Oke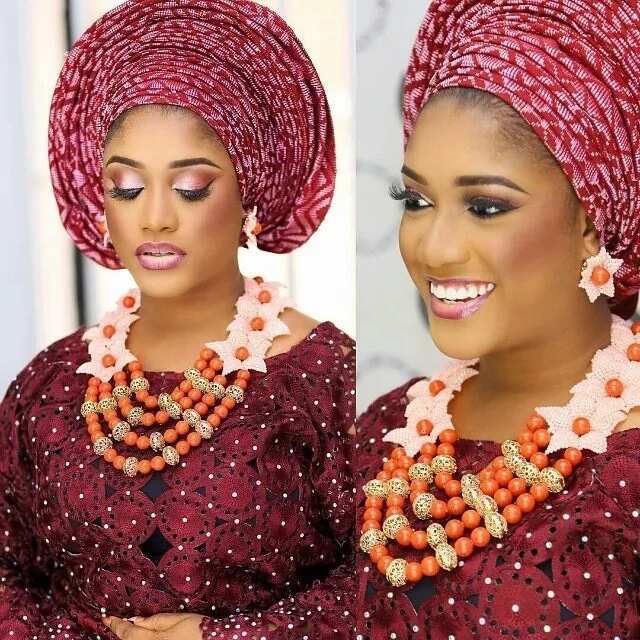 Every Nigerian couple who wants to get married takes pride in their engagement day. After the approval of the dowry list requirements, the bride-to-be is brought out to her groom for the engagement ceremony to begin. The two are dressed in harmony for their celebration.
Here, their parents, siblings and family members gather to acknowledge that there will be a marriage and decide on the date on which it will be held. This big day is just their beginning to a happily ever after.
READ ALSO: Yoruba traditional wedding ceremony in Nigeria.