Today we will talk about Nigerian cuisine! Like any other cuisine, this one also has its own characteristics. And you have a great chance to learn one of the popular recipes. After reading this information you will feel like eating this yummy snack! So let's learn how to make Scotch eggs!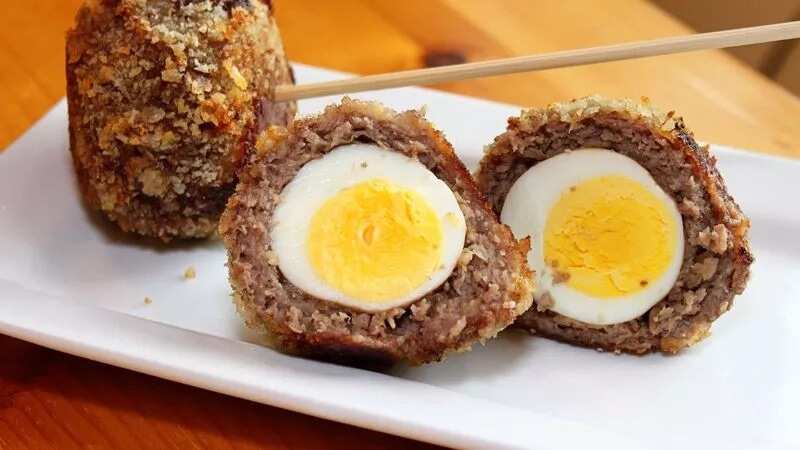 How to make Scotch eggs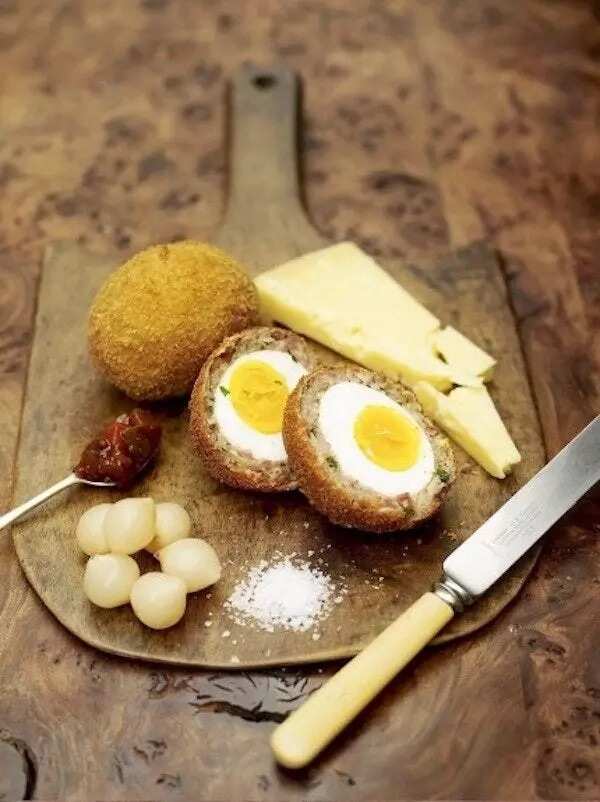 British cuisine is the practice and tradition of cooking in the United Kingdom. It is not too elaborate but it focuses attention to the quality of ingredients. These ingredients are locally produced. Sauces and condiments of traditional British cooking are also relatively simple. They are used to emphasize the natural taste of food and not to change it.
British cuisine has a number of national and regional options such as English cuisine, Scottish cuisine, Welsh cuisine, Gibraltar cuisine, and Anglo-Indian cuisine. Each of them has developed their own regional and local dishes. Today we will learn the recipe of one of such British options - Scottish cuisine which has come to become one of our favourites!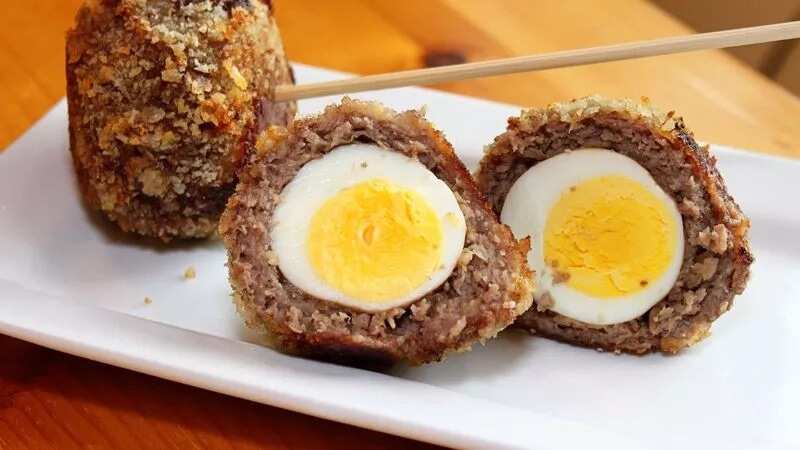 A Scotch egg is a dish from the British cuisine. It is a boiled egg smeared with minced meat and fried in breadcrumbs. It is believed that this dish was first prepared by the London company Fortnum & Mason in 1738. According to another version, the authorship of the dish is unknown. The recipe goes back to the kitchen of the Great Moguls "Nargisi Kufta".
British scotch eggs recipe
Let's see one of the original recipes. For preparation you will need:
1. Six eggs.
2. 200 gram of sausage meat.
3. 200 gram of pork mince.
4. Three tablespoons of chopped mixed herbs. It can be parsley, thyme or sage.
5. A pinch of ground mace.
6. One tablespoon of English mustard.
7. Some milk.
8. 50 gram of flour.
9. 100 gram of breadcrumbs.
10. Vegetable oil for cooking.
Cooking guide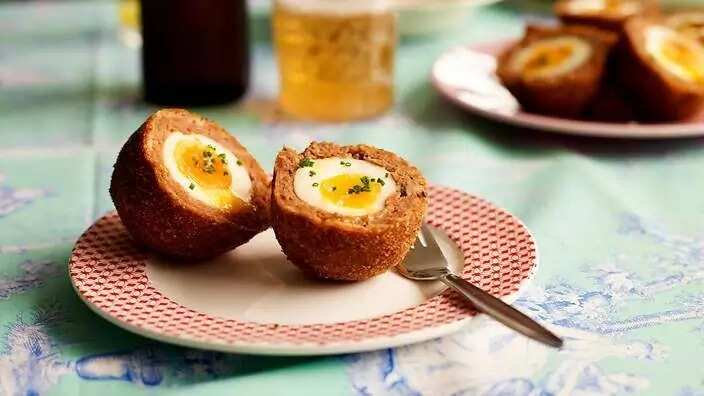 Put 4 eggs in a saucepan filled with cold water. Bring them to boil. Reduce the heat and continue to cook eggs for 5 minutes. Then put them in a bowl with ice water for 10 minutes.
Now put the herbs, meat, mace, and mustard into a bowl. Mix them well, using your hands. Divide into 4 parts.
The next step is to peel the eggs but very carefully. Then beat the two raw eggs with milk. Put the flour in one bowl; in other - breadcrumbs.
Now place a cling film on the work surface. Sprinkle with flour. Place one meatball in the center and cover again with the cling film. Then roll the minced meat until it can cover the egg. Remove the upper film.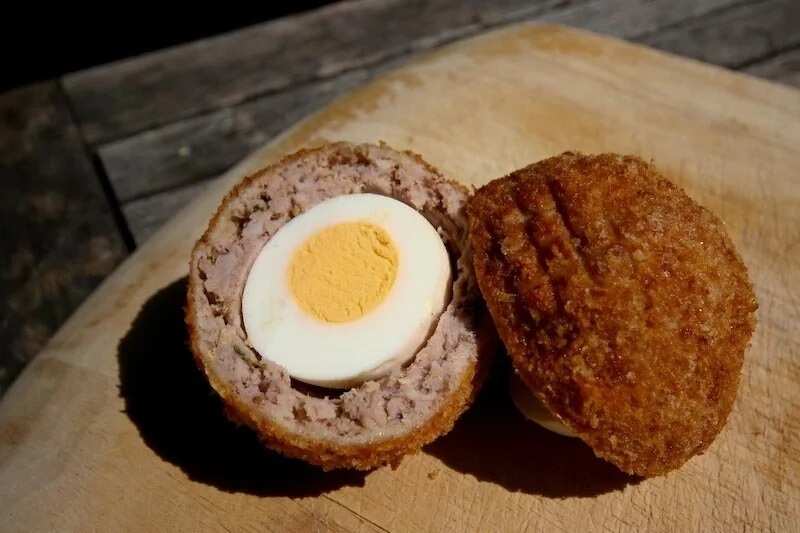 Now put one egg into the flour. Then put it in the center of the stuffing. Raise the sides of the film to envelop the egg and give it the necessary shape. Do this with all eggs. Then dip each of them into flour, egg mixture, and in breadcrumbs. And again into egg mixture and breadcrumbs.
Put the vegetable oil into a large pot, heat it to 170C. Prepare two eggs at a time for 7 minutes. The crust must be crispy and golden in color. After all the eggs are ready, put them on paper. Then serve.
You will need about 40 minutes to prepare this beauty!
Nigerian Scotch egg recipe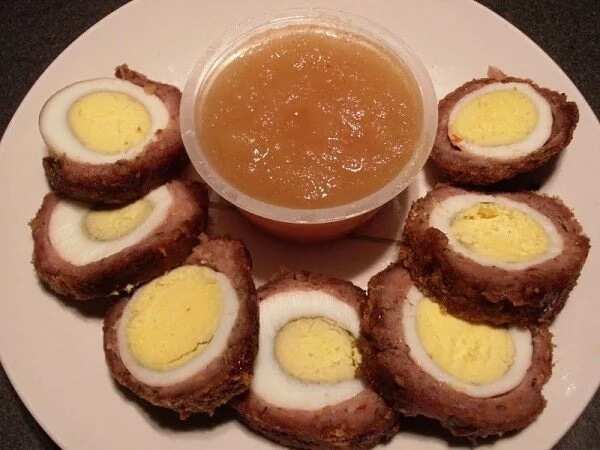 In Nigerian cuisine, there is a wide range of Scotch egg recipe. A number of people enjoy this tasty snack
So let's learn this Scotch egg recipe! It is one of the most popular Nigerian snacks. It can be safely called a Nigerian delicacy. This snack can be baked or fried. But here, we are going to prepare the fried version.
It is very important to use sausage meat of a good quality. This is so that your dish will have an incomparable taste.
Ingredients for cooking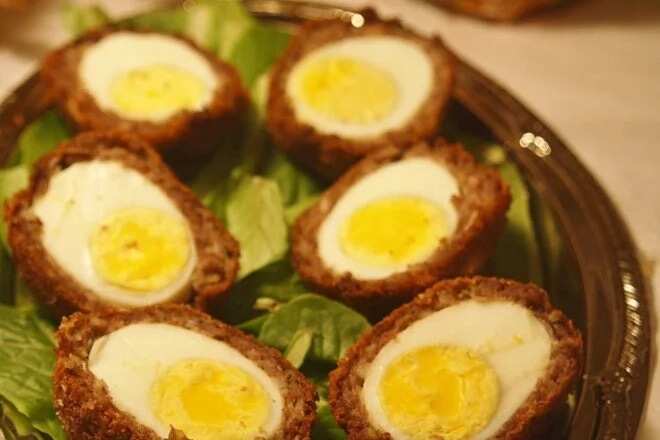 1. Seven medium eggs.
2. 400 grams of sausage meat.
3. Vegetable oil.
4. 50 grams of plain flour.
5. 100 grams of bread crumbs.
6. Half a teaspoon of dried thyme.
7. Half a teaspoon of rosemary.
8. Half a teaspoon of black pepper.
9. Half a teaspoon of Cayenne Pepper.
10. Half a teaspoon of nutmeg.
11. One finely chopped onion.
12. One Knorr(Chicken).
Process of cooking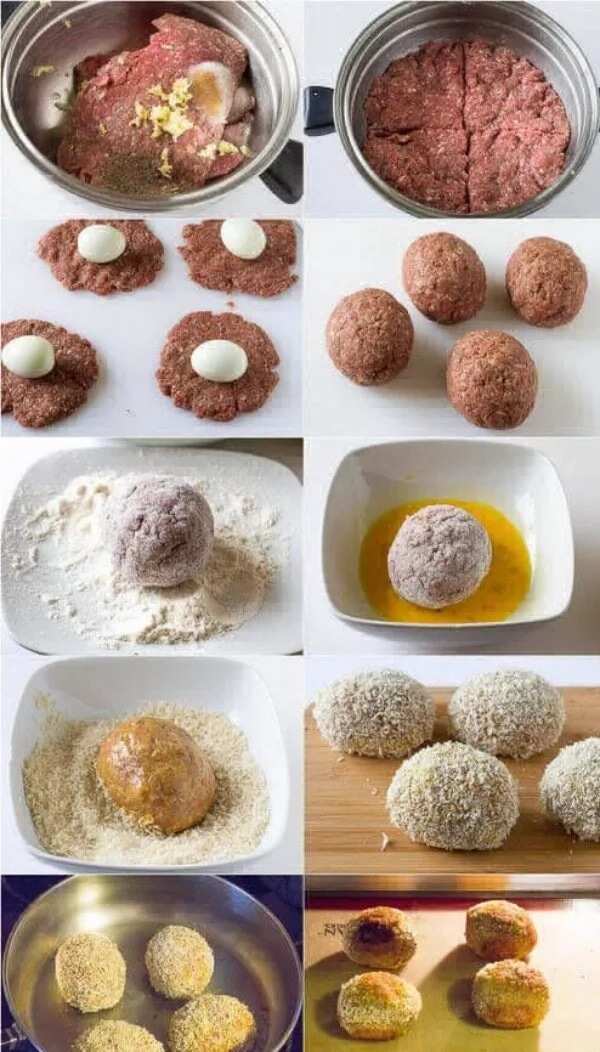 READ ALSO: Top 3 African garden egg recipes
First, you have to boil six eggs. It is up to you what kind of eggs use - soft or hard boiled. It does not matter. When the eggs are ready, peel them.
Now add thyme, rosemary, black pepper, nutmeg, Knorr, cayenne pepper, and chopped onion to the sausage meat.
Break one egg in plate. Then add flour on a separate plate and put the breadcrumbs also on a separate plate.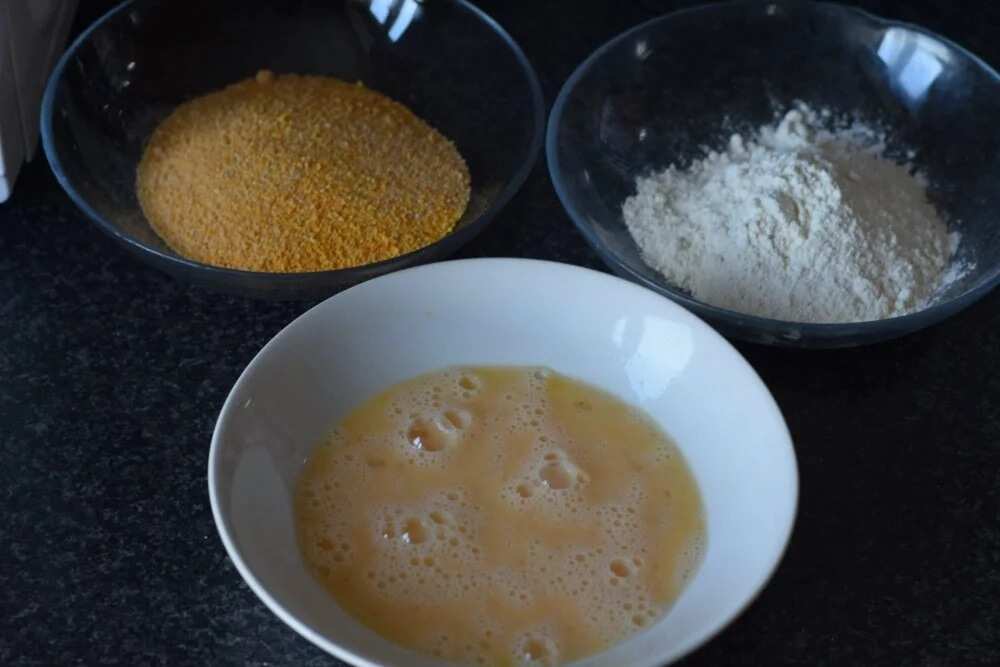 Mix boiled eggs with flour and flatten the sausage meat. It should be round in shape. The next step is to put the boiled egg in the meat. Wrap the meat around the egg.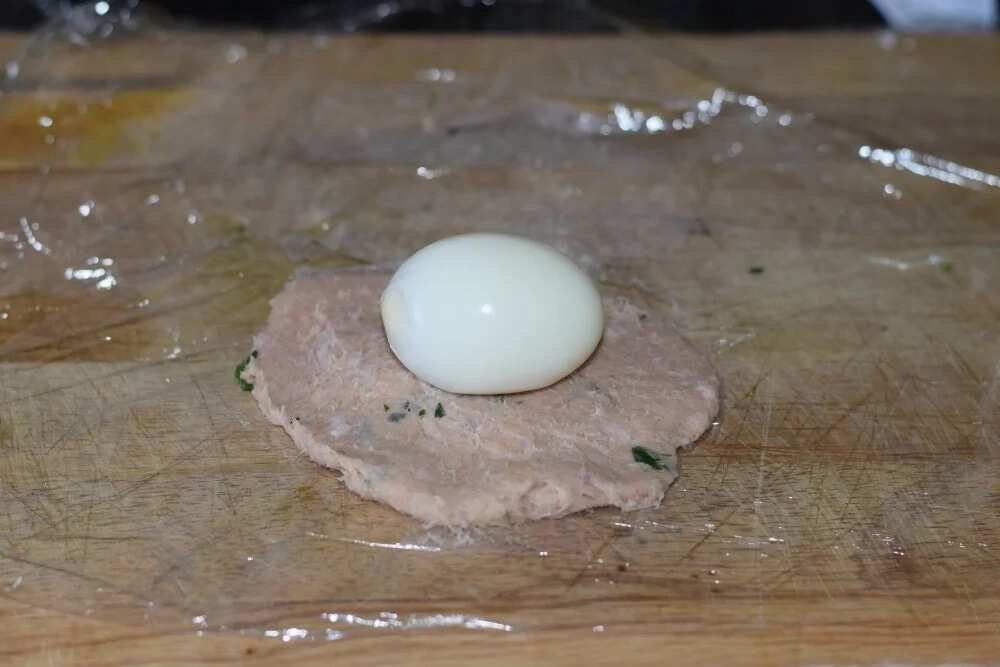 When you see that the egg is completely covered with meat dip it into the flour.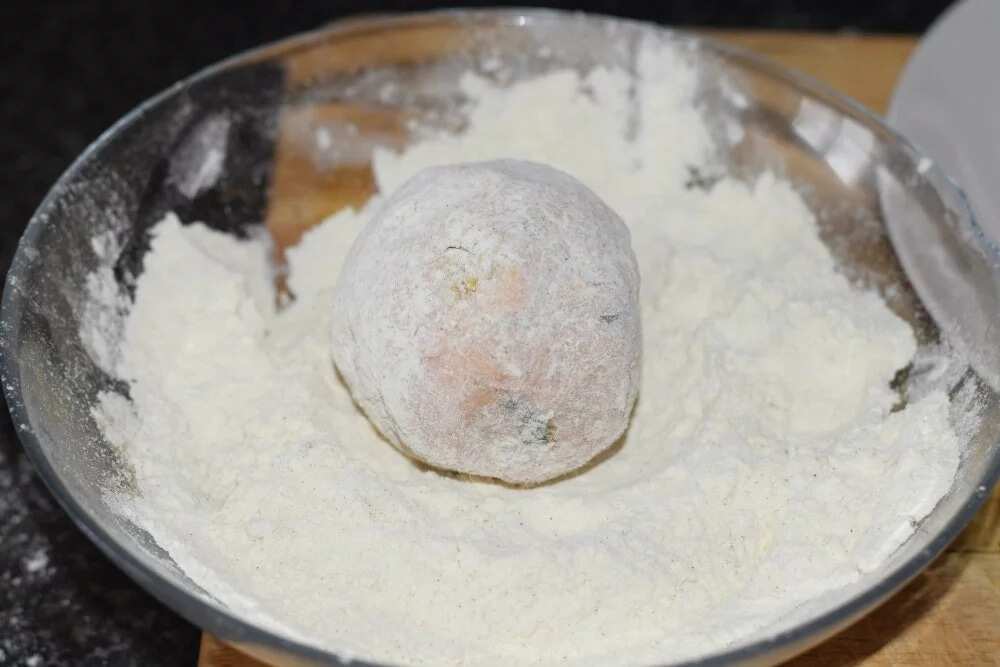 After this dip it into the egg mixture.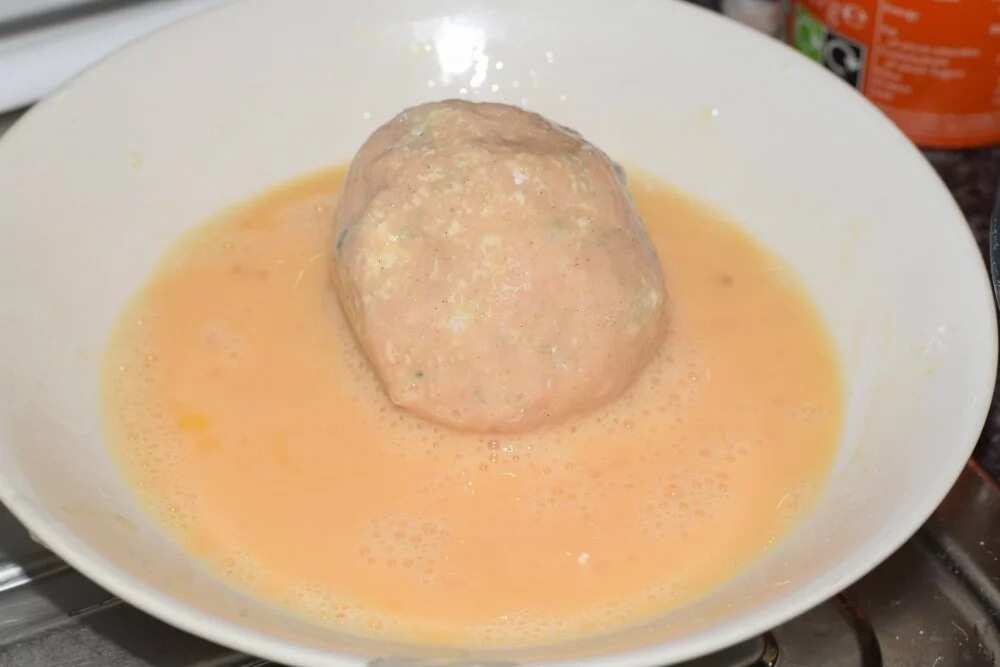 Then roll eggs in breadcrumbs.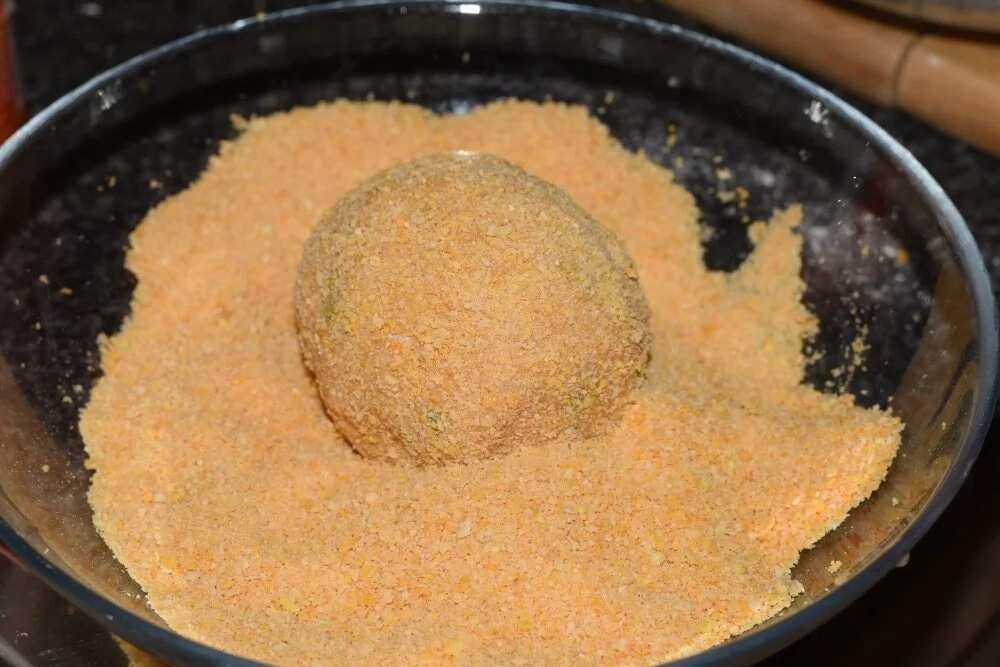 Repeat these activities with all the eggs. Then put them on a flat surface.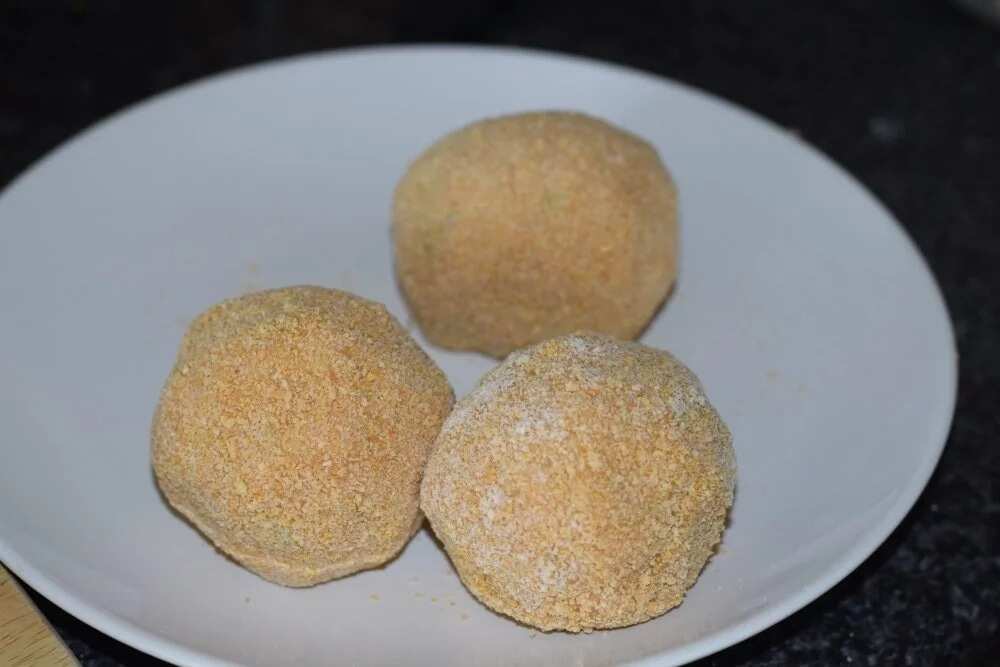 At this stage, you should pour some vegetable oil into a deep saucepan. Place it on medium heat. Now begin to fry the eggs. All sides must have a golden colour.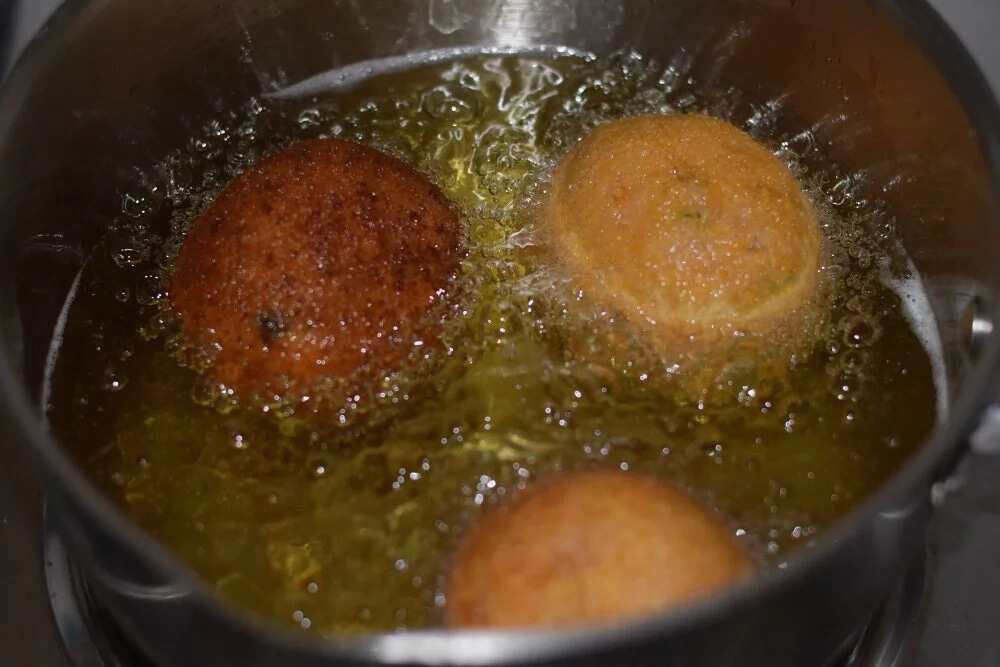 Hooray! Your popular Nigerian dish is ready! It does not take much time to prepare.
The eggs are all in oil so it is better put them to drain on a plate with paper napkins. Enjoy your snack!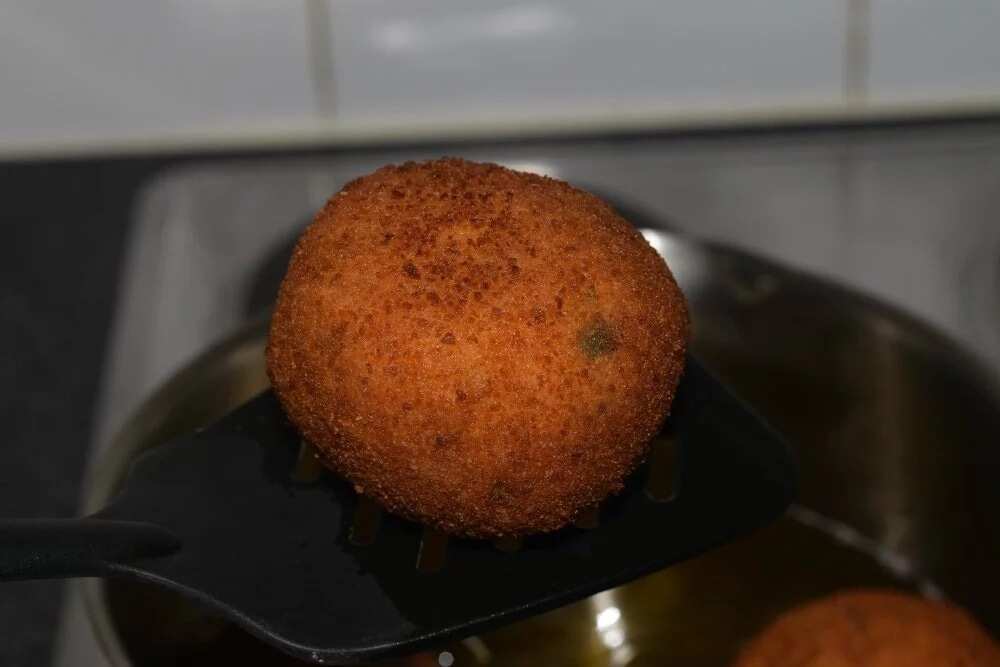 We know that some people prefer to cook Scotch (British) eggs without flour. But unfortunately, there is no such recipe. Flour is a necessary product in many food recipes. In this Scotch eggs recipe, it is necessary for the eggs not to stick to the pan. In addition, it is needed for eggs to have a beautiful color and shape.
A Scotch egg is a very yummy snack. It is an interesting way to enjoy eggs as a dish. This snack is worth the time it takes to prepare it. You have learned how to prepare a Scotch egg. It is an indispensable dish for your dinner!
READ ALSO: 12 health benefits of garden egg