How to prepare spaghetti?
Let's cook something tasty today! The best recipes for a wonderful dinner. Here you will find some delicious recipes you should try. You can also read step-by-step instruction on how to prepare spaghetti.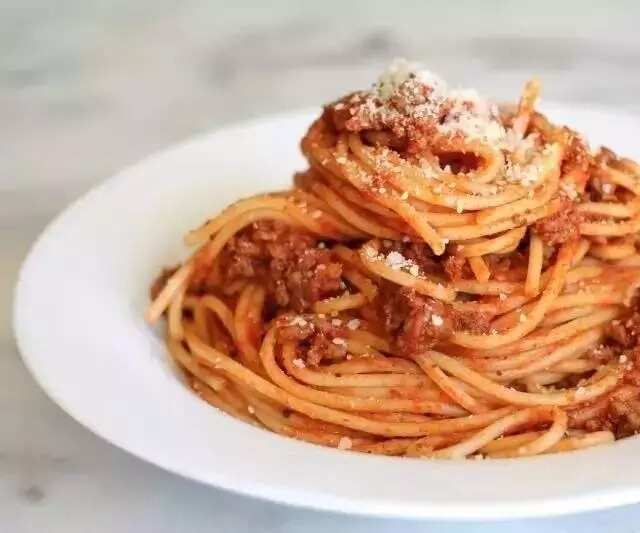 Spaghetti recipe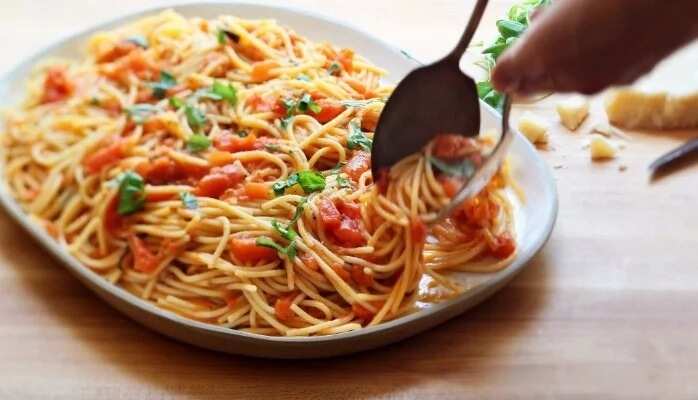 Each country has its own national cuisine. Every region or nationality is always ready to surprise tourists and visitors with unusual and exquisite delicacies. Although, these dishes can be called delicacies only in relation to the visitor. For local residents, it is just a daily diet.
What do you know about Nigerian cuisine? There are so many yummy meals here in the country.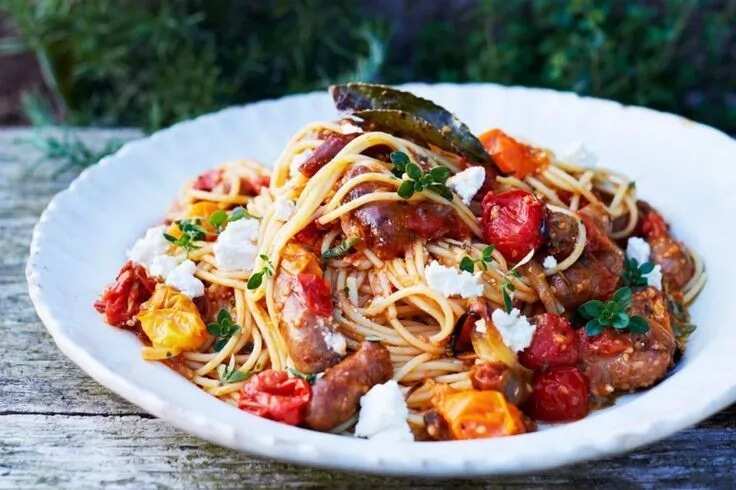 Spaghetti is certainly not one of the national foods in Nigeria, but it is very popular. It is a favourite dish for a lot of people. It is easy to prepare and tasty to eat. Real chefs like to experiment. They add special ingredients to the recipe. This makes the dish a hundred times tastier. Now, let's learn how to cook spaghetti.
I will tell you about two of the most delicious recipes. Even if you have never liked spaghetti, this recipe will make you want to cook it!
Ingredients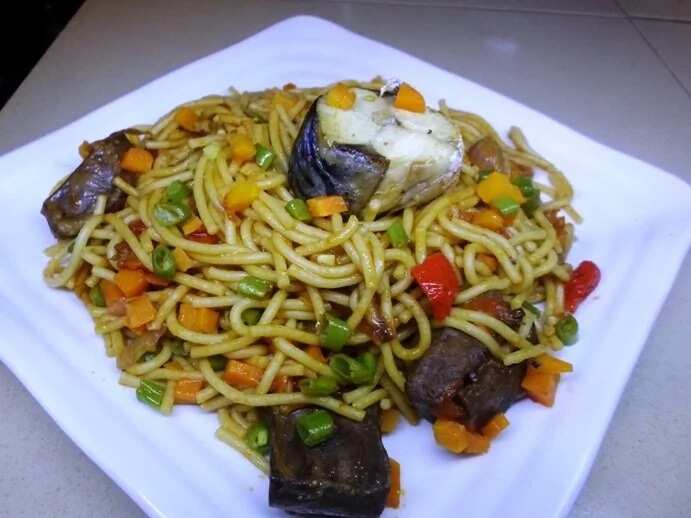 For cooking you will need the following ingredients:
1. One packet of spaghetti;
2. One tin tomato;
3. Two cups of onions. It must be sliced.
4. Some fresh tomatoes;
5. Fresh pepper as much as you want;
6. Three spoons of crayfish;
7. Three cubes of Maggi or other stock cubes;
8. And, of course, salt to your taste;
9. One cup of sliced carrot;
10. One cup of sliced green beans;
11. One kilo of meat or fish;
12. About 150ml of vegetable oil.
Cooking process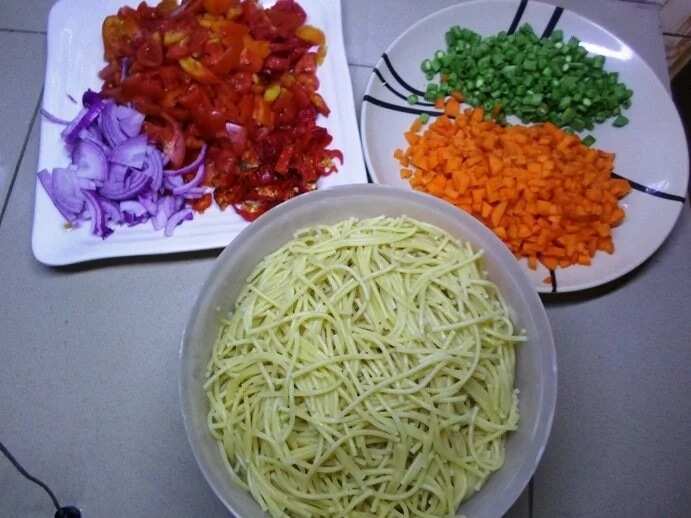 Let's move on to the cooking process! First off, begin by chopping the beans, carrot and green pepper. The size of the pieces will depend on your preference.
Boil the fish and meat with all the needed ingredients. Make sure you add enough water so the meat and fish can marinate well.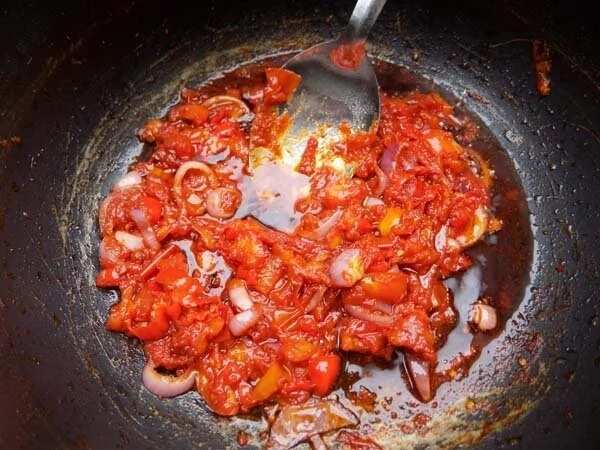 Then you should cut your tomatoes and pepper together.
The next step is to break spaghetti into pieces. Boil it for 6-7 minutes, then sieve the water off. You can fry the meat and fish or leave everything as it is. But if you decide to fry it, take 250ml of groundnut oil. Add some tomato paste to the fish and stir it on medium heat for five minutes. Don't forget to wait till the water dries before you add tomatoes, pepper, and onions. Stir it continuously so it will not burn.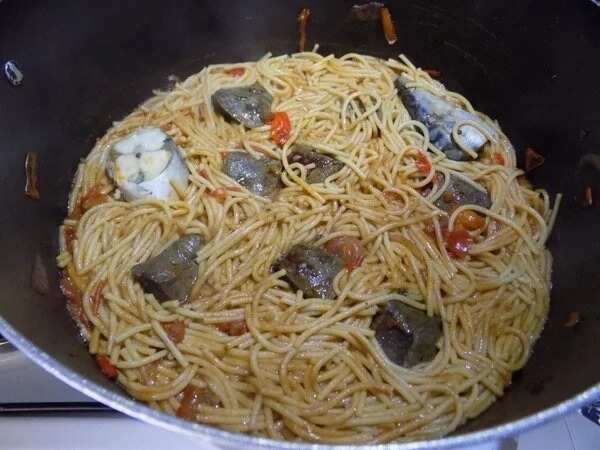 You can then add your crayfish, salt and any other spices you like. Keep it cooking for some minutes. And the last step is to add the spaghetti and leave to cook for 10 minutes. You will know it is ready when the spaghetti becomes soft. Add your green beans, carrots and onions into the pot. Now let the spaghetti infuse for 5 more minutes.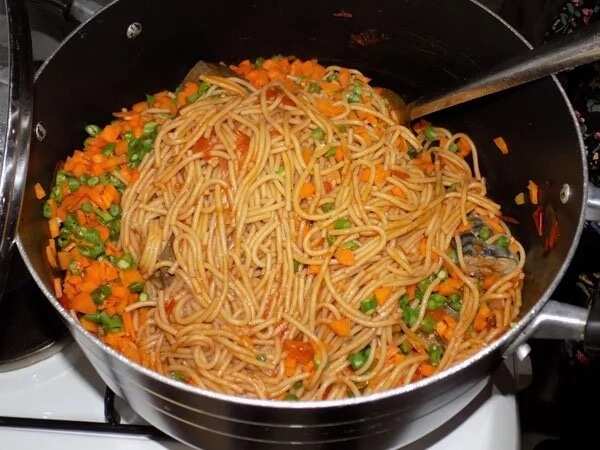 READ ALSO: How to cook fresh fish pepper soup?
And voila! The most delicious spaghetti dish is ready for your family. It will be enough for five servings. You can serve it with any drink you like!
Surprise Spaghetti recipe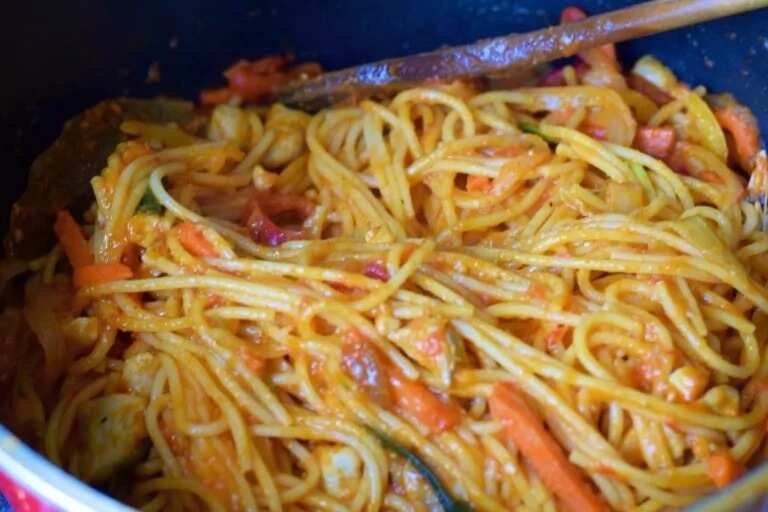 Now let's learn one more spaghetti recipe. This one will surprise you! This recipe is also very tasty and popular in Nigeria. You will need ingredients which can be found in any market in Nigeria. So you can cook this spaghetti at any time.
Ingredients for Spaghetti recipe
1. A packet of spaghetti.
2. 5/6 pieces of beef.
3. Half a kilogram of vegetables – green pepper, cabbage, carrot, green beans, green peas.
4. About 600ml of tomato puree.
5. Salt and pepper to your taste.
6. One onion.
7. Three stock cubes.
8. And one teaspoon of thyme.
Cooking guide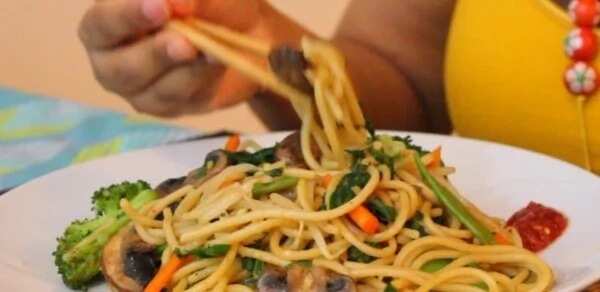 Note that instead of cutting the beef, you should use minced meat instead. It must be fried. Before you start to cook the dish, break the spaghetti into smaller pieces like in the first recipe. Then cut the beef into small pieces. Wash and cut the cabbage, green pepper, and green beans. The pieces also need to be small. In addition, you should cut the onion and remove the green peas from the pods.
And now let's prepare this tasty dish! First, boil the beef with the onion, stock cube, salt and thyme. While the meat is cooking, you can boil spaghetti. Remember to add a lot of water.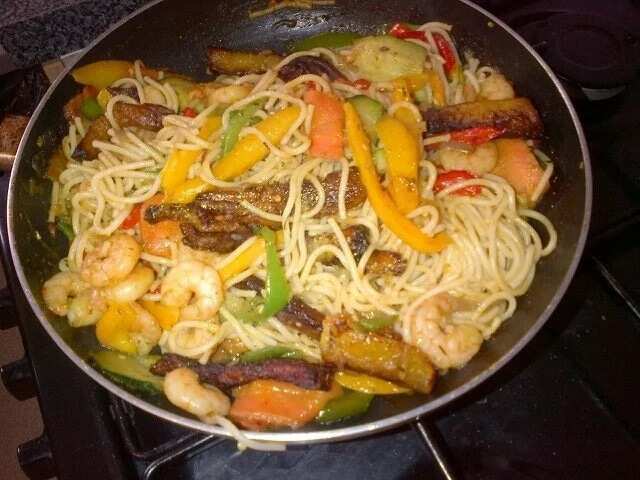 Now you can add the tomato paste to the beef. And also add the vegetables, salt, and pepper. Boil the dish for 5 minutes. The next step is to drain the water from the spaghetti. Add the spaghetti into the mixture of tomato paste. Stir it well and cover with a lid. Leave the spaghetti to cook for five minutes.
That is all. Your meal is ready! You can treat your family.
Spaghetti Bolognese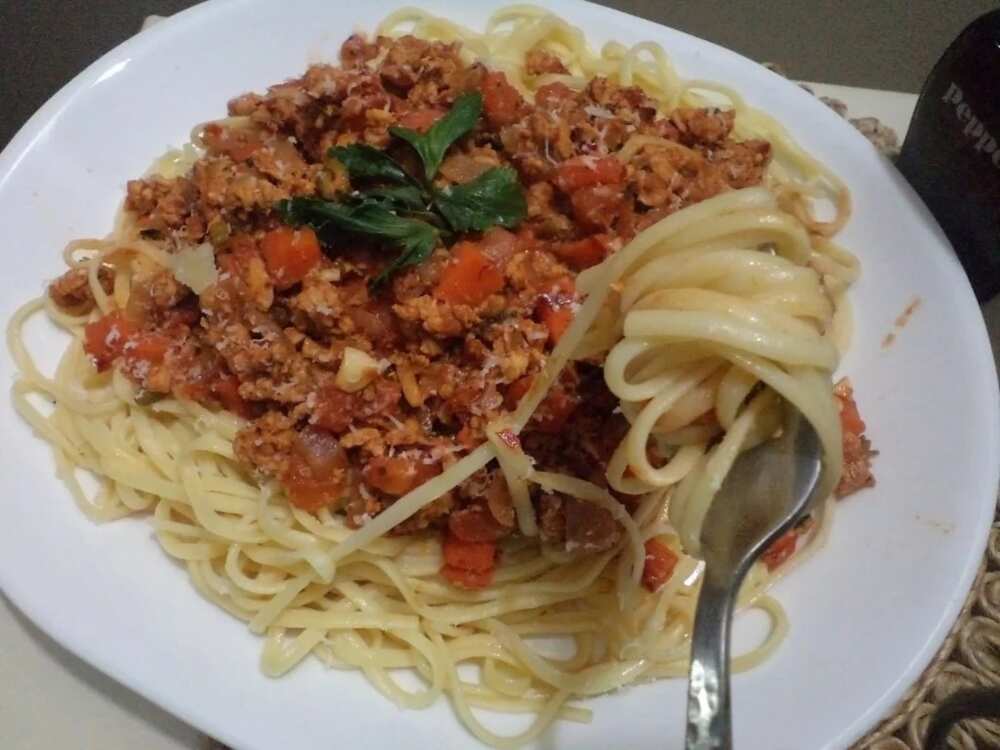 And finally, we will tell you how to cook Spaghetti Bolognese. Did you know about this paticular delicious dish?
Ingredients:
- Six big plum tomatoes;
- Half a kilo of minced beef;
- One onion;
- One and a half tablespoon of vegetable oil;
- Two cloves of chopped garlic;
- Three leaves of Bay leaf;
- One tablespoon of dried thyme;
- One tablespoon of mixed spice;
- Little piece of ginger;
- Handful of Scent leaves;
- Pepper and salt;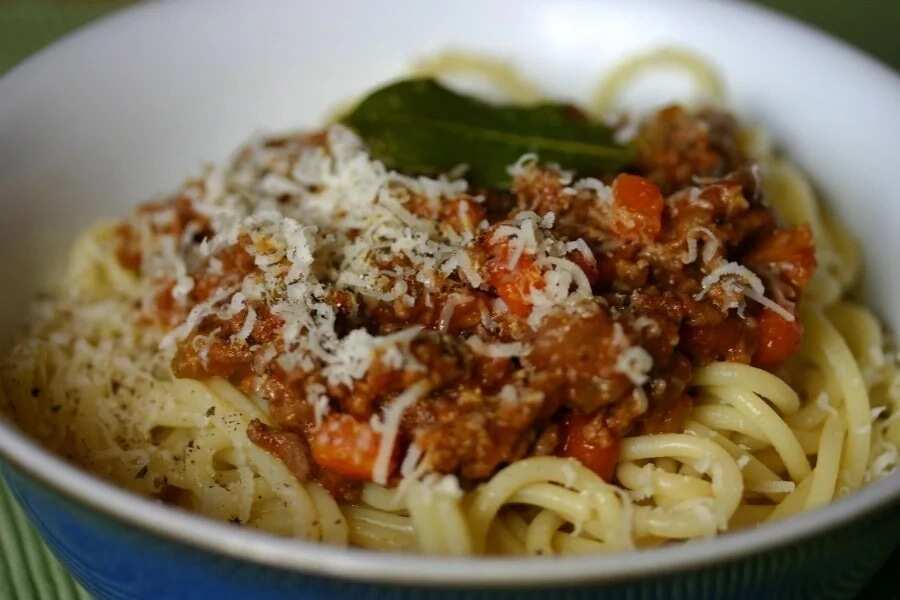 Now you need to blend the tomatoes, ginger, half of the onion and scent leaves. You will get a thick paste. Put a frying pan on the stove and add some oil. Then add in the garlic and some chopped onions. Add the meat and stir it for some time.
Add your meat and the remaining ingredients. Cook the mixture for 30 minutes; add a cup of water if needed.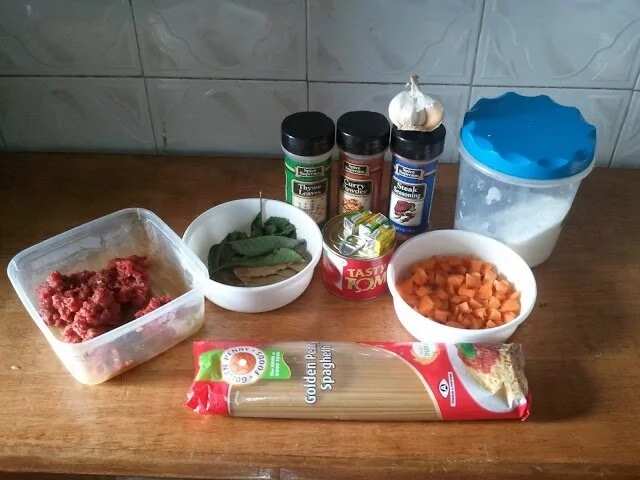 While this is cooking, boil some water and cook your spaghetti. When it is boiled, drain the water. If you want to mix the Bolognese sauce with spaghetti do so and leave to cook. Stir the dish for several minutes and before bring it down.
These recipes are enough to feed your family and friends every week. So many different ingredients and spices make spaghetti one of the most delicious dishes in the world! You just have to know how to cook it. You can buy the required ingredients at any store!
READ ALSO: How to make Semovita without lumps?
Source: Legit.ng