National Identity Management Commission (NIMC) introduced their National Identification Number (NIN) quite a while ago in Nigeria. Since 2015, it was made mandatory for all Nigerians. However, many people are still asking, what is NIMC number? What is the meaning of NIMC number? In this article, we will tell you about NIMC Nigeria and try to explain the best we can answering 'what is NIMC number'.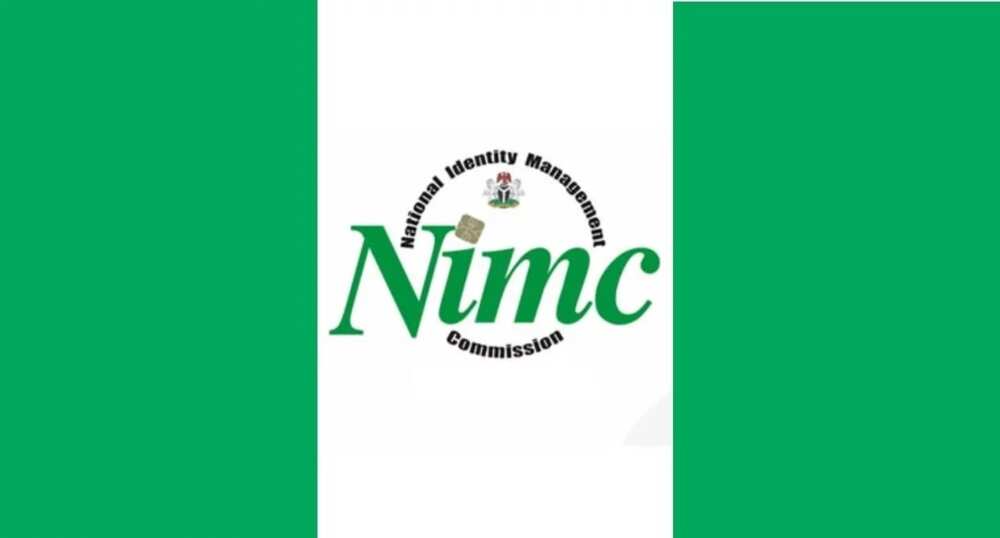 What is NIMC?

As we have said before, NIMC stands for National Identity Management Commission. It is a government agency for creating, owning, operating, maintaining and managing the National Identity Database (NID). It is also responsible for registering legal residents and citizens, assigning the National Identification Number and issuing identity cards for those who registered.
NIMC is meant to replace the Department of National Civic Registration by taking over its liabilities and assets. One of its main tasks is creating and running the National Identity Management System (NIMS), which, in turn, includes:
1. Creating and maintaining the enrollment centres (mobile, permanent and temporary), that are supposed to capture and upload primary data.
2. Creating and operating a NID.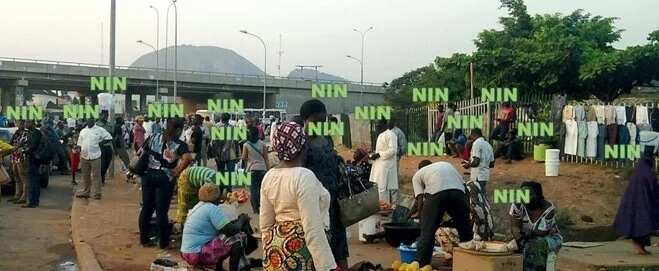 3. Issuing unique NINs to legal residents and citizens.
4. Issuing multipurpose cards to all registered individuals.
5. Providing a platform for identity verification and services that use it.
6. Integrating and harmonizing identity databases in Nigerian government agencies.
7. Collaborating with the public and private sector establishments and institutions to integrate the NIMS everywhere.
To conclude, NIMS is responsible for issuing the NIN to Nigerian residents and citizens. They are used for general-purpose cards with security chips, for the NID and for implementing these elements into government structures and everyday life of every Nigerian.
What is NIN and how do you get it?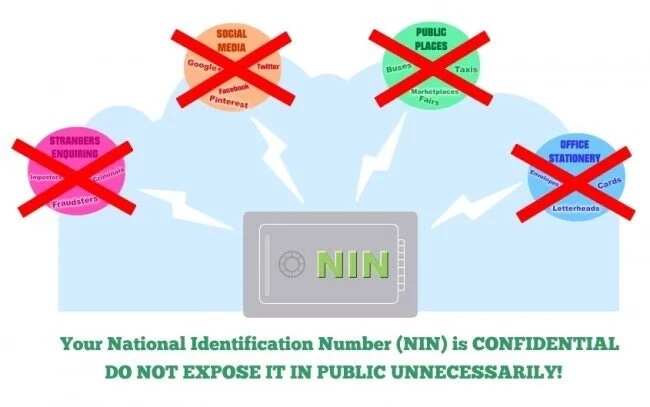 READ ALSO: National Identity Card registration in Nigeria: How to do it?
National Identity Number or NIN is the actual name of the NIMC number you were searching for. It is a unique number that is assigned to every person for the rest of their life. Actually, scratch that, it stays with you even after you die. No one else will be assigned this number ever again! NIN is meant to be a proof of your identity, as you are the only one person in the whole of Nigeria with this particular number.
NIN is 11 digits long, and you should not share it on social media or anywhere public for no reason. NIN contains coded information about you, like all of your fingerprints, your photo (head to shoulders), your demographics and personal digital signature. You would not want that that sort of information in the wrong hands!
As at September 1, 2015, it is mandatory to have an NIN, the enrollment process was made very easy and convenient. If you are a Nigerian citizen or a lawful resident of two or more years, you are eligible for NIN. Just visit one out of 36 NIMC Registration Centres, where you will have to provide your fingerprints, demographics, a digital signature and a photograph. After your enrollment, your data will be stored in the NID, and you will receive your NIN.
Where to use your NIN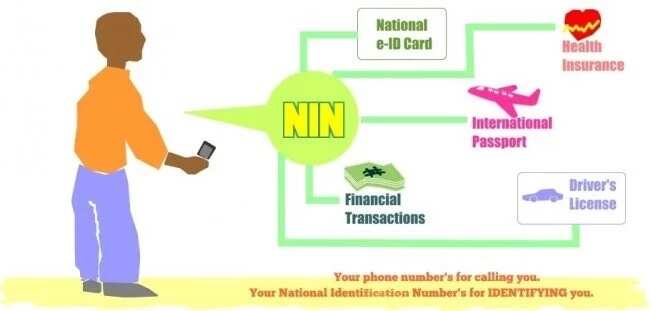 Wherever identity verification is needed, you will have to present your NIN. Here are some of the ways you are going to use your NIN:
☑ to obtain an international passport (for travelling);
☑ to get an e-ID card (more on that later);
☑ to open a bank account;
☑ to get a driver's license;
☑ to get a voter's card;
☑ to have access to health insurance;
☑ to pay taxes;
☑ to receive pension;
☑ to have access to welfare and similar services;
☑ to perform any other sort of transaction or to fill any application form which requires identification and personal data.
Some people also ask 'What is NIMC number for tinted permit?', when they are filling in the form to get a permit to tint their car windows. As we said before, a lot (if not all) government structures, including the Nigeria Police Force, require a form of identification and the NIN to complete any official application. Therefore, to get your application approved, you will need to disclose your NIN.
Before you go, you should also find out what an e-ID card is and why you need it.
What is e-ID card?

Ok, this is the last thing we are going to tell you about in this article, don't worry. But this is important, so bear with us for just a little bit longer.
The e-ID card is basically your NIN in physical form. It contains all the information coded into NIN, like your photo, signature and demographics. Apart from being shown on the card, this data, as well as everything else that cannot be displayed (like fingerprints and the actual NIN) is contained within a special security chip (much like the one on a bank card).
If you are older than 16, you can get your own e-ID card when you apply for NIN. The first issue of the card is free. If you lose it, you will have to pay a fee for any subsequent reprint of the card. It takes time to make an e-ID. You can check if your card is ready online. For that, go to touch.nimc.gov.ng/. You should use your NIN slip for verifying the accuracy of the information you are submitting.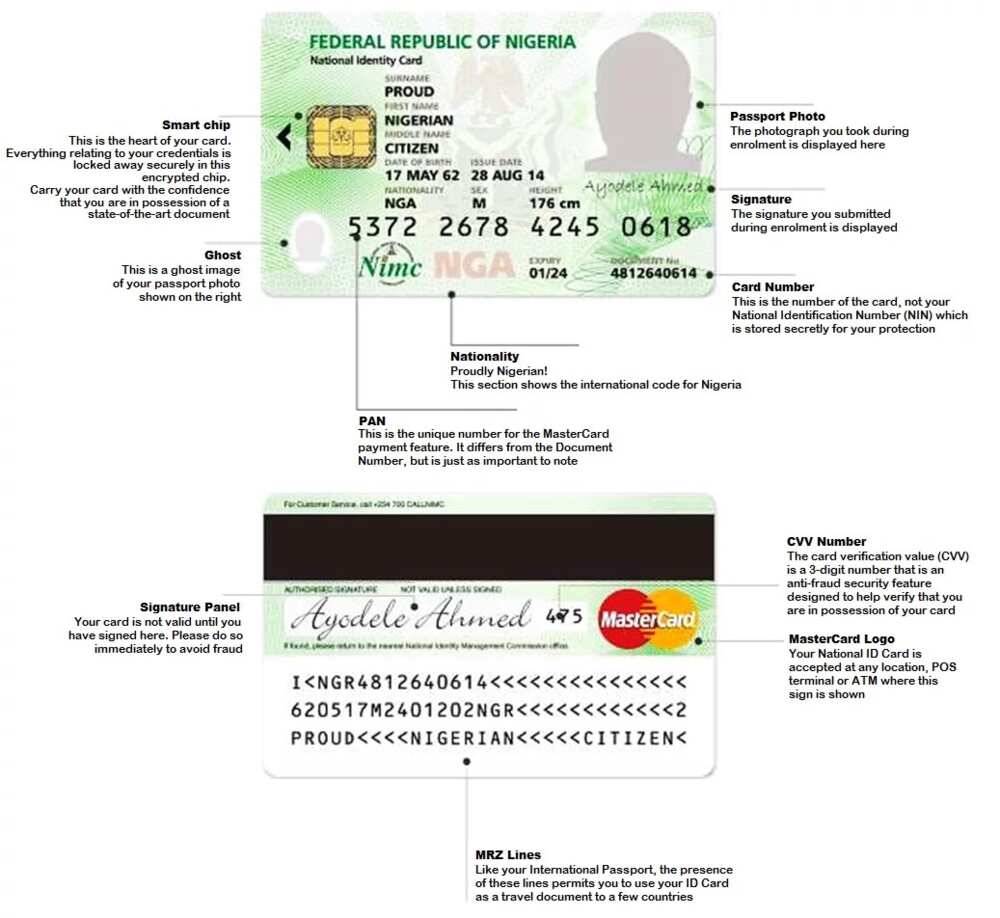 With this card, you can have immediate access to such features as:
☛ Electronic form of your identity information (that is what e-ID stands for)
☛ EMV Payment
☛ Electronic Public Key Infrastructure (ePKI) for security purposes
☛ International Civil Aviation Organization (ICAO) for the purpose of travelling
☛ Match-on-Card feature for verification.
There are eight more applications that will be implemented later, such as: e-Drivers' License, e-Health, e-Insurance, e-Pension, e-SIM, e-Taxation, e-Transport, and e-Voting.
These functions are supposed to improve the quality of interactions between the government and its people, as well as with various institutions. With the e-ID, you would be able to ditch half of the cards (and some of the cash) in your wallet. So go get yourself one, if you do not have it already!
If you somehow do not have an NIN, you are obligated to go to your nearest NIMC office and enroll. Pretty soon, when NIN is fully integrated into Nigerian infrastructure, you would not be able to do anything without it. We hope that this article has been helpful, and that you know what an NIMC number is now.
READ ALSO: This is how to check if your National ID card ready for pick up
Source: Legit.ng