8 major challenges facing Nigeria's gas sector (Infographic)
The petroleum industry in Nigeria is the largest on the African continent. As of 2016, Nigeria's petroleum industry contributes about 9% to its economy.
Therefore, though the petroleum sector is important, as government revenues and foreign exchange still heavily rely on this sector, it remains in fact a small part of the country's overall diversified economy.
Nigeria's oil industry is largely controlled by the government-owned Nigerian National Petroleum Company (NNPC) via join ventures (JVs) and production sharing contracts (PSCs) with international oil companies (IOCs).
The government has an average of 60 percent ownership interest in JVs with IOCs, which account for the majority of the country's crude oil production.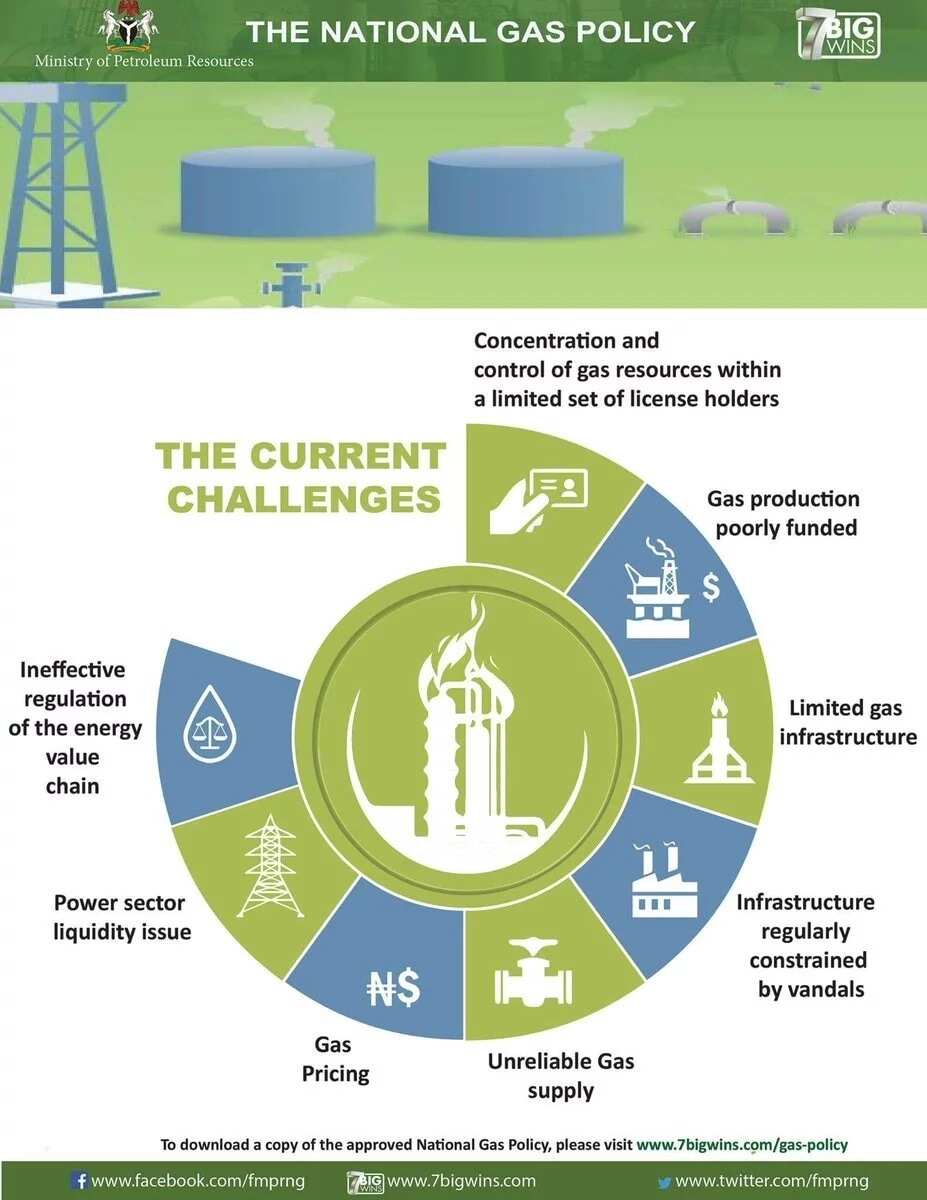 It is no secret that this government has suffered from corruption, and its close links with the NNPC means that the oil industry has also suffered.
READ ALSO: Nigeria loses as revenue from crude oil drops
What are some of the major problems? Below is a list:
1. Concentration and control of gas resources within a limited set of license holders in the country.
2. Gas pricing.
3. Unreliable gas supply.
4. Infrastructure regularly constrained by vandals.
5. Ineffective regulation of the energy value chain.
6. Gas production poorly funded.
7. Power sector liquidity issue.
8. Limited gas infrastructure.
Here is a summary of the likely solutions:
In an earlier report by Legit.ng, it was stated that Nigeria has run at a loss as its revenue from exportation of crude oil and gas dropped by 0.53 percent to arrive at $985.244 million between January and April 2017.
READ ALSO: 89 countries with best oil governance in the world
This is in comparison with the $990.522 million recorded from the exportation of the products in the same period in 2016.
SweetCrudeReports states that a breakdown released by the Nigerian National Petroleum Corporation (NNPC), states that while crude oil export accounted for 58.76 percent of total export with $578.93 million, gas export accounted for 41.24 percent with $406.317 million.
PAY ATTENTION: Watch more videos on Legit.ng TV
"In January 2017, total crude oil and gas export stood at $202.16 million, compared with $282.83 million in the same period in 2016."
Watch this Legit.ng video on President Buhari's absence:
Source: Legit.ng