George wrapper and blouse styles in 2017-2018
We present to you trendy George wrapper and blouse styles in 2017-2018 for your admiration! Dear Fashionista, choose the fabrics and styles that you prefer. These latest trends present a wide variety of embroidered and lacy patterns combined with a bright colour palette. And your festive look will be flawless.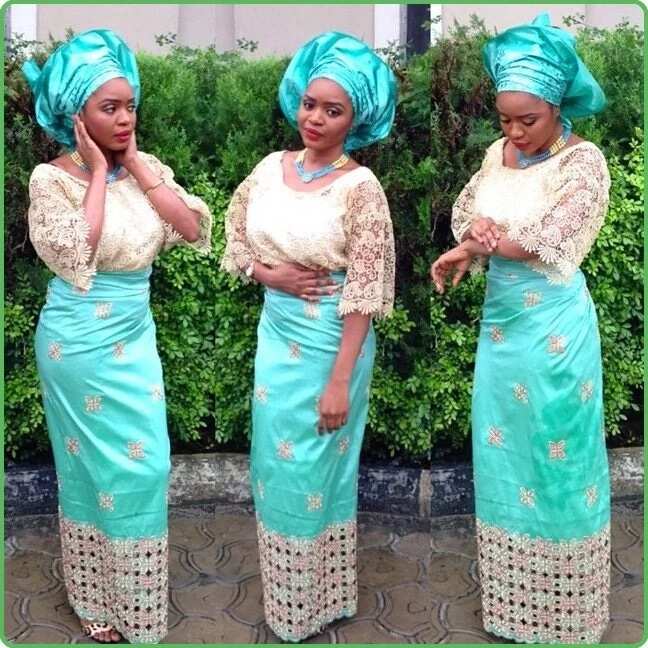 The fashion of fabric and clothing styles is constantly changing. But there are traditional and classical options, and they will continue to be relevant for many, many years. One of them is the George African textile. Typically, it's silk or cotton fabric with an embroidered pattern around the edges or on one edge. It usually also includes an element of lace.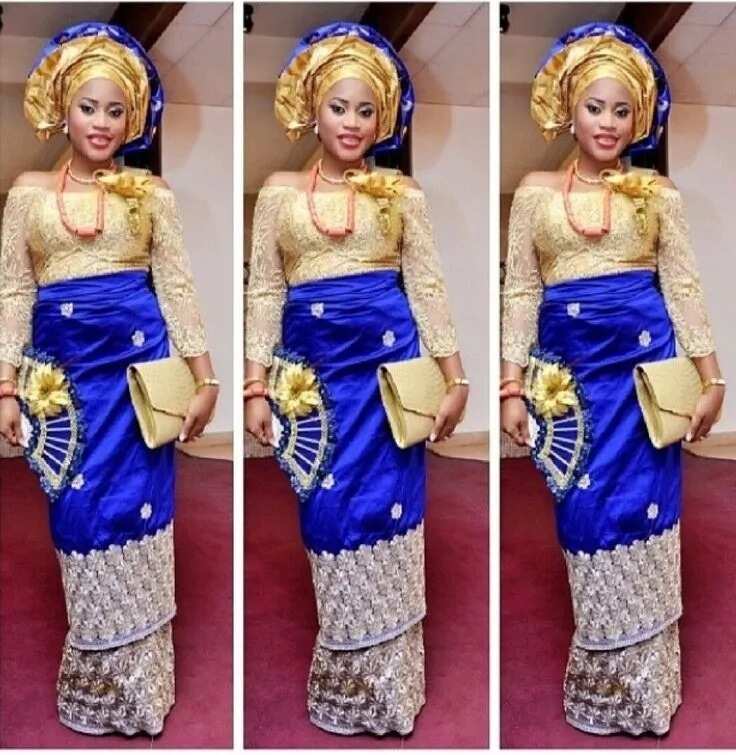 Once upon a time, these fabrics were made by hand and were very expensive. Now, thanks to mass production technology which has made it more affordable, such fabrics are now available to many African women of fashion. Nowadays, George textiles are used in Nigeria to create traditional festive and wedding attires in Igbo and Aso Abi styles. It seems to us that these traditional looks are also quite fashionable today.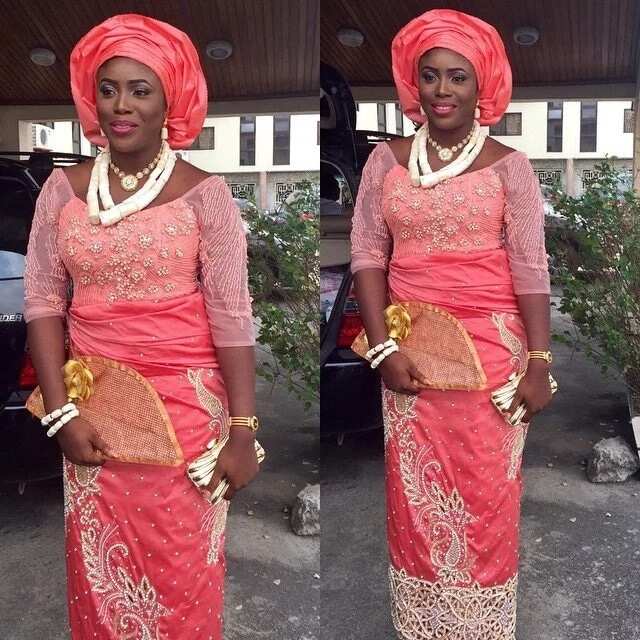 George blouse and wrapper
Today we will tell you about George wrapper and blouse styles in 2017. This season, for the creation of festive and wedding looks, George style offers a range of white, blue, turquoise, ivory, bright yellow and delicate pink colours. This year's trend is the placement of embroidered design not only around the edges but also in the middle of the fabric itself.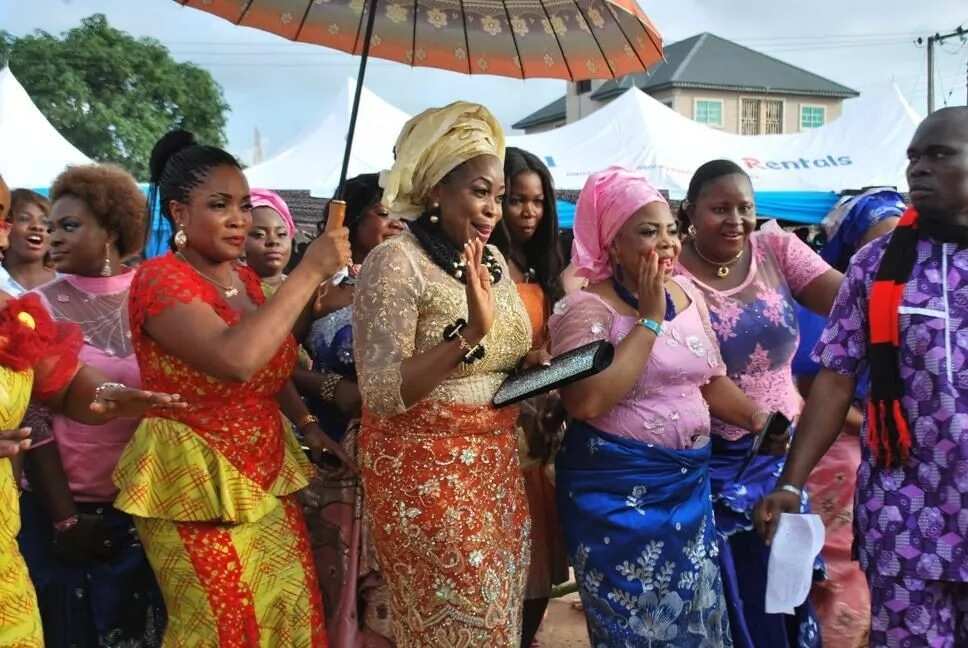 Depending on your individual taste, you can choose whichever length and size of the George pattern. If you want to create a very festive and vivid image, you can opt for a dress fabric with a wide pattern or lace stripe. If you would prefer to create a more relaxed and sophisticated look, you should choose a fabric with a thin strip of lace and embroidery. Or you can combine them both for a super awesome outfit.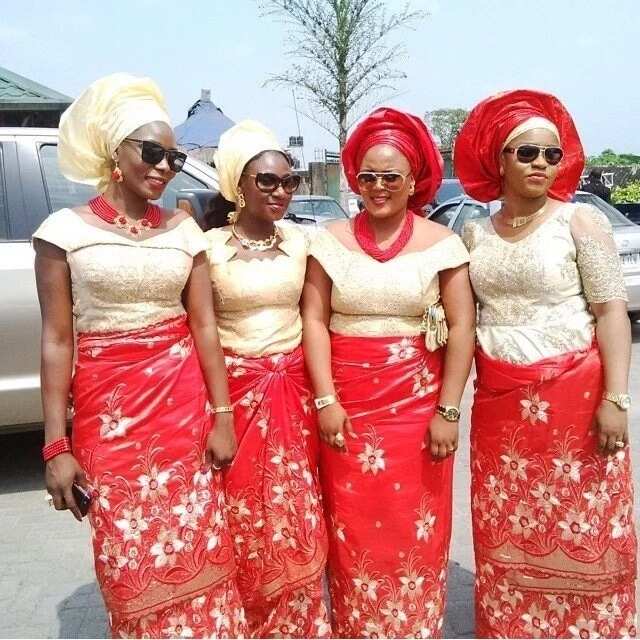 For example, you can make an exquisite blouse with an abundance of embroidery and lace. But a wrapper can be more restrained with a thin strip of embroidery or lace. Or it may be done vice versa. The hemline of the George wrapper can be one-third or even half embroidered and laced, and the design of the blouse will be more restrained.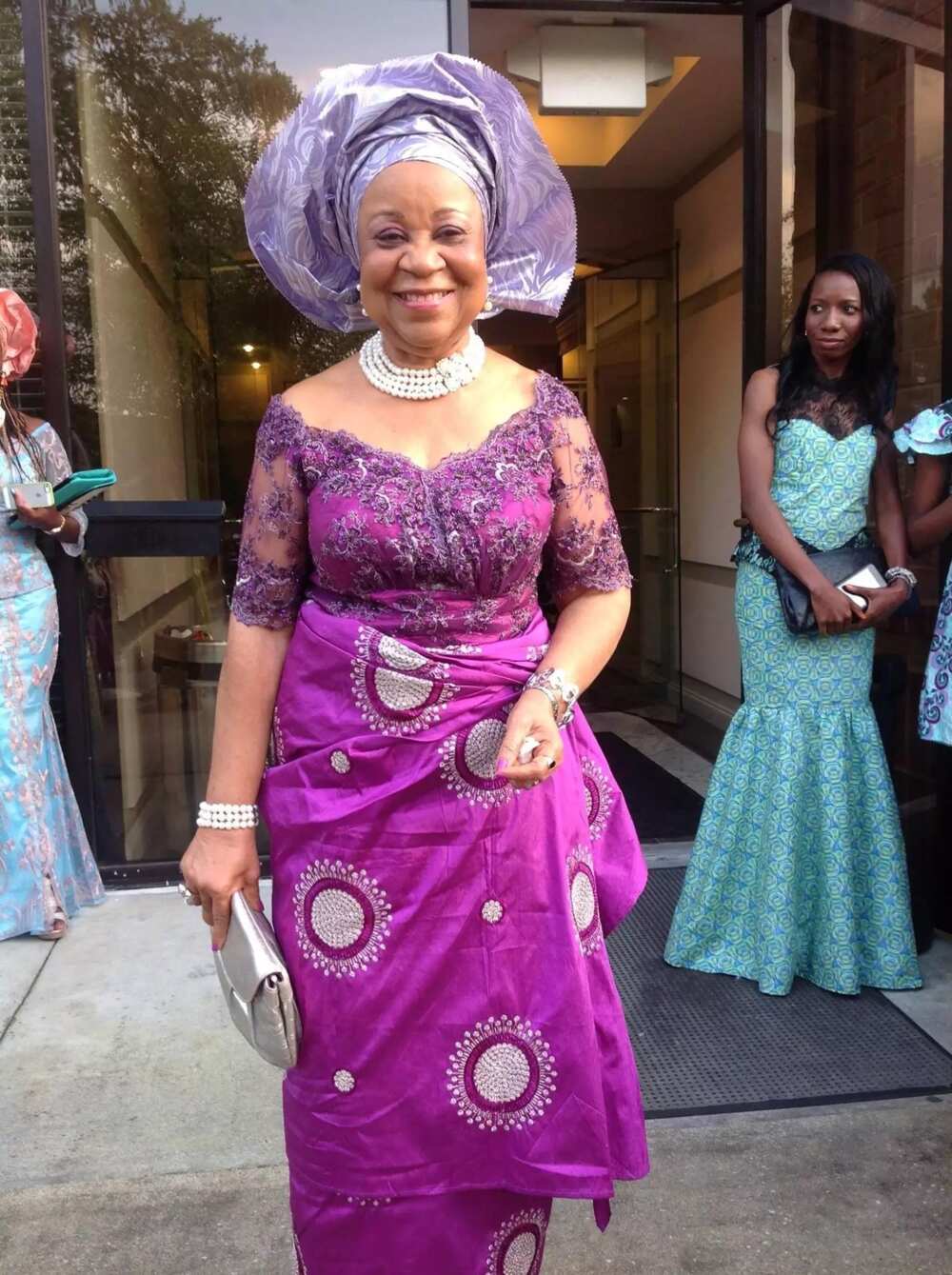 Typically, the George style embroidery for festive attires is made with a brilliant silk thread in one colour range with the main fabric. But the embroidery can be a bit lighter and brighter. But there are situations where the embroidery is made in another colour, that blends very well with the main colour scheme.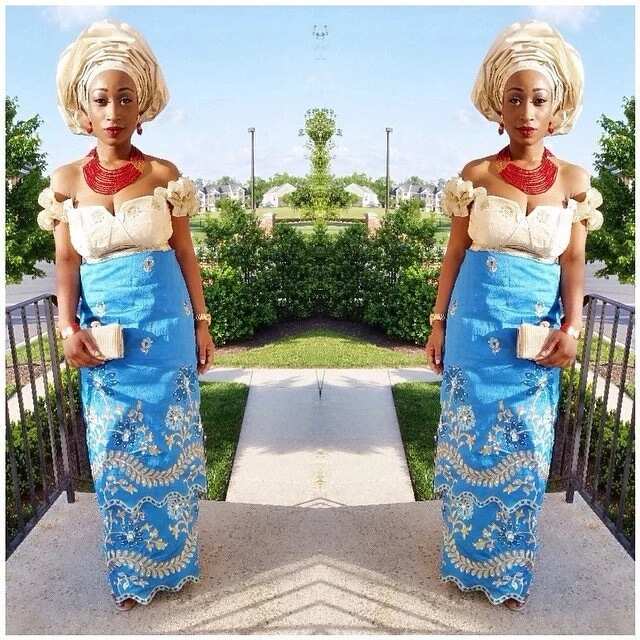 Often for very elegant options, gold and silver thread is used. As a rule, fabrics in a cold colour range are embroidered with a silver thread, and in a warm range, a gold thread is used. Although, there may, of course, be exceptions. The more different options we have, the more choices fashionistas can enjoy.
READ ALSO: Igbo blouses style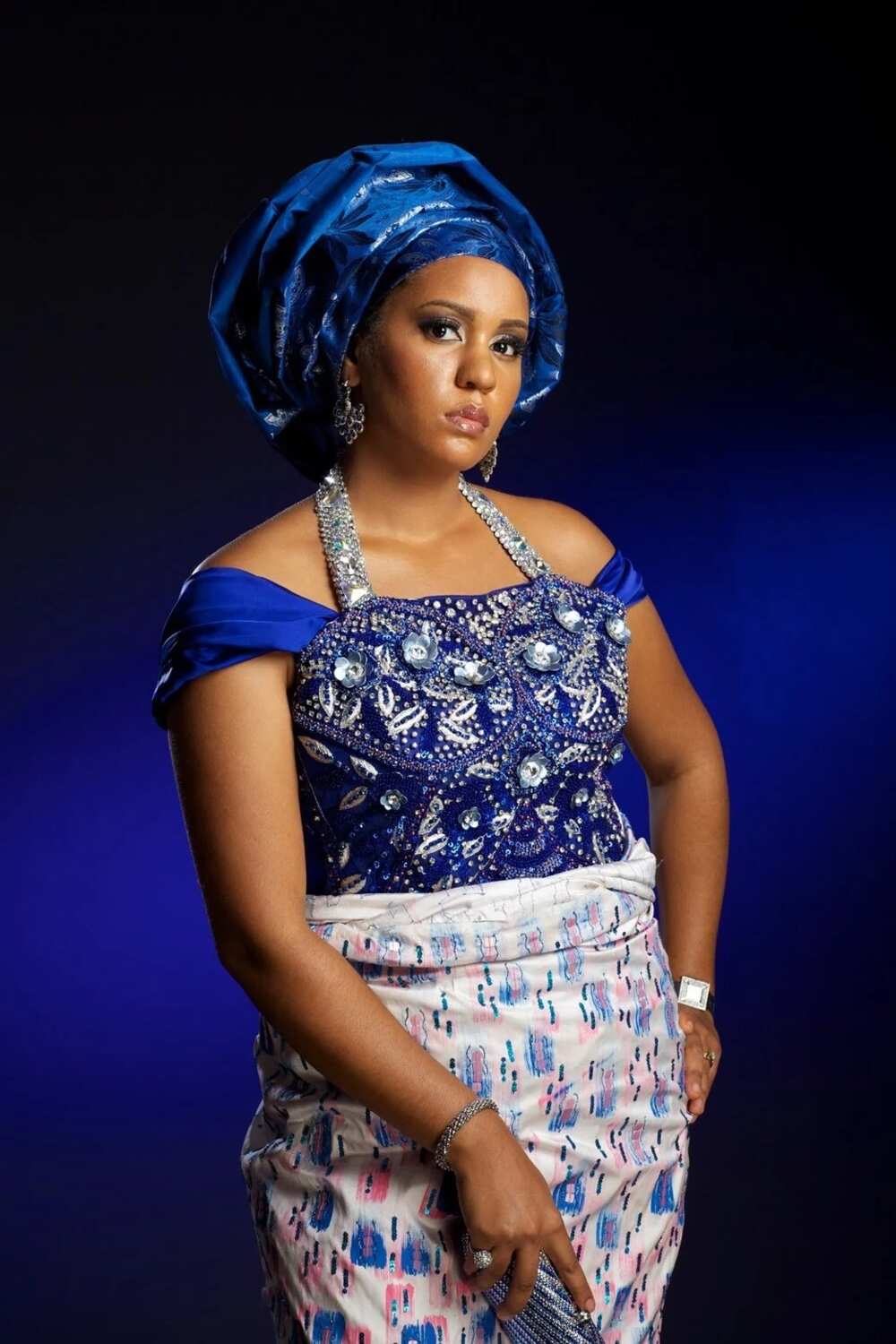 More expensive fabrics are also decorated with paillettes, beads, and artificial pearls. This fabric is suitable for attires created for special occasions, and it is more often used for blouses. Although the hemline of a wedding dress for example, can be embroidered with stones and this looks great. Floral ornament are usually used for the embroidered and lace patterns. These days, we also pay attention to the looks that stars like to rock. Exotic styles in bird form such as peacocks can be added to the outfit for a more fascinating look.
The edge of the fabric can be straight, but it is usually designed in large or small waves. As for the lace George fabrics, they are more often used for blouses. A vast choice of laces helps create unforgettable and chic images. For making George blouses this season, the diaphanous lace is popular. Usually, the diaphanous insertions emphasize the area of the neckline, shoulders, and hands.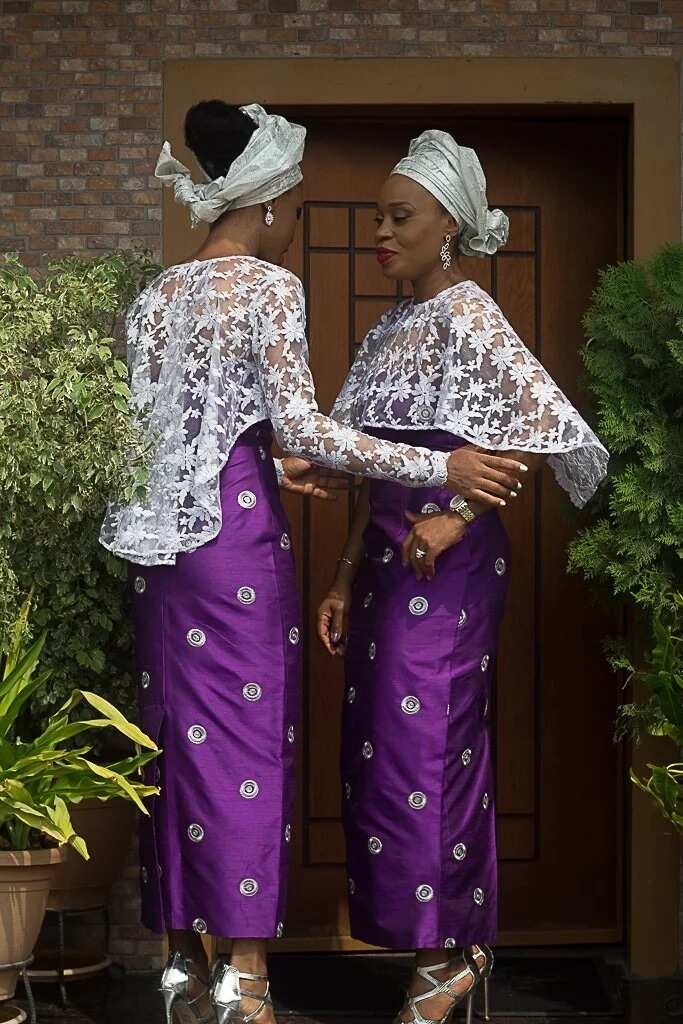 George Styles
And now a few words about the combination of colours. There are fashionistas who prefer the full attire (a wrapper and blouse) in one colour. Or they would simply opt for a nice dress. And some women want a blouse and wrappers of different colours. That's why, we offer you the most popular combinations of colours for today: white and blue, yellow and blue, yellow and gold, pink and ivory, red and blue. White blouse perfectly mixes with almost all colours of the skirt or wrapper.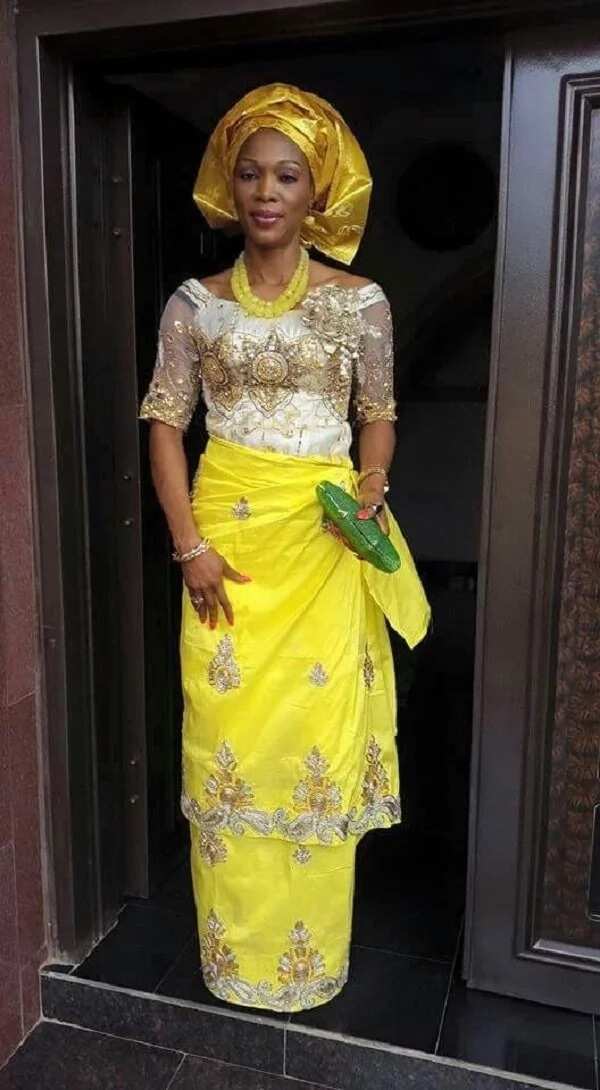 Nigerian fashion lovers prefer particular styles of wrappers and blouses. To show the beauty of George fabrics, a wrapper should be made narrow and in two or more layers. It's tied up with a decorative knot. For a very festive ceremony, you can make a wrapper with a tail. In the above-mentioned case, the luxuriant George pattern will be shown in all its glory.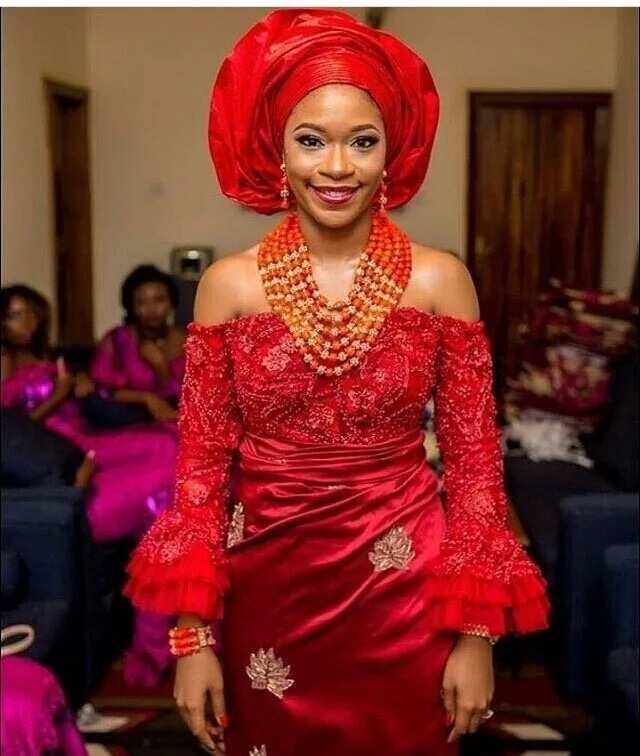 If a design is located, not only at the bottom of the fabric but across the entire area, you can choose a straight edge of the skirt or traditional wrapper. The blouse can be made in a simple or a peplum style. Sleeves can be short or three-quarters. You can make a classic long sleeve. If you are planning to show George embroidered or lacy pattern, you'd better sew the blouse sleeves flared to the bottom.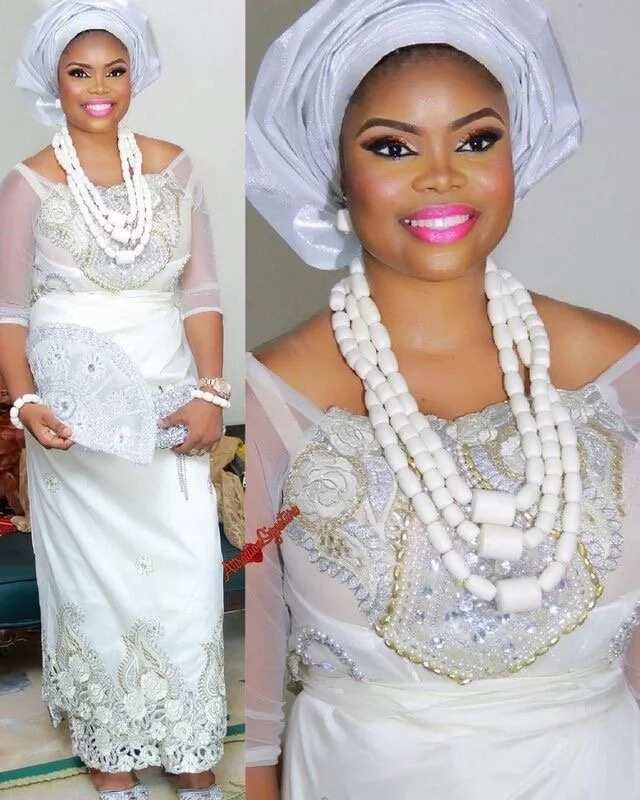 Of course, you can use George styles in everyday clothes, if the ornament is not very large or only a few elements of this attractive designs are used in the attire. But nevertheless, George style is the queen of Nigerian native attire styles for a variety of festive occasions, including weddings. See photos, choose styles, and show off your fashion sense through the lovely attires.
READ ALSO: Lace blouse and wrapper styles 2017
Source: Legit.ng