Lace gown styles: amazing trends of 2021 which you will love (photos)
The fashion industry has evolved so much as fashion designers try to outdo each other creatively. Lace designed outfits are becoming the most trending fashion nowadays. Its fabric is a little bit delicate but very classic and attractive to wear to any given occasion. If you are looking for the latest lace gown styles to trend with this year, then have a look at the collections below.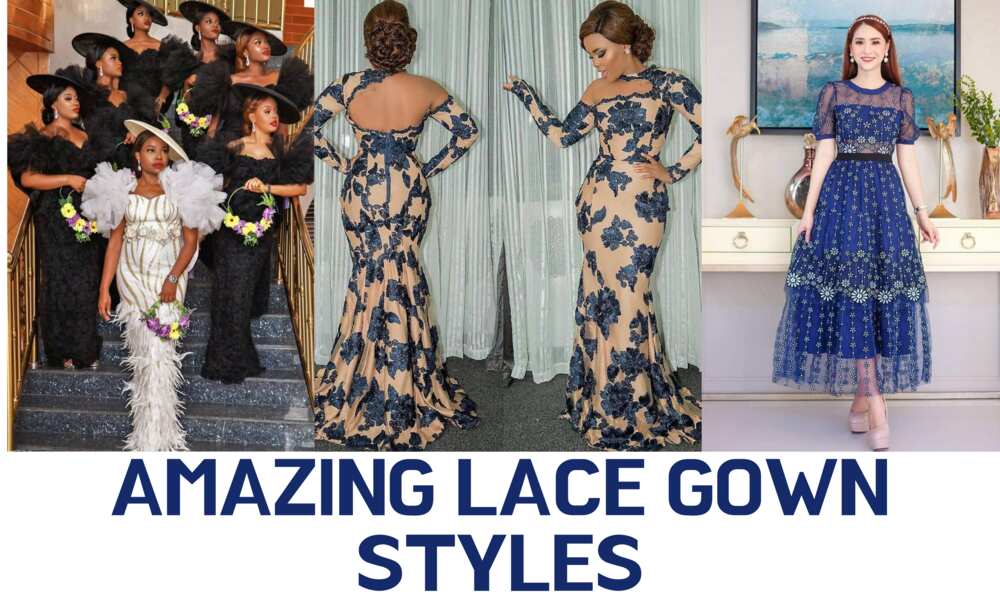 The latest collection of lace styles in 2021 consists of a wide variation of gorgeous attires. As always, it contains a lot of styles for wedding parties and other special occasions.
Beautiful blue, white, yellow, pink, and many other soft colors will create the perfect look for you.
Have a look at the most trending gown styles that will make you want to own one in your wardrobe.
Amazing lace gown styles for 2021
Have a look at the latest lace gown styles for ladies' design for the year 2021.
Lace gown styles for wedding
During wedding ceremonies, everyone always wants to look stunning and beautiful. Choosing the perfect gown will make you stand out among the rest.
Here are some fabulous styles to consider during any wedding occasion.
1. Bridal lace gowns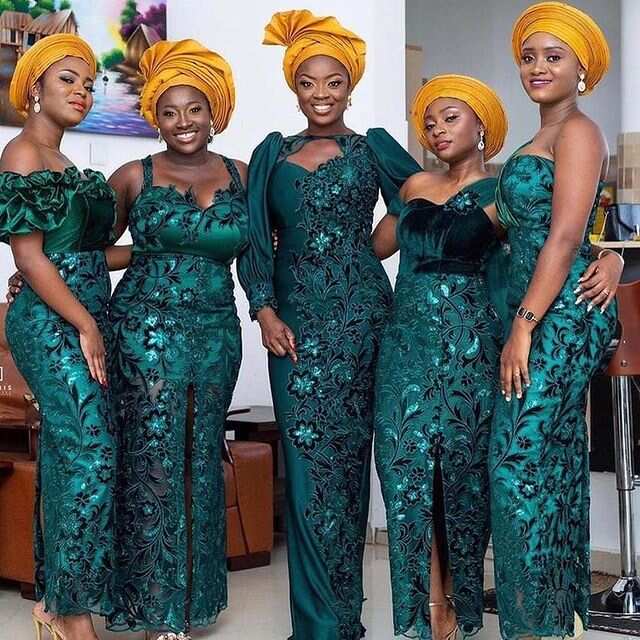 This wedding outfit looks perfectly gorgeous. You can match the dark blue color with a yellow wrap head like the ladies above
2. Queen mode design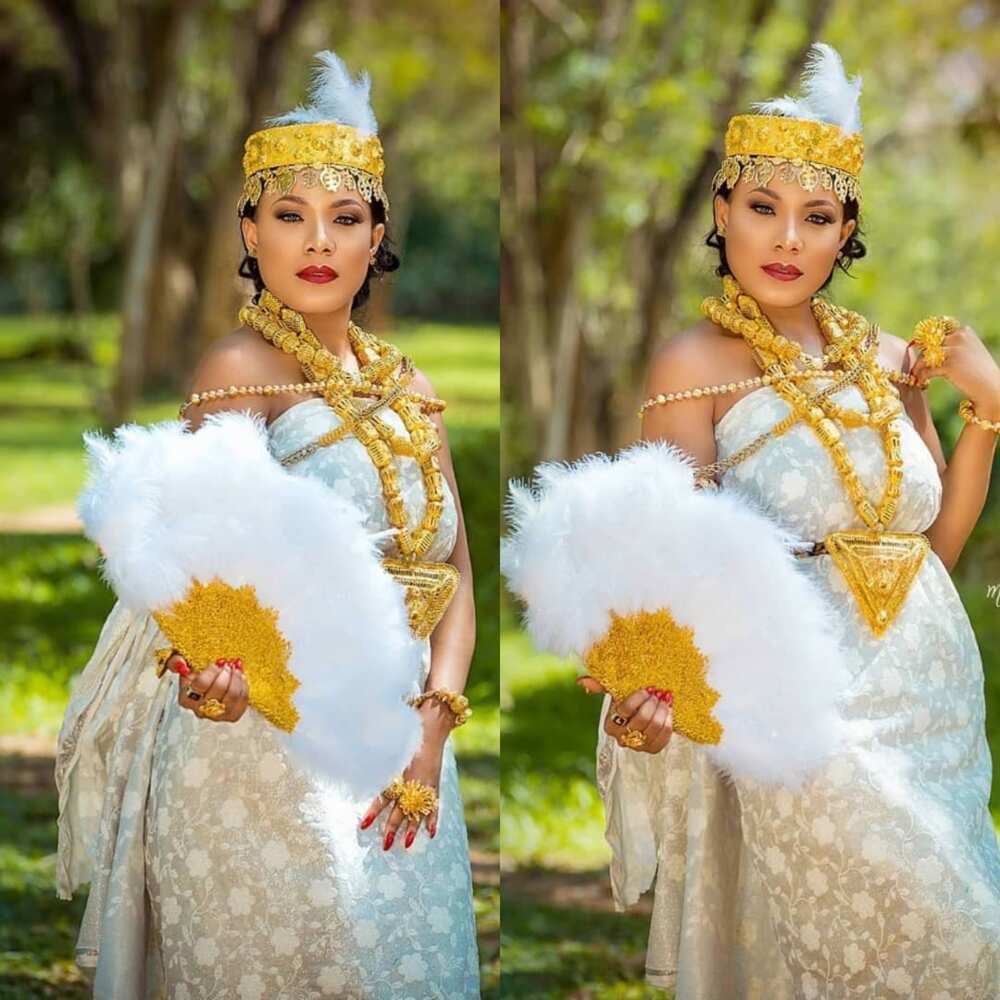 If you want to stand out on your wedding day, then consider trying this queen outfit.
3. Elegant pink gown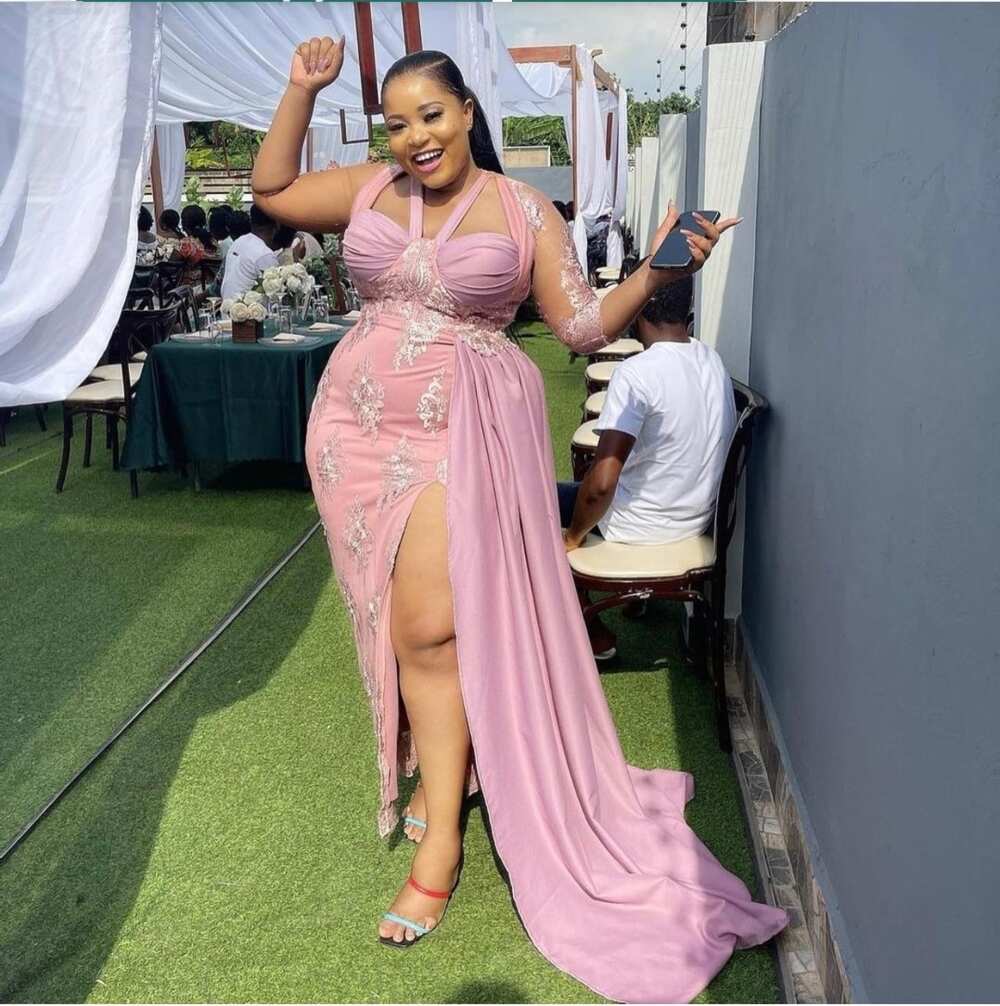 You will never go wrong with such an outfit. The design is eye-catching and very unique.
4. Purple short-sleeved gown
If you prefer a one-color attire, bright accessories with a clutch bag will complement your look. You can always go for any color and design of your choice. The dress above is perfectly fine for a wedding ceremony.
5. A three tier gown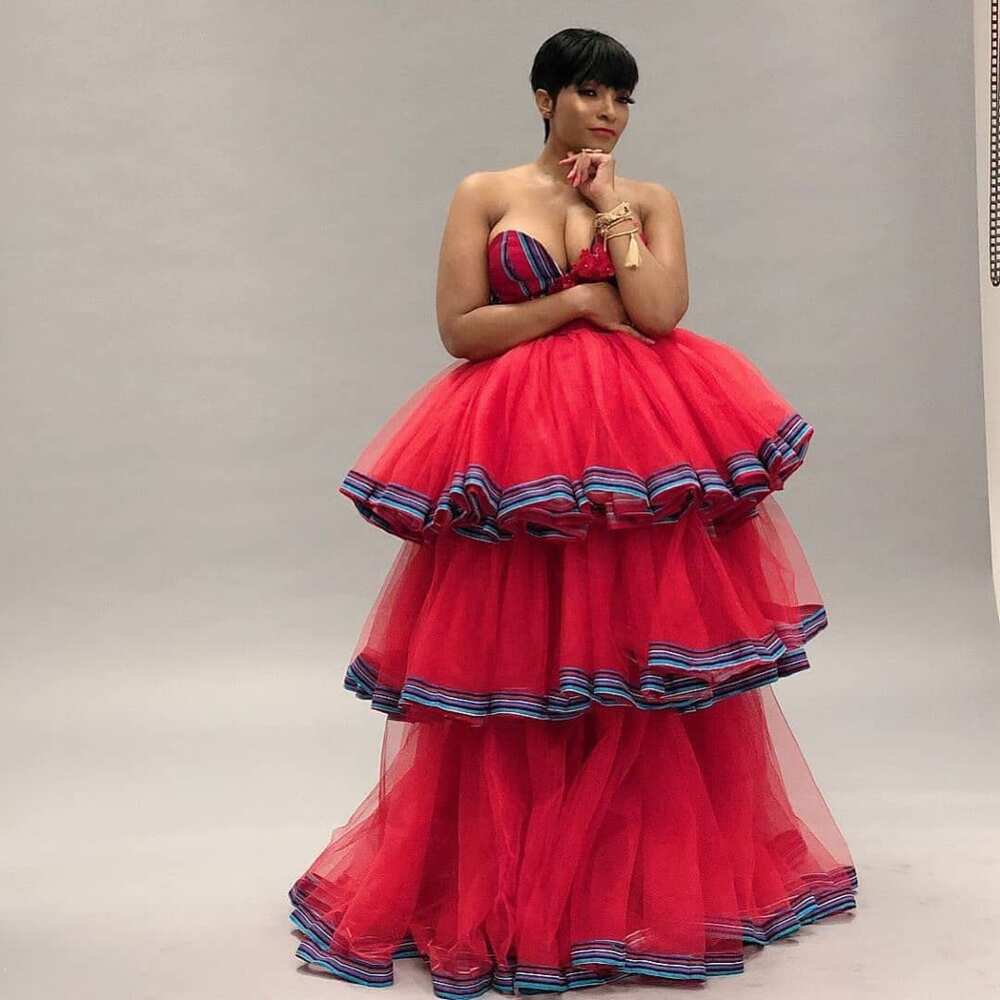 The gown looks more fabulous and comfortable to wear if you are a bride looking for a dress to rock with on your bridal shower party.
6. A beautiful grey attire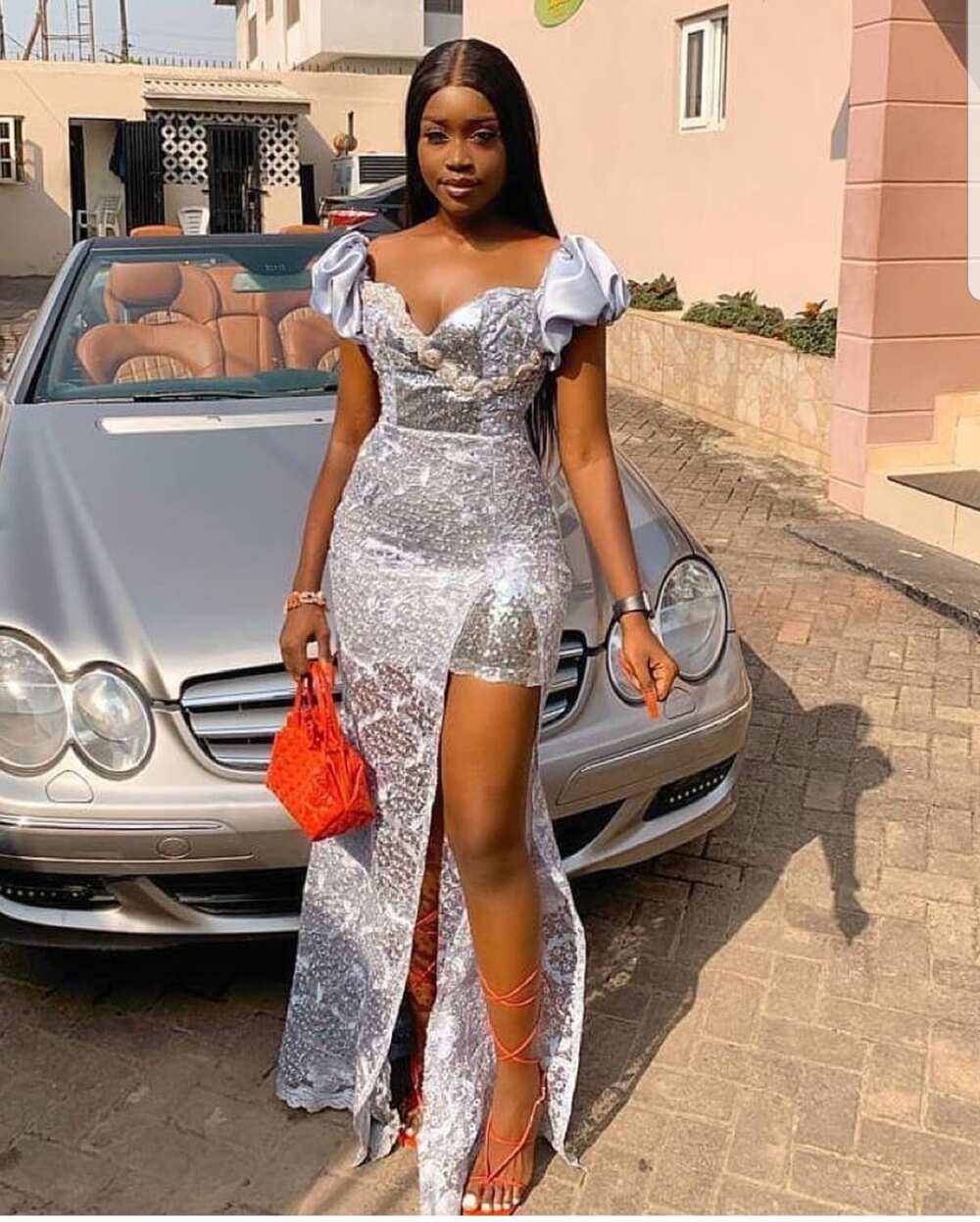 If you are not afraid to show off your legs, then this is the design for you. It is a beautiful design that can be worn on any given wedding occasion.
7. Short sleeved gown
This one could work as an evening dress for a party or a wedding dress. You can wear it with a slightly high heel or flat shoes.
Latest lace gown styles for women
Here are some beautiful latest styles to rock this year.
1. Beautiful orange gown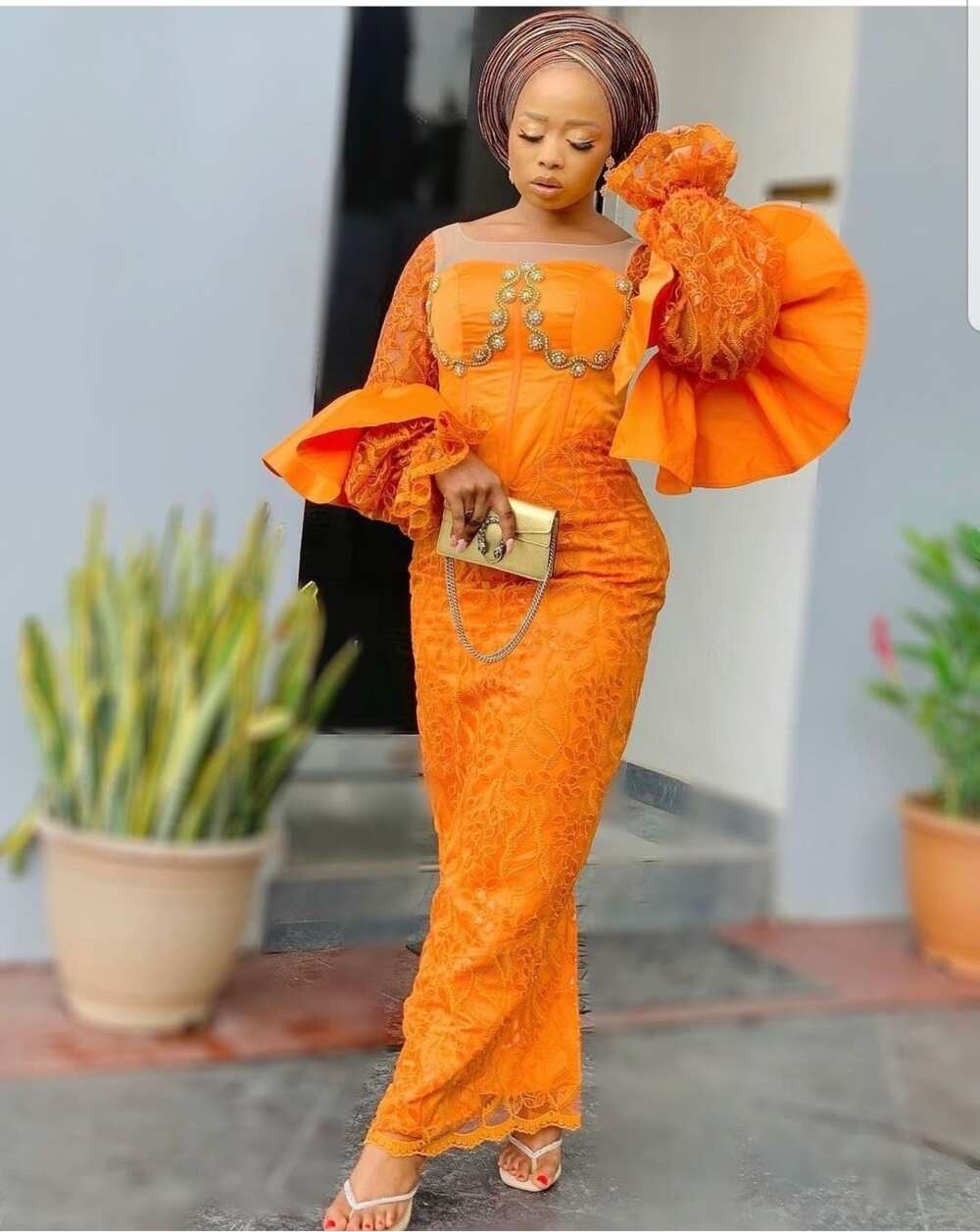 Orange color is one of the best unique colors to think of when designing an outfit. The gown looks outstanding with the additional voluminous long sleeves.
As for the headgear, you can consider black or white.
2. Blue gown with matching headgear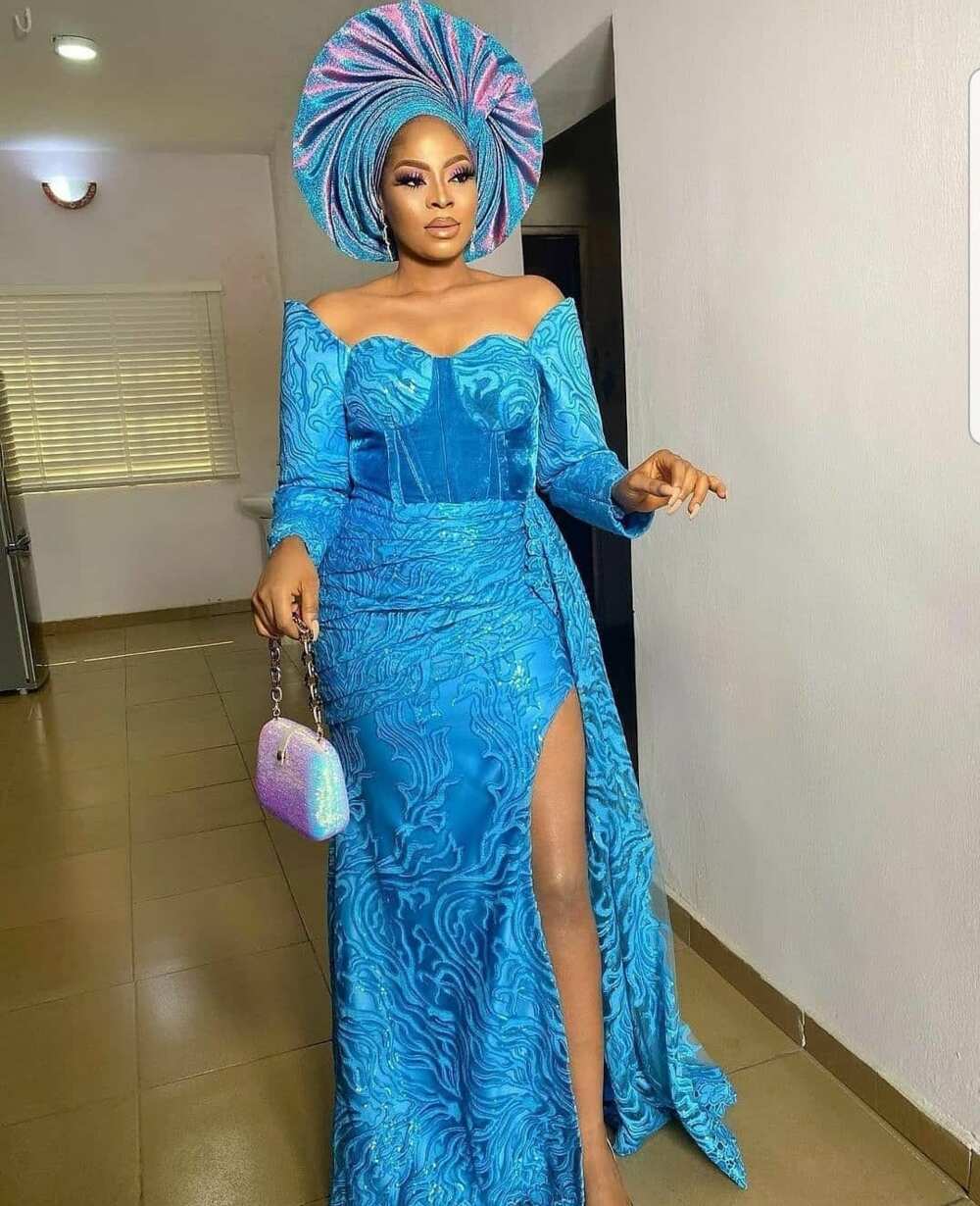 Matching your gown with a headgear has become the most trendy fashion today. This off-shoulder outfit looks perfectly fine and beautiful.
3. A short lace gown with a long tail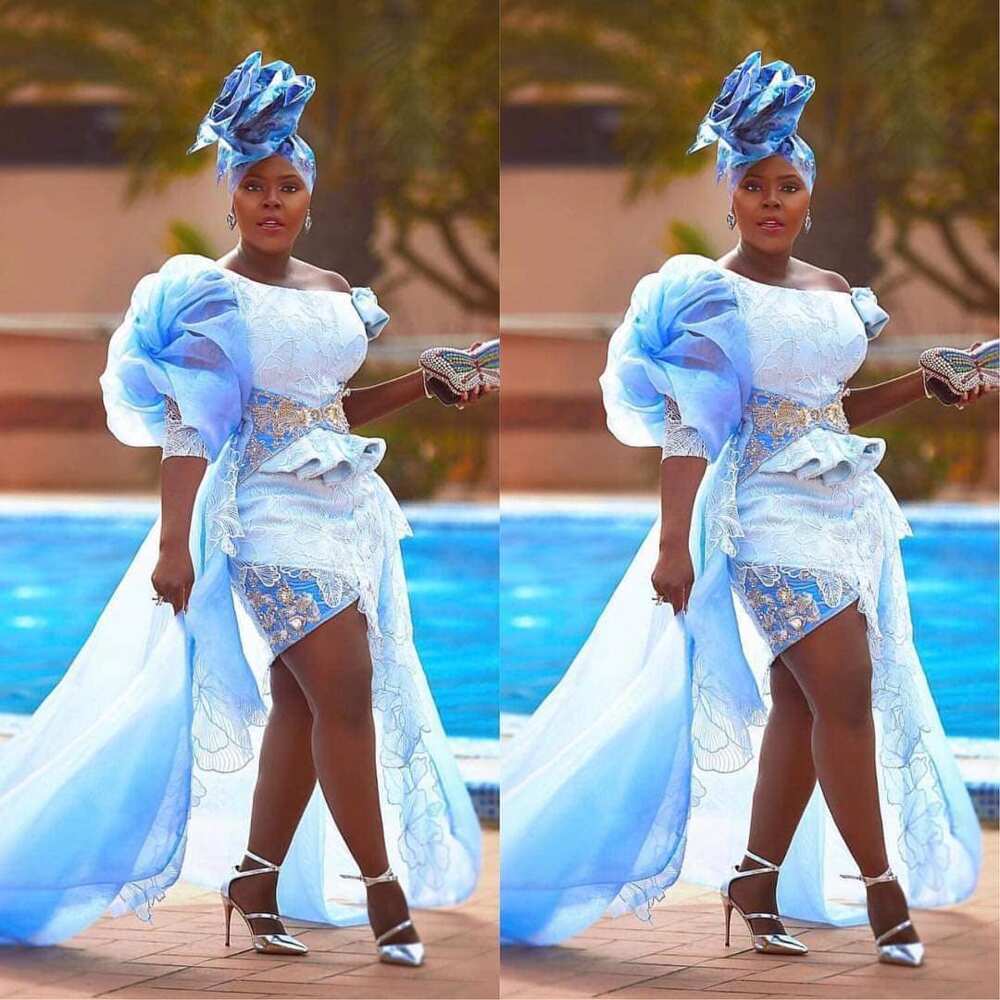 Adding extra details like a long tail on your gown makes it look more stunning. You can also add some golden floral partners to your dress like the one above.
4. Midi lace gown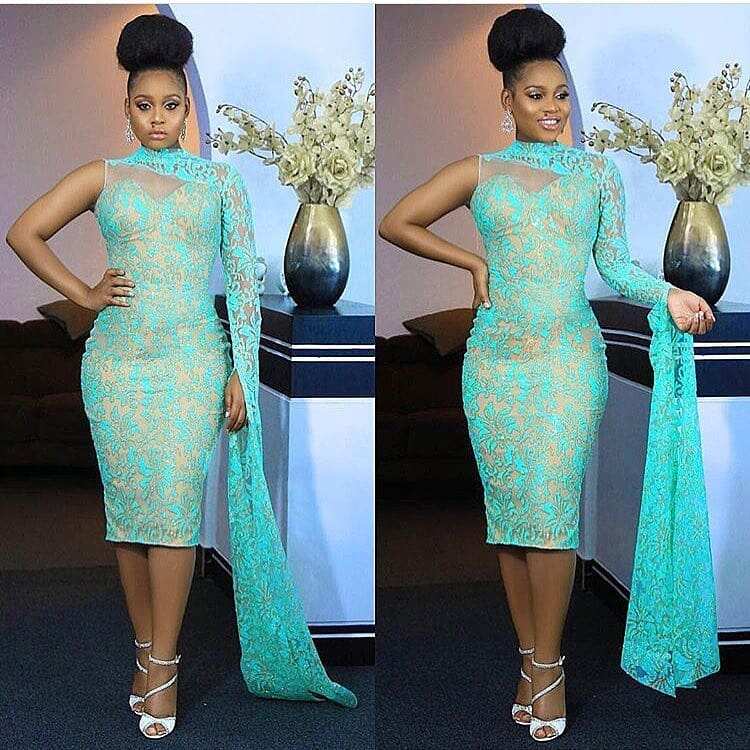 If you are unsure of an event's formality, then this midi gown will work perfectly fine for you.
5. Burnt orange gown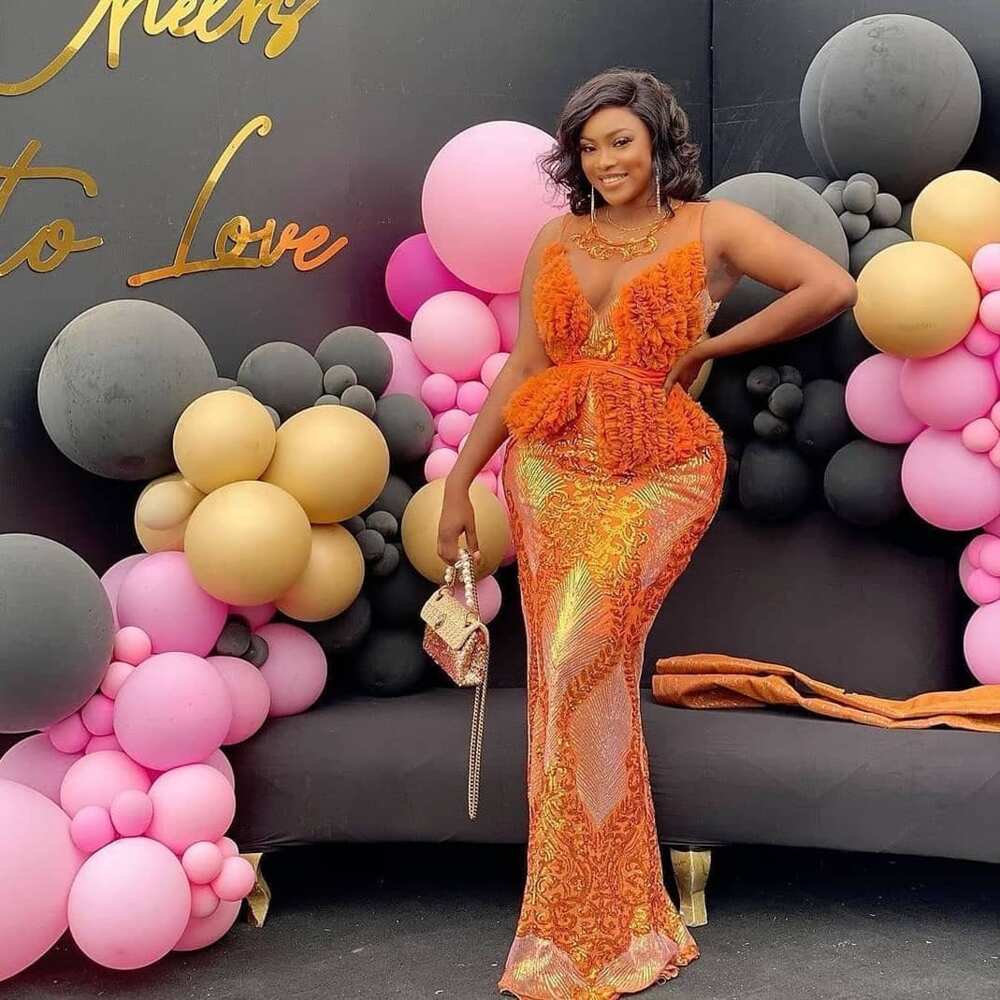 This floral burnt orange gown will look beautiful on anyone who wants to rock. The soft fluffy design on the top part adds more beauty to the gown.
6. Brown silvered gown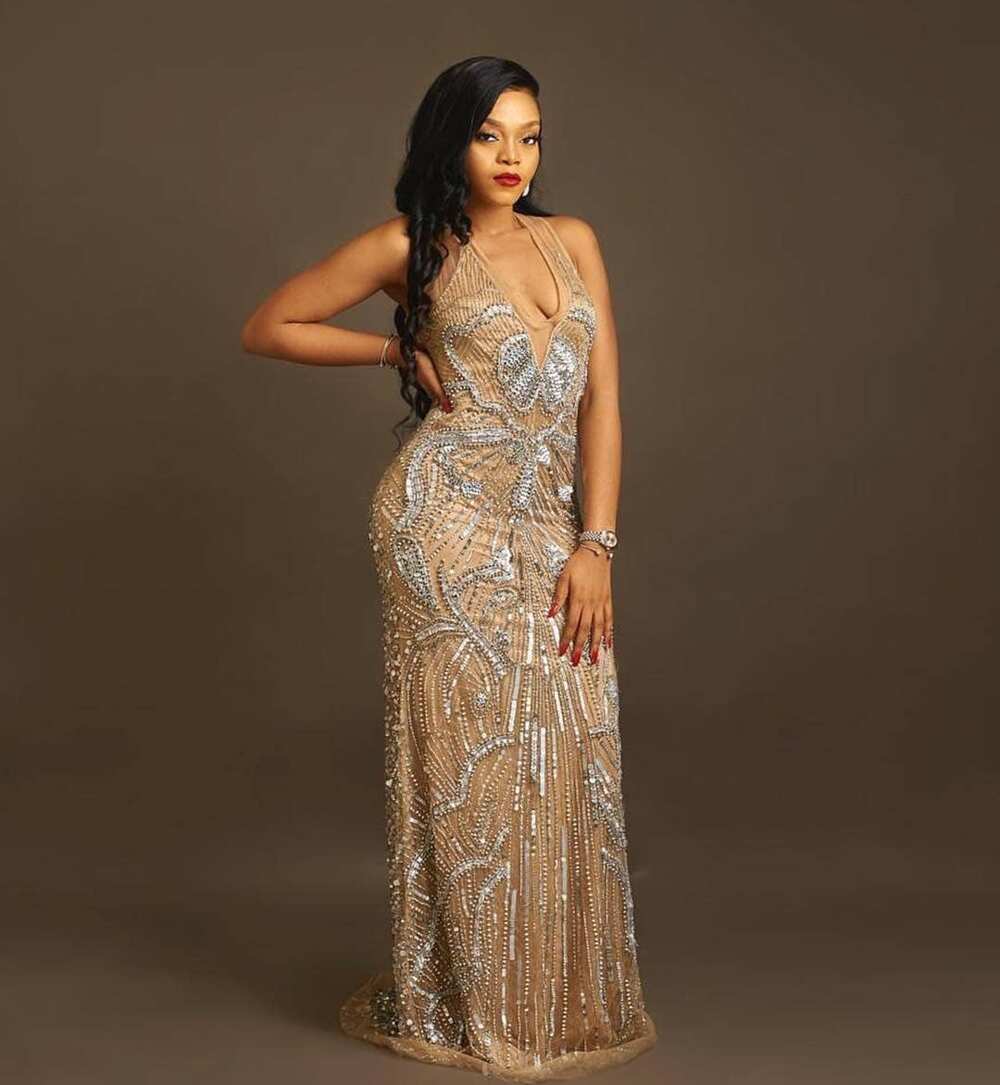 If you are planning on going for a date, then consider wearing this outfit. It is very simple and stunning.
Ankara designs with lace
Lace material enhances the Ankara fabric patterns as they make the best collars, sleeve ends, and bottom of the dress.
Such Ankara style and lace combination designs are the best as the lace patterns create much attention to the entire outfit, as seen in the images below.
1. Long sleeve Ankara dress with lace finishing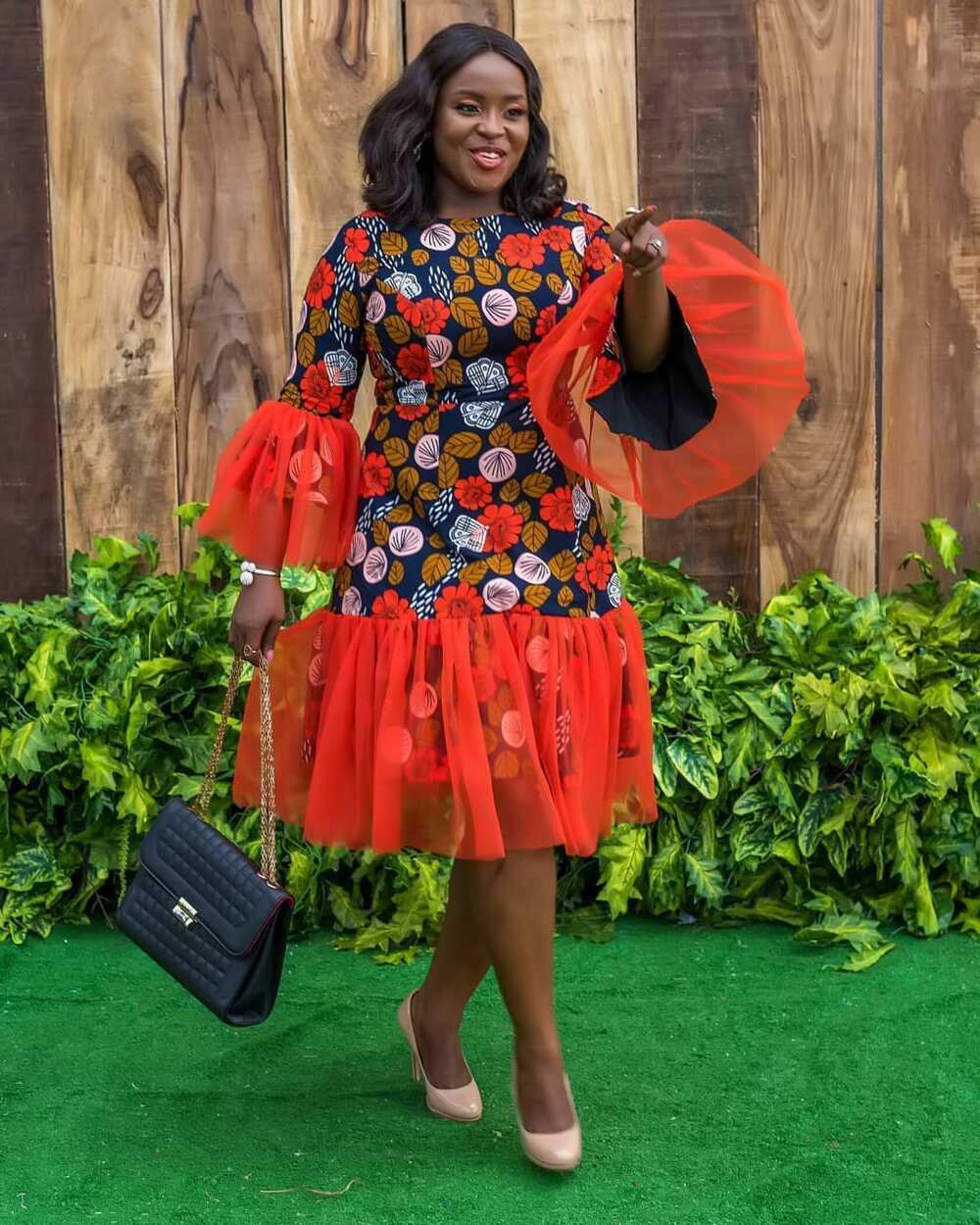 You can design the lace pattern on your Ankara dress to add to its beauty. You can color match the lace with a color on your Ankara dress.
2. Short gown with black lace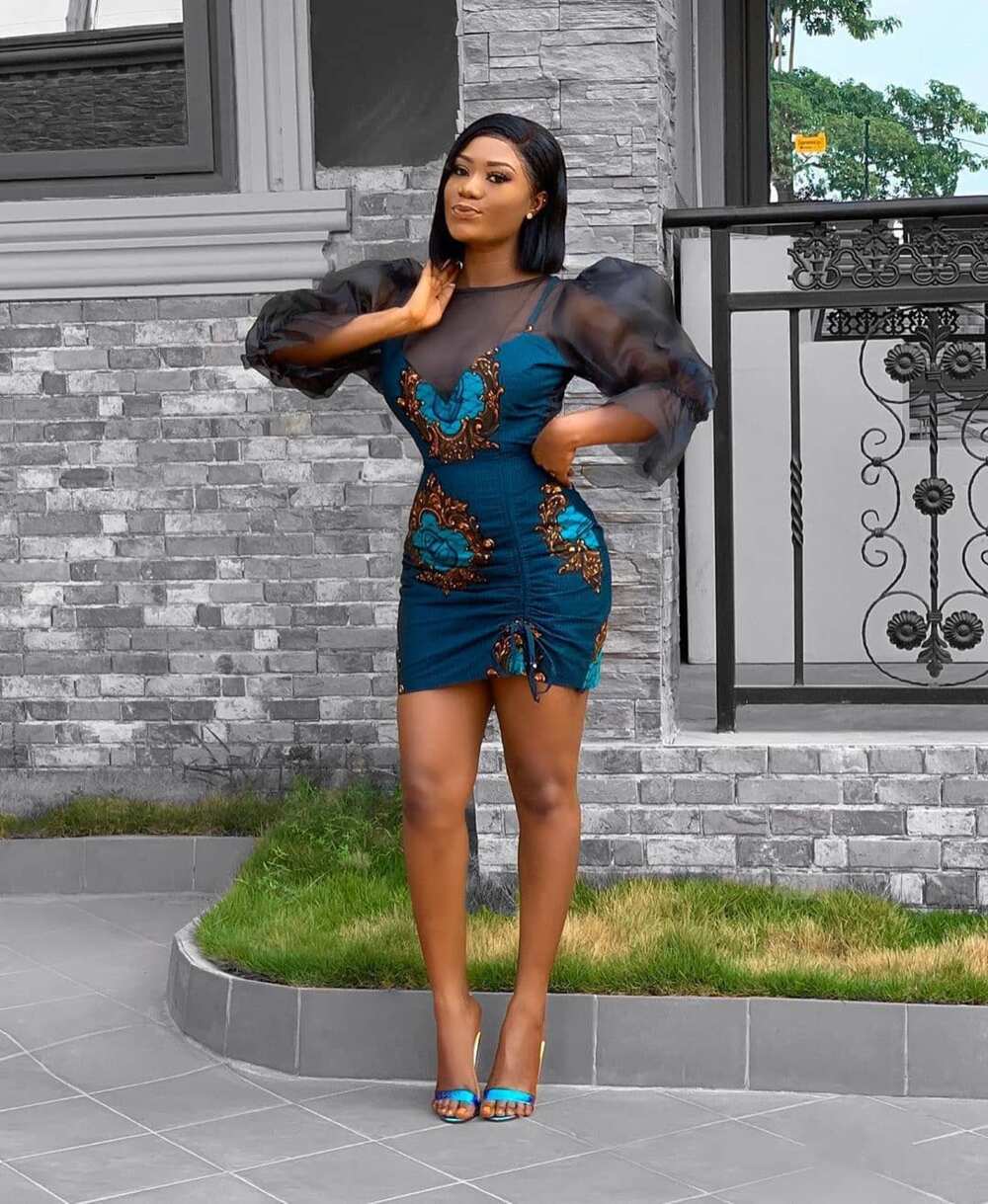 Black lace can match with any other color and bring out a beautiful combination. The dress above is idle for casual occasions.
3. Elegant dress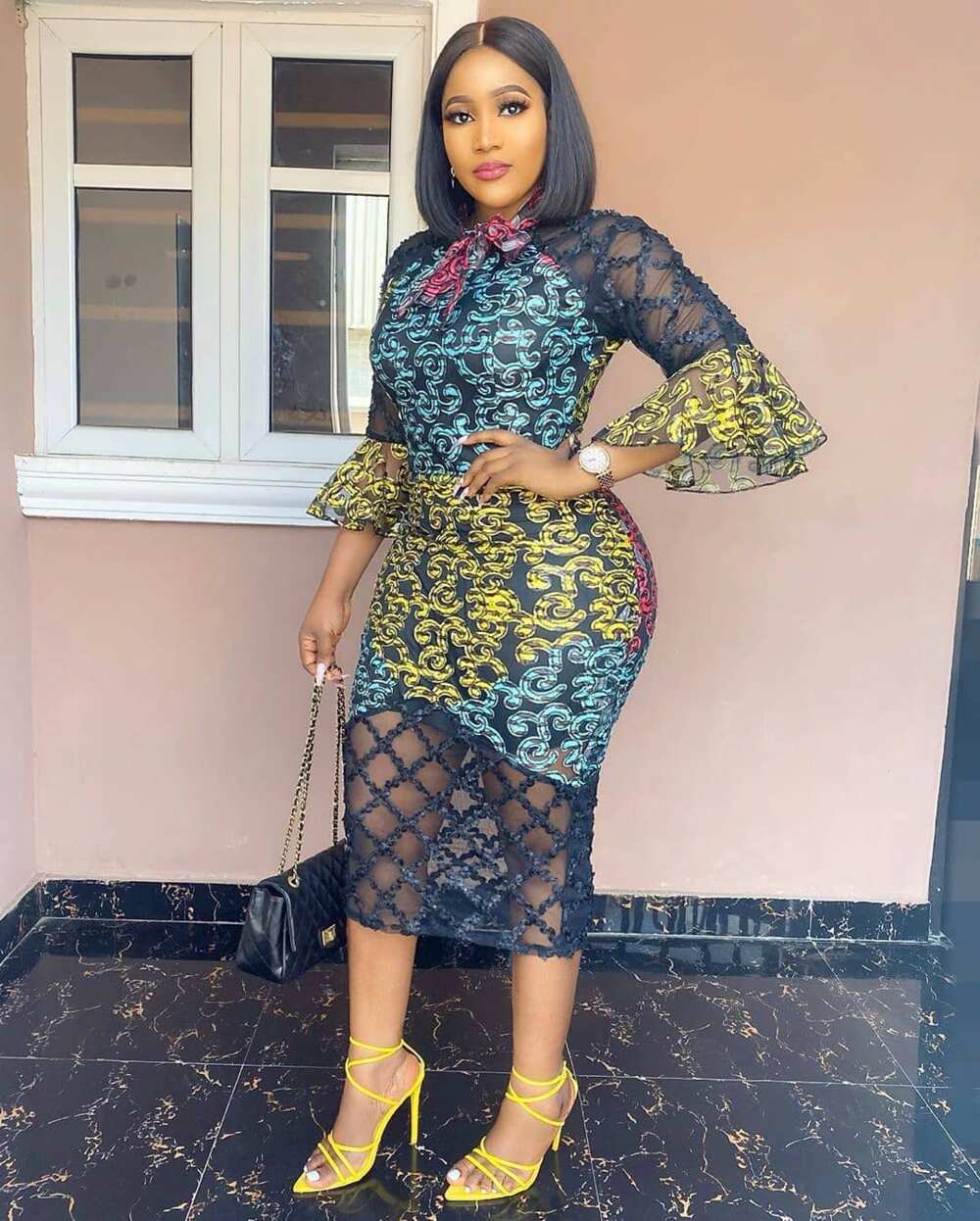 An elegant Ankara lace dress with various floral patterns.
4. Short gown covered with brown lace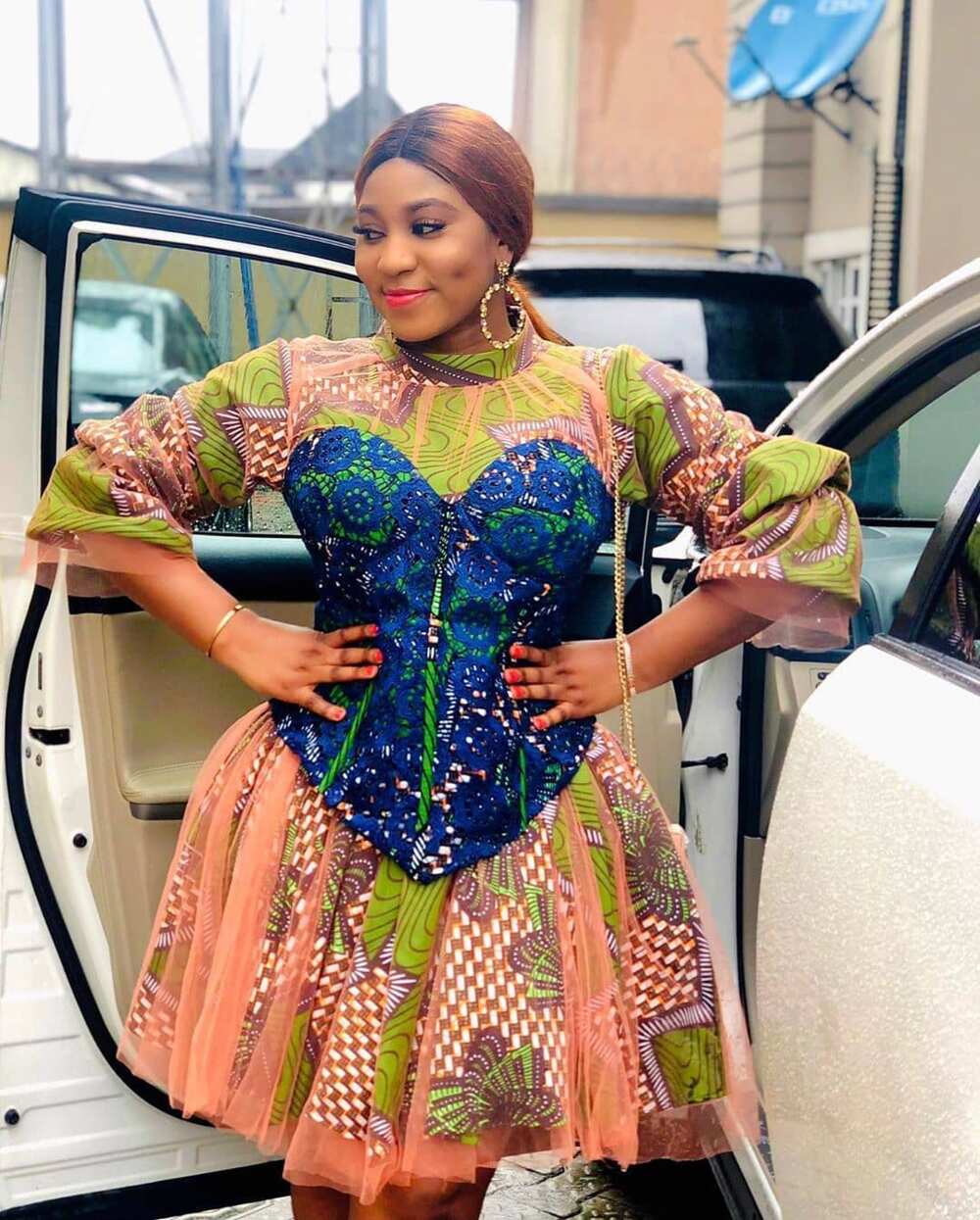 Well, you can design your Ankara gown and cover it with lace to enhance a unique look like the one above.
5. Blue lace dress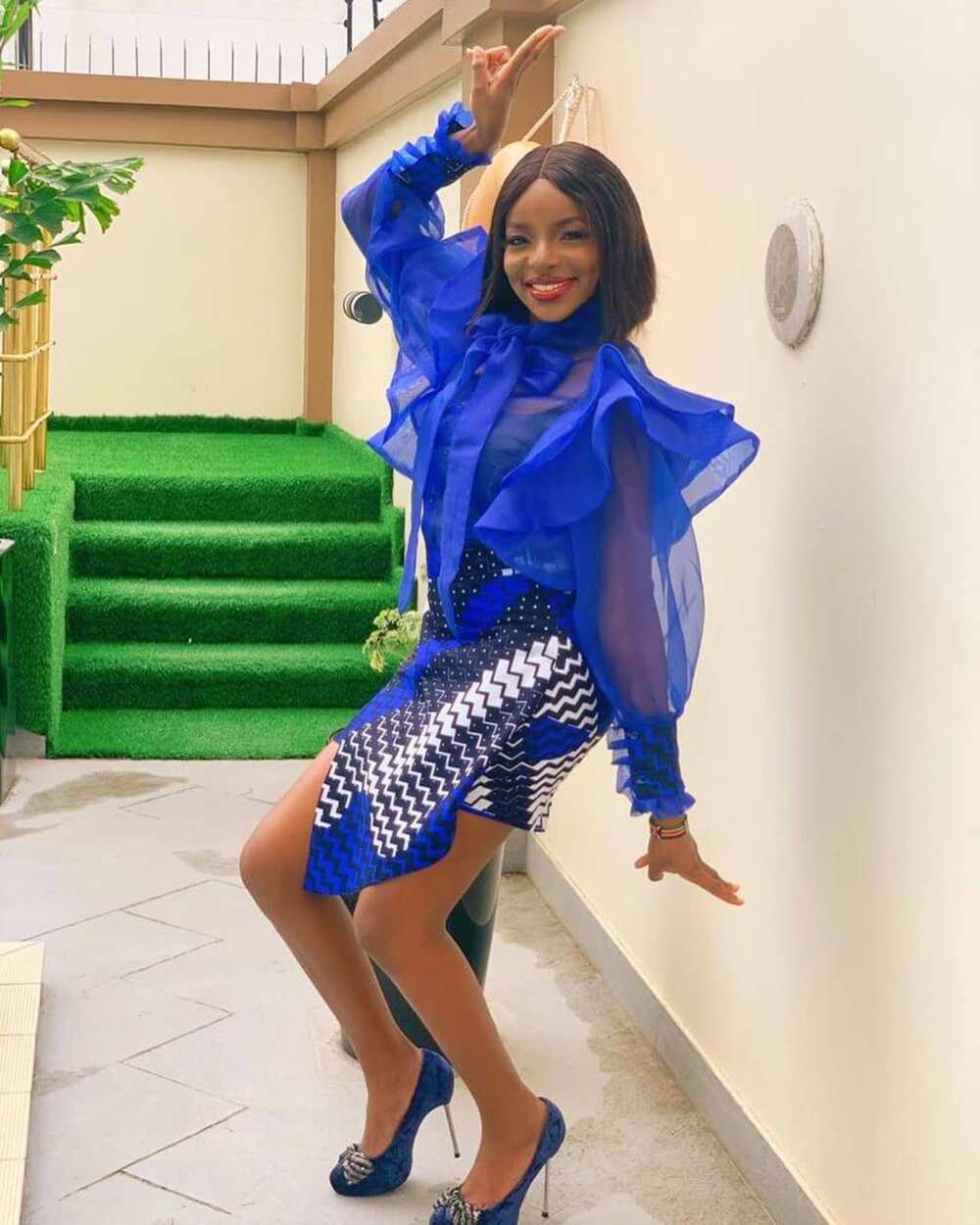 This is an excellent outfit for a party. The design of the lace on the upper part makes it more elegant.
6. A floral Ankara with long-sleeves white lace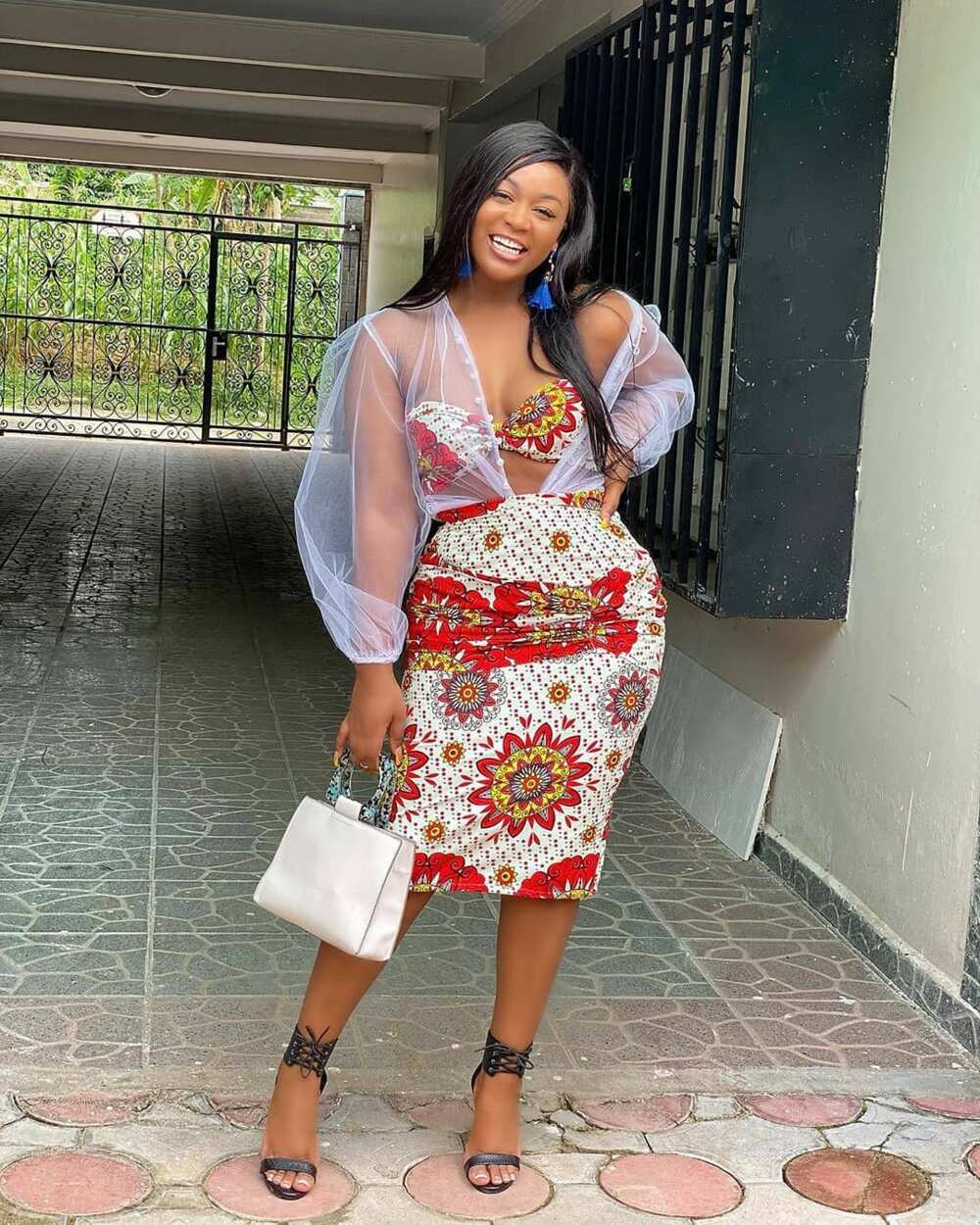 This is a unique way to combine lace with an Ankara outfit. It blends perfectly and looks stunning. The outfit is idle on a sunny day.
Lace gown styles are unique and amazing outfits for any occasion. Which of the above lace gowns was your favorite?
READ ALSO: Latest Ankara styles in 2021: gowns, tops, skirts, jumpsuits and more
Legit.ng recently published an article on the latest Ankara styles to rock in 2021. Have you been looking for the latest Ankara styles that you can rock this year?
Check out this compilation of the latest Ankara styles for women. You will definitely find something that will intrigue you here.
Source: Legit.ng