Ankara peplum top and skirt: how to rock them?
Ankara fashion is very vibrant and gorgeous. Unique Ankara styles attract attention and are very pleasant to look at. They can make every woman look stunning by accentuating her most prominent features. In this article, we will tell you how to rock the latest Ankara styles, and what clothes and accessories to add to your look.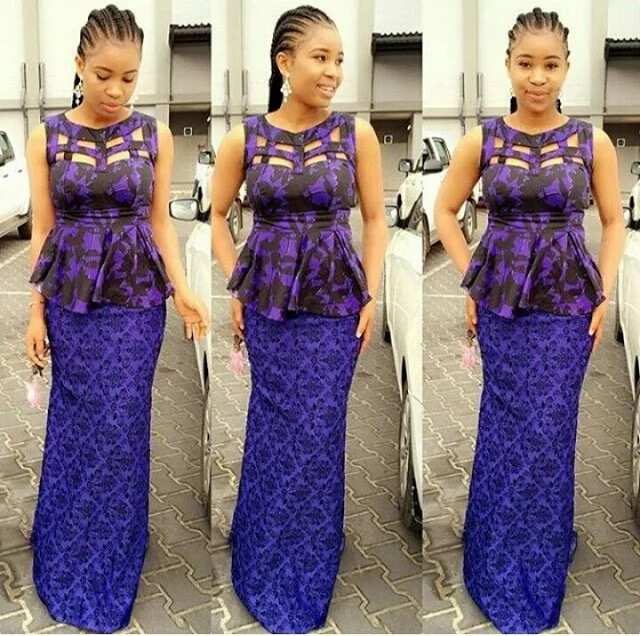 Many countries claim that it was they who introduced Ankara styles to the world. It is said that originally, the Dutch created the style with hopes to introduce this fashion to Indonesia. However, the trend did not catch on there. Instead, the countries in West Africa took the Ankara fashion and made it their own. Now you can find them all over Africa and in many countries in other parts of the world.
Ankara fabrics are covered in traditional African prints. Wonderful bright patterns work great for everyday clothes, but some people prefer to wear Ankara clothes on special occasions (weddings, birthdays, red carpet events). The most popular garments made out of Ankara fabrics are dresses, tops and skirts. Each piece of clothing is always unique and captivating.
We are going to tell you how to rock Ankara peplum top and Ankara skirt with other articles of clothing and accessories, as well as with each other. Enjoy!
What to pair Ankara peplum tops with?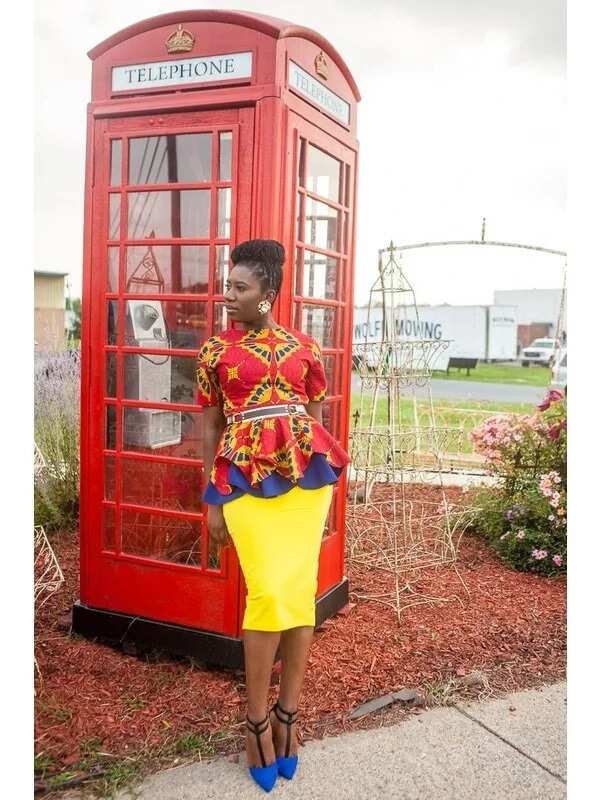 The beauty of the Ankara peplum top is that you can pair it with almost everything. It will probably look good even with a burlap sack! Here are a few ideas for outfits focused on the peplum top:
1. A pencil skirt, a pair of large earrings, a belt and a pair of brightly-coloured heels. Choose the colours for your accessories depending on your main colour scheme. We recommend sticking to one colour for the skirt and a different one for the shoes. If other garments are as multi-coloured as the top, it might make the outfit overly busy.
You can also add a handbag / clutch and a monochromatic bolero on top.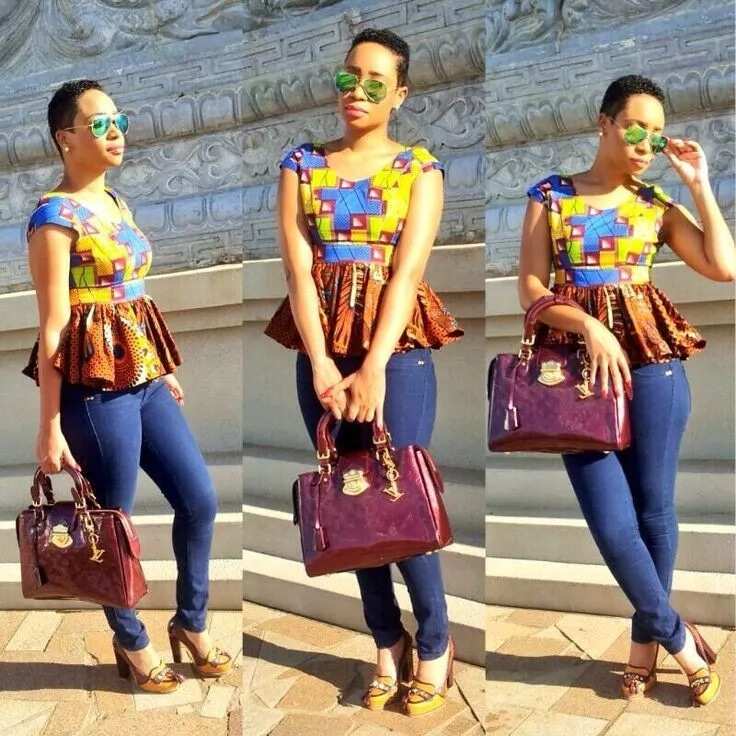 2. A pair of jeans, large necklace and/or bracelet, a cute handbag and a pair of high heels or wedges (platform shoes). Jeans of all colours work well with Ankara tops, however, our favourites have to be white, black or classic blue. That way, all the attention is drawn to your top and not dispersed all over.
You can add a pair of sunglasses and your favourite earrings. Instead of regular jeans, combine your Ankara peplum top with a matching pair of Ankara pants.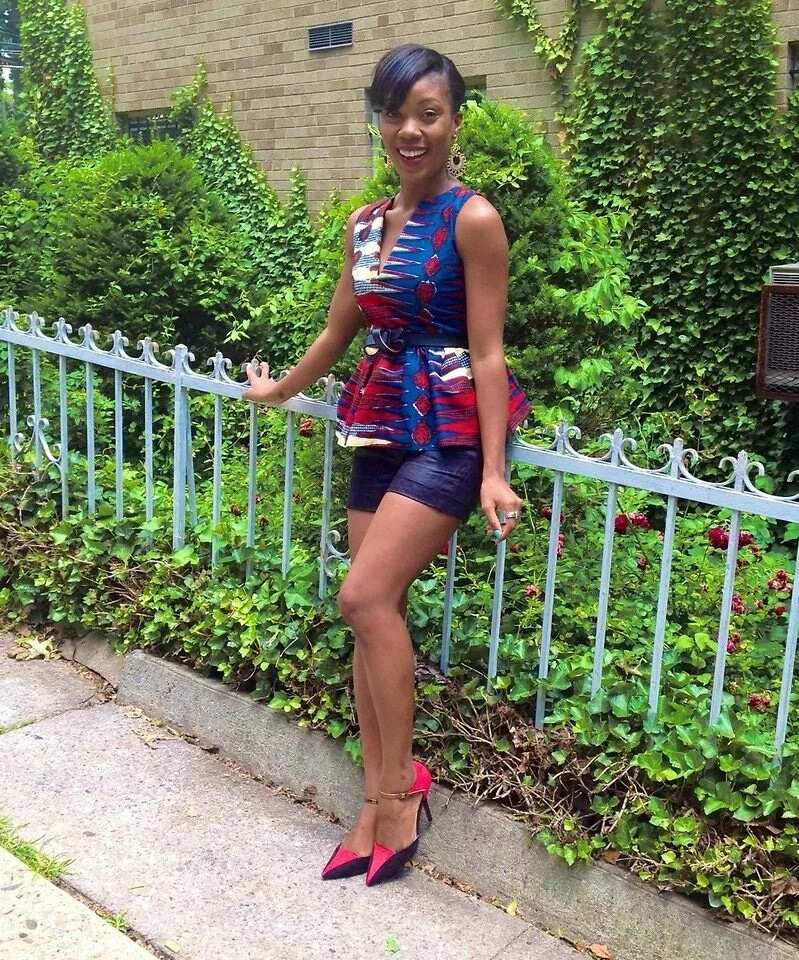 3. A pair of shorts, heels and your favourite jewellery. This outfit is a bit more daring and informal, but at the same time, it is simple and less 'in your face'. Find a pair of shorts you really like and that fit you well, put on your top and shoes and you are good to go!
What to pair Ankara skirts with?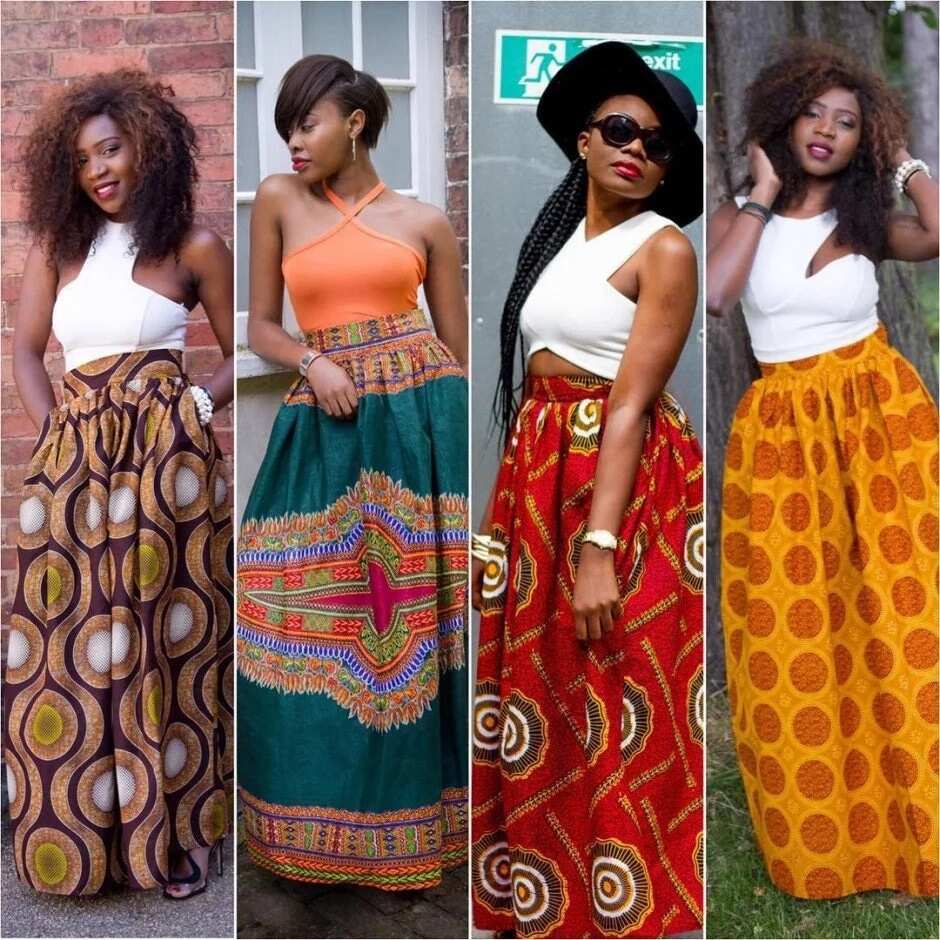 READ ALSO: How to cut princess dart blouse?
Ankara skirts are a great addition to your wardrobe. Regardless of their length or style, we have some ideas for accessorizing your Ankara skirt.
1. A crop top, large hoop earrings and a bracelet. If you have a floor-length skirt, the shoes do not really matter, so you can stick to your favourite comfortable flats. If you choose knee-length skirt, we recommend you wear heels.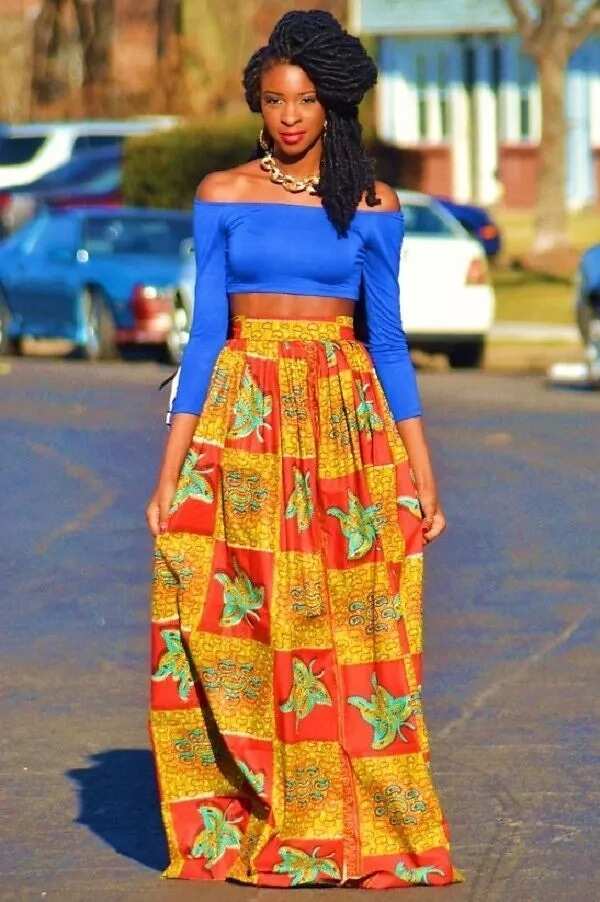 2. An off-shoulder top and your most beautiful jewelry. You can also use the off-shoulder Ankara tops to complete your outfit. As your shoulders and neck are exposed, try on some large necklaces or a choker. If you do not feel confident enough to expose your shoulders, throw a bolero or a small short-sleeved blazer over it.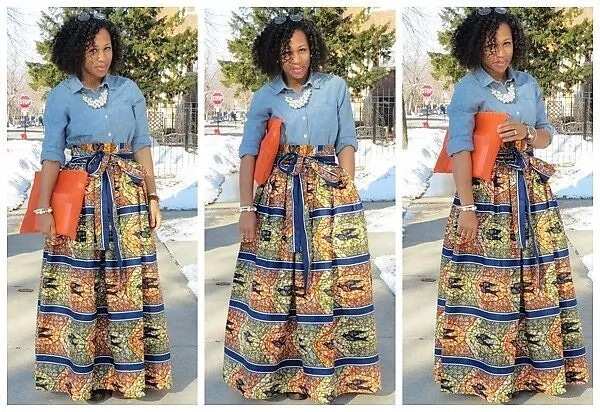 3. Long-sleeved shirt, large bracelets and earrings, long chain with a pendant, headscarf and/or a contrasting clutch. This outfit works great with denim shirts, but you can use any other (preferably monochromatic) shirt. Do not button it all the way up. You can also pop the collar if you are feeling particularly rebellious.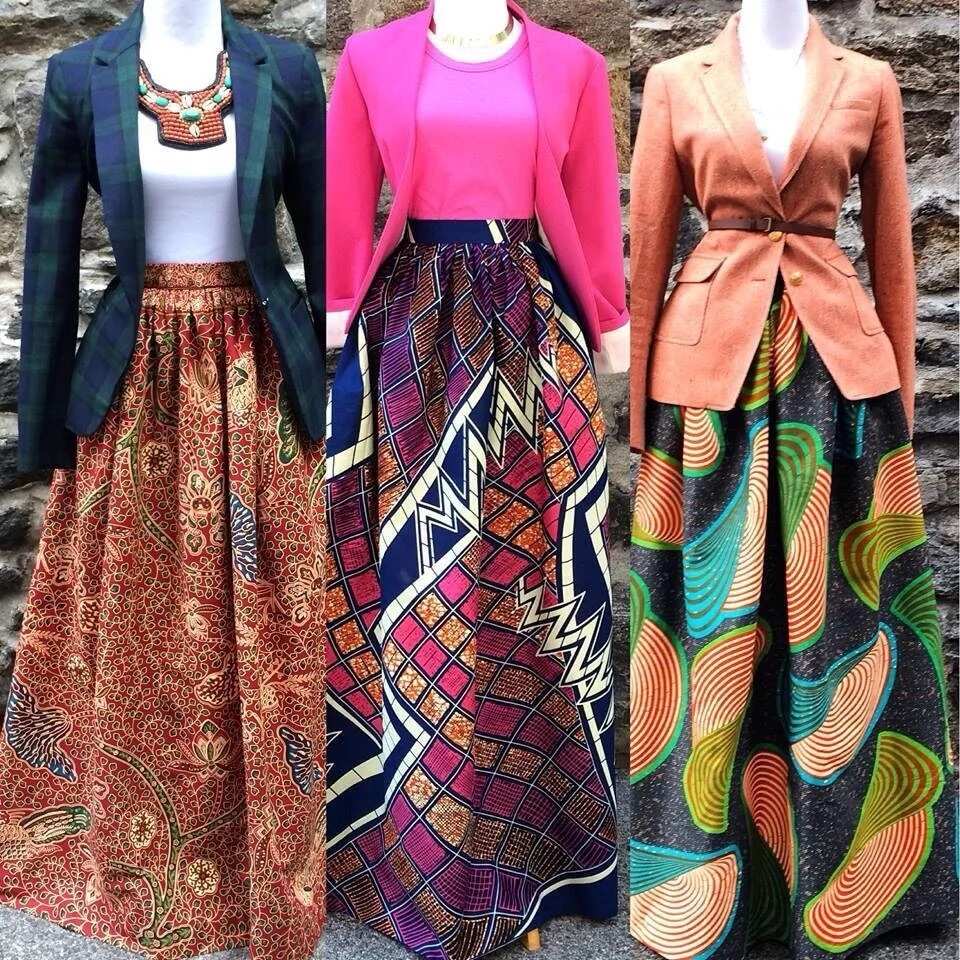 4. A tank top / string top, three-quarter-sleeved blazer, oversized bracelets, pins for the blazer. If your blazer is brightly coloured, we recommend you choose a dimly coloured top to go with it. You will never miss with a white top. Leave your blazer unbuttoned. If your Ankara skirt has pockets, put your hands in them and show everyone around who's boss.
Combine the two together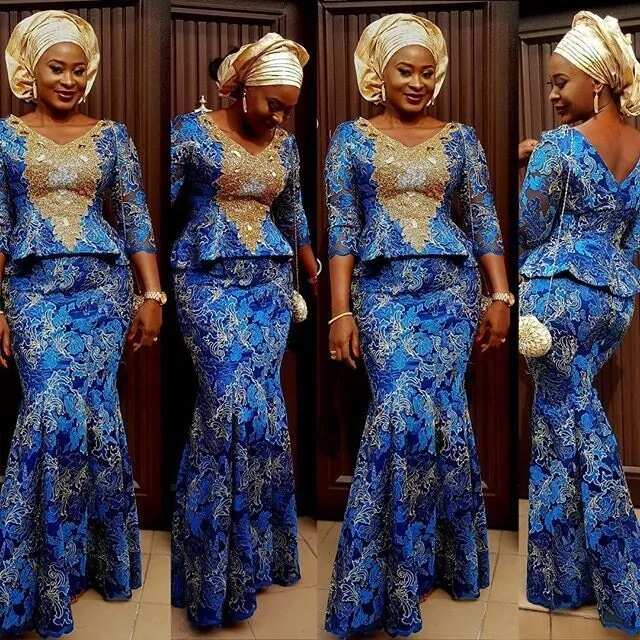 At the end, nothing goes better with Ankara than Ankara :) You can pair your Ankara peplum top with your Ankara skirt and throw in some accessories. This combination works extremely well with the traditional head wrap and is perfect for special occasions.
For the combination with the Ankara peplum top, it is best to choose a floor-length skirt and medium-sized heels. However, if you are a little bit on the short side, throw on your highest heels you have. Just make sure your skirt reaches the floor. Otherwise, the outfit might not work.
Try to keep them in one style and colour scheme, as you surely do not want to end up looking as a Christmas tree or a neon sign.
But who are we to tell you what to do? Experiment, mix and match, do not limit yourself to this list. Be bold and try out new looks. There are no rights and wrongs in fashion.
READ ALSO: Igbo traditional wedding attire for groom
Source: Legit.ng