IPOB warns Arewa youths ahead of quit notice, lashes out at Kwankwaso
- Following the quit notice order by Arewa Youths, the IPOB has sent out a warning concerning the lives of Igbos in the north
- The pro-Biafra group says it will give back fire if any fire is raised against a single Igbo person
- IPOB also lashed out at Kwankwaso for the lawmaker's call for Nnamdi Kanu to run for 2019 presidency
The Indigenous People of Biafra (IPOB) has warned that no harm must befall any Igbo person in the wake of the Arewa quit notice.
IPOB in a statement on Monday, June 26, warned that if any Igbo is killed in the North as a result of the quit notice issued by Arewa youths, "Hausa-Fulanis will get a dose of their senseless attacks and stupidity back."
READ ALSO: Top 19 quotes for the month of June
According to Daily Post, IPOB, while issuing the threat warned the North that, "Biafrans of today are not the same breed as those they massacred in 1967 and 1970 at will, without retaliation."
The pro-Biafra group also cautioned Arewa youths, saying they should be more civil in their utterances because "threats and intimidation do not work with IPOB."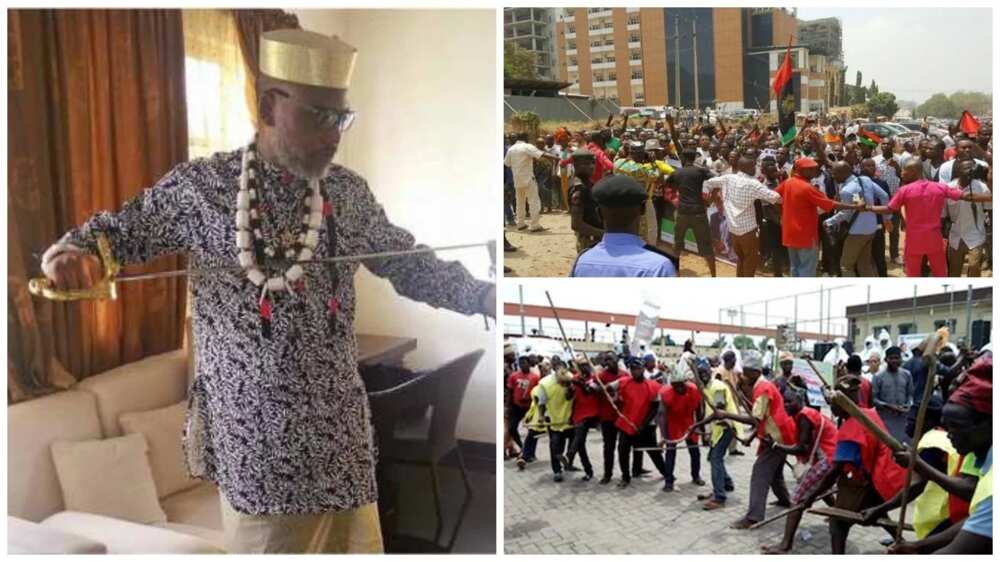 In a statement signed by the spokesperson of IPOB, Emma Powerful, the group lashed out at the Governor of Kano state, Rabiu Kwankwaso for asking Igbo leaders to publicly denounce the secession struggle.
Kwankwaso had over the weekend asked leaders of the South East to denounce those clamouring for Biafra in a bid to show sincerity to Nigeria's unity.
Reacting to Kwankwaso's call, IPOB in the statement said no Igbo leader allegedly "handpicked by Hausa-Fulanis in Aso Rock" can stop its struggle for secession.
PAY ATTENTION: Read the news on Nigeria's #1 new app
The group condemned the Kwankwaso's statement, stressing that the IPOB and its leadership worldwide led by Mazi Nnamdi Kanu is not working with the so called Igbo leaders.
The group warned that any careless move from the north might lead to an implosion.
"Kwankwaso has just revealed to us by his statement that he is one of the numerous Northern elders sponsoring their poorly educated youths against Biafrans residing in the North and we will not tell them what will happen until any Igbo man or any other Biafran for that matter is killed as a result of their quit notice," the pro-Biafra group stressed.
Below is a Legit.ng video in which Nnamdi Kanu addressed his followers in Isiama Afara, Abia state.
Source: Legit.ng News