It has been five years since the famous Nigerian football player Nwankwo Kanu retired, but people are still talking about him. Many want to know what Kanu Nwankwo mansion looks like, or what he is doing now that he is not on the field anymore. However, the most important thing people want to know is the net worth of Kanu Nwankwo. We can satisfy your curiosity, so keep reading to find out about Kanu Nwankwo net worth, as well as a little more on the footballer himself.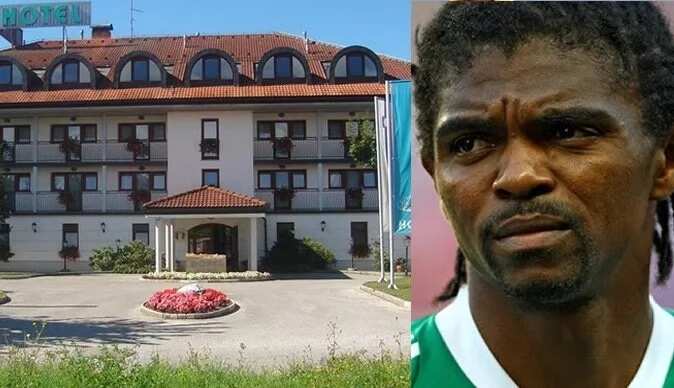 What is Kanu Nwankwo net worth?
We do not want to bore you with all the details of the footballer's life right away, so let's get straight into the juicy details.
Once considered the richest football player in Nigeria, Kanu has significantly moved down on the list after the end of his career. Now that the football money is not flowing anymore, he has to find new ways to earn it. And he has succeeded in doing so.
After scouring the Web for hours, we have found that two of the websites often used to determine people's net worth have attributed a $9 million net worth to Nwankwo Kanu. These websites are CelebrityNetWorth.com and TheRichest.com. Other tabloid press claimed that his net worth reaches $100 million.
Apart from the businesses that were mentioned above, Kanu owns Hardley Apartments on Victoria Island in Lagos. This luxury hotel brings in significant profits. There were some complications with this though, like noise and air pollution, as well as managers-fraudsters back in the day, but everything is back on track now.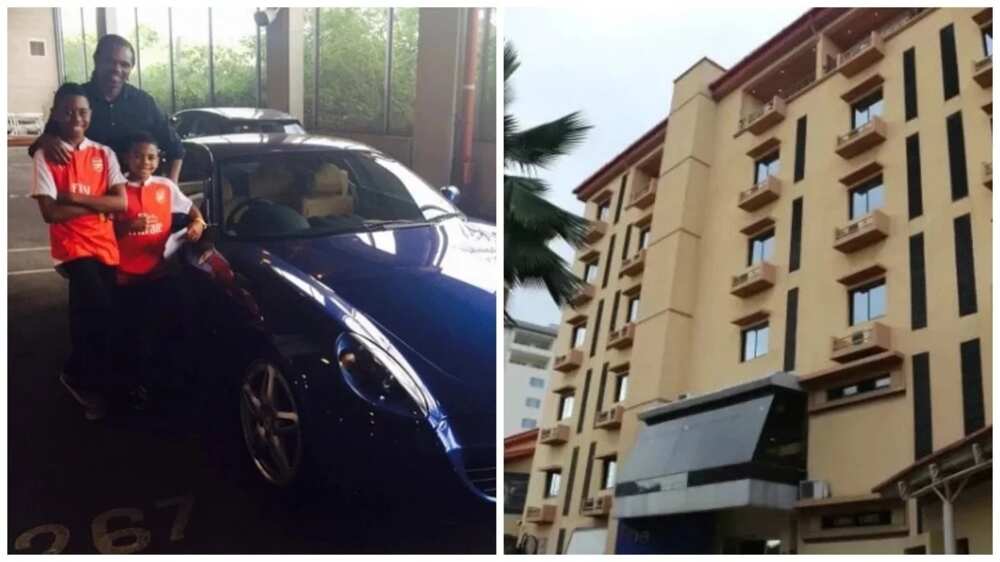 READ ALSO: Richest footballer in Nigeria 2017
Little is known about Kanu Nwankwo house and cars. He is not the kind of person to parade his wealth or luxury autos. Most information about his private property is based on tabloid rumors. However, his son, Sean Kanu, has once posted pictures of himself in his father's car. It is a beautiful blue Ferrari two-seater.
It is said that he has mansions in his hometown of Owerri, as well as in Arochukwu and Ikoyi. Other sources claim that he owns a mansion in Opebi, Lagos, the cost of which is estimated to be N150 million. Some go as far as to say that he has a house in London, a chain of hotels in Dubai and several estates in Abuja. However, there is no backing available for these claims.
When he was still playing for Portsmouth, it was reported by The Sun, that three of his cars (two Audis and a Mercedes) and a house in Barnet, London were in danger of repossession for his outstanding debt. However, the situation was settled and plenty of time has passed, so the fate of those assets is unknown now.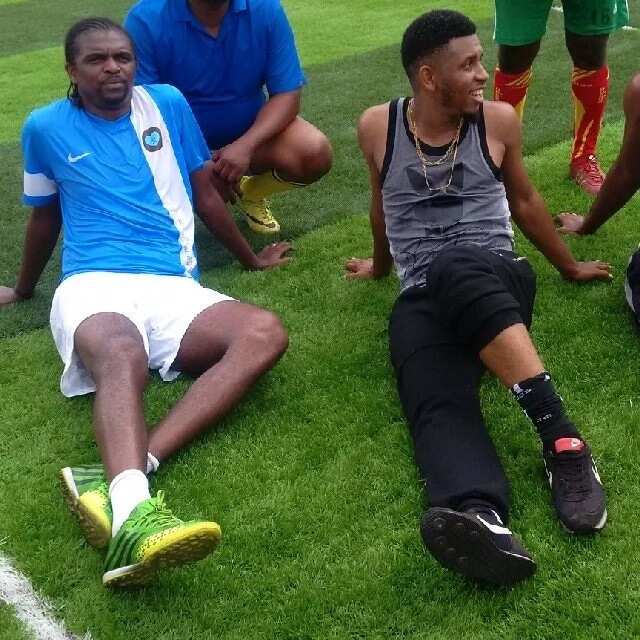 Overall, Kanu obviously does not earn as much as he did in his early days, but property ownership and several successful businesses have kept him afloat. He might no longer be the richest footballer in Nigeria, but he is still thriving.
Who is Nwankwo Kanu?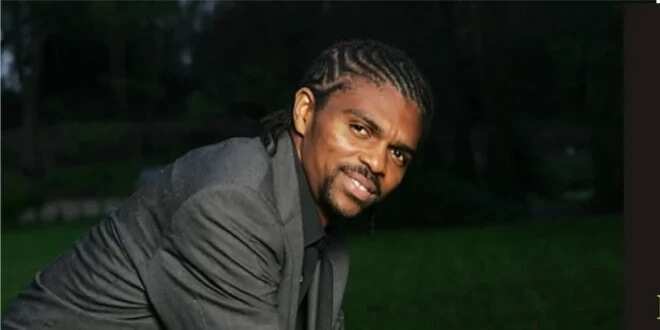 READ ALSO: Is Paul Pogba a Muslim?
Now that we have satisfied your curiosity about Kanu's net worth, let us tell you a little bit more about the man himself. Nwankwo Kanu, known by all as just Kanu or 'Papilo', was born in Owerri, Nigeria on August 1, 1976. His zodiac sign is Leo. His football career lasted for 20 years (1992-2012), and now he is retired and living a happy life.
Some quick facts about Kanu:
The name Nwankwo literally means 'born on the day of Nkwo' in Igbo.
During his career, Papilo played for six teams, including Arsenal and Portsmouth, as well as for the Nigerian national football team. During his career, he scored 133 goals in total.
He suffered from a heart defect that was diagnosed back in 1996, and he underwent surgery the same year. Because of this, in 2000 he used his fame and money to create the Kanu Heart Foundation that aims to help children with heart diseases.
He has been married for 13 years. He and his beautiful wife Amarachi have a daughter and two sons.
He has won numerous awards, including the Olympic Gold Medal and the UEFA Cup.
Where is he now?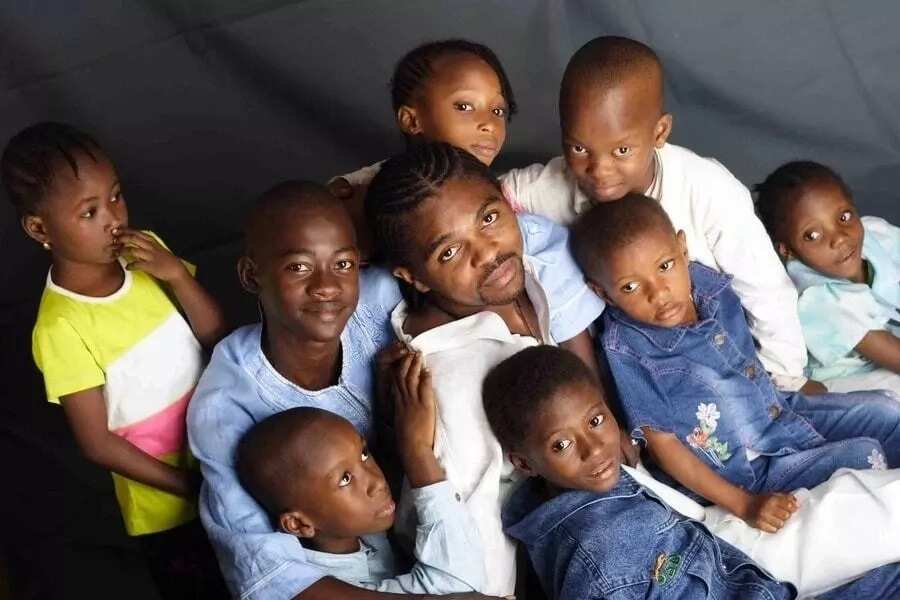 As we mentioned before, Kanu is involved with charity and does not spare any expense on his foundation. While we are on the topic of charity, he also has an endorsement deal with UNICEF.
In 2012, Papilo opened his own training grounds called Kanu Sports Center. It has a football field (obviously), a pool, an outdoor gym and a basketball court.
In 2015, he opened a photo studio and modelling agency by the name of Papilo, which includes a recording studio and video production outfit.
In addition to all these, he also owns a football school in Canada for children that 17 years of age and below. Kanu also sponsors a football team from his hometown called Papilo FC.
You can follow his life on Instagram (@kingkanu4) and on Twitter (@papilokanu) to get the latest information about his life.
If you are looking for Nigeria richest footballer, you will not find him there. Kanu's golden years have passed; his football career is over. Nevertheless, it does not stop him from earning money through his various properties and organizations. Even after all these years, he still is an icon for the younger generations, be it his success in sports or his charity work. May God help him in his future endeavors.
READ ALSO: How to become a professional footballer in Nigeria?
Source: Legit.ng