Editor's note: A post-graduate engineering student at Coventry University, London, Engineer Best Agbese, outlines how the National Agency for Science and Engineering Infrastructure (NASENI) came up with a solution strong enough to terminate electoral fraud in Nigeria and beyond, but its effort is being frustrated by the Independent National Electoral Commission (INEC).
Read below:
All over the world, what confers credibility on democracies is the propensity of nations to conduct free and fair polls. But to achieve credibility or perfection in the electoral process is most times a near impossibility, especially in developing nations like Nigeria. One can safely conclude that it is largely a problem of Africans and the African continent generally.
In Ghana, Angola, Liberia, and Nigeria or anywhere else on the continent, politicians execute a brazen abuse of the otherwise sacred process. Zimbabwe's Robert Mugabe and Cameroonian Paul Biya have remained life presidents of their countries. Basically, their main challengers at every presidential ballot complain of rigged elections. It has been the albatross of the democratic process in Africa.
The Nigerian case presents the worse scenario of such electoral malfeasance. Thus, when you hear of the concept of political thuggery, it is conceptualized by unpopular politicians to support violent election rigging. And the analogue and antiquated traditional voting style encourages the abuse of the electoral process.
And scientists are not resting on their oars to find a solution either. It has led to the invention of the biometric electronic voting machine (e-voting machine). Nigeria's first attempt at applying a semi-model of this technology was during the 2015 general elections, which enabled Nigerians to elect the present crop of leaders in the country. President Muhammedu Buhari emerged, defeating an incumbent rival. Thereafter, the president promised to improve on it to give Nigerians better free, fair and credible elections.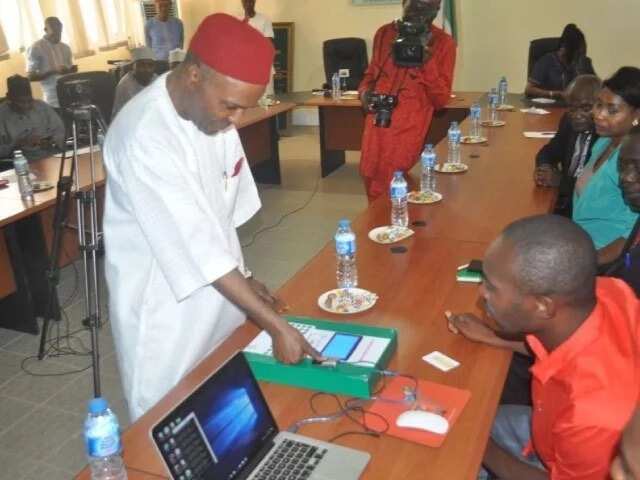 PAY ATTENTION: Read the best news on Nigeria's #1 news app
The e-voting machines used by INEC in 2015 were imported and by no means perfect, but they nonetheless, substantially minimized the brigandage, the roguery and the violence that customarily characterize the electoral process in the country. And the imported technology cost Nigeria a fortune in foreign exchange.
Flowing from this direction, news about the development of an indigenous e-voting machine in Nigeria gladdens the heart. These were developments that instigated the current minister of science and technology, Dr Ogbonnaya Onu to challenge the National Agency for Science and Engineering Infrastructure (NASENI) to come up with a solution strong enough to terminate electoral fraud in Nigeria, or end Africa's electoral nightmare.
Therefore, NASENI's Executive Vice Chairman/Chief Executive Officer (EVC/CEO) Professor Engineer Mohammed Sani Haruna set out and accomplished this task through a parastaltal under it, the Electronic Development Institute, (ELDI), Awka, Anambra state.
ELDI engineers have demonstrated exceptional ingenuity by developing a solar-powered electronic voting machine, with cloud-based election result collation system. The new device by NASENI, which is a remarkable improvement on INEC's imported e-machines used in the 2015 and subsequent by-elections or isolated polls in Nigeria, has been verified, tested and certified. It is a promising device to end Nigeria's widespread electoral malpractices.
At the presentation of the wonder device to both the minister of science and technology, Dr Onu and the presidency, the NASENI boss was confidently explicit that adoption of the indigenous e-voting machine would attract accruing benefits such as save Nigeria scarce FOREX and, reduction in time management for election results. It would also surmount numerous other challenges which militate against an effective ballot in the country or the sublimely multifaceted layers of election perfidy in Nigeria.
Explaining the functionality of the NASENI device, Professor Haruna averred, "… it eliminates ballot box snatching, multiple thumb printing, failure of card reader and alteration of data between polling units and collation centres."
"In addition, it made provision of real time election result as voting progresses; it has provision for Diaspora voting. It incorporates facial recognition, Radio Frequency Identification Device options of voters' identification in addition to thumb print and card reader."
But in consonance with the Nigerian character in public governance, INEC, whose major responsibility is to ascertain the viability of the device and adopt the indigenous solar-powered e-voting machine by NASENI is for unclear reasons, attempting to ignore and reject this device. It has hedged its outright acceptance despite the demonstration of its better features, perfection and performance before INEC.
To betray INEC's conspiracy against NASENI and Nigerians, INEC boss, Professor Mahmud Yakubu consented to barring of journalists from covering the session of presentation of the e-voting machine to the commission by the minister of science and technology. Conscience later pricked INEC to recant its notice pasted on the entrance gate of the commission denying ever barring reporters from the event. But it has not bothered to officially publicize what transpired during the presentation, through its public relations department, hence reporters were absent.
This official conduct smacks of a conspiracy to "kill" the project on arrival. There is nothing that should be "secret" to Nigerians about INEC's genuine critical views on the solar-powered machine, designed to arrest electoral fraud in Nigeria to inform the status of secrecy conferred on the meeting.
However, clandestine, but impeccable sources at the presentation meeting claimed INEC's rejection of the machine was anchored on anticipatory fear of its failure midway into elections and consequently create circumstantial problems leading to litigation against INEC. This is extremely lame excuse, judging by experience.
For a start, INEC under Professor Yakubu has conducted several legislative and executive elections in Edo, Kogi, Ondo, Rivers and scores of isolated constituencies using the imported, electricity dependent e-machine. He knows better the aspects of the failure of this device, but it has never prevented the commission from using it.
INEC has had cause to order its personnel in the middle of elections to use manuel registers where the card reader fails. The commission is also aware of the present difficulty Nigerians nationwide are encountering with the Continuous Voter Registration exercise.
Has INEC under Yakubu's leadership ordered the discard of these e-voting machines on account of these defects? Why is the insistence on the rejection of NASENI's brilliant technological ingenuity on account of anticipatory fear of failure? These are tales only good enough for the marines. Could it be understood that the e-machines used presently by INEC are better because they are imported and NASENI's device is bad because it is locally perfected?
Anyway, credible sources at the meeting also claimed the INEC boss himself and very senior officials were stunned beyond disbelief when the efficacy of NASENI e-voting device was tested in their presence, particularly on the grey areas they instantly raised and, it worked wonderfully. They never believed Nigerians were this brainy as the locally developed e-machine effortlessly solved INEC's haunting problems, which the imported machines could not remedy.
Therefore, the INEC boss must understand that cleverly rejecting the machine, but placating the minister, with a phantom technical committee to establish the viability of the e-voting machine is more the headache of Nigerians than the minister or NASENI. And if this is a prelude for a " coup" the technical committee is expected to stage in its report due on July 29, 2017, they should have a rethink. Like the minister challenged, INEC is prodded to use the NASENI machine for the 2019 general elections because even if the committee raises lapses' in the device, there is time for the indigenous engineers to rectify before the general elections, at less costs, until it is approximates the height of perfection.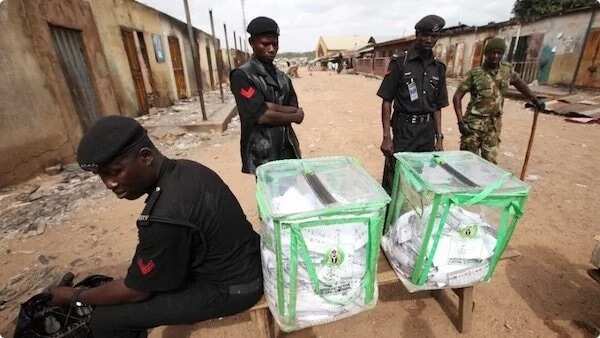 Repeated again, President Buhari promised Nigerians to improve on the conduct of elections in the country. It is the right of Nigerians to have free, fair and credible polls. And thoughts or inventions that seek to improve the system should ordinarily elicit excitement in INEC, as against the present grandstanding.
READ ALSO: Application for N-Power graduate recruitment scheme surpasses 1 million in one week
Additionally, Acting President Yemi Osinbajo has signed three-pronged executive orders into law. And one of the executive orders stipulates "support for local contents in public procurements and services" and makes it mandatory for MDAs to opt for local content where such alternative exists, as NASENI now offers in the improved solar-powered e-voting machine.
The NASENI e-voting device incorporates features like instant facial recognition of the voter, effectively combines several segments of elections simultaneously in one day, economizes voting time, diaspora voting, prints instant results, takes care of power failure, by using solar energy and lots more.
The NASENI invention has combined all the features necessary for electronic-propelled elections into a single device and INEC knows the existing device it uses is dwarfed by these Nigerian inventors. So, on all fronts, both the doors and windows are sealed against INEC's rejection of the NASENI e-voting device.
Nigerians are deeply appreciative of this novel initiative by the agency led by Professor Haruna who has made a loud statement that NASENI is competent and willing to proffer solutions to Nigeria's complex problems of underdevelopment associated with technological advancements and scientific breakthroughs. The determination of NASENI under Professor Haruna is not in doubt as attested by this viable e-voting device and numerous other inventions like the design of hydroelectric turbines, high efficient energy-saving LED lights, engineering laboratory equipment and so forth.
If the device is adopted for 2019 polls and NASENI is given the consent to mass produce the solar-powered electronic voting machines, imagine the benefits. It will bolster indigenous engineers to do more in other areas to service the local content policy, massively create jobs, save Nigeria billions of naira expended on importation of the defective device in use, earn foreign exchange, as African nations would rush for an voting device that has worked in Nigeria, secure the electoral system against fraud, and open new vistas of hope for good governance, not only in Nigeria but the entire African continent.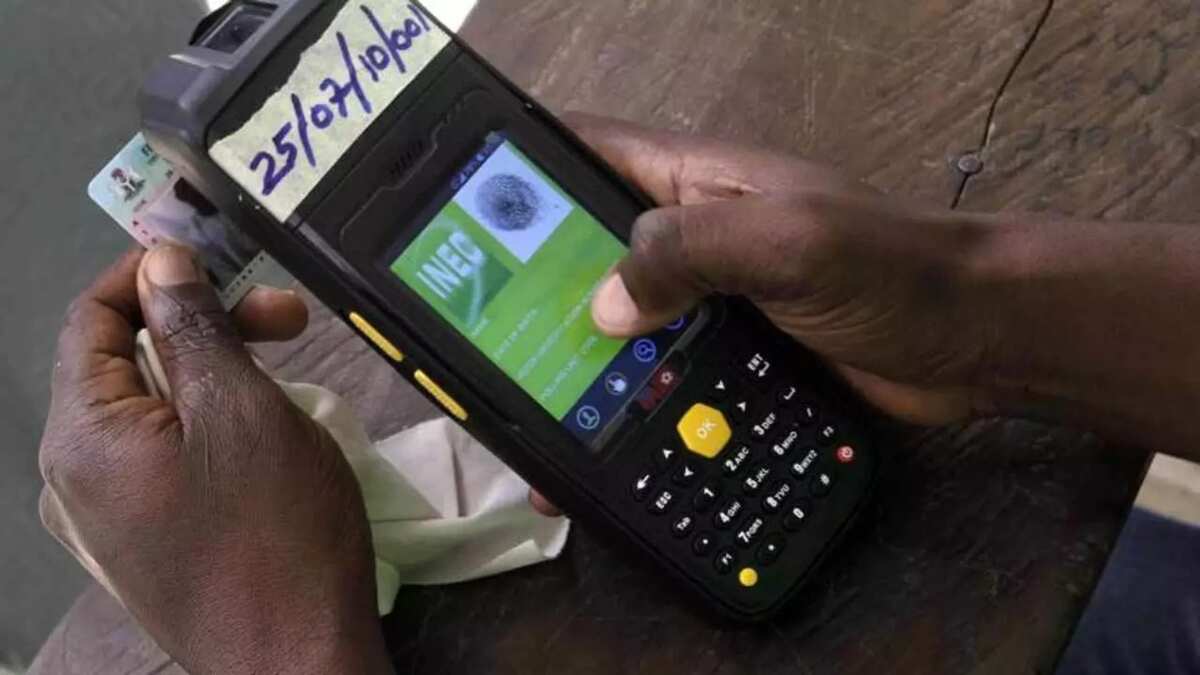 So, a friendly synergy between INEC and NASENI is ultimately necessary and expedient since the next general elections are less than two years ahead. Meanwhile, the National Assembly should look inwards to possibly adjust clauses in the Electoral Act 2010 (as amended) to accommodate the novel features of the electronic voting device by NASENI, as integral part of the electoral process and post-election litigation contents.
The 2019 general elections are very near and the time to begin this indispensable preparation is now. Nigeria must encourage these engineers' at NASENI/ELDI for this wonderful invention. Nigeria shall be adjudged an unserious country, if it allows China or India to ferry these brilliant brains to perfect the device abroad, only for the country to import with billions of US Dollars. And this is how the trend is nurtured. NASENI should be supported to shine as the gateway to free, fair and credible polls in Africa.
Your own opinion articles are welcome at info@naij.com — drop an email telling us what you want to write about and why. More details in Legit.ng's step-by-step guide for guest contributors.
We're ready to trade your news for our money: submit news and photo reports from your area using our Citizen Journalism App.
Contact us if you have any feedback, suggestions, complaints or compliments. We are also available on Facebook and Twitter.
Watch the Legit.ng TV video below of the minister of transportation, Rotimi Amaechi talking about the achievements of the federal government in the last two years.
Source: Legit.ng