Women in these 5 professions will make great wives
- A number of factors usually come to play when a man is looking for a wife
- These factors include age, education, profession, money, and family
- But the truth is that opinions may differ when it comes to marriage
At certain point in life, a man is expected to get married and start a family. Your parents will most likely be on your case when they feel that you are not giving this matter the level of seriousness they feel it deserves.
Some parents will even go to the extent of finding you a woman that they think can make a good wife for their son. Others will give you a long speech on why you should propose to your present lover.
READ ALSO: Young girl spotted studying in the night at a railway station (photo)
As parents, they mean well for us. But at the end of the day, the decision rests with you. How will you proceed? Will you let your parents decide who you should marry?
As you ponder over that weighty question, let's see which professions are likely to make great wives and why.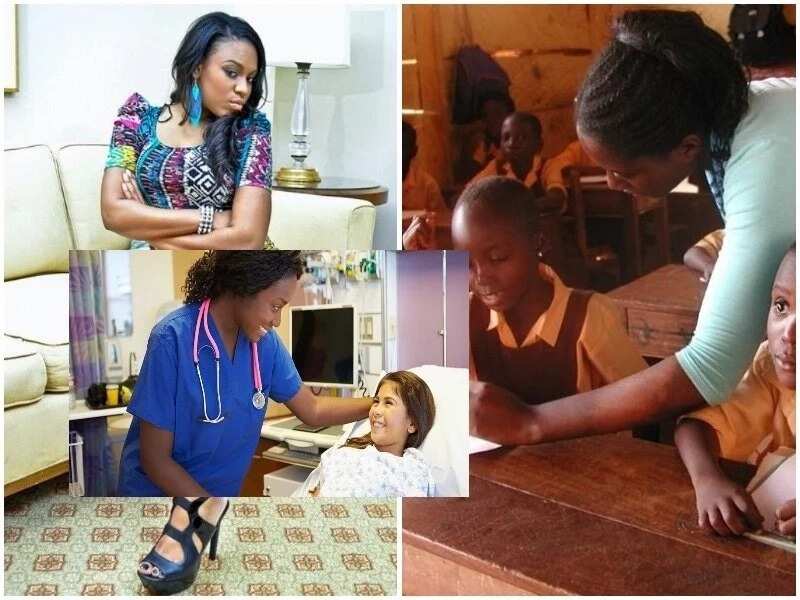 1. Nurses
Nurses are generally caring people. They are trained on how best to care for people so chances are that they also make good wives.
Also, as health professions, they understand the risks of having an affair with more than one partner. Therefore, they are mostly likely faithful people. You will be safer with a nurse as your wife, and your parents will be really proud.
READ ALSO: Man breaks the internet with his girlfriend's massive bumbum (photos)
2. Teachers
When it comes to teachers, you should consider primary school teachers over secondary school teachers or university lecturers.
This is because primary school teachers deal with children on a daily basis. They love kids and most certainly will never leave your children at home alone without adult supervision.
The issue with some secondary school teachers is that they already have too much to deal with. If you think handling teens and adolescents is easy, just ask them. And with that in mind, your manly needs may not be sufficiently attended to back at home.
READ ALSO: Woman gives birth to her own BROTHER in the UK (photos)
Also, primary school teachers don't make a lot in terms of earnings. That means you are most likely going to be making much more than them. This will soothe the common male need to earn much more than the wife.
3. Ladies of the night
Who would have thought that 'ladies of the night' can actually make good wives? Strangely, there are people out there who consider the ladies of the night to be great wives. This is because she will be great in the bedroom.
But as you already know, ladies of the night are not meant to be with you alone. They have clients who are looking for their 'services'. Your parents will certainly not be happy if they find out about her.
READ ALSO: Man takes bold step to help injured 'madman' he saw on the road
4. Maids
Married men, please keep your hands off maids! Just kidding guys, your hands can stay where they are!
But come to think of it, why would a married man dump his 'hot like pepper' wife only to marry a maid? It's because maids can make good wives and home keepers. It's that simple. However, cheating in marriage is not allowed, that is, if you want it to last forever.
WANT MORE? Download Legit.ng Wedding app for android to get the latest posts
5. Female Chefs/Caterers/Cooks
A way to a man's heart is through his stomach. This old proverb has not lost its meaning. Traditionally, a woman must know how to cook for her husband.
Yes, things may have changed, as now some women expect their husbands to cook for them, but the traditional African men still expect their wives to be good cooks, which brings us to the female chefs.
As professional cooks, female chefs can be great wives.
NOTE: Views expressed in this article are personal opinions.
Watch the video below of Legit.ng asking Nigerians how much salary a man should earn before he considers marriage:
Source: Legit.ng