Implement national conference report - Afenifere tells Osinbajo
- The pan Yoruba socio-political group, Afenifere, says the comments of former Nigerian leaders suggests that there is need to restructure the country
- Afenifere calls on the federal government to take decisive action to stop the bloodshed being caused by the rampaging herdsmen in various parts of the country
- The group warns that failure by the government to take action on the herdsmen issue may force people who are being attacked to result to self-help
The pan Yoruba socio-political group, Afenifere, has urged Acting President Yemi Osinbajo to commence the process for the implementation of the recommendations of the 2014 national conference.
READ ALSO: Okorocha fires all commissioners, 27 local government transition committees on Biafra remembrance day
According to the group, the comments by former Nigerian leaders including, Gen Yakubu Gowon (rtd), the former president, Goodluck Jonathan and the former vice president, Atiku Abubakar, indicated that there was need to restructure the country.
Afenifere made the call on Tuesday, May 30, in a communique issued at the end of its quarterly meeting held in the residence of its national leader, Chief Reuben Fasoranti, in Akure, Ondo state, This Day reports.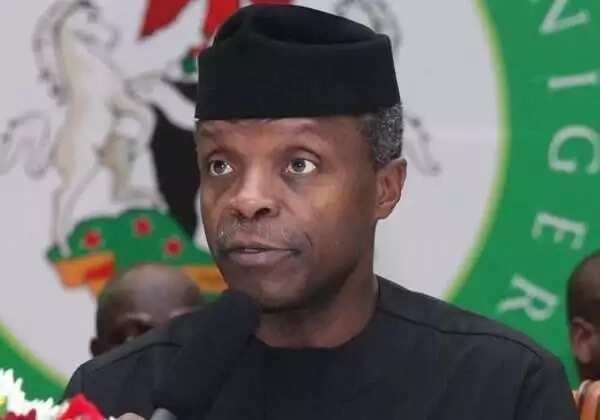 The group also called on the federal government to take decisive action to stop the bloodshed being caused by rampaging herdsmen in various parts of the country.
PAY ATTENTION: Read the news on Nigeria's #1 new app
It warned that failure to do so may force make people who were being attacked to result to self-help.
Legit.ng learnt that the the group also urged states in the south-west to emulate Governor Ayodele Fayose of Ekiti state by making laws to regulate grazing.
Meanwhile, Ayo Adebanjo, a leader of Afenifere has criticized Acting President Yemi Osinbajo, for asking Nigerians to emulate the unity in multicultural US.
Osinbajo, speaking at the Biafra conference in Abuja on Thursday, May 25 had cited the unity in multicultural US as an example of how Nigerians should live together.
However, reacting to Osinbajo's statement, Adebanjo in his presentation said American citizens were not forced to live together.
The Afenifere leader argued that Nigerians were being forced to stay together, which he added would not help the development country.
In the video below, Legit.ng TV asks some Nigerians if they believe the Biafra Republic will be achieved in the nearest future
Source: Legit.ng