Nigerian ankara prom dresses 2018
Nigerian ankara prom dresses guide is HERE. Check out the best and the most stylish pics. Look beautiful and trendy at one of the most important days of your life. Choose the right outfit to compliment your body and show your style.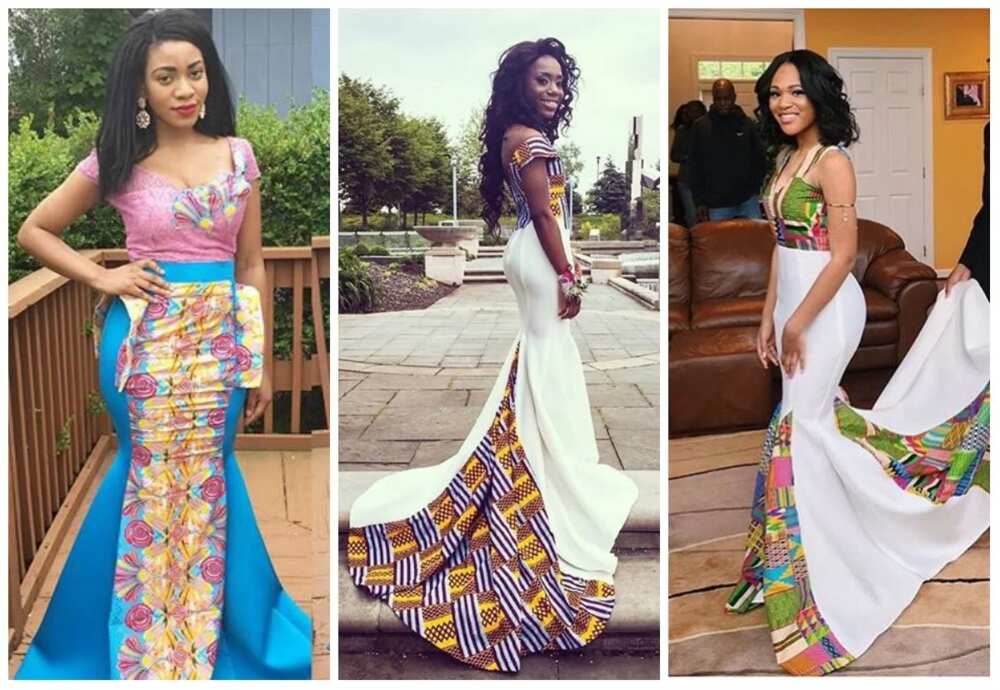 Every girl wants to become a princess for at least one evening. Nigerian ankara prom dresses will give you an opportunity to feel as if you were invited to the ball.
In the majority of cases, these kinds of dresses are long, so you can hardly come across ankara short gowns at some ball or an occasion like prom.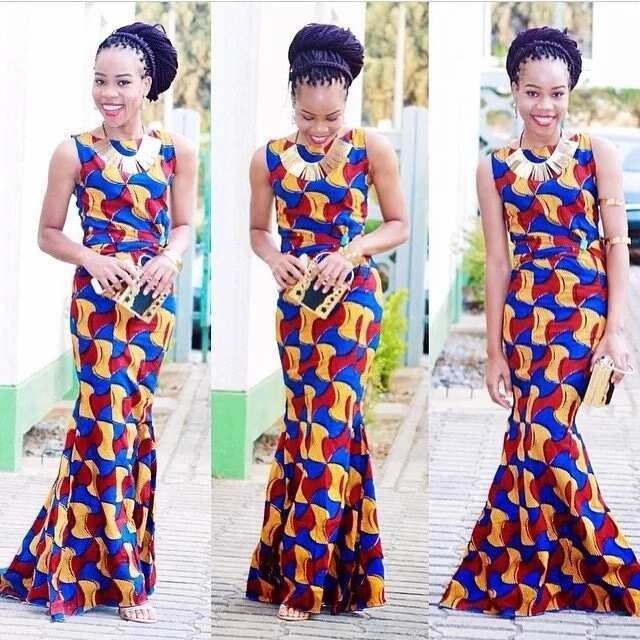 Wearing ankara peplum styles dress, you will be always the center of attention. Don't be shy to have all eyes on you! This outfit highlights the femininity and refinement of a lady. Men always notice ladies who are wearing long stylish ankara dresses, so this choice should seriously considered.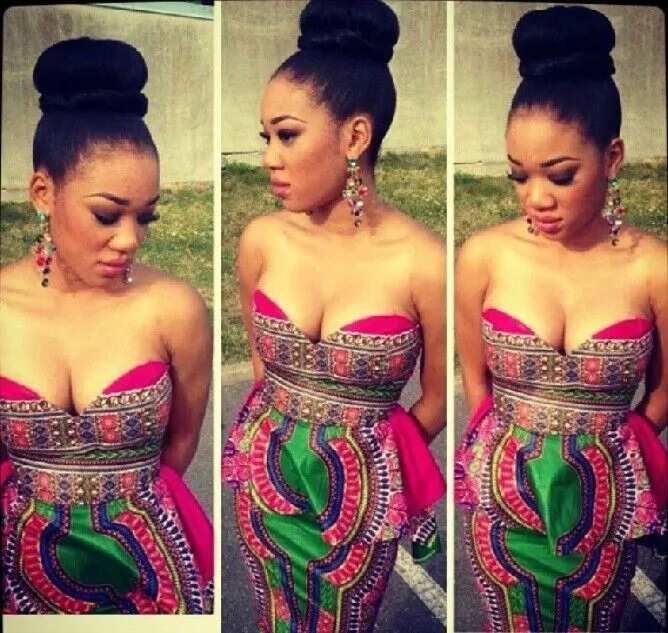 If you want to make your dream come true when it comes to buying/sewing ankara styles prom dress, you should pay attention to some nuances. These dresses in Nigeria may vary slightly in length. No matter how much you adore a long train, it is preferable to leave dramatic lengths for bigger ceremonies. Go for modest style so you will look fun and trendy.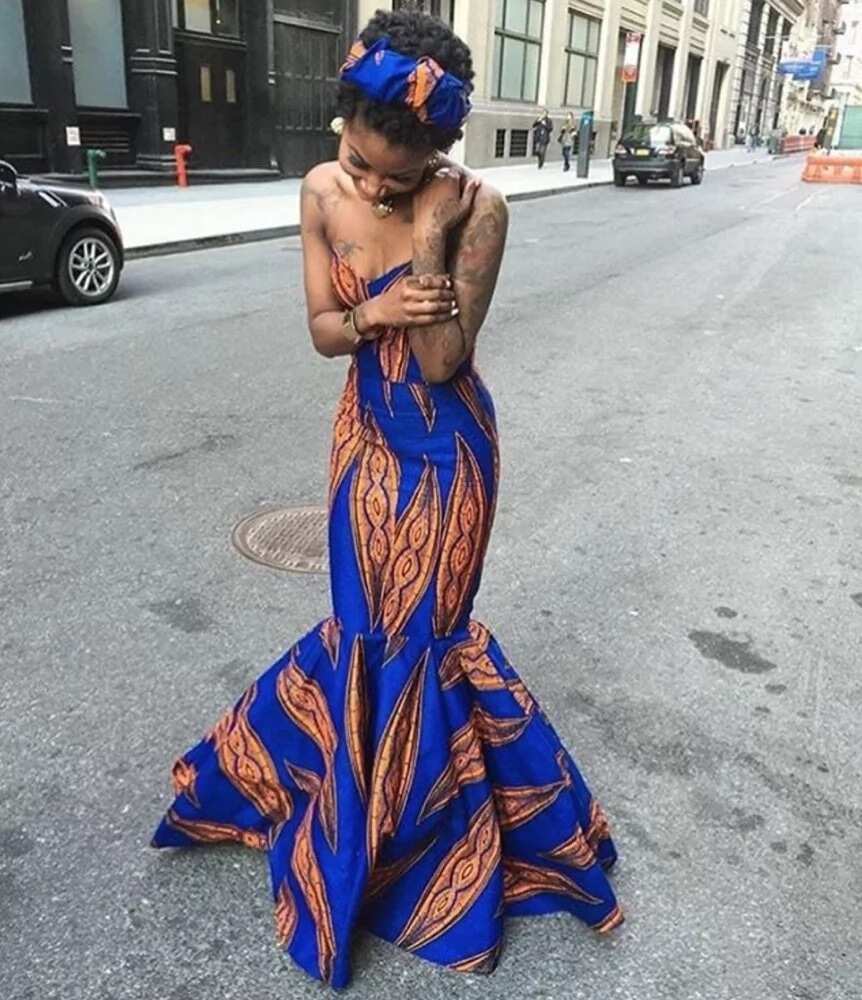 Choosing the right dress length is very important if a beautiful look is what you are going for. You can determine the length according to your shoes so you should know your footwear choice beforehand. It is believed that fashionable African dresses' length is perfect when it shows about half of your shoes, otherwise, the hem will disturb you while walking.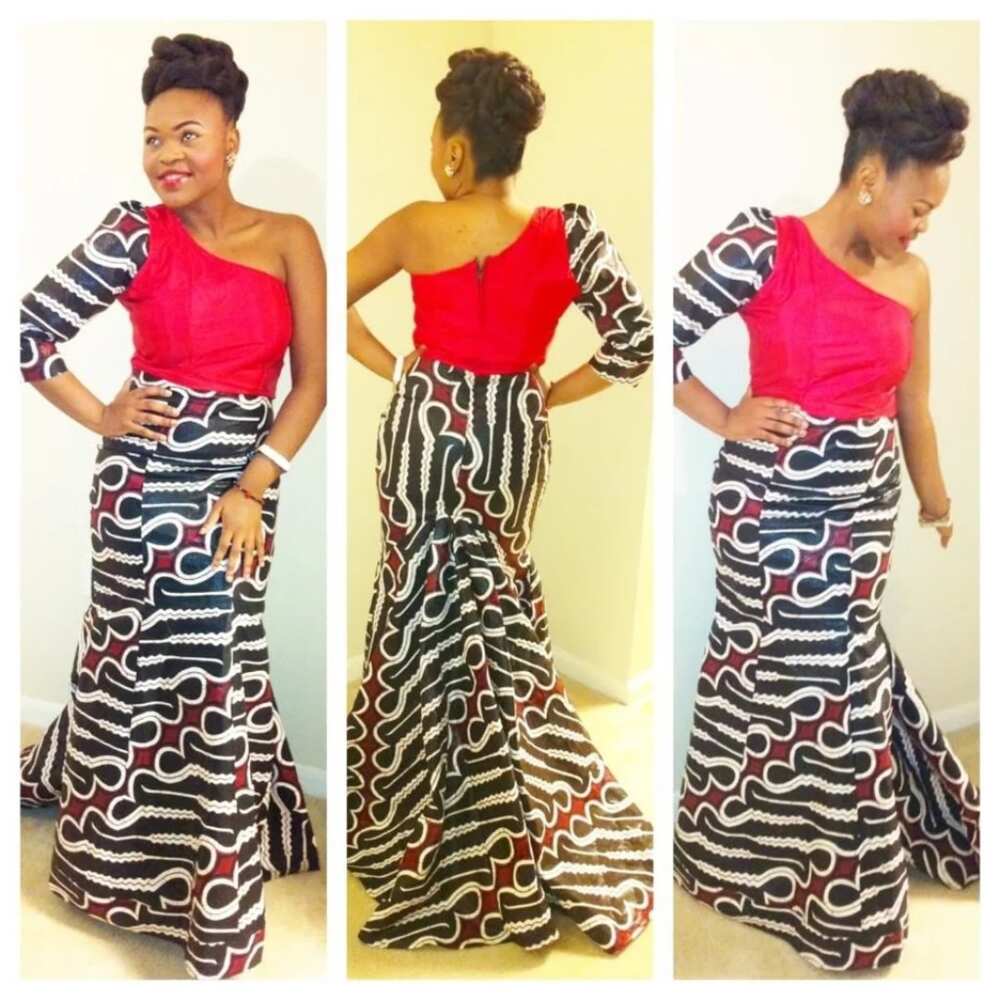 READ ALSO: Latest lace gown styles in Nigeria
However, many women still believe that long gowns should reach the floor - this does not have to be so.
Stylists and designers have the opinion that the perfect prom dress length needs to be at a distance of two, three or four centimeters from the floor.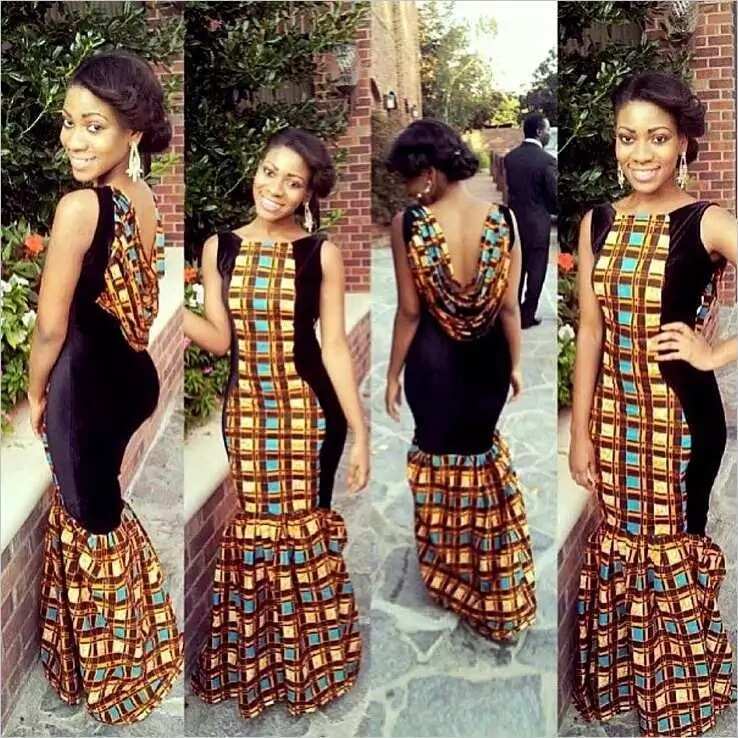 Some fashionistas prefer ankle-length garments and this option is also appropriate. But this does not suit every woman. Only petite girls can wear ankle-length attires.
Elegant gowns in ankara style: Basic Tips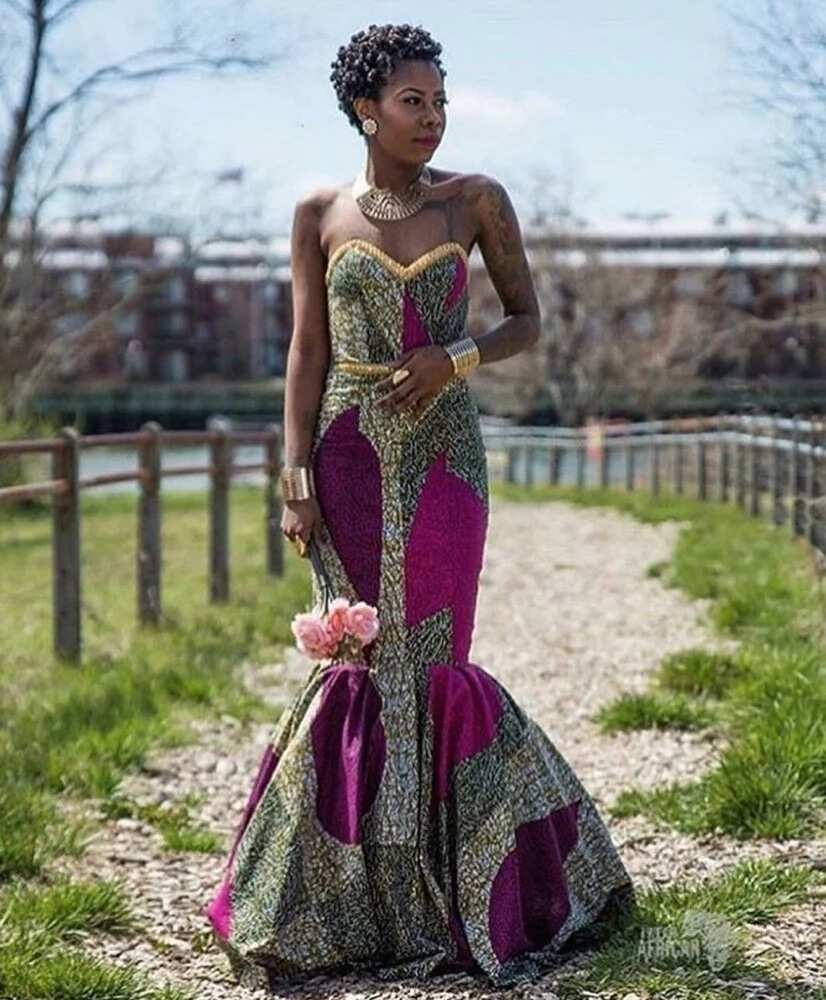 One of the most important components of dress choice is fabric. Prom dresses are very often made from ankara fabric. They are light, the drapes are beautiful and at the same time elegant. You should not choose dresses, overloaded with decorative elements. One bright detail is enough to attract attention.
Petite girls can find simple ankara styles model with small prints. Vertical stripes combined with heels or platform will make you look taller and slimmer. However, short girls should avoid excessively voluminous ankara dresses.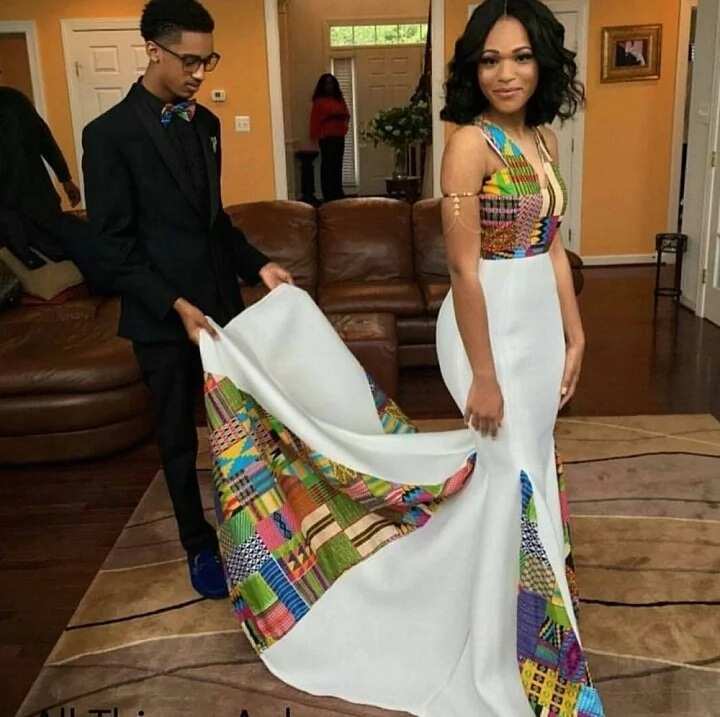 For those who are a little bit plump, such ankara top styles can be a wonderful way to hide figure flaws and emphasize its advantages. Stout women should not be looking at too wide or multi-layered fashionable dresses because they can add unnecessary volume.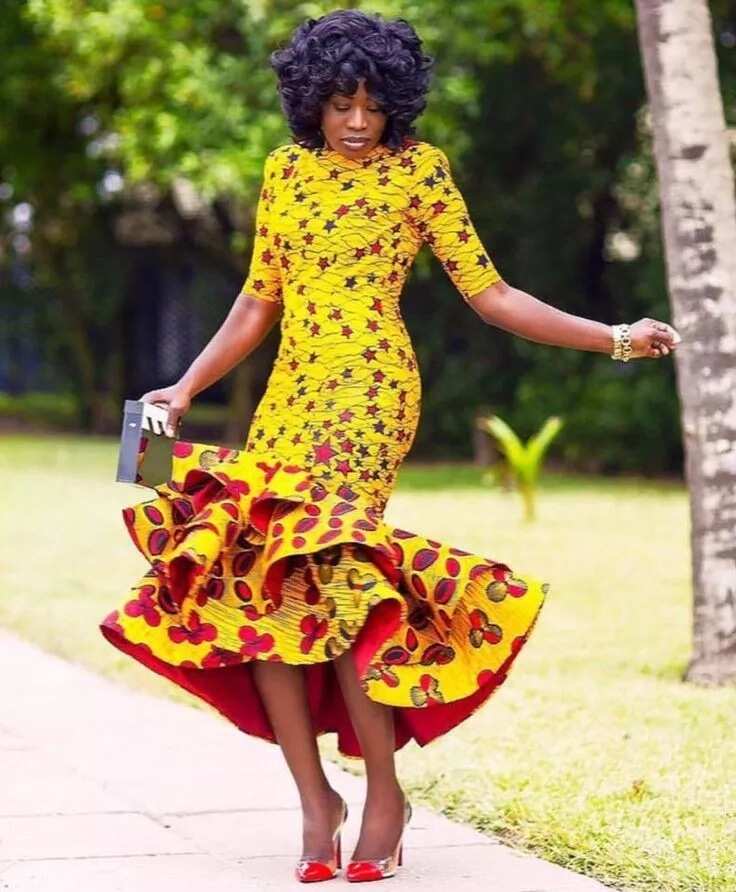 Floor-length prom dresses with train
The length of prom ankara fashion dress with train may be different depending on the imagination of the designer. You should remember that such outfits are not suitable for walking along dusty streets or in the rain.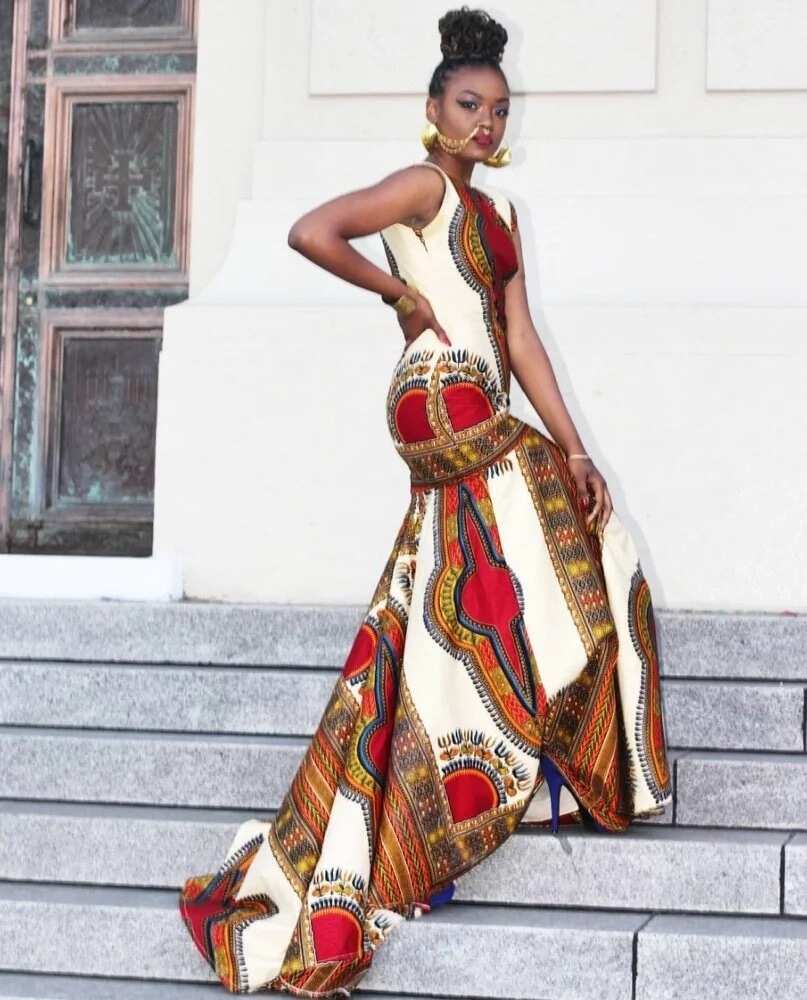 You should understand that walking in such a dress is not very easy. It's better to begin to practice at home. Do not forget that train can be spoiled by the carelessness of others, so you need to be on alert.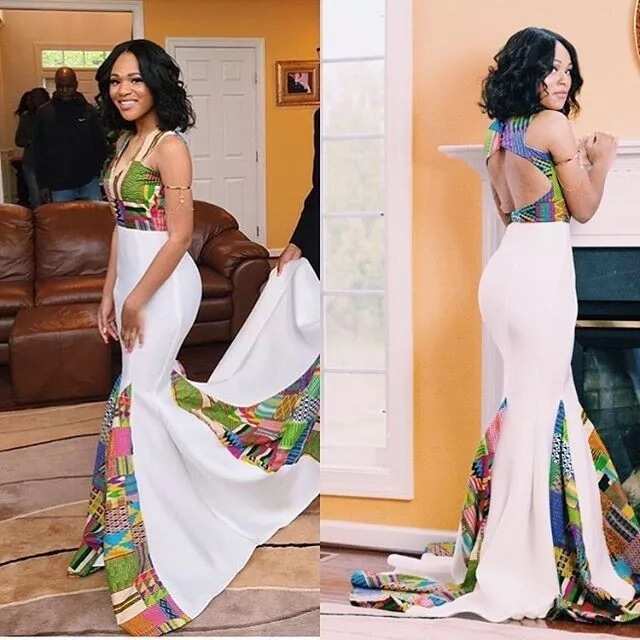 Nigerian ankara prom dresses are considered to be smart party dresses, but not casual wear. However, it is still necessary to consider how comfortable it is, whether it will be comfortable to sit down or bend over. It is especially important that narrow hem shouldn't hinder your movement. Ankara fashion outfit which impedes motion can seriously harm you while walking. So, make your choice responsibly and look gorgeous!
READ ALSO: Gele styles in Nigeria 2017
Source: Legit.ng