Ex-President Jammeh stole $50m from Gambia - Report
- Yahya Jammeh ruled Gambia as president for 22 years before he was defeated in December 2016 by Adama Barrow
- Barrow's government has secured a court order for Jammeh's property in the country to be taken over after the latter was alleged to have stolen $50 million
While leaving Gambia in the heat of his electoral defeat, former President Yahya Jammeh left with about $50 million, the minister of Justice, Abubacarr Tambadou, in the country has said.
The British Broadcasting Corporation (BBC) reports that the current government in the country accused Yahya Jammeh of withdrawing the money through a state telecoms company.
READ ALSO: Disregard information about Buhari's death - Presidency tells Nigerians
As a result, a court in the country has ordered that all his assets remaining in Gambia be frozen. These include 88 accounts and 14 companies linked to him. Cattle and cars are also part of the assets.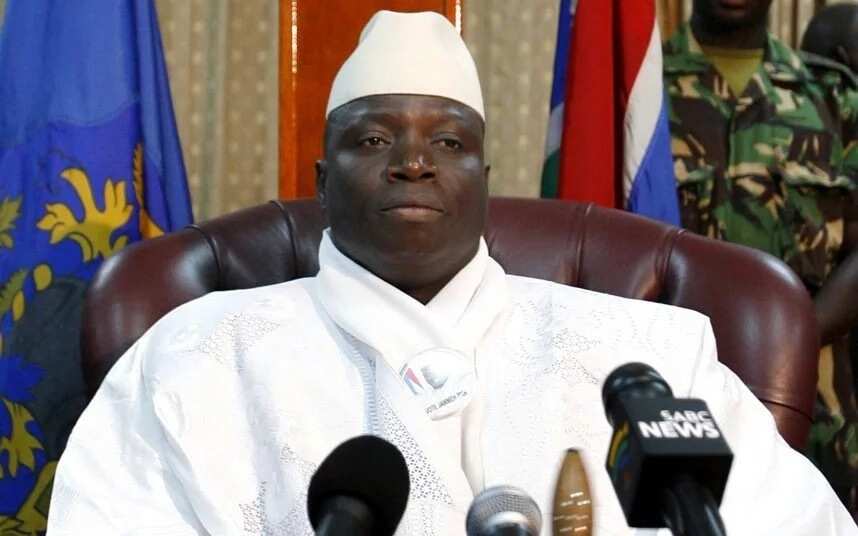 The amount in question was initially put at $11 million by the interior minister, Mai Ahmad Fatty, who was an aide to Barrow.
Tambadou later said Jammeh illegally withdrew $50 million between 2006 and 2016 from an account at the Gambia's central bank, linked to state-owned Gamtel.
PAY ATTENTION: Read the news on Nigeria's #1 new app
Jammeh was defeated by Adama Barrow after spending 22 years in power. He refused to quit thus causing tension in the country.
After negotiation, Jammeh flew into Equatorial Guinea amid threats of sanction from other African countries.
Jammeh reportedly left Gambia with luxury cars and other items.
Legit.ng had reported earlier that soldiers from Nigeria were part of the troops from West Africa stationed to force Jammeh out of office when he refused to bow to defeat.
Watch this video of Nigerians reacting to President Muhammadu Buhari's return to London for medical check-up:
Source: Legit