Under Ajimobi, Oyo state is going into paralysis over N155.9b debt - Makinde
- Engineer Seyi Makinde urged the people of Oyo state to be mindful of the forthcoming election in 2019 as Oyo state's debt profile under Ajimobi skyrockets
- Makinde said Oyo's debt profile continues to rise despite huge resources accruing to the state enough to move it from its condition
A former gubernatorial aspirant, Engineer Seyi Makinde, has blamed the high debt profile of Oyo State on the profligacy of the current Oyo State administration.
In a statement released on Sunday by Makinde's media office on a recent publication by the Bureau of Statistics, which puts Oyo states' domestic debt at N115.9 billion, Makinde said Ajimobi's second term is plagued by an appetite for domestic debt and high recurrent expenditure.
He said this could plunge Oyo state to into economic paralysis if not checked.
The statement made available to Legit.ng quoted the Debt Management Office records saying Oyo state owed N4.8 billion domestic debt in 2011 when Governor Ajimobi took over.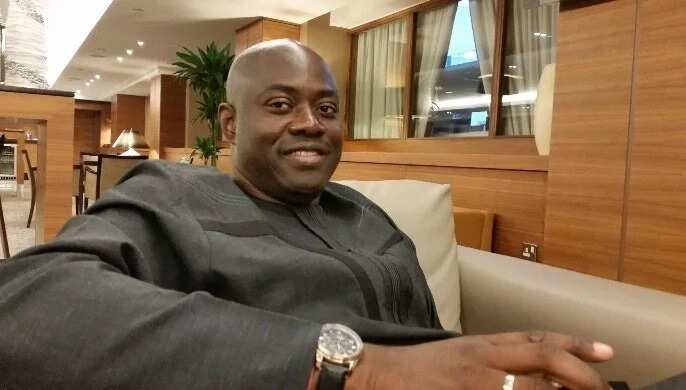 This has increased by more than 2000 percent within five years, while external debt over the same period reduced by just nine percent from $78 million to $71 million.
"The crave for domestic debt by this administration must be the worst in the history of our dear state," Makinde said.
"But what should worry any patriotic citizen of Oyo state is that the current debt value may have doubled by the end of 2017 because the government would have to borrow at least, approximately N100 billion, to fund the 2017 budget over which we raised alarm some months ago due to the unrealistic targets and spending."
READ ALSO: While battling $3m scandal, Governor Yari says APC has hijacked EFCC
He noted that debt is not particularly bad if borrowed fund is wisely channeled towards revenue-driving projects and infrastructure projects that yield economic productivity.
"This is where the current administration failed woefully, always throwing money at problems without well thought-out solutions, impact and outcomes.
"My policy team has carried out a profile of Oyo state and we have come to the conclusion that the state - with a prime place in history, large arable land, presence of education and research centres - can become the most attractive place to live, visit and work in Nigeria.
"Our assessment also showed that the resources that have accrued to this administration were enough to steer the state in this direction," he added.
PAY ATTENTION: Read the news on Nigeria's #1 new app
Makinde claimed that the danger that lies ahead for Oyo state requires a more innovative solution under the guide of focused governance.
He therefore advised that the people of Oyo state must be thoughtful in electing the next set of leaders.
"It is almost certain that the current government will leave Oyo State in a precarious state and it will be a grave mistake to support the continuity of such," he said.
Watch this video as Rotimi Amaechi speaks on Muhammadu Buhari's administration so far:
Source: Legit.ng