Nigeria makes $6b from local training of medical doctors
- Prof Ademola Olaitan who heads the National Postgraduate Medical College of Nigeria said the government now makes money from local training of doctors
- Olaitan however noted that the college was still challenged in the area of funding and needed recognition like others in the country
President of the National Postgraduate Medical College of Nigeria, Prof Ademola Olaitan, has said the college had saved more than $5 billion for the country by training doctors locally.
Olaitan said that before the college was set up in 1979, the federal government usually sent doctors abroad for training, the News Agency of Nigeria (NAN) reports.
As a result of this, Legit.ng learnt that the government spent about $200,000 each year for five years before such training were taken over by the college.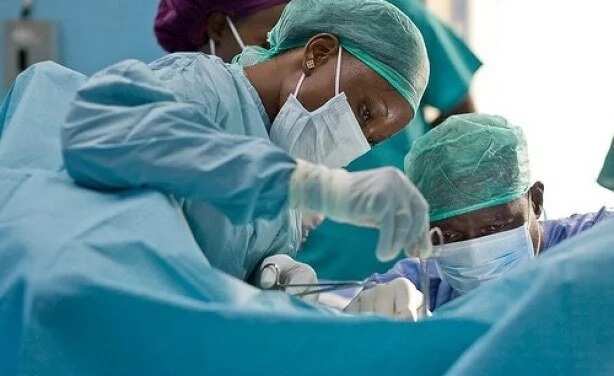 "After 1979, the college started training doctors and so far, we have produced no fewer than 5,338 postgraduate doctors.
READ ALSO: Bad policies led to economic crisis – Soludo
"If you calculate this, then, you can get an idea of how much the country has saved from foreign training.
"Yearly, the number of graduates increases. Last year, we graduated no fewer than 500 doctors.
"The previous year, we had no fewer than 300; each year, the number increases; our main focus is that each year we produce more doctors for the nation.
"Another thing is that if every doctor that is training in Nigeria went abroad to receive training, we would not have the number of doctors we see today rendering services in our hospitals.
"They would have been rendering their services abroad.
"These are some of the benefits the college has given to society since it was set up," Olaitan said.
He however said the college was still faced with financial challenges hindering it from achieving some of its mandate.
Olaitan added that most benefits accruing to universities from the ministry of Education were denied the college even though it could be termed a medical university.
Get more videos on Legit.ng TV
He said: "If the college can even receive just five to 10 per cent of the amount it has saved for government, this will go a long way in moving the college forward.
"Recently, we asked the Tertiary Education Trust Fund (TETFUND) to fund our clinical simulation laboratory, but the request was not granted.
"This laboratory is supposed to help us to change the system of our doctors treating patients."
Meanwhile, hundreds of medical doctors recently took part in a demonstration in Port Harcourt to draw attention to the security risks they face while discharging their duties across Rivers state.
Legit.ng gathered that the public protest is the outcome of a meeting called by the leadership of the Nigerian Medical Association to review the security situation in Rivers state and the rampant kidnapping of doctors.
Watch how Nigerians with disability recently challenged the federal government in the video below:
Source: Legit.ng